Tre Bicchieri World Tour in Russia
The desire to leave collected during our first events in presence abroad is difficult to quantify. Italian wine rekindles curiosity, enthusiasm, long dormant emotional outbursts. During our seminars we rediscovered even more intense sensitivity and attention than a few years ago, with the denominations making an audience of journalists, sommeliers and importers–who for a long time could not move–travel to Italy. After the stage in Germany, we moved to Russia with the Tre Bicchieri World Tour. On 6 July it was Moscow's turn, the event was held in the huge World Trade Center complex, in the shadow of the financial district's skyscrapers. Two days later, on July 8, wineries moved to St. Petersburg, between the two large rooms of the historic Hotel Astoria, right in front of the famous St. Isaac's Cathedral. Despite the difficulties, including work visas and mandatory Covid tests (Russia does not recognise any of the vaccines authorised by the European Union), forty wineries reached Russia to experience first-hand the excitement confirmed by the latest economic data. After 2020 that closed with only –3.6% in value, the export of Italian wine to Russia returns to growth in the first quarter of 2021. In quantity export went from 8.2 to 10.4 million litres, recording a rather staggering increase (+26%). In values, the progression between January and March was 17%, from 21.78 million euros to 25.44 million, according to the Istat data on foreign trade. Overall, Italy, France and Spain occupy over 60% of the shares of imported wine. Italy dominates in the ranking of supplier countries, with around 30% of the shares, compared to France and Spain which have around 17% and 16%. At the same time, consumption also grew in 2020, according to data from the Russian federation analytical center, about 11 million hectolitres of wine were drunk, with an increase compared to 2019 of 13.4%.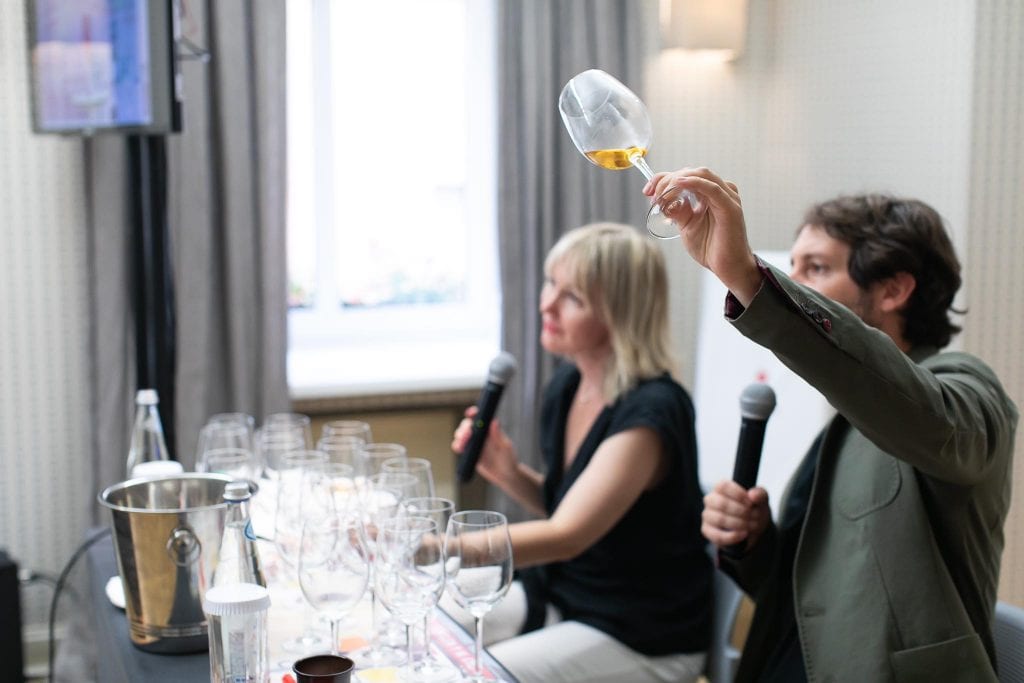 And it's sufficient to take a quick look at the wine lists of the restaurants in Moscow and St. Petersburg to understand the huge leap in quality. Markups too are no longer the monstrous kind of a few years ago: wine is increasingly a central element, especially among the younger generations. The average age in the wine bars of St. Petersburg and Moscow is about half of what it is in Italy. And places continue to open, and the restaurant sector here has suffered less. "In fact, we were closed much less than in Italy or the United States, we continued to work well, now only the restaurants with terraces and outdoor spaces are making bigger numbers, because for a few weeks only people with a QR code were allowed to eat inside bars and restaurants," says Emanuele Mongillo, chef at Balzi Rossi in Moscow. And getting that QR code, we have seen it first hand, is a real undertaking, not only for foreigners, but also for those working in the sector. Still, many are relaunching. This is the case of Gianluca Sapia, whom we met at the Moscow event. Hired via instagram by a Russian entrepreneur, he has opened 4 restaurants with an unusual and innovative format dedicated to mussels and over 100 of his combinations and condiments branded Mollusca. "It was an instant success, now we are about to open a restaurant dedicated to Italian tradition, Il Matto, while with Mollusca we will also open in Dubai and New York in the next 6 months. Here in Russia they pay merit well, you have to work hard but you can get enormous satisfaction in return. They really appreciated my free and bold, self-taught approach." Antonio Fresa, one of the best Italian chefs in Russia, echoes. During the lockdown, he bought shares of his Jerome and last Saturday he celebrated the opening of a very ambitious project, Sea Signore. "We took the concept of the Italian fish market, with a nice counter as welcome, then 5 cooking stations, the island of handmade pasta, Italian marbles and a wine cellar that focuses strongly on Italy of course. It's a good time." During the two seminars in each leg of the tour, dedicated respectively to the special prizes of the guide and a veritable tour of Italy from the Alps to Trapani called 'Italy in a Nutshell,' we asked participants to comment on Putin's choice to call with the term Champagne only locally produced bubbles. We only collected minimising comments and some smiles. The wines of Antonella Lombardo, Winemaker of the Year, uncorked for the first time in Russia, were incredibly successful. "We need stories like these, of a young lawyer who returns to the soil, of an area like Calabria little known and of native grape vines that make us travel with our minds," sommelier Luba Yakimova tells us. Now the tour breathes ahain for a few weeks, and will resume from the United States, on August 30 we tune in to Los Angeles.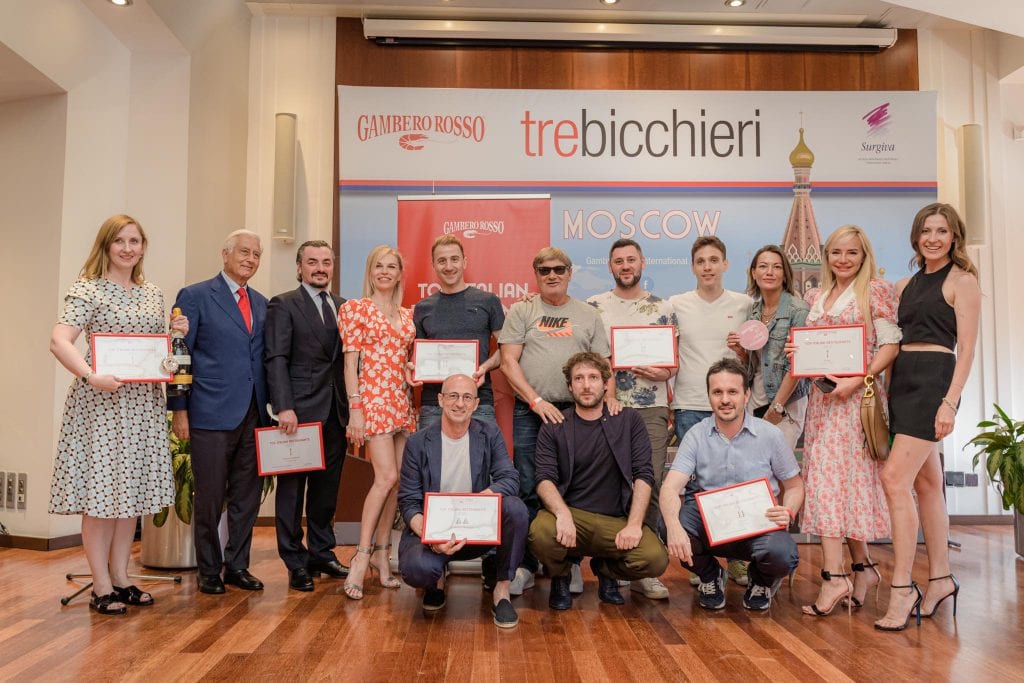 Top Italian Restaurants, award winners
During the events, the best restaurants in Russia were awarded. The Villa Sandi Best Contemporary Wine List Award in Moscow went to Café Aist, belonging to Mirko Zago, now a star in the city, thanks to a rich selection of classic Italian labels, well supported by a brilliant by-the-glass offer. While in St. Petersburg the award went to Jerome, Antonio Fresa's restaurant, with a precious wine cellar, supported by many small artisanal producers with organic and biodynamic approach, traditional producers and a very accurate and innovative by-the-glass offer, with honest markups. As for pizzerias, La Bottega Siciliana was awarded in Moscow, while in St. Petersburg it was the turn of Pizza 22 cm, with Neapolitan-style pies. In Moscow, new entries for Sartoria Lamberti, a project that straddles art and cuisine inaugurated inside the Ritz Carlton a year ago; additionally Butler, also awarded with Una Forchetta, while Due Forchette go to Semifreddo, Nino Graziano's historic venue, and Balzi Rossi. Due Gamberi instead, went to Uilliam's, thanks to the true talent of Luigi Magni, former chef at Pinch, one of the most innovative and rightly sought-after restaurants in Moscow. Completing the picture of the Italian restaurants in St. Petersburg is Francesco, with Una Forchetta, Path, with Due Forchette, and Il Milanese and Jerome, awarded with Due Gamberi. Lastly, Vino di Vino, rated with Due Bottiglie.