In this brand new series, readers are invited on a virtual journey that embraces the whole of Italy, but that focuses on the lesser known, smaller, often ignored localities. In this difficult moment it's paramount that we help the struggling economies of minor travel destinations, as opposed to the more established ones. This first appointment takes us to Abruzzo, precisely to three hilltop towns with a storied past. The region of Abruzzo is one of Italy's best-kept secrets. The neighbouring hilltop towns of Calascio, Santo Stefano di Sessanio and Castel del Monte, in the L'Aquila province, sit on the edge of the Campo Imperatore plain in the heart of the Apennine Mountains, within the breath-taking beauty of the Gran Sasso e Monti della Laga National Park. Here are our suggestions for a magical 3-day weekend in the heart of Abruzzo.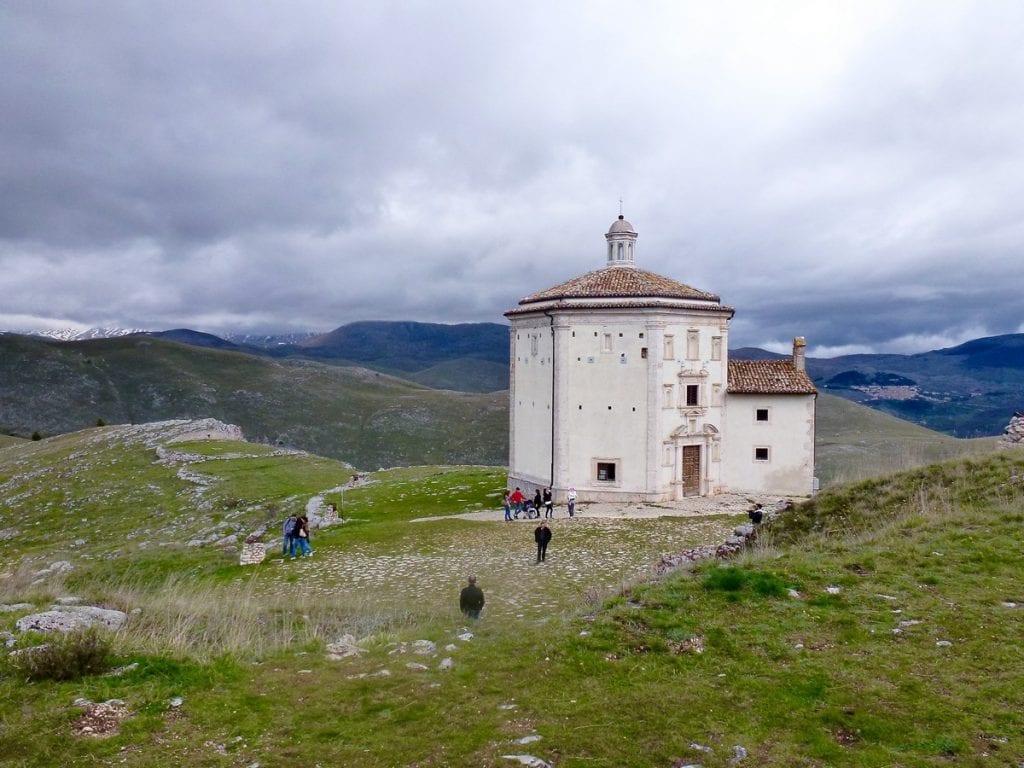 Weekend in Abruzzo: Calascio, Santo Stefano di Sessanio and Castel del Monte
The small fortified towns of Santo Stefano di Sessanio, Calascio and Castel del Monte share similar characteristics: they thrived in the past thanks to agriculture, suffered abandonment, and now attract a curious, sustainable travel audience. Thanks to conservation efforts, artisan productions, and effortless charm, the three hilltop towns are the perfect location for a relaxing weekend getaway, food and wine explorations, or even an intimate wedding ceremony.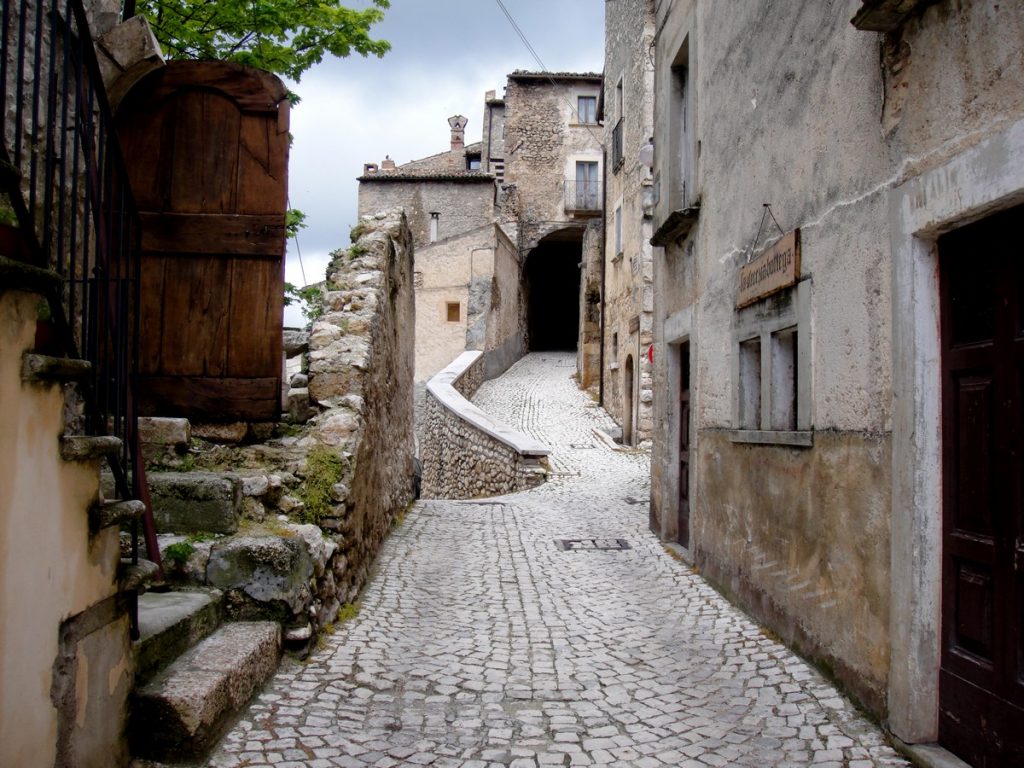 Day 1 - Santo Stefano di Sessanio: time warp back to the 16th century
This will be the base from which to visit the equidistant towns of Calascio and Castel del Monte during a weekend of relaxation, gastronomic fulfilment, and natural beauty.
Santo Stefano di Sessanio has ancient origins dating back to the Palaeolithic, and boasts a visible medieval imprint, but the town flourished under the Medici rule in the late 16th century, with agriculture contributing to the area's economy, mostly thanks to transhumance. The ages-old moving of flocks of sheep from the valleys to high altitude mountain pastures in summer is what connected all three towns and what each relied on economically. Unfortunately in the mid-19th century, the area suffered from extreme poverty leading to mass emigration. Santo Stefano di Sessanio, in particular, fell into abandonment, and remained completely uninhabited for decades.
The rebirth of a town through tourism
The conservation efforts introduced here since 2004 spearheaded by Italo-Swede philanthropist Daniele Kihlgren to preserve the area's cultural heritage, have restored dignity to the pastoral culture that once inhabited these remote rural areas. Kihlgren purchased a portion of the town and urged local authorities to leave it untouched, in its original condition; without adding any new building materials for the renovations, rather working by subtraction. A legislative ban on the use of concrete in 2007 led to a complete turnaround: with a permanent population in the very low hundreds, today Santo Stefano di Sessanio is a highly sought-after vacation getaway for lovers of nature, rustic dining and R&R.
When you get there
Our suggestion is to arrive in the early afternoon. Park vehicles in the large public lot, or get off the bus on the main Strada Statale 17. Stroll under the Medici tower which partially collapsed in the 2009 L'Aquila earthquake (restoration is in progress) and ask your hotel or guesthouse manager to come meet you at the town entrance under the stone archway on Via Benedetta. Once checked in and rested, stroll the maze of cobblestone alleys that creep around the hilltop town, catch a glimpse of mountains and bell towers around every corner, duck under dozens of centuries-old archways. Orange light filtering from the windows and smoke wafting from chimneys will inevitably usher you to dinner in one of the town's restaurants. The evening will end sipping homemade ratafià liqueur and making friends.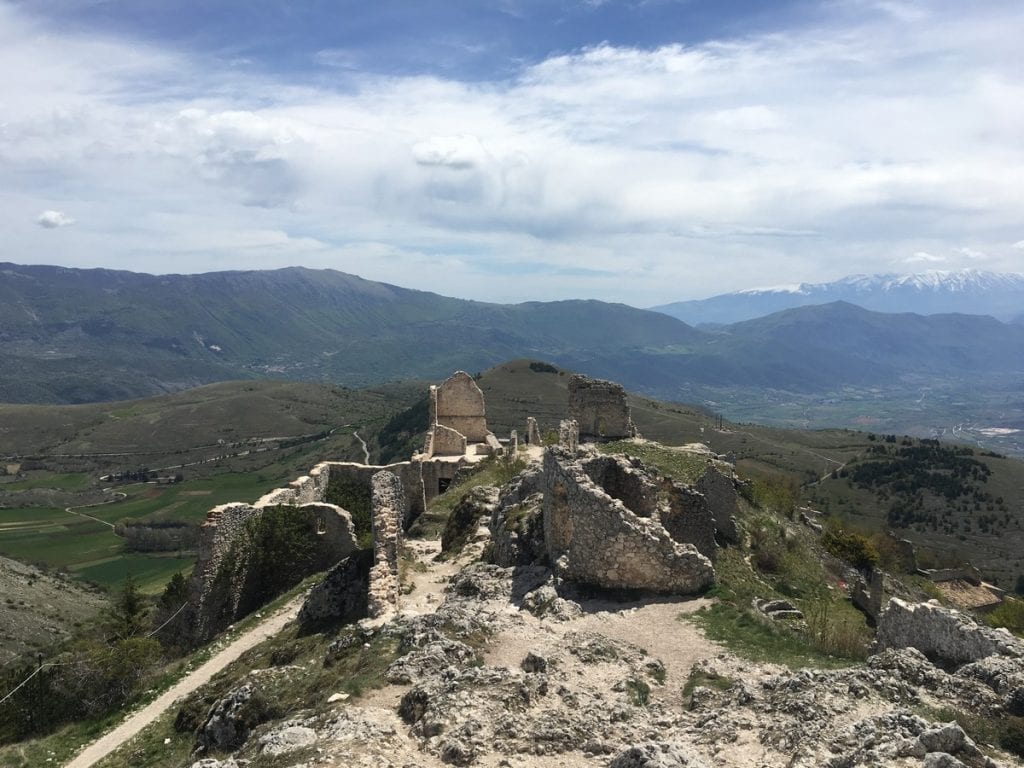 Day 2 – Calascio and the Rocca: known by few, chosen by Hollywood
Take a bus or drive only 5 Km (3 miles) south-east of Santo Stefano di Sessanio to the small hilltop town of Calascio. Experienced hikers can also walk there and back, it's absolutely doable. Towering above the charming village and ancient Normann settlement of Calascio, is the Rocca. The mountaintop fortress is the highest in the Apennines. Intended as a military watchtower, the 10th century structure became the set for many scenes of the cinematic medieval fantasy, "Ladyhawke" starring Michelle Pfeiffer, Rutger Hauer and Matthew Broderick. Some scenes of the 1986 film "The Name of the Rose," starring the late Sean Connery were also filmed here. At the foot of the fortress is Santa Maria della Pietà, an octagonal church built in the 17th century. Walking back downhill, stop in one of the many artisan shops and handicraft makers before enjoying a glass of Montepulciano d'Abruzzo at a local tavern.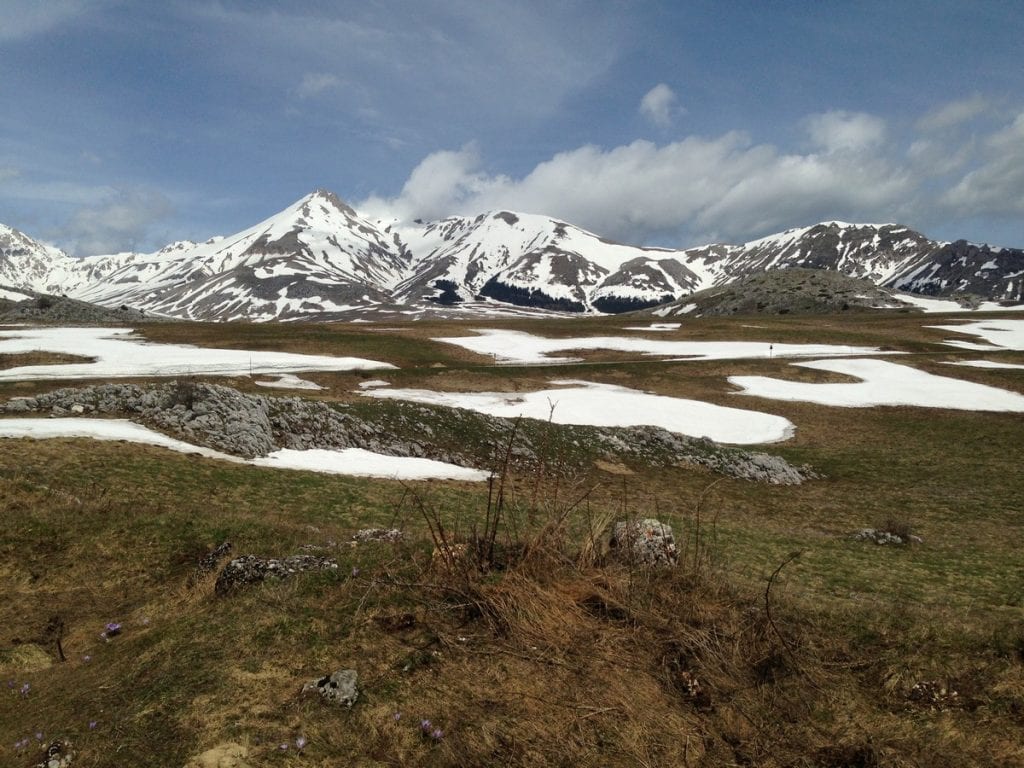 Day 3 – Castel del Monte: the starting point of Transumanza
Set into a steep hillside and nestled beneath mountain peaks near the high plain of Campo Imperatore, Castel del Monte sits opposite the mountaintop Rocca Calascio fortress, and its name comes from the Latin Castellum Montis, meaning "fortress of the mountain." The Medici, who governed the area for over a century-and-a-half, left their imprint on Castel del Monte, too. However, the economic well-being of the town was historically tied to sheep farming. The town was one of the most prolific wool producers in Europe between the 12th and 16th century. This prosperity continued until the demise of the annual summer sheep drive south to the green pastures of Puglia, Transumanza, which ended in the 1850s. Although the town continued to manufacture wool, pecorino cheese and slaughter lamb for meat products, the economy never recovered to its pre-1850s level. The population of the town decreased steadily, and like for Santo Stefano di Sessanio, the lack of economic growth in the 20th century forced residents to emigrate to northern Europe and overseas. In the last one hundred years, there was scarce development in Castel del Monte, in fact, most buildings in town are several centuries old, and many have changed very little since the Middle Ages or the Renaissance. In 2006, Castel del Monte was named one of the "borghi più belli d'Italia," most beautiful hamlets of Italy. Take a walk in the winding alleys. Getting lost and letting your nose guide you to a trattoria is the best way to discover hidden gems and unexpected corners.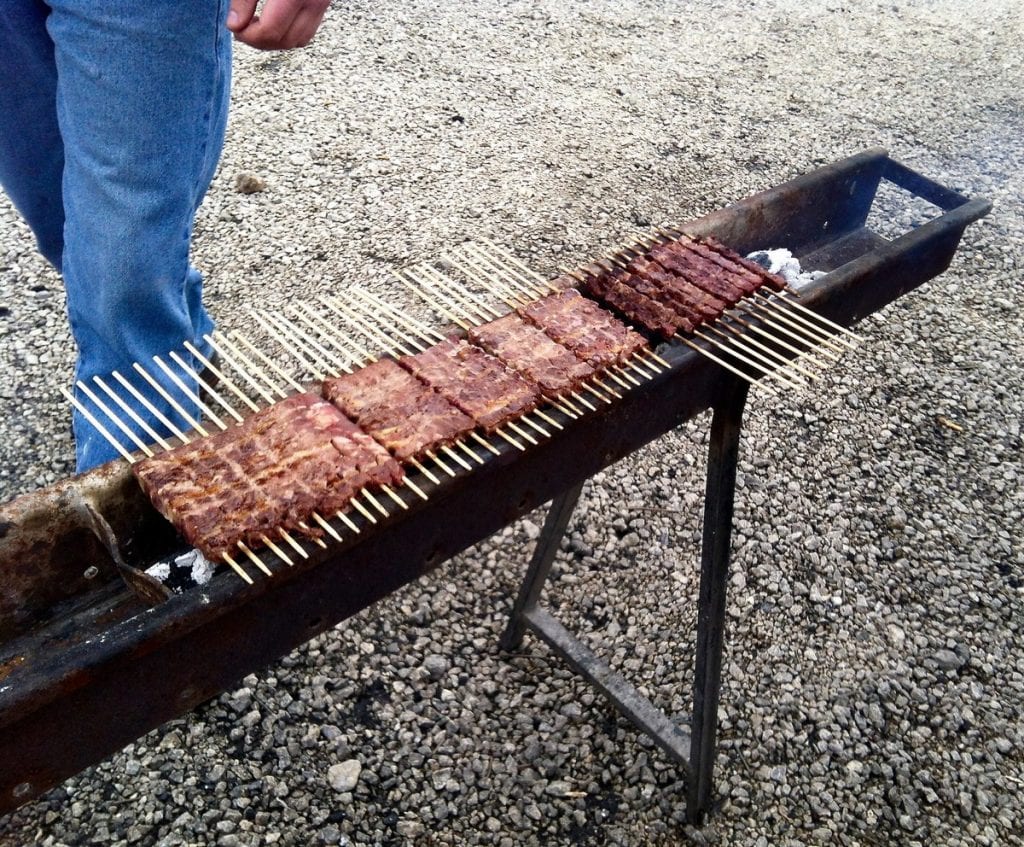 Dining in the hilltop towns of Abruzzo
In Santo Stefano di Sessanio, follow the candle-lit path to La Locanda Sotto gli Archi, the restaurant of Sextantio Albergo Diffuso whose offer focuses exclusively on local tradition. Sit by the crackling fireplace and enjoy the rustic yet elegant ambiance. The menu changes daily and features what would have been available and eaten in the 16th century, faithfully recreating original Medicean recipes with native grains, local vegetables and game. In the same town, for merenda (afternoon snack) enjoy a relaxing break at Tisaneria e Botteghe tea room with gift shop that serves teas and herbal brews, hot chocolate, homemade cakes and pizzelle slathered with jam and honey: the place to switch off your phone and detox with a herbal mix designed just for your health needs. At nearby Ristoro degli Elfi ask to be seated by the fireplace, enjoying hand-rolled pasta and local charcuterie, Slow Food lentils, artisan bitters and more. Enjoy an informal meal at La Bettola di Geppetto that includes rich cheese and charcuterie grazing boards, table wine, rustic bread and homemade cookies.
In Calascio, Al Nido del Falco is ideal for a hearty, no frills bowl of soup after exploring the Rocca fortress. In Castel del Monte there's a number of small family-run restaurants and trattorias to choose from, among them is Osteria del Lupo, where diners should not forego classic Abruzzo recipes like ciafrechigli con fagioli poverelli (homemade pasta soup with local beans); fire grilled lamb and a surprisingly delicious pizza. At Ristorante il Gattone, the nonna hand-rolls all the pasta and cooks classic Abruzzo recipes. Lastly, Ristoro Mucciante is a butcher where customers line up to buy arrosticini lamb skewers by the dozen and grill them outside in the fornacelle barbecues. Lunch can be brought over to the picnic tables, and meals continue in the sun, sipping house wine with local cheese, bread and killer 360-degree views.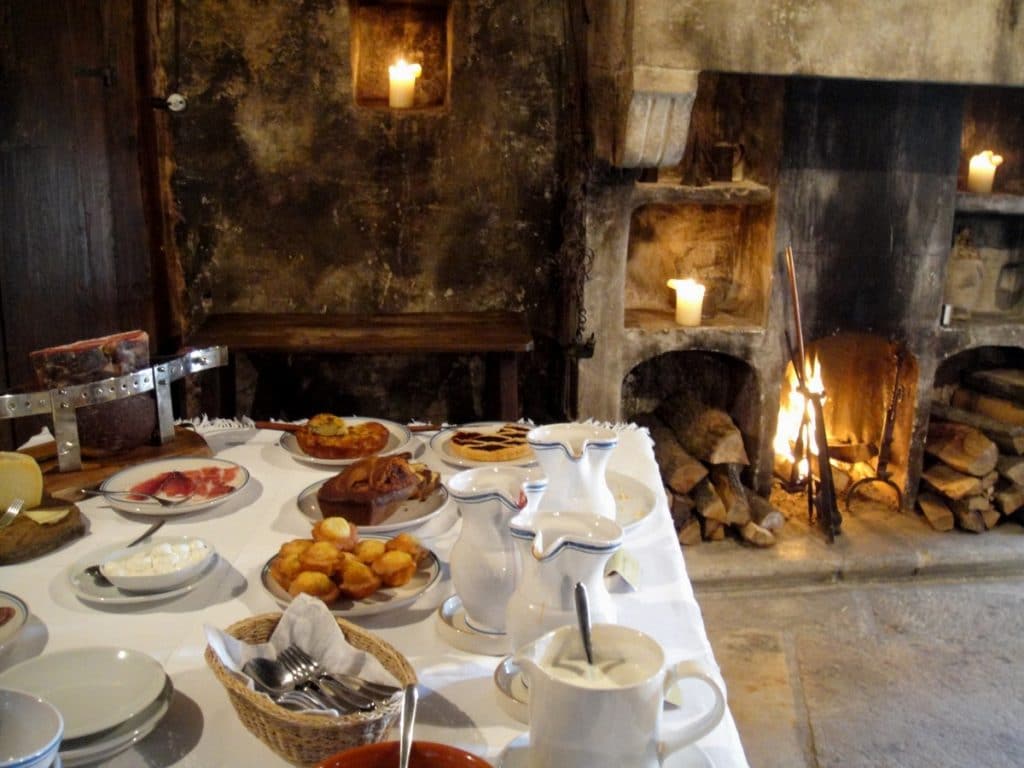 Diffused hotels, guesthouses and relais in the hilltop towns of Abruzzo
As far as lodging choices, there is plenty to choose from. In fact, the town of Santo Stefano di Sessanio was among the first promoters of albergo diffuso. Sextantio Albergo Diffuso is a unique and amazing "diffused hotel" with suites, restaurants and reception area scattered throughout the hilltop town. In tune with the Sextantio cultural heritage preservation project––that extends the format to Matera, in Basilicata––the minimalist decor uses reclaimed native materials and reconditioned ancient furnishings, integrating them into the fabric of the restoration to reflect the original buildings. Suites grow out of small communal areas in the restored homes, and are fitted with bathtubs, wooden beamed ceilings, fireplaces and kindling provided by the management, along with a bottle of homemade liqueur, blankets woven on peasant looms and homemade soap bars. But modern comforts abound, invisibly: heated stone floors, designer lighting, hidden electrical control units, free Wi-Fi.
The beauty of the diffused hotel concept is that even during a world pandemic, leisure travel can still be an option. Holiday rental Residenza La Torre has cosy rooms with wooden beams, ensuite bath, fireplace and stone walls. La Bifora Le Lune is a small family-run bed and breakfast. La Casa Sù – Le Dimore del Borgo rents quaint self-catered holiday flats. Le Case della Posta offers fully equipped holiday rentals: three housed in a 17th century brick palazzo; and four comprised in a 1920s building located nearby. Just downhill from the old town centre is a small pond from which horse trails and marked hiking paths depart. La Locanda sul Lago inn rents out clean and simply furnished rooms, and offers hearty meals at its cosy family-run restaurant. The menu features fire grilled lamb and sausages, soups and heaps of home-grown seasonal vegetables.
In the town of Calascio, Rifugio della Rocca is another albergo diffuso, with quirky accommodations spread in a small radius.
In the town of Castel del Monte, stay and dine at La Locanda delle Streghe, a two-room family run Relais with kitchen.
Botteghe, Farms and Shops in the hilltop towns of Abruzzo
By encouraging investment in the traditional trades and crafts of the region, the hilltop towns of Abruzzo now boast many shops that sell handicrafts like lace, hand woven fabrics, beeswax candles, homemade soap and other local products of Abruzzo. Equally occupying ancient town structures are also art galleries and family run cafes. Village botteghe furthermore sell honey and jam, cured meats, olive oil, grains and cereals, delightful local cheese, as well as the region's famous lentils, protected under the Slow Food insignia. In the Piazza Medicea, Apiario Collevernesco has a small shop selling the fruits of the family business founded in 1945: acacia, wildflower and chestnut honey, other seasonal honeys in various flavours, bee pollen and propolis. In the same piazza, for the journey back to modern times, have Claudio and Laura at Ovino make you a delicious sandwich with ventricina (local cured meat) and pecorino cheese. The deli also offers a wide range of naturally produced charcuterie, cheeses, craft beer and a good choice of natural wines. I Sapori del Borgo bakes and sells homemade biscotti and cakes. Quaint La Bottega di Antonella is a workshop that produces and sells handcrafted soaps and perfumed plaster casts, fabrics for home furnishings, gift items in wrought iron, wood and ceramic, porcelain knick-knacks, natural soy wax candles and much more. Francesco Pietropaoli is a local artist, graphic and interior designer who creates wooden toys and mixed media art pieces. Valeria Befani has been weaving on hand looms for years. She lives between Rome and Rocca Calascio where in 1999 she opened a traditional hand weaving workshop Chiù. She uses an ancient Abruzzo loom and modern ones, too. She makes blankets, scarves, carpets and pillows with natural yarns and dyes that she personally extracts from local wild flowers and plants.
Organic farmstead Azienda Agricola Ciarrocca Rosa grows and sells lentils, beans, farro and extra virgin olive oil.
Azienda Agricola Alessandro Pelini produces organic cured pork meats and local cheese, in particular it is one of the businesses responsible for the rebirth of a long-forgotten cheese: Canestrato di Castel del Monte.
Weekend in the hilltop towns of Abruzzo: what to do
It seems all there is to do here is eat and relax. But, the hilltop towns and surroundings offer hikers, nature lovers and gourmands a plethora of unique activities: horseback trail rides in the meadows; guided snowshoe excursions; summer mountain-biking; loom weaving, yoga or local edible plant foraging classes, or cheese-making lessons with a local shepherd.
Normally in winter, the ski slopes in Campo Imperatore attract lovers of winter sports. Currently however, due to Covid, ski lifts and other related facilities are closed until further notice.
Note: In case of extreme weather, some venues in the towns mentioned may close in early January (and re-open in late March) due to snow blocking all access roads.
ADDRESSES
Where to eat
Locanda Sotto gli Archi - Santo Stefano di Sessanio (AQ)
Via Nazario SauroTel. +39 0862899112 - www.facebook.com/
Tisaneria e Botteghe - Santo Stefano di Sessanio (AQ)
Via della Torre - Tel. +39 0862899112
Ristoro degli Elfi - Santo Stefano di Sessanio (AQ)
Via delle Aie, 18Tel. +39 3404819763 - www.facebook.com/
La Bettola di Geppetto - Santo Stefano di Sessanio (AQ)
Via Principe Umberto - Tel. +39 08621965309 - www.facebook.com
Al Nido del Falco - Calascio (AQ)
Via XXIV Maggio, 71 - Tel. +39 0862930103
Osteria del Lupo - Castel del Monte (AQ)
Viale della Vittoria, 34 - Tel. +39 0862938136 - www.osteriadellupo.it/
Ristorante dal Gattone - Castel del Monte (AQ)
Rione Campo della Fiera, 9 - Tel. +39 3387286553
Locanda delle Streghe - Castel del Monte (AQ)
Via della Pineta, 24 - Tel. +39 0862938911 - www.locandadellestreghe.info/benvenuti/
Ristoro Mucciante - Castel del Monte (AQ)
Località Fonte Vetica - Tel. +39 3398855751 - www.facebook.com/
Where to stay
Sextantio Albergo Diffuso - Santo Stefano di Sessanio (AQ)
Via Principe Umberto - Tel. +39 0862899112 - www.sextantio.it/santostefano/abruzzo
La Locanda sul Lago - Santo Stefano di Sessanio (AQ)
Via del Lago - Tel. +39 08621966440 www.lalocandasullago.it/
Residenza La Torre - Santo Stefano di Sessanio (AQ)
Via degli Archi - Tel. +39 0862899083
www.residenza-latorre.it/
La Bifora Le Lune - Santo Stefano di Sessanio (AQ)
Via degli Archi - Tel. +39 3477242841 -

La Casa Sù - Le Dimore del Borgo
Santo Stefano di Sessanio (AQ)
Via Gabriele D'Annunzio  - Tel. +39 086228460 www.facebook.com/
Le Case della Posta - Santo Stefano di Sessanio (AQ)
Via Roma, 40 - Tel. +39 3479716625 - www.lecasedellaposta.it/
Rifugio della Rocca - Calascio (AQ) - Località La Rocca
Tel. +39 3388059430 - www.rifugiodellarocca.it
Locanda delle Streghe - Castel del Monte (AQ)
Via della Pineta, 24 - Tel. +39 0862938911
www.locandadellestreghe.info/benvenuti/
Where to shop
Apiario Collevernesco - Sant'Elia (AQ) - Via Collevernesco
Tel. +39 3392783635 - www.dolceabruzzo.it/

I Sapori del Borgo - Santo Stefano di Sessanio (AQ)
Via Orto Pulcino - www.isaporidelborgo.eu/
Ovino - Santo Stefano di Sessanio (AQ) - Piazza Medicea
Tel. +39 3476073353 www.facebook.com/
Francesco Pietropaoli - Santo Stefano di Sessanio (AQ)
Piazza Medicea - www.francescopietropaoli.com
La Bottega di Antonella Mantini
Santo Stefano di Sessanio (AQ)
Via Sotto gli Archi - www.bottegadiantonella.com/
Chiù tessitura a mano - Rocca Calascio (AQ) - www.facebook.com/
Azienda Agricola Ciarrocca Rosa
Santo Stefano di Sessanio (AQ) – Via Benedetta, 5
Tel. +39 3666816786 – www.facebook.com/
Azienda Agricola Pelini – Castel del Monte (AQ)
Piazzale del Lago - Tel. +39 3285586089
www.aziendaagricolapelini.it/
What to pack for a weekend in the hilltop towns of Abruzzo
Leave the bulky suitcases behind and travel light. Given the high elevation, it's always smart to bring a light windbreaker even in summer. In all other seasons, consider you'll be in the mountains, so pack a coat that's both warm and water-resistant. You'll be walking on cobbled alleys and leading a rustic lifestyle in the hilltop towns of Abruzzo, so ditch the heels and fancy shoes. Avoid white sneakers, and rather pack only one pair of worn-in and sturdy all-conditions walking shoes, or hiking boots if you plan to take to the trails.
Do like the Italians do and always pack a scarf. When the wind picks up in the mountains you also always want to have a natural wool hat and mittens. For a weekend getaway consider packing one pair of jeans, and two cardigans rather than thick sweaters for easy-layering, with double sets of long sleeve tops; and one thinner fleece that can be worn on its own for warmer days and that can double as an additional layer under your coat on colder days.
Always pack one set of long-sleeved comfy pyjamas, extra snug-fitting merino wool knee socks and lingerie, and never forget to bring a bathing suit.
How to get there
Santo Stefano di Sessanio, at 1,250 meter (4,100 ft.) elevation, is located 150 Km (96 miles) east of Rome, a two-hour drive along the A24 highway, exiting at Assergi down the side of the National Park (scenic and beautiful, but longer and often closed for snow in winter), or via the L'Aquila Est exit towards Pescara. After 20 Km along the S.S.17, point your GPS to Barisciano and start your uphill climb, negotiating 10 km (6 mi) of hairpin curves to your destination. Alternatively, take the bus from Rome's Tiburtina bus depot TIBUS. Tickets can be purchased before climbing on board. Take this bus to L'Aquila (make sure you get off at the Autostazione L'Aquila Collemaggio stazione per effettuare il collegamento) e poi prendere quest'altro autobus per Santo Stefano in Sessanio.
What films to watch for inspiration
Ladyhawke (1985) portions of the movie were filmed on location in Rocca Calascio and Campo Imperatore.
The Name of the Rose (1986) a number of sequences of the film starring Sean Connery were filmed in Rocca Calascio.
The American (2010) drama starring George Clooney was entirely filmed in Castel del Monte, Calascio, Santo Stefano di Sessanio and Campo Imperatore. I was part of the film crew on that movie. It's thanks to that gig that I became familiar with these beautiful places.
by Eleonora Baldwin