While anxiously waiting to finally resume in-person travel, our virtual journeys embrace the whole of Italy. Our aim is to deeply focus on lesser known, smaller, often ignored territories. This new appointment takes us to Cilento, in the Campania region, precisely to three coastal towns of jaw-dropping beauty. Campania is one of Italy's most visited regions, with gems such as Naples and the Royal Palace in Caserta; the Amalfi Coast and the islands of Capri and Ischia, to mention a few. In this difficult moment however, it's essential that we help the struggling economies of minor travel destinations, as opposed to the more established ones. Cilento is a subregion of Campania located between Paestum and Sapri, on the border with Basilicata. A huge territory, where nature is truly wild, where the population is less than a hundred thousand, and in which rural traditions and a slow, very slow pace of everyday life are carefully preserved. Nature and sea-loving Italy travellers who don't mind the total absence of designer fashion and yacht slips, will find themselves in a part of southern Italy that has retained its authentic charm through a low profile. Don't get us wrong, Cilento is packed with historical and archeological destinations, wildly untamed nature and gorgeous beaches. Here are our suggestions for a magical 3-day weekend in the heart of Cilento.
Weekend in Cilento: Acciaroli, Castellabate and Palinuro
Cilento owns the charm of an almost virgin territory, and the unique treasure of biodiversity. Not to mention the jaw-dropping beauty of its shores. The coast is the picture perfect lineup of sandy stretches, rocky inlets bathed in crystal-clear sea water and dotted with charming seafront villages.
The coastal towns of Acciaroli, Castellabate and Palinuro are small fishing hamlets that are often overlooked in favour of the more renowned nearby locations on the Amalfi Coast. Post-Covid however, these pristine vacation destinations now attract curious, sustainably-minded travellers. Thanks to slow travel solutions, warm hospitality, and the visibility of cinema, the three coastal towns are now on the radar of discerning Italy-travellers. These are furthermore perfect locations for a relaxing weekend getaway, fine food and wine explorations, or even intimate nuptials.
Day 1 – Castellabate, on the map thanks to film and food
Our advice is to arrive in Castellabate at sundown. A smart idea is hitting the temples of Paestum first, visiting the archeological dig in the afternoon before settling into your accommodation. That's when all the tourists have gone and the light is better for capturing the beauty of some of the best preserved ancient Greek temples in the world. The UNESCO World Heritage Site is one of the most gorgeous cities of ancient Magna Graecia, and is located at the very north part of the Parco Nazionale del Cilento. Less than one hour drive from the port of Salerno, Paestum is also known for the density of water buffalo farms that produce Italy's best mozzarella di bufala. It would be a sin to be in this part of Italy and not visit at least one of them. Does a sunset aperitivo with frosted glasses of local Falanghina del Sannio DOC or Greco di Tufo DOC, and a "flight" of mozzarella di bufala samplers overlooking Greek temples sound like a good way to ring in the weekend?
Once you arrive in either hilltop Castellabate, or Santa Maria di Castellabate (at sea level) check into your hotel, b&b or holiday rental and head straight to dinner at a seaside restaurant or trattoria, and then take a digestive stroll on the beach before calling it a night.
The next morning, after breakfast, stroll up in the old town centre after checking out of your room. Drive south on curvy Strada Statale 267 that hugs the coast past historically intact and culturally unchanged tiny Cilento villages. From the harbor at the foot of old town Agropoli, for example, a footpath runs down from the coastal road to a small secluded cove with a white sandy beach, Baia di Trentova. Keep driving south until you reach Acciaroli, a seafront haven unknown to many.
Day 2 – Acciaroli, Hemingway hideout
Acciaroli sits in the middle between Castellabate and Palinuro, constituting an ideal base from which to visit the seaside localities of Cilento during your weekend of relaxation, gastronomic fulfilment, and natural beauty. If Castellabate became famous thanks to popular Italian blockbuster Benvenuti al Sud, Acciaroli on the other hand still retains its charm as an undisturbed vacation place many like to keep secret. When old school VIPs went incognito, they didn't sneak away on a yacht, they instead immersed themselves in the local culture and simply blended in with the locals. This was the case of Ernest Hemingway, who in the Fifties often snuck away to this small fishing village. He considered it a favourite writing hideout. Some believe that he took inspiration for The Old Man and the Sea from the weathered Acciaroli fishermen and their traditional handwoven menaica nets.
After lunch and a nap, explore the Norman fortress and the town's cinnamon-coloured stone houses with blue-painted doors. Stroll along the harbour dotted with cafés where you could quite possibly be the only non-Italian. You can sneak in one last swim before the sun goes down. The sea water in Marina di Casal Velino a few kilometres south is some of the cleanest in Italy, thanks to a number of marine reserves located along the coastline. The small seaside village has a picturesque harbour, a beautiful lungomare seaside promenade and the classic village square where Italian men will stop their card-playing to nod as you stroll by. Local eateries benefit from a staggering seafood catch. Unpolluted water plus strict fishing regulations results in a delicious, usually 100% seasonal and sustainable selection of fresh seafood. Alternatively, spend the day in the countryside in one of the area's delightful agriturismo farms, where everything from local produce to cheese, olive oil, preserves, sauces and baked goods are all born on the property.
Not far from Acciaroli is Pioppi, a seaside village that's smaller and even more secret than Acciaroli, and simply enchanting. Long-time Pioppi resident and US physiologist Ancel Keys in the Sixties coined the term "Mediterranean Diet" (the set of practices, food traditions, farming methods, food storing habits, recipes and ways of life that safeguard the organism against metabolic and cardiovascular diseases). That intuition has been confirmed by the most important research bodies and international institutions, from FAO to WHO and UNESCO. Keys and his discoveries are now talked about all over the world and a museum is dedicated to him in the small fishing village.
Day 3 – Palinuro of epic fame
Capo Palinuro is one of those places that have always fascinated travellers of all ages, to the point that Virgil himself mentioned it in the Aeneid. The sea is crystal clear, the wide and sandy beaches for lazy lounging alternate with rocky inlets that are only accessible by sea. The best way to spend the last day of your weekend in the coastal towns of Cilento is definitely jumping on a boat and having the local skipper take you to all the best and most secluded coves and natural grottoes. Do not miss dropping anchor at Baia del Buon Dormire, aka the bay of sound sleep, called this way because the sea is almost always completely flat. Another must is taking a dip at the Arco Naturale cove with a fascinating natural rock arch, and the nearby Mingardo beach where it's fun to swim in and out of grottoes. Some boat excursions can be booked privately, in which case the captain will always pack a hamper with sandwiches, fruit and fresh vegetables, and a cooler for beverages. Alternatively you can sail to Marina di Camerota and stop there for lunch. You can nap on the way back, lulled by the afternoon sea breeze.
Energized from the saline air and sated by the delightful local food, you can pack up your bags in the trunk of the car and make your way back north, either to drop off your vehicle at the train station in Agropoli, or head straight to the highway towards Salerno.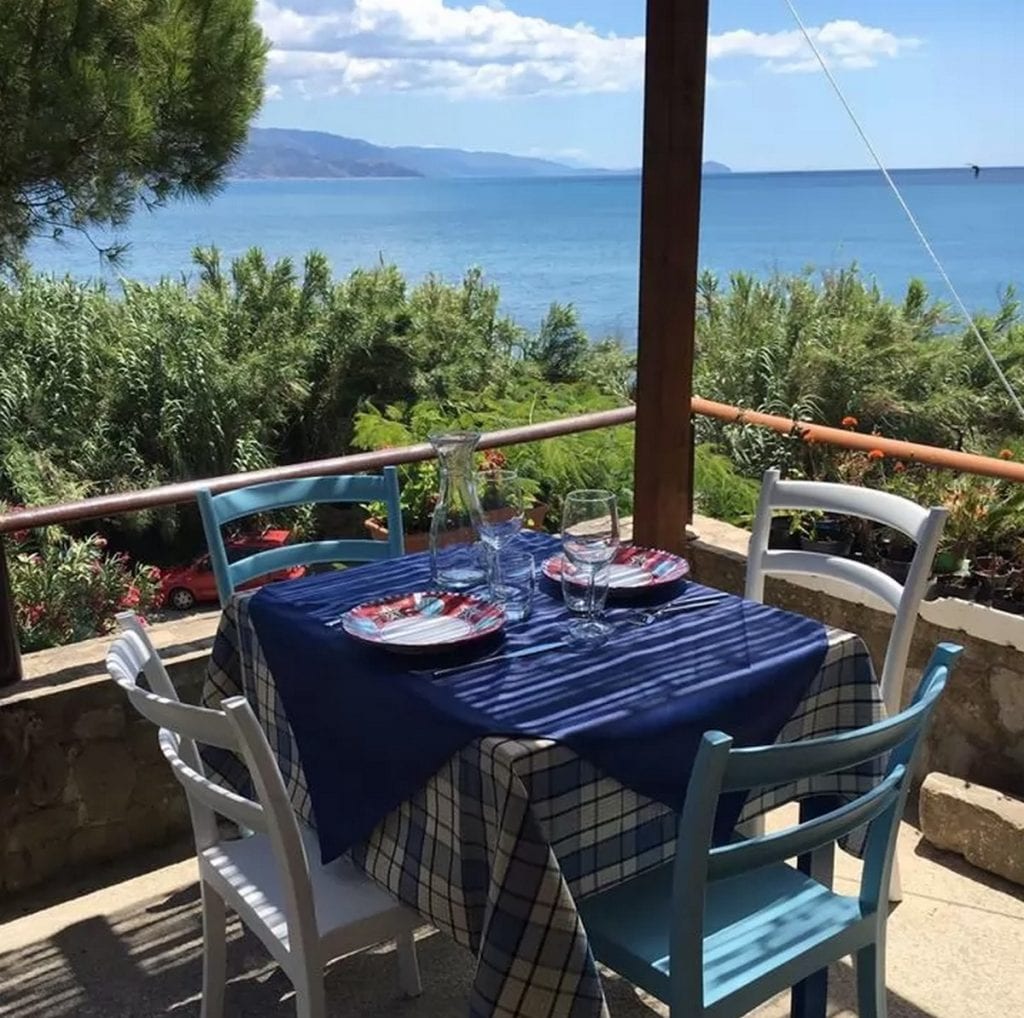 Dining in the coastal towns of Cilento
Seafood, seafood, seafood! But also quite possibly the most diverse and freshest products of the soil star in the cuisine of Cilento, gracing both informal and haute cuisine tables.
Castellabate
Stop for a light lunch at Il Caicco in the old town centre, on a terrace a thousand feet above the sea. Be sure to order their grilled alici di menaica, freshly caught anchovies. Down below at sea level, in Santa Maria di Castellabate, at her oddly named Dica? Duca owner Marianna cooks sublime spaghetti with mussels, paccheri with seafood and seafood risotto. If you're still hungry, mains can include the grilled fish of your dreams. And if you are with children who want pizza, the kitchen can oblige. Hortus is not only a place to eat well, but also a place of art, where everything that surrounds the tables–paintings, sculptures and photos–can also be purchased from the owner, cook and artist Costabile Guariglia.
Acciaroli
At Ristorante Boccaccio, order the seafood lasagna, but the eggplant parmigiana and the fried anchovies are equally palatable. Move over pasta with clams: at Il Veliero the house spaghetti aglio, olio and red prawns is nothing short of dreamy. Antonio is il rosso (redhead) who creates some of the area's best seafood cuisine in the kitchen of his Il Rosso e il Mare.
Pioppi
For Michelin-star level cuisine head to Suscettibile. The seafood puttanesca in your plate will make you think the terrace you're sitting on is the gateway to Mt Olympus. The best seller "How do Eat well and Stay well, The Mediterranean Way," with which Ancel Keys and his wife Margaret achieved world fame at the end of the Sixties, is part medical treatise on nutrition and its effects on health, and part recipe book, many of which belonged to Delia Morinelli, their housekeeper. Delia's Mediterranean Diet dishes can be enjoyed at her family restaurant, A Casa di Delia.
Casal Velino
Chef Franca Feola (raised by her fisherman father) and her three young daughters welcome and feed their dinner guests wonderful local fare at Locanda Le Tre Sorelle. Too much wine with dinner? Poolside rooms and apartments are available.
Palinuro
One of the most representative restaurants in Cilento is Da Carmelo. Fresh cuisine, excellent quality ingredients and courteous service. This year, after the passing of historic owner Carmelo Serva, the kitchen is entrusted to his daughter Adele.
Marina di Camerota
At La Taverna del Mozzo, Davide cooks up traditional Cilento recipes with a creative touch, he also pours excellent local wines, in an informal and family-style setting. At Ristoro Pozzallo you really can't ask for more. The most beautiful beach in Italy, Cala Bianca, can be reached by boat, on foot, or (fearlessly) by car. After swimming in crystal clear waters, a family of local fishermen will cook for you both for lunch or dinner (on reservation only) directly on the beach: stuffed anchovies, fried pizza dough, spaghetti alla Pozzallo: simple, but boldly exceptional cuisine. Don't let the name fool you: La Cantina del Marchese is a restaurant (not a wine cellar), and a fine one at that. Take a break from the all-seafood menus and opt for aubergines stuffed with cacioricotta and dipped in tomato sauce, or the typical rianata, aka origanata, the name by which pizza is called in these parts: slightly leavened, fragrant and seasoned with oregano - so much so that ordering one is never enough.
Accommodation in the coastal towns of Cilento
When planning your next Italy travels, Cilento and its charm of historical, natural and gastronomic beauty is equally strong in hospitality, with an incredible number of 4-star hotels, b&b and agriturismo farmhouses.
Paestum
The two enchanting residences of Il Cannito house 4 suites and are surrounded by thick Mediterranean vegetation composed of oaks, holm-oaks, elms, myrtle and juniper thickets. The decor, with rustic exposed beams and stone floors is perfectly integrated in the lush forest surrounding the property. The infinity pool is the perfect place for a sunset sip. En plein air spa treatments, private hot tubs and free wi-fi complete the picture.
Castellabate
Prince Belmonte's sophisticated 17th century historical residence is surrounded by a park and manicured gardens. With a number of suites, double rooms and larger apartments, Palazzo Belmonte offers guests a unique place to relax, either pool-side or on the private sandy beach. Palazzo Gentilcore was rebuilt on an old 18th century factory as a noble residence and subsequently enlarged and modified in its original complex. From the end of the 1960s it was then used as a hotel. It boasts 13 splendid rooms, a restaurant (Pancrazio), a panoramic roof garden, complete with a shady garden and terrace, and a bar.
Acciaroli
Hotel La Pineta is a luxury hotel by the sea featuring spacious rooms and suites, a gorgeous swimming pool and a fine restaurant. For a more family-oriented vacation, Hotel il Faro offers comfortable rooms overlooking the sea and breathtaking views. A lift takes guests straight to the hotel's large and private sandy beach. The "La Risacca" pizza and seafood restaurant on the patio overlooking the sea serves fresh fish and traditional Mediterranean cuisine.
Casal Velino
Only a short drive up in the hills above the sea is an organic agriturismo farm, I Moresani which produces extra virgin olive oil, wine and cacioricotta cheese, in addition to breeding pigs, chickens and cattle. The kitchen produces fruit preserves, pickled vegetables, and other gifts from the orchard. The family owned agriturismo offers accommodation and a fine rustic restaurant. If you're too tired for horseback riding or attending a cheese-making class, you can relax in your private garden, pour a glass of locally made wine and sway in your hammock listening to the cicadas lull you to sleep. PS: there's a pool, too.
Palinuro
Grand Hotel San Pietro can satisfy your all-inclusive dreams. Panoramic swimming pool, wellness centre, private beach and the luxe Thalassa suite with its own seawater mini-swimming pool featuring a hydro-massage system, geysers, a water blade and chromo-therapy.
Marina di Ascea
The nine suites of the stunning Rumi Hotels Restaurant & Spa compete with the A-level cuisine proposed by Executive chef Andrea Impero.
Shopping for local specialties in the coastal towns of Cilento
 The products of Cilento come highly recommended and are for the most part edible. I will try to be impartial, but the list that follows could be heavily skewed towards cheese.
Cilento produce
Cilento olive oil obtained DOP recognition in 1998. The oldest local varietal is the Pisciottana olive, followed by the Rotondella, Salella and Ogliarola. Tins travel better than glass bottles, and usually buying in larger quantities saves cash. A good place to select local olive oil is Cilento Verde. Another typical Cilento specialty is olive salelle ammaccate: pitted and smashed olives preserved in olive oil. You can find them at Agriturismo I Moresani.
A true local icon, the Cilento Dottato white fig DOP boasts remarkable versatility and lends itself to numerous preparations. If not eaten fresh, it can be used in recipes (both sweet and savoury) or enjoyed like the locals do: skewered and dried in the sun. In many Cilento houses you will find it made by the nonna, but you can buy yours at fig boutique Santomiele in Prignano Cilento.
In the Cilento produce basket we also find tomatoes of the Corbarino DOP variety, which grow in vineyards and are characterised by a slightly acrid taste. Carlo D'Amato is the expert connoisseur of the corbarino tomato and founder of I Sapori di Corbara. Equally, Corbarino Tour is a fun food experience that features the product among other local attractions. No less important is the Cilento yellow tomato or "Piennolo giallo" inscribed in the Slow Food Ark of Taste network as part of the cultural heritage and tradition of Cilento, the last remaining variety of the original golden colour. Its  firm, sweet pulp and concentration of flavour three times higher than other tomatoes make it ideal for any preparation, from pasta sauces to seafood. Get yours online at Masilicò.
Another Cilento product of the earth is the local white artichoke. Pale green to white (hence the name) it's also totally free of thorns and super tender. Excellent enjoyed raw with just a drizzle of olive oil. One of the many farmers that produce it is Pietro Gaito in Auletta.
Legumes of Cilento
The most famous legumes from Cilento are undoubtedly the beans of the Controne DOP variety. Included by the international Slow Food list of 100 Italian specialties to be saved, these beans are small, round and snow white. Among the handful of growers of this crop is Maria Rosa Agosto. Another local product is chickpeas from Cicerale. This Slow Food product is harvested by hand and unique for flavour and texture. Only a handful of producers cultivate them, among which Casale Denazzano; and Azienda Agricola San Felice, both women owned farms!
Cilento wines
Two wine denominations of the Campania region come from Cilento: Castel San Lorenzo DOC and Cilento DOC, produced by combining traditional grapes such as aglianico, piedirosso, fiano greco and malvasia with other non-natives to the region. Notable Cilento natural wine producer is Casebianche, in Torchiara. Planted among olive, citrus and fig trees are approximately 5.5 hectares of vineyards, mainly Aglianico and Fiano giving us four labels: Cupersito, Cumalè, Iscadoro and Dellemore. Another worthy producer is Agricola San Giovanni, in Castellabate. Their natural wines are the perfect reflection of the untouched nature and personality of the owners. The sea-facing vineyards are mostly planted with local grapes, Fiano, Aglianico and Piedirosso. In addition to their five wines––Paestum, Tresinus, Castellabate, Maroccia, Ficonera––the farm also produces olive oil, organizes tastings and offers charming lodging solutions on the property. Azienda Agricola San Salvatore 1888 is in the heart of the nature reserve, and is known for the production of typical red and white wines from Campania such as Aglianico and Falanghina, in an impressive line of labels.
Salami
The Compendium of practical agriculture of 1835 mentions soppressata di Gioi, perhaps the best known of the typical salami of this area, revealing how this particular butterfly-shaped aged sausage dates back to the 11th century. Macelleria Barbato and La Cilentana Salumi produce it year round.
The cheese of Cilento
Cacioricotta del Cilento is the representative cheese of the area. As part of the Slow Food Presidia, it is produced by blending equal parts goat and sheep's milk to obtain a lean and flavourful semi-aged cheese that's admitted as part of the Mediterranean Diet. Get yours at Le Starze. Other notable local products include original mozzarella nella mortella (mozzarella strips wrapped in myrtle twigs) made by Caseificio Chirico; delectable Cilentano ai fichi (fresh goat cheese smothered in fig jam) by Casa Madaio and of course, Her Majesty Mozzarella di Bufala Campana DOP, created daily by mozzarella masters at Azienda Agricola Barlotti and Tenuta Vannulo: the area's best organic mozzarella di bufala Campana DOP (Protected Designation of Origin status).
Biscuits
For a sweet reminder of Cilento, do bring home a bag of traditional dry biscuits: ring shaped taralli, murzeletti (dialect for "small bites") and mostacciuoli (they are perfect for your cheese board!).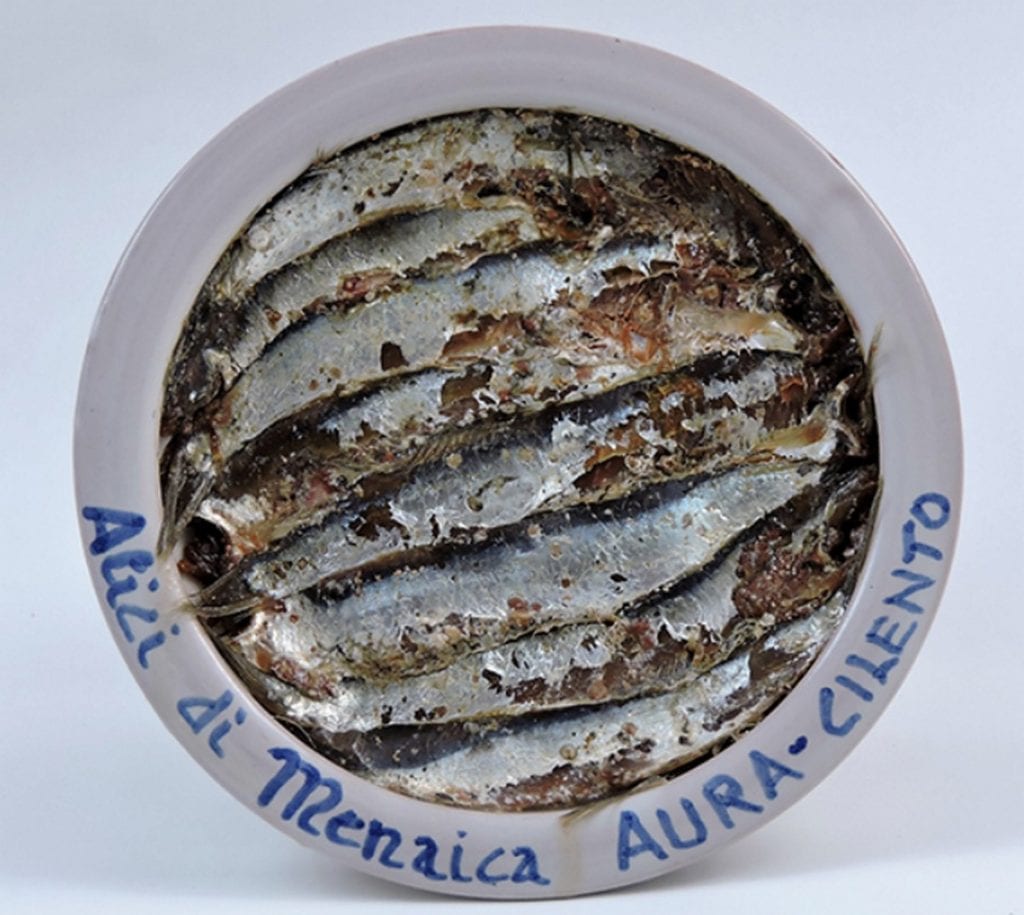 Anchovies "di menaica"
Another Cilento product is anchovies caught with a fishing technique practiced using a particular net called menaica. Caught in the large mesh of the menaica net the anchovies dart and jolt, thus quickly losing much of their blood. The fishermen pull up the net by hand and extract the fish one by one, cleaning away the entrails and the head. This results in white, thick and non-metallic tasting flesh. Purchase this Slow Food product at Aura or Alici di Menaica manufacturers.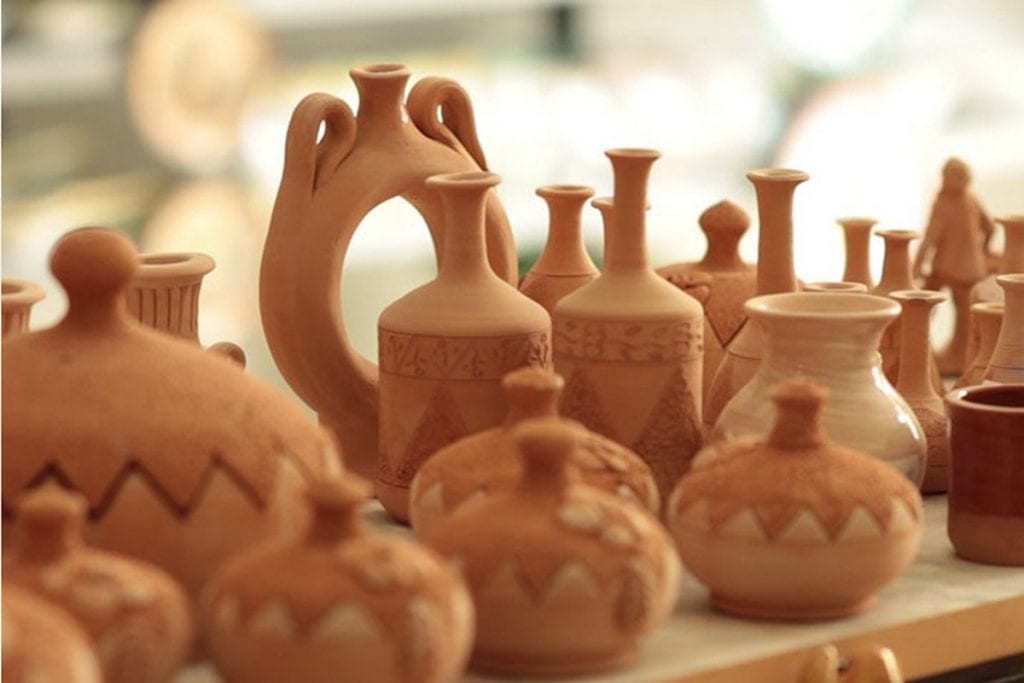 Ceramics
Non-food related but equally representative of Cilento is the artisan production of terracotta. Pompeo Cammarano's workshop is a treasure chest of dreams. Fiftynine year-old Pompeo is one of the last terracotta masters in Cilento. At his shop in the medieval village of Camerota, you'll witness the art of turning clay into art handed down for generations, with roots in Ancient Greece. You'll have the rare opportunity to admire u' cunzàro (the potter) and his wife Antonia at work and buy their unique objects.
Sightseeing around the coastal towns of Cilento
Besides lounging on sunbeds on some of Italy's cleanest beaches, annually awarded with Bandiera Blu certification (United Nations-endorsed recognition conferred by the Foundation for Environmental Education to European coastal resorts that meet quality criteria for cleanliness and mooring facilities), or taking boat excursions to explore the area's grottos and caves, secluded inlets and swimming paradise locations; Cilento also boasts a vast national park and unique archaeological sites. Cilento has it all, minus the crowds.
UNESCO (http://whc.unesco.org/en/list/842) World Heritage Site Parco Nazionale del Cilento e del Vallo di Diano biosphere reserve extends over an area of 185,000 hectares from the Tyrrhenian coast to the foot of the Apennines, including the peaks of the Alburni, Cervati and Mt Gelbison, as well as the coastal buttresses of Mt Bulgheria and Mt Stella.
In addition to the aforementioned temples in Paestum, consider extending your visit beyond just the temples to include the archaeological park of Velia, the Roman name of an ancient city of Magna Graecia, Elea. The city was known for being the home of philosophers Parmenides and Zeno of Elea, considered among the greatest Greek philosophers, fathers of the roots of Western rationale. The ticket of the Archaeological Park of Paestum and Velia is valid for 3 days and includes one access to the Temples and to the Museum of Paestum and the Velia Archaeological dig.
The 14th century charterhouse Certosa di San Lorenzo di Padula is the largest monastic complex in Southern Italy and one of the most interesting in Europe for its architectural magnificence and abundance of artistic treasures.
Addresses
Where to eat
Ristorante Il Caicco - Castellabate (SA) - Corso Margherita di Savoia 5 - +39 0974967436 - www.ilcaicco.it/
Duca? Dica - Santa Maria di Castellabate (SA) - Via Lungomare Pepi 62 - +39 3920665271
Hortus - Castellabate (SA) - Localita' San Pietro, Strada Provinciale 15 - +39 3339872478
Ristorante Boccaccio - Acciaroli di Pollica (SA) - Lungomare Nicotera -  +39 0974904646 - www.boccaccioacciaroli.com/
Il Veliero - Acciaroli di Pollica (SA) - Piazzale Porto - +39 3318941710 - Facebook page
Il Rosso e il Mare - Acciaroli di Pollica (SA) - Via Nicotera 26 - +39 0974904046 - www.ilrossoeilmare.it/
Suscettibile - Pioppi (SA) - Via Giuseppe Ungaretti 27 - +39 3293136478 - www.suscettibile.it/
A Casa di Delia - Pioppi (SA) - Via Porto del Fico 15 - +39 3398348142
Locanda le Tre Sorelle - Casal Velino (SA) - Via Roma 50, 84040 - +39 0974902024 - www.locandaletresorelle.it/
Da Carmelo - Palinuro (SA) - Strada Regionale 562 n.14 Località Isca - 340 6577876 - Facebook page
La Taverna del Mozzo - Marina di Camerota (SA) - Lungomare Trieste 95 - +39 0974932774 - Facebook page
Ristoro Pozzallo - Marina di Camerota (SA) - Località Pozzallo - +39 368215113
La Cantina del Marchese - Marina di Camerota (SA) - Via del Marchese 13 - +39 0974932570
Where to stay
Il Cannito - Paestum (SA) - Via Cannito - +39 08281962277 - www.ilcannito.com/
Palazzo Belmonte - Santa Maria di Castellabate (SA) - Via Senatore Manente Comunale 22 - +39 0974960211 - www.palazzobelmonte.com/
Palazzo Gentilcore - Castellabate (SA) - Via Amendola 1 - +39 09741735006 - www.palazzogentilcore.it
Hotel La Pineta - Acciaroli (SA) - Via Nicotera 42 - +39 0974904003 - www.hotel-lapineta.com/
Hotel Il Faro - Acciaroli (SA) - Via Nicotera 151 - +39 0974904389 - www.hotelilfaro.it/
Agriturismo I Moresani - Casal Velino (SA) - Località Moresani - +39 0974902086 - www.agriturismoimoresani.com/
Grand Hotel San Pietro - Palinuro (SA) - Via Carlo Pisacane - +39 0974931466 - www.grandhotelsanpietro.com/
Rumi Hotels Restaurant & Spa - Marina di Ascea (SA) - Via Magna Graecia – +39 0974977128 - www.rumihotels.it/
Where to shop
Cilento Verde - Piano Vetrale (SA) - Via Piemonte, 5/bis Località Chiuse - +39 3339672212
www.agricilentoverde.it/
Agriturismo I Moresani - Casal Velino (SA) - Località Moresani - +39 0974902086 - www.agriturismoimoresani.com/
Santomiele - Prignano Cilento (SA) - Via Salita San Giuseppe s.n.c. - +39 0974 833275 - www.santomiele.it/
I Sapori di Corbara - Pagani (SA) - Via Corallo 173 - +39 08119328778
Corbarino Tour - Corbara (SA) - Via Casamola 8/c - +39 3891749400 - Facebook page
Masilicò - Montecorice (SA) - Via Marina Nuova 51, fraz. Agnone -  www.masilico.com/
Pietro Gaito - Auletta (SA) Contrada Pisciolo - +39 0975392769
Maria Rosa Agosto - Controne (SA) - Via San Sebastiano 15 - +39 0828772145
Casale Denazzano di Anna Mele - Cicerale (SA) - Via Roma 210 - +39 0828 721133 - www.casaledenazzano.it
Azienda Agricola San Felice - Cicerale (SA) - Contrada San Felice, via Difesella
+39 3887457525 - www.aziendaagricolasanfelice.it/
Azienda Agricola Casebianche - Torchiara (SA) - Via Case Bianche 8 - +39 0974843244 - www.casebianche.eu
Agricola San Giovanni - Castellabate (SA) - Punta Tresino - +39 0974965136 - www.agricolasangiovanni.it/
Azienda Agricola San Salvatore 1888 - Giungano (SA) - via Dioniso snc - +39 08281990900 - www.sansalvatore1988.it/
La Cilentana Salumi - Trentinara (SA) - Via Roma 153
Macelleria Ersilia Barbato - Gioi (SA) - Via Garibaldi 38 -+39 0974991292
Le Starze - Vallo della Lucania (SA) - Frazione Pattano, Contrada Starze - +39 3357782893
Caseificio Chirico - Marina di Ascea (SA) - Via Molino Vecchio, 23 - +39 0974971584 - www.caseificiochirico.it/
Casa Madaio - Castelcivita (SA) - Via Roma 23 - +39 0828364815 - www.casamadaio.it/
Caseificio Barlotti - Licinella/Torre di Paestum (SA) - Via Torre di Paestum 1 - +39 0828811146 - www.barlotti.it/
Tenuta Vannulo - Capaccio Paestum (SA) - via Galileo Galilei, 101 c.da Vannulo - +39 0828 727894 - www.vannulo.it
Aura - Palinuro (SA) - Strada Statale 562, km 0 Incrocio Marina di Camerota-Centola-Palinuro - +39 0974273451 - www.aura-cilento.com/
Alici di Menaica - San Marco di Castellabate (SA) - Via Giovanni Romito snc - +39 3474439102 - www.alicidimenaica.it/
Terracotta Cammarano - Camerota (SA) - Piazza San Vito - +39 3474619793
What to pack for a weekend in the coastal towns of Cilento
 Leave the bulky suitcases behind and travel light. Given sea breezes can swirl suddenly even on warmer days, it's always smart to bring a light windbreaker, even in summer. You'll be walking on cobbled alleys or sandy promenades, leading a beach lifestyle in the coastal towns of Cilento, so ditch the heels and fancy shoes. Avoid white sneakers, and rather pack only one pair of worn-in and sturdy all-conditions walking shoes, or flat strappy waterproof sandals for beach days.
For a weekend getaway consider packing one pair of jeans, two pairs of shorts or bermudas, one cardigan, double sets of long and short-sleeve tops. Bring one set of comfy pyjamas, cotton socks and lingerie, and never forget to pack at least one bathing suit and a beach towel.
When to go
June and September are ideal for good weather. In pre-Covid times August was the most crowded month.
How to get there
By train: High-speed Frecciarossa trains connect major Italian cities (Milano Rogoredo, Reggio Emilia, Bologna, Florence, Rome Tiburtina, Rome Termini, Napoli Afragola, Napoli Centrale and Salerno) to Agropoli, Vallo della Lucania and Sapri.
By hydrofoil: Daily routes from Naples, Salerno, Positano and Amalfi to Agropoli, San Marco di Castellabate, Acciaroli, Casalvelino, Pisciotta, Palinuro and Camerota. Check departure times here.
By car: Heading south: take highway A3 Salerno-Reggio Calabria. Exit at Battipaglia; from here reach the coastal towns continuing along SS 18 – Tirrena Inferiore, following the signs for Capaccio-Paestum-Agropoli.
Heading north: take highway A3 Salerno-Reggio Calabria. Exit at Buonabitacolo. Merge onto Sapri-Roccagloriosa expressway until it joins the SS 18 – Tirrena Inferiore (towards Vallo della Lucania–Salerno).
What films to watch for inspiration
The Secret of Monte Cristo (1961) Starring Rory Calhoun, the filming locations of this UK production included Agropoli, Giungano, Trentinara, Paestum e Palinuro.
Jason and the Argonauts (1963) The epic movie was also filmed partly in Palinuro, Paestum and Agropoli.
Benvenuti al Sud (2010) This hilarious Italian blockbuster was entirely filmed in Castellabate and Marina di Castellabate. Given the great success obtained by the film in Italian cinemas, the town has since received a considerable increase in visitors.
Benvenuti al Nord (2012) Sequel to Benvenuti al Sud, same cast, same location
Read our Mini weekend guide to the hilltop towns of Abruzzo
by Eleonora Baldwin