Italian cuisine as a synonym of happiness. In the world, our flavours make people smile, they love our way of living, telling and proposing food (and wine) thanks to an infinite repertoire of recipes that evoke ingredients and above all places and cultures. Since 2016, the Top Italian Restaurants guide has been mapping quality Italian restaurants on a global scale. Eating Italian food on an international level is equivalent to travelling, dreaming for a moment of breathing in the atmosphere of cities of art, the countryside, strolling for a short distance along our 8,300 km of coastline: embracing an idea, a lifestyle.
What's new in Top Italian Restaurants 2023
The 2023 issue starts with a strong novelty, category distinctions within the restaurants evaluated with Forchette, there are no longer Gamberi: taverns, trattorias, bistros, hotel fine dining are all considered the same. The Spicchi remain for pizzerias and Bottiglie for wine lists.
Trends in Italian restaurants abroad
The Italian dish of the moment abroad? Cacio e pepe rises to the top step, undermining carbonara, lasagne and the like. On the subject of pizza, Neapolitan pizza art is spreading at a triple rate even in the less travelled cities, while the number of places that offer Roman pinsa is surprising, certainly more celebrated outside than it is inside the Eternal City. If the fifth quarter and the Italian repertoire of soups struggle to establish themselves on a global scale, among the constants we note vitello tonnato (veal with tuna sauce), generous use of burrata and truffles, the ritual of spaghetti with tomato sauce, Milanese style schnitzel, and tiramisu in closing.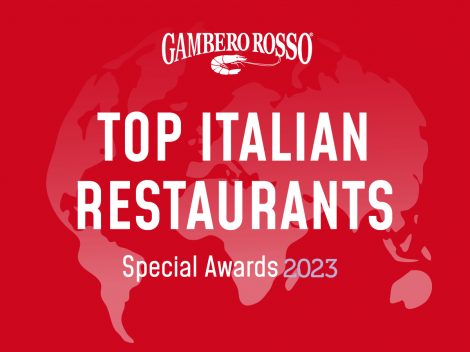 Top Italian Restaurants 2023. The Award-winners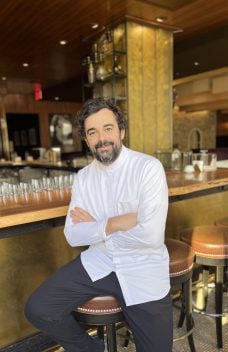 Raising the bar is owed to a generation of well-trained professionals who have chosen the foreign path to gain experience. Now there are extraordinary satisfactions and few make their way back home. But let's get to the numbers of Top Italian Restaurants 2023: 30 Tre Forchette, 20 Tre Spicchi and 20 Tre Bottiglie . And seven special prizes summarising a year's work.
Chef of the Year – Antonio Mermolia, Washington DC
The chef of the year works a few minutes' walk from the White House, in the kitchens of Fiola, an elegant restaurant of chef and entrepreneur Fabio Trabocchi. Antonio Mermolia, 39, native of Gioia Tauro, has bewitched us with his creative and elegant style exquisitely linked to Mediterranean flavours for a fine and complex experience, with ingenious peaks. Technically well prepared, humble and to say the least passionate: he is the face of this year's issue.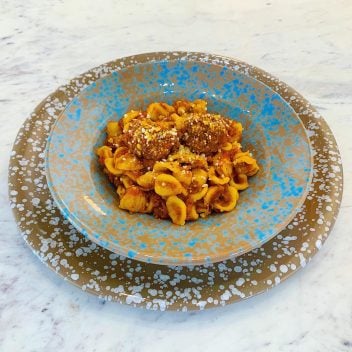 Restaurant of the Year - LA Puglia, Los Angeles
The leap in quality of dining abroad is already selling well from the new regional and no longer national focus. We returned twice to the restaurant opened in 2020 in Santa Monica by Valentina Bianco and for a moment we found ourselves in a small town between Bari and Lecce. Flavours without any filters, authentic, precise cooking, for a Puglia repertoire expressed with genius that is very difficult to find in the rest of the United States. Orecchiette, focaccia, pasticciotto and wines that all speak the same dialect. In short, Italian flavour to the nth degree.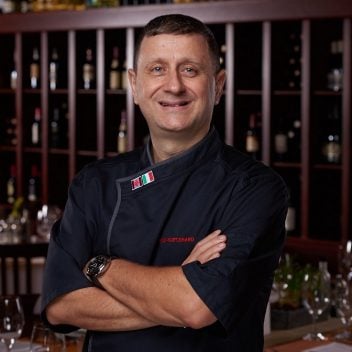 Guardian of Tradition Award - Pino Posteraro, Vancouver
We move among the glass skyscrapers of Vancouver to pay tribute to Pino Posteraro, chef and owner of Cioppino's Mediterranean Grill & Enoteca since 1999. The place is a point of reference for all of Canada: ingredients of great quality, obviously starting with excellent olive oils, first-rate fish and meats, cured meats seasoned at home according to tradition, and an infinite wine list. For 23 years a virtuous model of Italian cuisine in the world, prepared with professional approach and competence.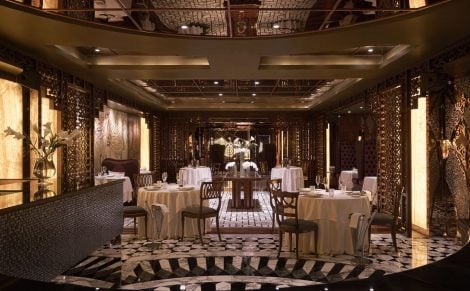 New Opening - Da Vittorio, Ho Chi Minh City
The 2022 opening takes us to vibrant Ho Chi Minh City, Vietnam within the scenic Times Square Building. This is where the new international adventure of Chicco and Bobo Cerea started off. The two have successfully taken Da Vittorio around the world, first in Switzerland and then the double challenge in China. Since June, with the contribution of resident chef Matteo Fontana, the start is with style between inevitable dishes such as Paccheri da Vittorio and recipes created from scratch.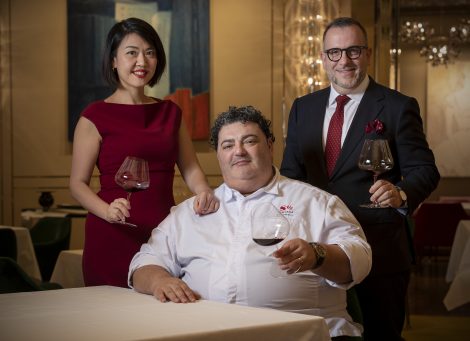 Wine List of the Year - 8 e ½ Bombana, Macao
Such a profound, well-written and researched wine list is hard to find even in Italy. We landed in the 'Las Vegas of the East', in the galaxy of the group linked to Umberto Bombana. Here credit goes to Marino Braccu, general manager and sommelier, who has put together a list that smells of native grapes, of artisans, of gastronomic wines, of functional wines. We are not fazed by the dozens of vintages of Masseto and Sassicaia but by rather the coherence of a wine list full of surprises, usable, with names that are little known in Asia, enlivened by a surprising mix. And with Riccardo La Perna in the kitchen we're looking at a dream team.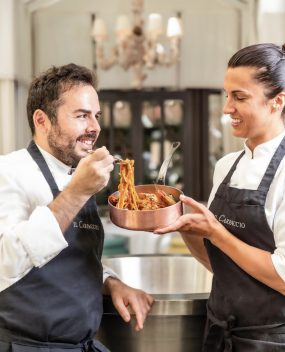 Emerging restaurant of the Year - Carpaccio, Paris
Rock music plays again in this temple of Italian dining abroad, just a few metres from the Arc de Triomphe. Oliver Piras & Alessandra del Favero made the leap from Cadore to Paris with great ease, bringing a breath of fresh air to a hotel kitchen, Hotel Le Royal Monceau - Raffles. We tasted a perfectly rhythmic menu between classics and truly avant-garde recipes: clear flavours, incisive contrasts, a mix of talent and delight.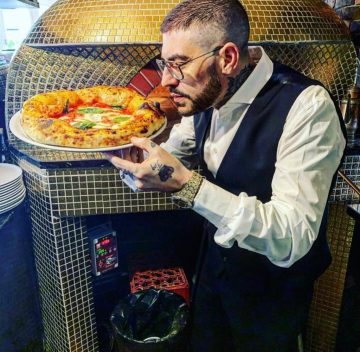 Pizzeria of the Year - Napulè, Zurich
We close on the lees with a story worthy of cinema. Raffaele Tromiro, fourth generation of pizza makers, has travelled the world, has also experienced difficult moments and then found his place on the shores of Lake Zurich. Today Napulè is an all-round brand, with branches specialising in pizza a portafoglio and more structured establishments such as the new Zollikon. Here we found an airy and fragrant crust, leavened for a long time, topped with ingredients of the highest profile, the result of independent research.
Special Awards 2023
● Chef of the Year – Antonio Mermolia, Washington DC
● Restaurant of the Year – LA Puglia, Los Angeles
● Guardian of Tradition Award – Pino Posteraro, Vancouver
● New Opening – Da Vittorio, Ho Chi Minh City
● Wine List of the Year – 8 e ½ Bombana, Macao
● Lunch of the Year: Carpaccio, Parigi
● Pizzeria of the Year –Napulè, Zurigo
Tre Forchette
The best restaurants
8 e ½ Bombana, Hong Kong
Acquarello, Monaco di Baviera
Acquerello, San Francisco
Armani/Ristorante, Tokyo
Art di Daniele Sperindio, Singapore (new)
Belotti – Ristoranti e Bottega, Oakland
Buona Terra, Singapore
Casa Tua, Miami
Cioppino's, Vancouver
Cori Trattoria Pastificio, San Diego
Da Vittorio, Shanghai
Dilia, Parigi
Don Alfonso, Toronto
Epiro, Nizza
Fiola, Washington
Gellius, Knokke
Il Ristorante Luca Fantin, Tokyo
Il Ristorante Niko Romito, Dubai
La Devozione - The Oval, New York (new)
LA Puglia, Los Angeles (new)
Lumi, Sydney
Mancini, Stoccolma
Mosconi, Lussemburgo
Passerini, Parigi
Pastamara, Vienna
Pianeta Terra, Amsterdam
Sartoria, Londra
Senza Nome, Bruxelles
Tentazioni, Bordeaux
Tèrra, Copenaghen
Tre Spicchi
The best pizzerie
''O Munaciello, Miami
50 Kalò di Ciro Salvo, Londra
Al Taglio, Sydney
Bottega, Pechino
Forza, Helsinki (new)
Futura, Berlino
Leggera Pizza Napoletana, San Paolo
Luigia, Dubai/Ginevra
Montesacro Pinseria, San Francisco
Napulé, Zurigo (new)
nNea, Amsterdam
Pasquale's, Rhode Island (new)
Peppe Napoli Sta Ca', Tokyo
Peppe Pizzeria, Parigi
Ribalta, New York
Sartoria Panatieri, Barcellona (new)
Song' e Napule, New York
Spacca Napoli, Chicago
Via Toledo Enopizzeria, Vienna (new)
The Pizza Bar on 38th, Tokyo
Tre Bottiglie
The best wine cellars
1889 Enoteca, Briscane
8 e ½ Bombana, Macao (new)
A16, San Francisco
Acqua Restaurant, Phuket (new)
Drago Centro, Los Angeles (new)
Enomania, Copenaghen
Enoteca, Bangkok
Enoteca Turi, Londra (new)
Ferraro's, Las Vegas (new)
Gallo Nero, Amburgo
Garibaldi, Singapore
Giando, Hong Kong
Graziella, Montreal
L'Enoteca di Mr. Brunello, Copenaghen
Manifesto, Dublino
Marea, New York
Osteria del Becco, Città del Messico
SaittaVini, Dusseldorf
Sistina, New York
Vinoteket, Oslo
by Lorenzo Ruggeri