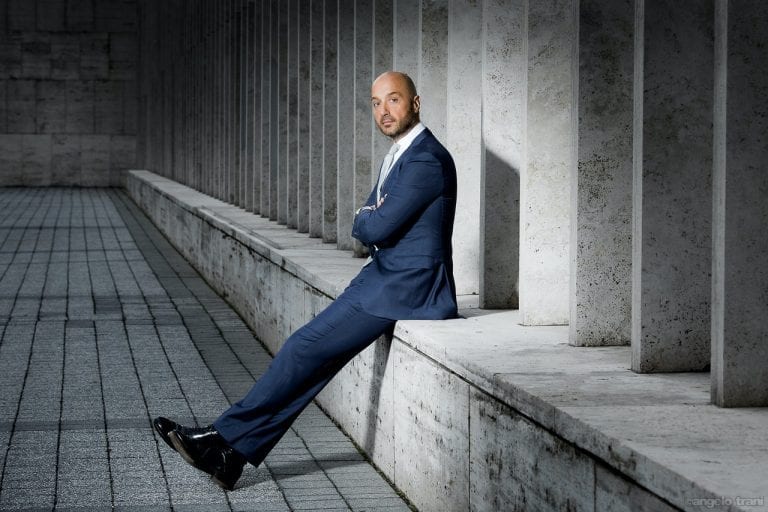 10 video lessons to find out what transforms a good cook into a successful entrepreneur. Joe Bastianich's new project as told by him.
Joe Bastianich
Joe Bastianich has closed the circle. It's useless to deny it, the aptitude to speak clearly, to show the way and define the rules, had already emerged. Ever since, with his first volume The Restaurant Man, he shared, between memories and tasty anecdotes, peremptory indications. That is important, things like: "Here's everything you need to know if you want to open a restaurant. The profit margin is three times the cost of any product; on some you earn more, on others less" by adding "Mirrors for larks as appetizers and desserts to cut costs…" or "30% of the monthly income goes for the purchase of food and wine. Another 30% is for labor, 20% for miscellaneous expenses, including rent, and the remaining 20% ​​is for profit." Lapidary, statements that don't allow reply. After all, what imore can you say to sentences like, "The monthly rent should coincide with the gross income of the weakest day"?
The Bastianich method and the mathematics of dining
The mathematics of dining is simple, he explained, in the b.C. era. (before Covid) times that today seem very distant. But perhaps they are not so much, if since then Bastianich has been at his desk again to pick up those concepts and write down "his" Rules for success, those he has matured over many years of life and experience in the world of super-frequented restaurants across the ocean (and beyond), during which he came to terms with the diktats inherited from Felice Bastianich (creator of the family empire together with Lidia): "These are my father's absurd rules," rules that he has made his own over time, developing a Bastianich Method, a magic formula that, if it does not ensure the success of a restaurant, at least lays the necessary foundations. Through 21 tricks, secrets from a shrewd entrepreneur or a good family man, invites you to dare, have common sense, organize, plan, as appropriate (like some: never let yourself be seen eating in your own restaurant, or pay the fishmonger first). Rules that, once again, one could engrave on stone and never forget. Even more so in today's world, dominated by uncertainty, where improvisation and carelessness can be fatal for any restaurant business. Is this the right time to invest? We cannot say for sure, but it's certainly the right time to not throw yourself into the fray (and perhaps it has not been for many years), because the most serious mistake is "Not having a clear focus" he says, "a restaurant without opinion is the worst thing," a bit like people.
Metodo Bastianich: first a book then a community, from Facebook to a video course
And it is no coincidence that that book released this autumn was the trigger for a series of projects that – as is customary in the world delivered to us by Covid – are moving online. First there was the creation of a Facebook community, in which Bastianich has made his thirty years of experience in the world of restaurants available to us. As the group grew (now it's about 7,000 members strong, insiders or aspiring ones) it took shape, settling on two live sessions per week, one with Joe himself answering people's doubts and questions live and "trying to bring an international perspective," the other with a fellow professional in the restaurant trade.
Moving from the group to creating a real course was a snap. Because we are facing a new world, in which the restaurant industry is seriously affected by the consequences of Covid. It is no longer the world of yesterday, there is no more time to try and make do. We need to be aware of the new reality in which we find ourselves and whose boundaries we still have to measure and understand the dynamics. Bastianich, what changes compared to before? "In my opinion, everything changes" he says with decision, then softens, having very clear the character of Italian restaurant business, made up of small family businesses: "No, traditional dining remains, but the needs, the perspectives of the customer have changed, all this gives rise to new perspectives and opportunities." So in this era of closed restaurants, are there any opportunities? "Yes, very big ones" and then he adds: "and when opportunity meets preparation, that's where fortunes are created." In this, his international experience comes to the rescue: knowing in depth other landscapes, which precede ours by a few years, is like holding a crystal ball. Let's be clear: no one tells us that Italy in 5 years will be like the United States of today, but certainly some suggestions will also come from us.
The Bastianich method to seize opportunities
With these assumptions, the video course was born (available online until April 5) in which he makes his talent as a restaurateur available with the skills of other professionals in the sector. There are well-known names in restaurant dining, of course, but not only, because anyone who thinks that it's enough to know how to make good dishes, is very wrong, and often the most sensational failures arise from here, from ignoring that a restaurant is first of all a business, and as such requires many more skills than just cooking. "There will always be family trattorias in Italy, but now restaurants are also media companies" and what's next? "Then you need to have a vision, and go from being a chef to an entrepreneur." Among others, the interventions of Oscar Farinetti, in the first lesson dedicated to the vision, the one that every successful restaurateur should have, necessary "to understand the new post-Covid dynamics and the possibility of transforming them into opportunities." Farinetti, creator of Eataly and Green Pea – "will tell us how to understand the future" – together with him is Alberto Vai, expert in behavioural finance and character profiling, because "The balance between madness and common sense is the key to a successful vision." Massimo Bottura will talk about personnel, hospitality and communication: "The ability to manage relationships is a key aspect in the restaurateur's job." Antonino Cannavacciuolo, chef and leader, will talk about relationships with the kitchen staff and career paths, explaining "how to manage kitchen brigade." And then also Cristina Bowerman on the creation of the menu, in the contents as in the appearance, Marco Reitano (La Pergola) on the beverage proposal, Umberto Montano on the study of his business model in the light of the reference market, and again the transformation of ideas in profits, the creation of aesthetic identity, and so on, with the contribution of architects, psychologists, labour consultants, experts in corporate finance and digital marketing. And what is Joe Bastianich's contribution? "I'm the restaurant man" he smiles "that boy embarrassed by his parents' profession who 50 years later finds himself in the world of restaurants that in the meantime has become super cool, and on TV". But who started with the "The classic big old restaurant of my father." Joe perfectly embodies this evolution: "my story is the story of that transformation, as it's the story of many who have found themselves living this work in the passage between 2 generations" he reflects, "I try to bring that experience and that same evolution." But do you ever talk about cooking in these lessons? "No, if you don't already know that part, you'll lose your money and you are also wrong to invest in this course."
The Bastianich Method – Available until April 5 – www.metodobastianich.com
by Antonella De Santis
photos by Angelo Trani