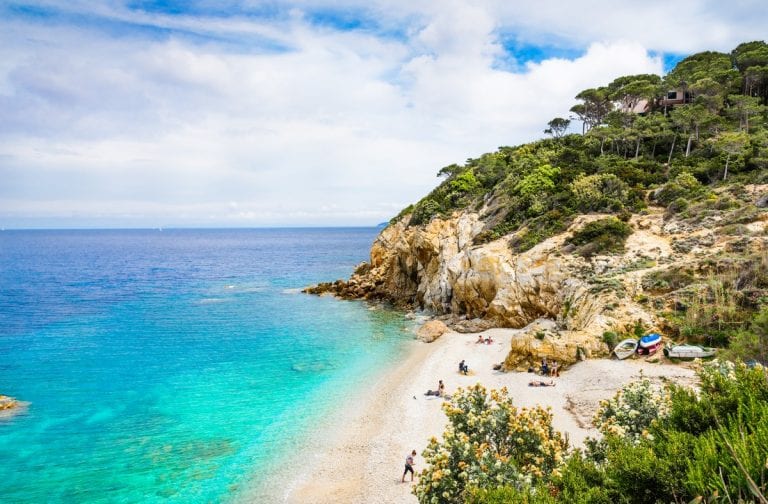 Looking for a good restaurant in Elba? Here is the list of the top tables recommended by the winemakers.
Top tables recommended in Elba by the winemakers
Emanuel Bistrot
Portoferraio (LI) – s.p. per l'Enfola, 7
0565939003 emanuel-ristorante.it
«The spectacle of the sunset and of the dishes, beautiful even for the eyes, fresh fish and beautiful labels».
Pepepero
Portoferraio (LI) – via dell'Amore, 48
0565916240 olmosteria.com
«Constant relationships with breeders, farmers, fishermen, local producers for always fresh ingredients. Excellent cuisine, in the direction of finger food».
Le Viste
Portoferraio (LI) – spiaggia delle Viste
via del Falcone – 0565914405 – ristoranteleviste.com
«On the beach, near the historic center, breathtaking sunsets, original menu that varies with the season. Fresh fish, even raw fish, catch of the day also offered island-style, baked in the oven».
Salegrosso
Marciana Marina (LI) – p.zza della Vittoria, 14
0565996862 @SaleGrossoRistorante
«Specialised in fresh fish, informal but classy, one step away from Cotone, one of the island's most characteristic hamlets. Good value for money.».
Rendez Vous
Marciana Marina (LI) p.zza della Vittoria, 1
056599251 – rendezvousmarcianamarina.it
«Piero in the dining room, Luca in the kitchen pamper customers with impeccable ingredients and attention to detail. Near the sea, in the now famous square with the BarLume venue of TV series fame».
Publius
Marciana (LI) – loc. Poggio – piazza del Castagneto, 11
056599208 ristorantepublius.it
«In the hills, with a veranda overlooking the sea, roots in the Elba culinary tradition, more land than sea, chestnut gnocchi with duck ragu and wild boar meat morsels».
Osteria del Noce
Marciana (LI) – via della Madonna, 14
0565901284 – osteriadelnoce.com
«In the cool of Marciana, a place of Elba and Ligurian tradition, black tagliolini with mantis shrimp and asparagus, tuna tartare with green apple, lime and prosecco. Good wines, homemade desserts».
Da Cipolla
Rio nell'Elba (LI) – piazza del Popolo, 18
0565943068 – @cipollario/
«Informal and friendly bar restaurant, traditional Riese dishes, including truffle and cabbage soup in the right season. Family-run, in the town square».
Da Piero
Marina di Campo (LI) – via Gorgona
3914322831 – @dapieroiselba
«Modern, elegant restaurant with a beautiful view of the gulf. Typical cuisine with a modern twist. There is also an excellent sommelier who can recommend the right pairings».
La Taverna dei Poeti
Capoliveri (LI) – via Roma, 14
0565968306 – latavernadeipoeti.com
«Avant-garde cuisine, even meat-only tasting menus. Passion and attention to customer service, beautiful cellar with excellent wine list».
Ansonica wine, particular and with character: you either love it, or…
The Ansonica of Elba is the wine of the sun and the sea: from the sun it extracts its golden yellow colour, full and luminous; from the sea wind it absorbs the great flavour that characterises it: sapidity that accompanies its taste and that is enhanced when associated with the right food. Ansonica is particular and has great personality, if wisely vinified. It is not very fragrant, but it has a great structure because it is rich in pectin; it lacks acidity (which is why it is preferable to drink it slightly more aged), but when harvested at the right time (usually after mid-September, often at the end of the month) it lends great gustatory emotions. Acacia honey accompanies the opening nose, followed by the broom flower that characterises it, in the mouth its saline softness envelops the palate and makes it a perfect companion for raw tuna, white meat, noble fish cooked in the island style. We offer it with tuna in cuttlefish ink and veal sauce, with linguine with lobster and also with Iberian pork capocollo. If we had to find a defect, it's that it's not a ruffian or fashionable wine, and like all great wines, it's one you either love or hate, without compromise.