Caciocavallo di Agnone
This is an ancient cheese made in the cities of Agnone, Capracotta and Vastogirardi, in the provinces of Isernia since the Roman colonization of Magna Grecia, southern Italy. The cheese is made with raw cow's milk, concealed in a yellow rind that veers to brown in the more aged gourds. After maturing approximately 20 days it is placed in natural aging stone caves for a minimum of 3 months. The flavour is delicate and becomes spicy with ageing. Locals eat it grilled with local bread.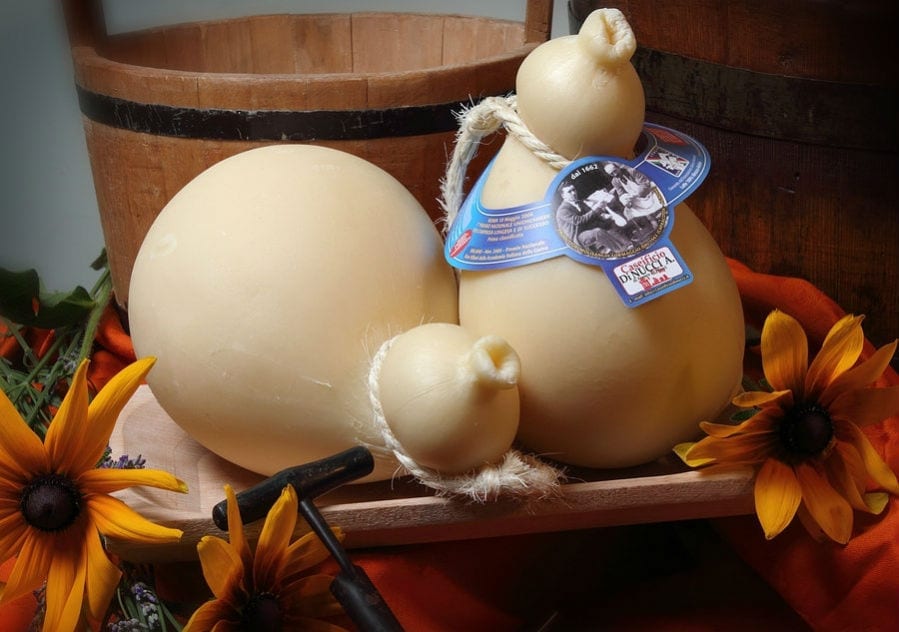 Capofreddo (coppa molisana)
Similar to Calabrian soppressata (we wrote about it in this article) this is a cooked pork product like head cheese made with boiled pork organs like head, trotters, skin and tongue. The boiled meats are seasoned with bay leaves, fennel seeds, garlic, hot chilli peppers and sometimes orange rind, and then placed in a canvas bag, which will shape the sausage. The water used for boiling the sausage is often reused to prepare a special broth added with vegetables. The sausage is aged for two weeks and can weigh up to 11 lbs. It is eaten fresh within 30 days of ageing.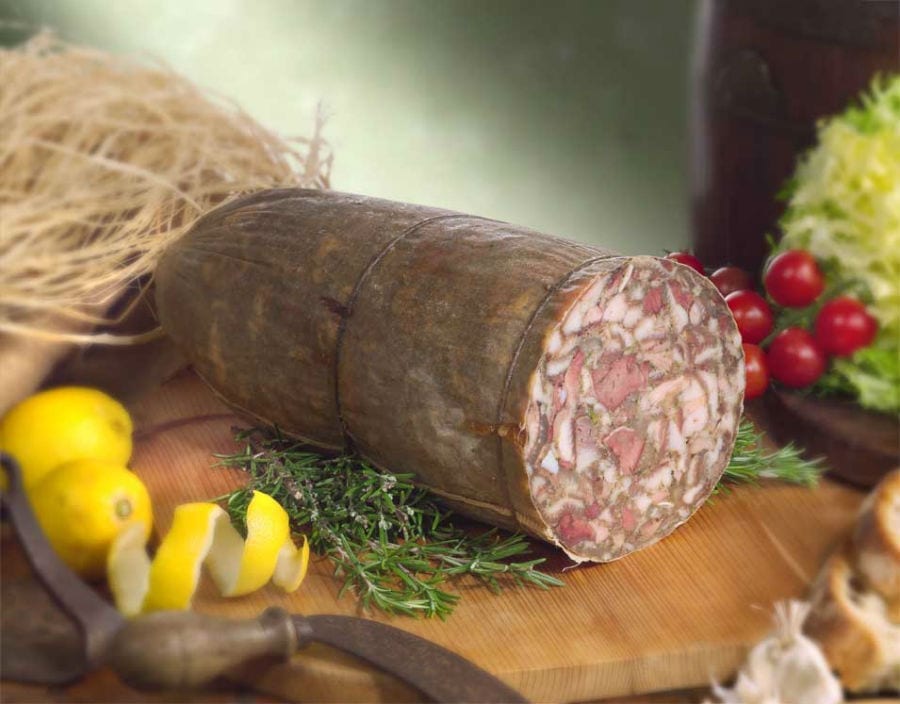 Capofreddo, Casa Porciatti
Caprino di Montefalcone nel Sannio
Goat cheeses are very common in the Molise region thanks to the many free range animals bred here. One of the most renowned goat products is caprino di Montefalcone del Sannio, produced in the province of Campobasso with raw milk. It is a semi-hard cheese with a compact, wrinkled rind and a soft, white inside. It is aged using a particular wooden tool called cascera, which hangs from the ceiling. The goat cheeses age like this for at least 2 months. This cheese is also eaten fresh, smeared on bread or paired to vegetable crudité and local jams.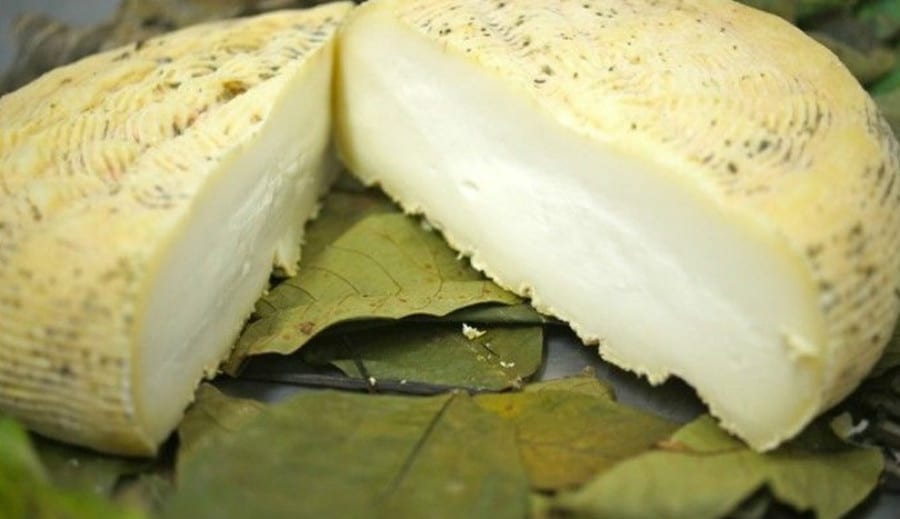 Cavatelli
Cavatelli is a typical pasta shape particular to Molise and then adopted in many other Italian regions. Durum wheat semolina flour is mixed with water, in some areas the dough is added with boiled potatoes. Legend has it cavatelli were invented during Fredrick II rule to satisfy the king's eating desires. They are hand shaped by applying pressure with index and middle finger to small pillows of dough. Cavatelli is normally dressed with ragù or pork meat sauce, or with vegetables like mushrooms or broccoli, which in Molise everybody calls "spigatelli".  In the town of Montenero di Bisaccia the typical dish is cavatelli – locally called "cuzzutilli" – topped with Ventricina di Montenero, described below.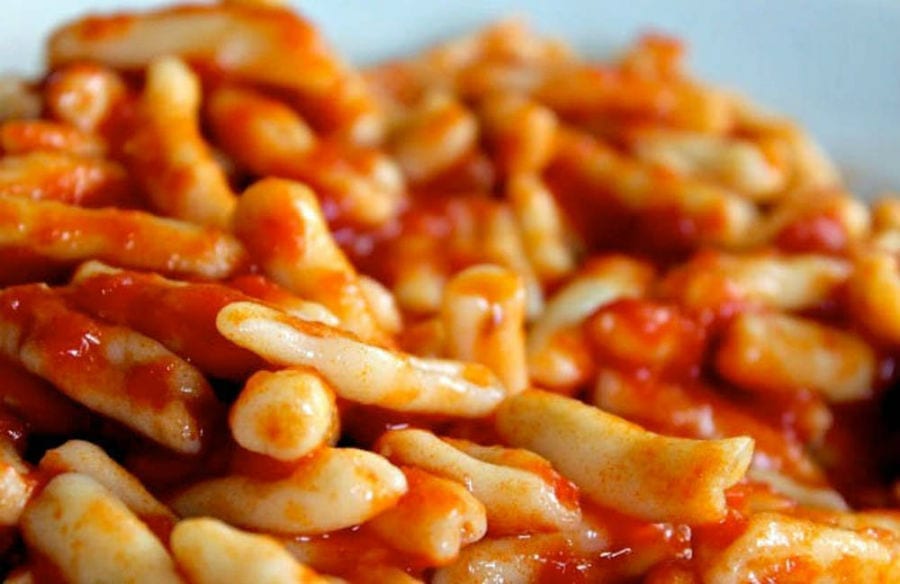 Centofoglie (scarola venafrana)
Also known as scarola venafrana, this is a common endive variety (Cichorium endivia) that is grown in the town of Venafro, in the Isernia province. The flavour of the leaves is fresh and delicate; the plants grow both in spring and fall. Rich in potassium, it boasts cleansing and diuretic properties. It is eaten raw as salad as well as cooked. In Molise it is cooked in earthenware pots with beans. A typical Venafro recipe is the "zuppa alla santè" made with chicken broth, chopped meat, veal meatballs, centofoglie and crumbled hard-boiled eggs.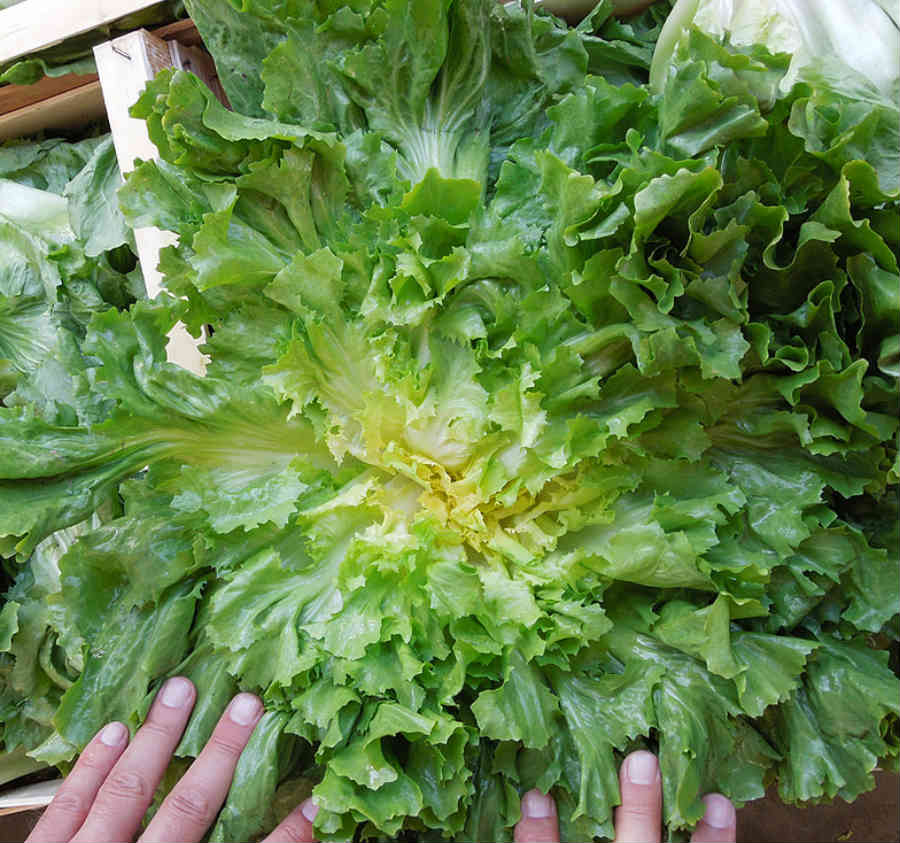 Cipolla di Isernia
One of the region's most prized crops is the Isernia onion also known as "cipolla di San Pietro". Lore has it the onion is connected to St Peter's mother who gave one to a hungry woman. The white bulb is flattened and can grow to weigh 200-300 grams. The flavour is particularly sweet and hence often eaten raw with a slice of bread. One of the area's most popular recipes is "cipollata": a frittata made with the special onions. Every year on 28 and 29 June a food festival in its name celebrates the famous onion.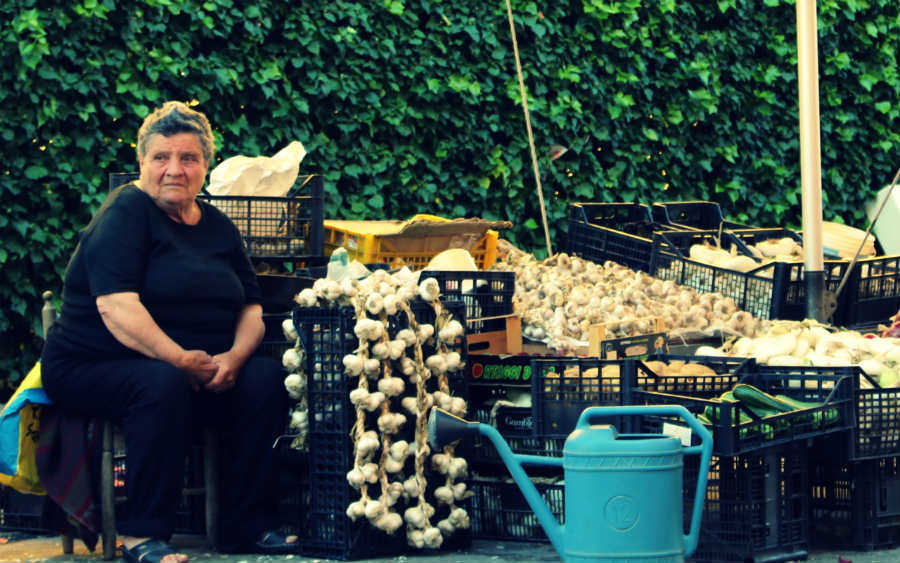 Fiera della cipolla, Isernia
Fagioli di Riccia
Molise boasts several bean varieties; today we focus on the fagioli di Riccia variety. Riccia is a town in the Campobasso province, home to a unique festival called Tavole di San Giuseppe. In this celebration food plays a starring role: meals are prepared communally and offered to the less affluent. The local beans are pivotal in this tradition. Planted in March, they are harvested at the end of August and the beginning of September. They are employed in several local recipes: cooked in the traditional pignata, that is in a pot placed near the fireplace. The beans are furthermore eaten as a salad with centofoglie, celery and potatoes, or cooked with pork. Another typical dish is fasciuole 'nzuccarate, that is mixed with pork cracklings, olive oil, garlic, bay leaves, celery salt and parsley.
Farro dicocco del Molise
This is a typical grain grown in Molise and salvaged from extinction in the early Nineties. The grain is cultivated at approximately 700 metres altitude on the Molise hills and is the richest in protein, as well as Iron and Calcium. This ancient grain used to be grown mostly for flour used to bake focaccias. Nowadays farro flour is used to make bread, cooked in salads and soups. A typical recipe is farro soup made with farro, tomato, pork rind, optional guanciale, parsley, garlic, onion and pecorino.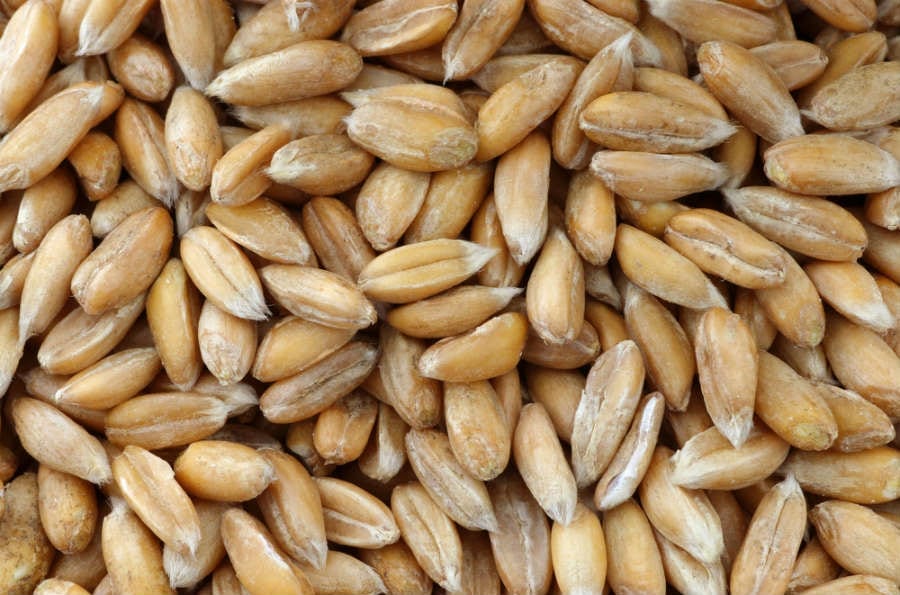 Formaggio di Pietracatella
Cheese produced in the mountain community of Fortore, in particular in the town of Pietracatella (Campobasso). The cheese is made with a mix of milks (cow, goat, sheep). The yellow, wrinkled rind conceals a white, compact and soft moist pulp that veers to yellow with aging. Maturation happens in typical mogie, tufa caves typical of the Pietracatella area. It's eaten raw as antipasto, or paired with pickled vegetables.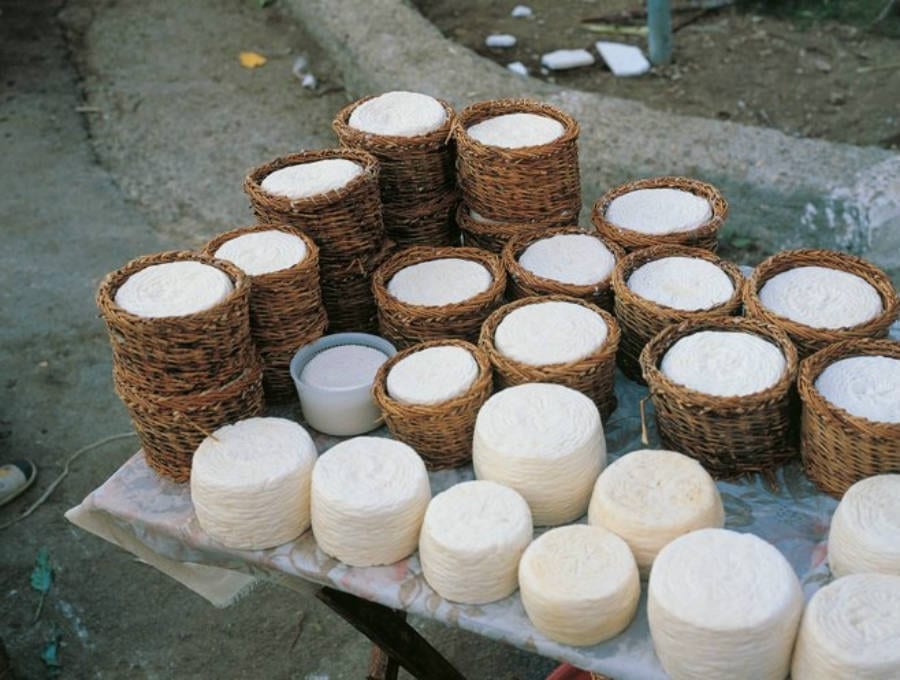 Fungo d'abete
This varying-sized mushrooms grows at the foot of fir trees. It is a creamy spreadable cheese, with a reddish-orange rind that's often dotted with small dark green patches. The inside is bright orange, with a distinct fruit aroma. The flavour is pungent, and it is utilized in the cuisine of the Monti del Matese hills. The smaller rounds are oil-preserved and eaten year round, as well as cooked in many pasta and pork meat recipes.
Fusilli
Not many know that fusilli is a pasta shape born in Molise. Made with durum wheat flour, water and a pinch of salt, noodles are then twirled around a wire and dried. In some cases eggs are also added to the dough. There are many local varieties of fusilli: the Avellinesi, for example, are narrower and slender. In other areas spinach are added to the dough, or beets or even squid ink for coloured versions. A typical regional recipe is fusilli alla molisana, dressed with a sheep's meat ragù or mixed meats sauce (lamb, veal and pork sausage).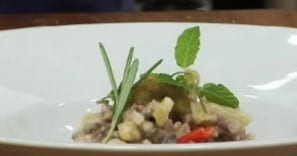 Guanciale (vrucculare)
Also calledvrucculare or vrucculeare, guanciale – pork cheek – is a very popular product in Molise. The triangular shape of the cured meat is seasoned with salt, pepper, garlic and spicy chilli pepper. Once seasoned the guanciale is pierced at the top and hung to dry on a wooden pole in a closed room where a lit fireplace constantly burns oak wood for a month.  After this time the guanciale ages two more months in the open air. The flavour is different from pancetta and a more tough, chewy texture. The smoky scent is barely perceivable and a slight spicy finish. Molisani eat it slightly warm with bread as well as crisped and used in dishes like pasta sauces, condiment for stuffed pastas, in stews and other pork meat entrees.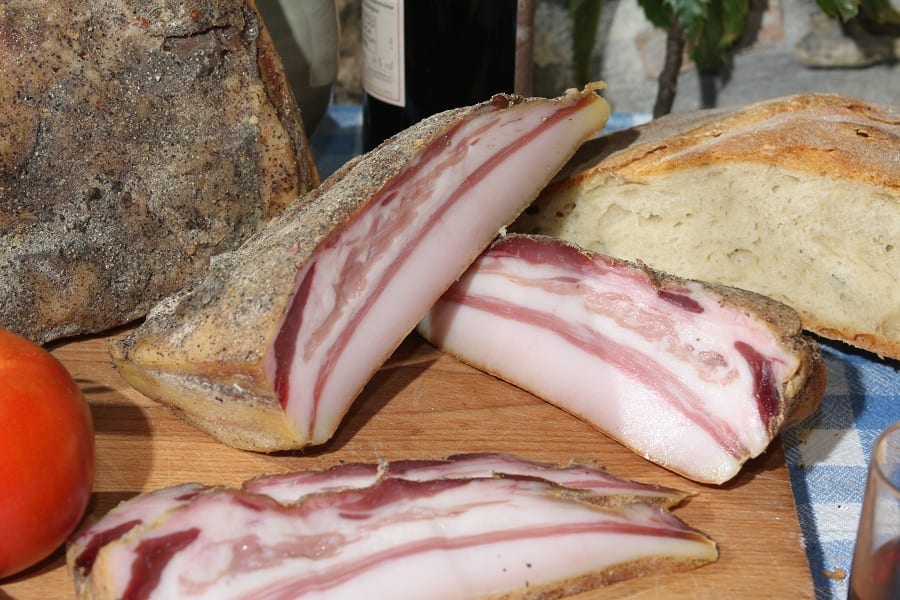 Mais Agostinello
Agostinello corn is an ancient grain that is nearly extinct. Also called cinquantino del Molise, or in the dialectal shift grandinije, Agostinello has recently been salvaged and stone milled for polenta locally called muacca. It is also used for a corn pizza that's wood-fired and topped with vegetables, boiled pork meat, used in biscotti or in parrozzo, a local cake made with sweet cornmeal, flour, potatoes and then covered in chocolate.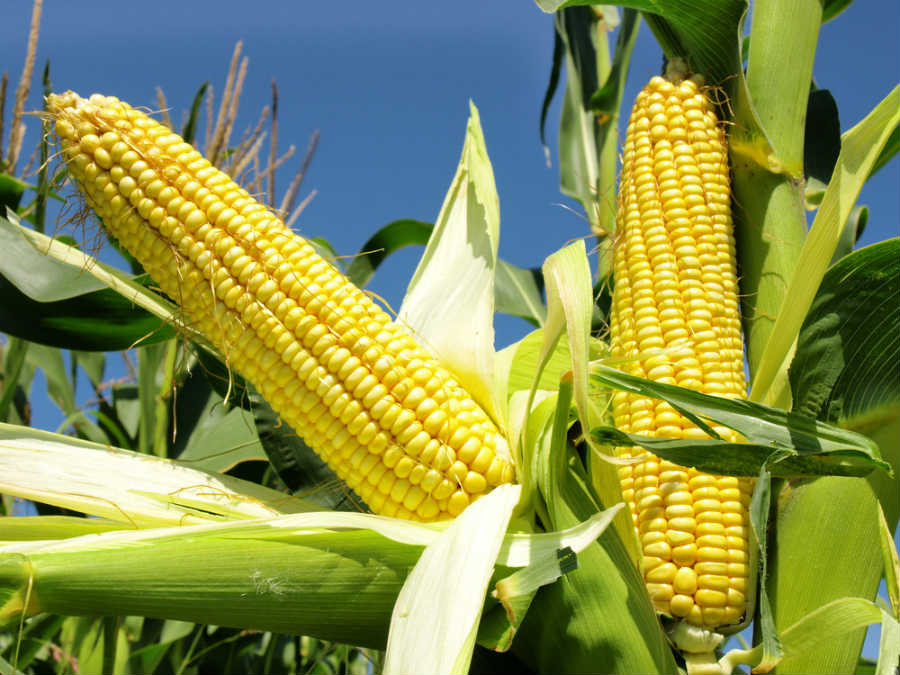 Mela - limoncella molisana, mela zitella
Limonella Molisana apples grown in the Marche; Campania and Molise regions derive from an ancient apple variety. It keeps very well and resists well in harsh weather conditions. Cylindrical and oblong, this apple has rough golden skin and a compact, crisp pulp that's sugary and acidic with a savoury finish. Its low-maintenance character makes it easy to grow organically. Production is limited but recent studies and local associations invested in its development the numbers are growing.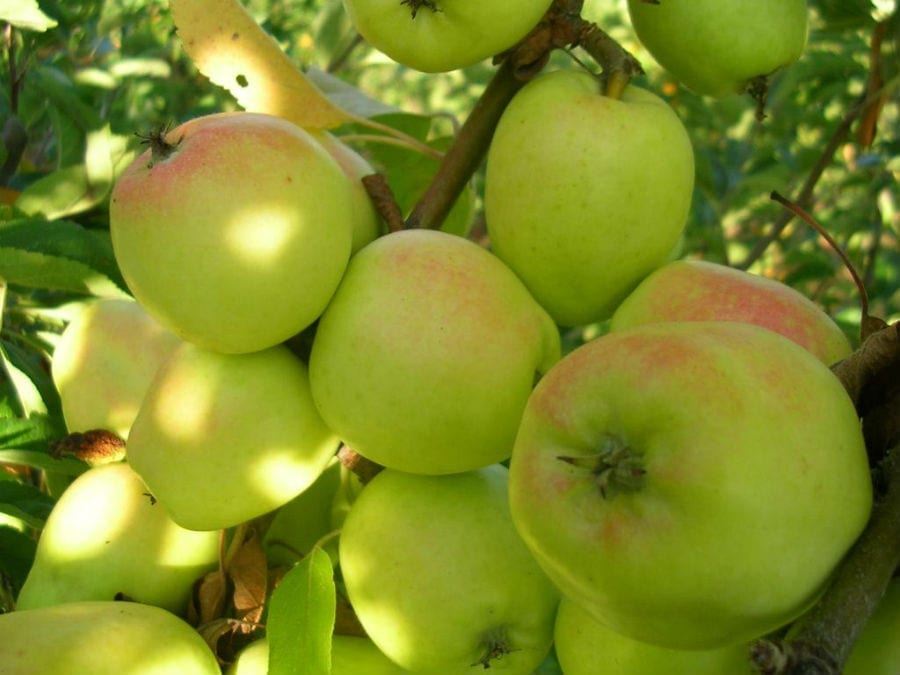 Mela zitella is on the other hand typical of the Molise hills whose rich soils and temperate climate foster its growth. Golden ochre coloured with pink or brown spots exposed to the sun. The fruit is white and tough, crisp and not too juicy; the flavour is sweet and slightly acidic. It is also grown in other regions, like Marche and Abruzzo.
Maccheroni crioli
Crioli molisani is a typical Molise pasta shape. The name comes from the laces locals shepherds used to tie their winter shoe wear with. Very similar to maccheroni alla chitarra they have a squared section and are dressed with pork or sheep's meat ragù, or game. A classic Christmas Molise dish is crioli with baccalà and walnuts.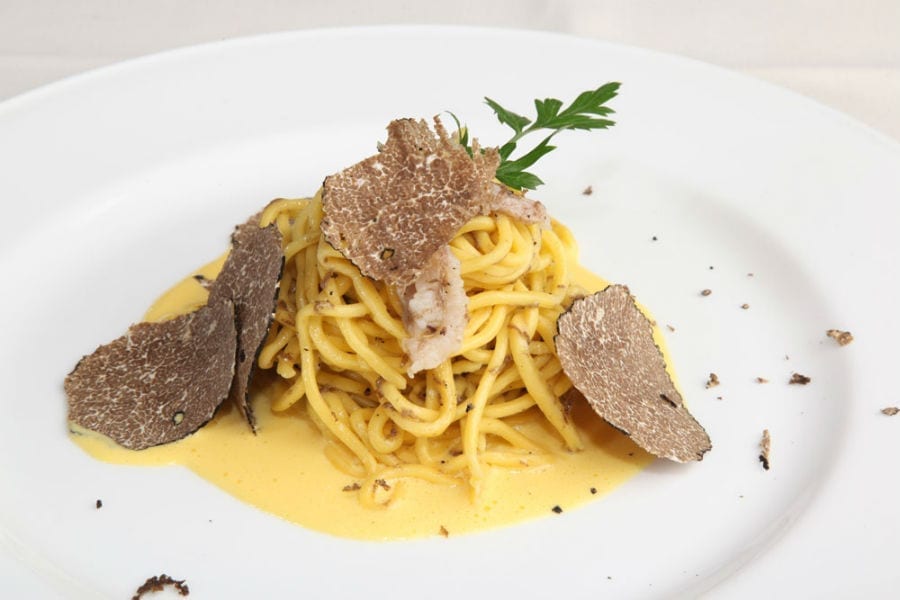 Crioli molisani with truffle at ristorante Miseria e nobilità
Manteca
This is the Molise version of the butirro calabrese (we wrote about it in this article), with the same need to conserve perishable foods like butter before refrigeration. Manteca, or burrino, is a ricotta or butter heart concealed in a stretched curd cheese derived from the caciocavallo production. Molise and Puglia have this product in common, thanks to strong cultural and economic relations. White or cream coloured, the flavour is mild and milky. Best kept at room temperature for 20 minutes before eating in order to soften the filling. A great way of eating it is smeared on bread and topped with a few truffle flakes.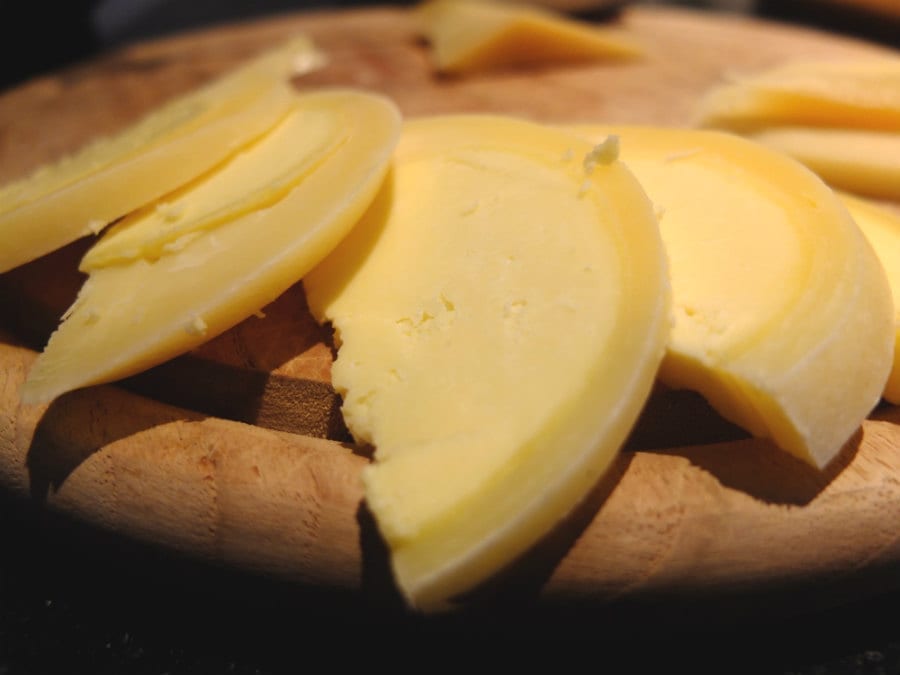 Manteca, Colantuono 
Patata lunga di San Biase
Produced in the small town of San Biase, Campobasso, this potato variety grows at high elevation in the chalky soils of the Sannita Apennines. Oblong and flat, a yellow or purplish rind conceals a cream-white pulp. Versatile in the kitchen, they can be boiled, baked or roasted, sliced and sautéed, or fried. A typical San Biase dish is lamb head (mentioned below) cooked with potatoes under an iron shell covered in embers.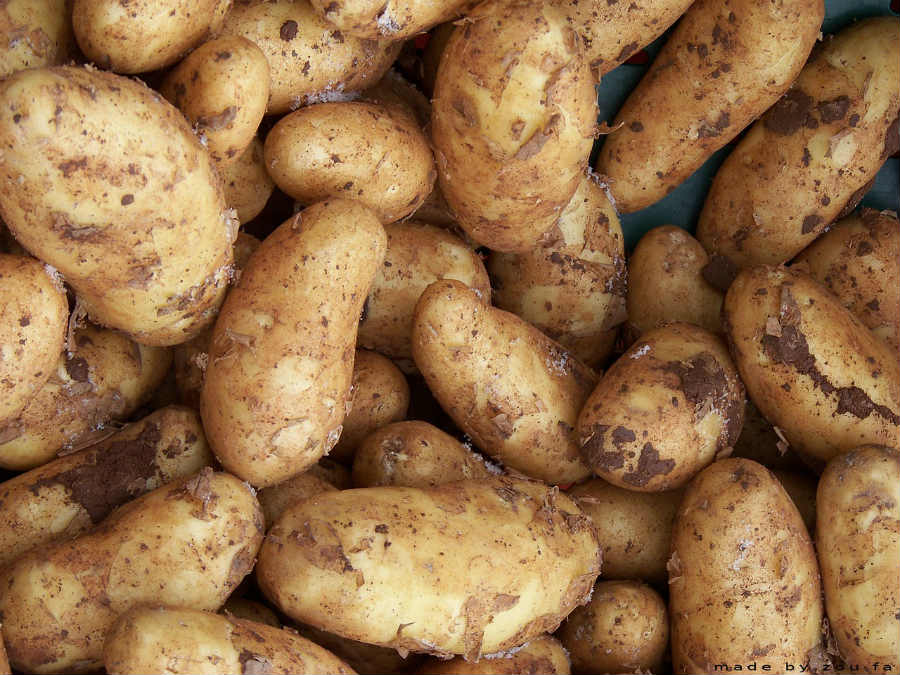 Pecorino - del Matese, di Capracotta
The Monti del Matese area is rich with products connected to livestock farming. One of these is pecorino, which was produced by the breeders while herds headed up to the mountain pastures. The hard rind is light brown and lined with the grooves of the baskets it has been initially shaped in. The core is rather hard, ivory coloured and the flavour changes to increasingly sharp with aging (3 months to 1 year).
Ancient and purportedly hailing back to Sunnite tribes, production of pecorino di Capracotta is carried out in the cities of Capracotta, Agnone, Carovilli, Vastogirardi, San Pietro Avellana and Pescopennataro in the Isernia province. The yellow-to-brownish rind is hard and wrinkled depending on aging. The core is hard, oily and compact, light yellow and tastes spicier as time ages it. It is eaten fresh or sometimes fried after being lightly dredged in flour.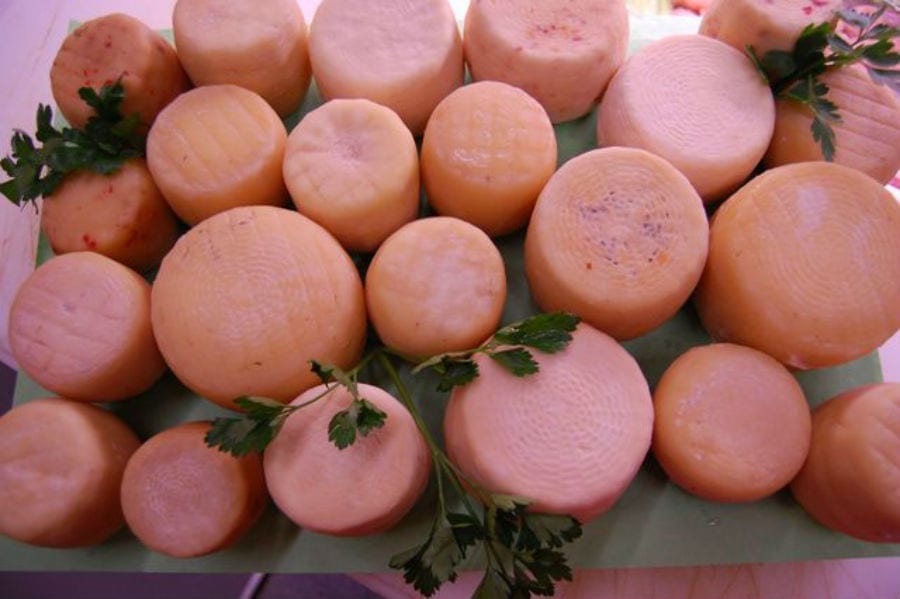 Pomodori gialli invernali
Called pmdor d'viern da append, or winter hanged tomatoes, these fruits boast ancient origins and are characteristic of Molise. Yellow-orange, round and satiny skinned, they conceal a firm and juicy pulp. The plants can grow as tall as 2 meters and can bed with the weight of the vines. For this reason the farmer must pick the tomatoes as soon as they ripen to yellow, removing the entire stalk. At this point they are tied with a cotton string reproducing the plant, and hung on canes to mature in ventilated, dry places. This makes them lose moisture without producing mildews. This makes the tomatoes available all winter long, chopped in salads or eaten as topping on toasted bread.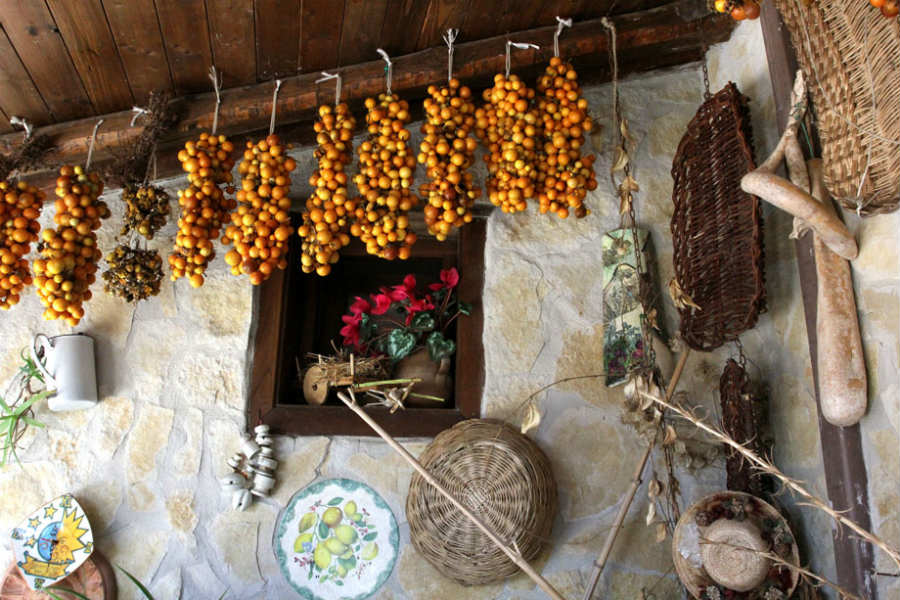 Sagne
This is a type of Pasta Molise has in common with Abruzzo and Lazio. Made with water, flour and salt, sagne are sometimes also made with eggs. They come in different sizes: diamond-shaped in the classic version; or flat noodle like strips, small squares or rectangular. Before mechanization, sagne were an everyday peasant dish often paired with another poor-man's food like legumes. Molise recipes using sagne include: sagne e cicerchie, made with cicerchie legumes, prosciutto lard, tomato, chilli pepper and basil; or sagne e fasciual alla pigniata d' cuacc, that is sagne with borlotti beans cooked in an earthenware pot.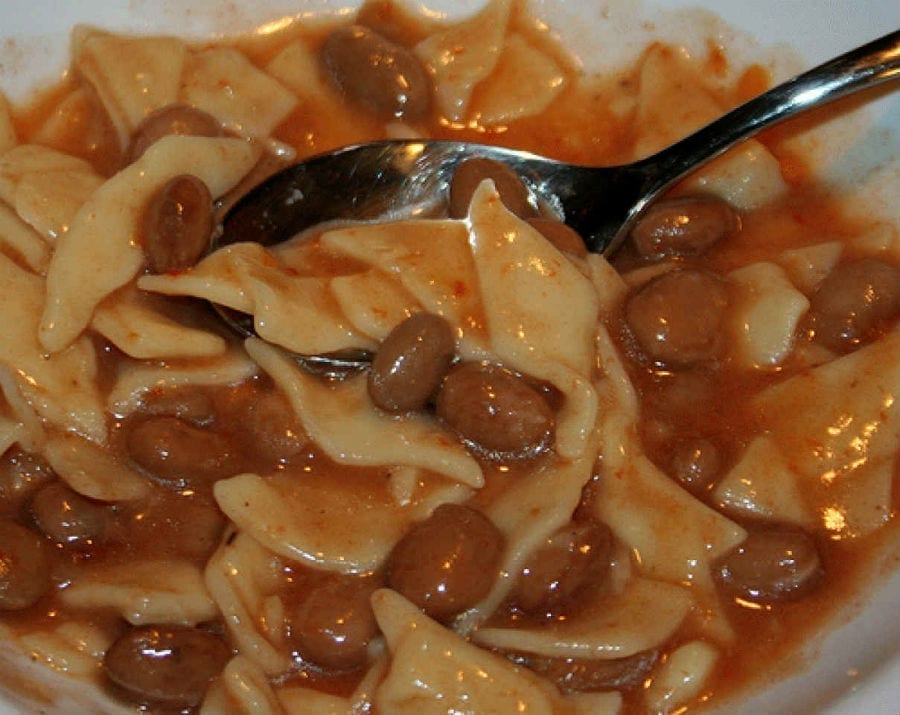 Salsiccia di fegato
One of Molise's most celebrated cured meats is the liver sausage typical of Rionero Sannitico, a mountain village in the province of Isernia, on the border with Abruzzo. It's made using pork liver and heart seasoned with salt, pepper, garlic, orange peel, bay leaves and sometimes spicy chili pepper. The stuffed casing is then hung to dry on a cane placed near a fireplace for 4-5 days. Aging takes approximately one month in a cool, damp place. It can also skip aging: chopped and packed in olive oil and lard. On the palate, the sausages are soft, compact, intensely aromatic, with only a slight bitter note of liver in the finish.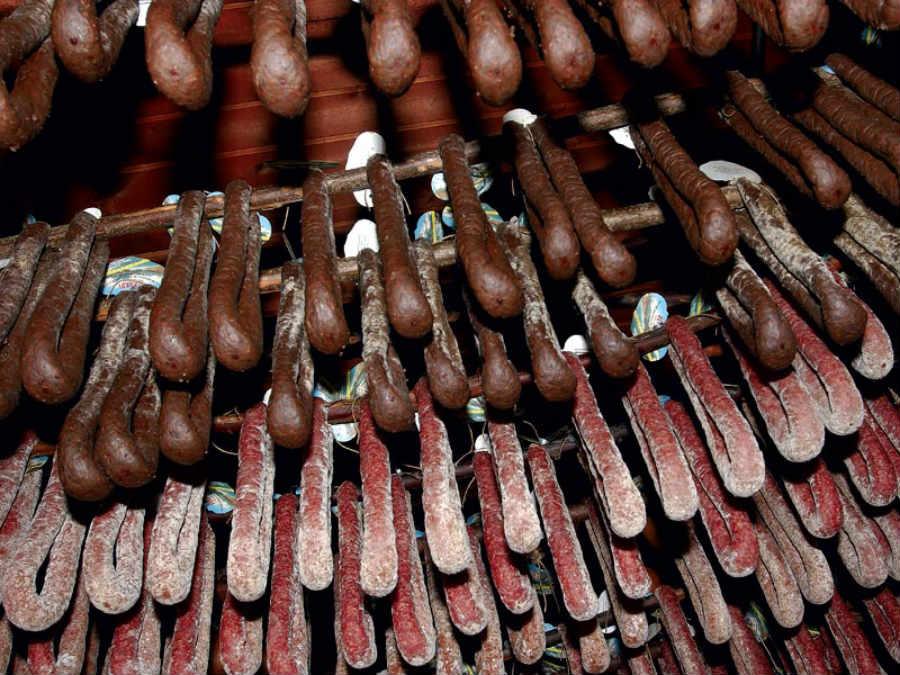 Liver sausage of Rionero Sannitico
Scamorza molisana
This stretched curd cheese made with cow's milk is made in the province of Isernia and Campobasso, and in certain areas of Abruzzo. The pear-shaped rind, which is thin and white-yellow, conceals a compact, tender pulp. The flavour is mild, milky with a nice savoury finish. This cheese is made in two versions: classic and smoked. In the latter the aromas and the smoke treatment make it softer. It's commonly eaten as appetizer, but it can also be grilled. Two typical Molise recipes are scamorza alla pizzaiola, with fresh tomato sauce, olive oil, oregano and garlic; and scamorza ripiena di scorzone, which is hollowed, stuffed with truffle, breaded and roasted.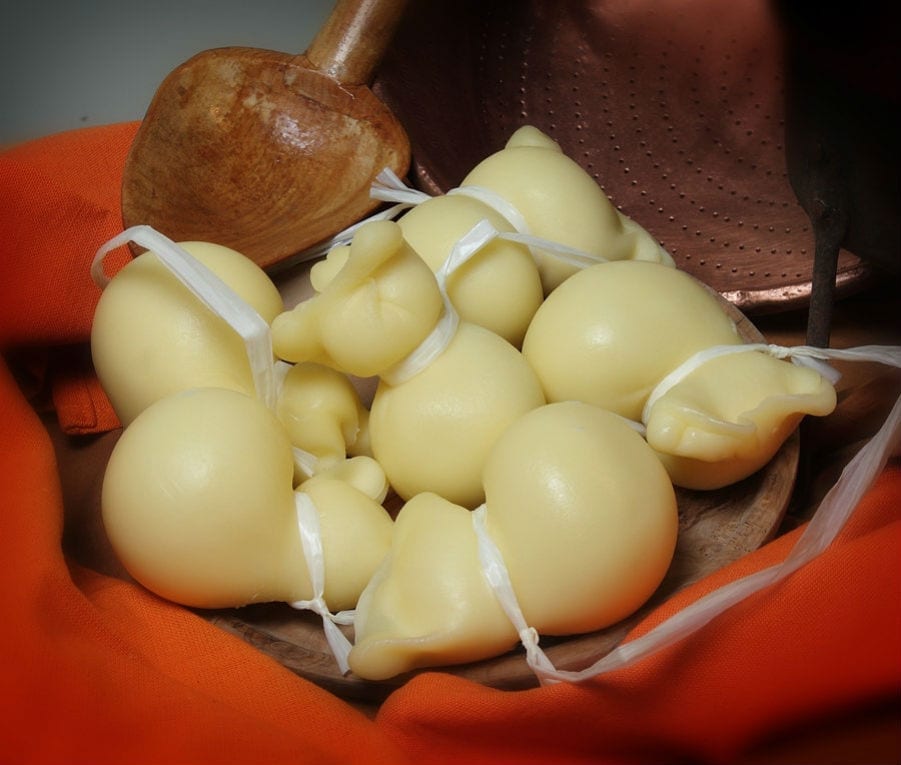 Scamorza molisana, Di Nucci creamery
Signora di Conca Casale
This rich cured meat was once intended for the upper classes and was originally prepared by the elder women of Conca Casale, a village of 200 inhabitants near Venafro, in the province of Isernia. Traditionally made with several cuts of pork like chuck, loin, fatback and pancetta, it now also includes sirloin and shank. The meat is seasoned with black peppercorns, chilli pepper, cumin and fennel pollen. The stuffed casing is carefully filled and the the salami is aged for approximately 6 months, depending on the size of the salami, which can weigh as much as 5 kg. The flavour is bold and spiced. It's eaten sliced thickly with, "pizza scimia", a focaccia made with leftover bread dough, olive oil and fennel seeds. The salami is used in the kitchen to add flavour to soups like pasta e ceci.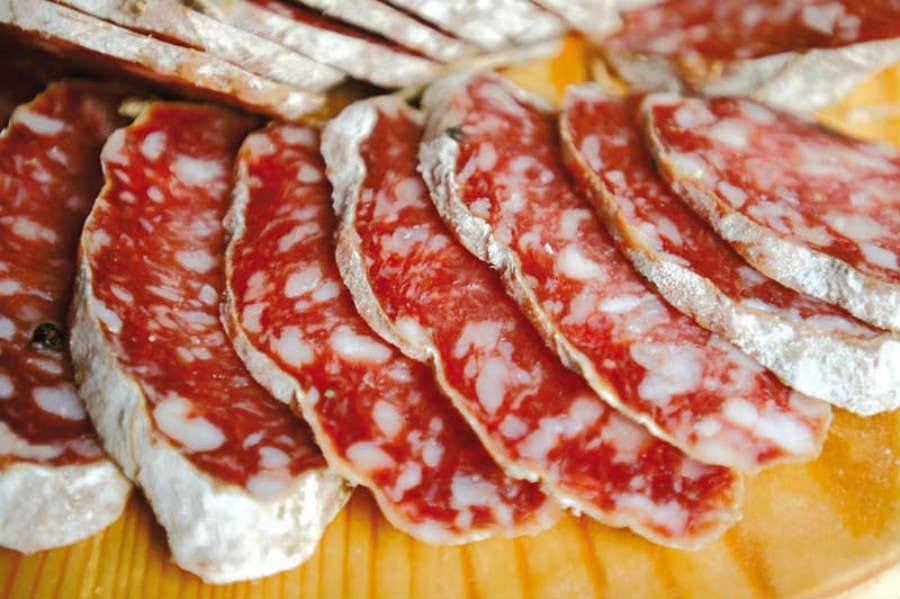 Soppressata del Molise
Produced in the towns of Rionero Sannitico, Macchiagòdena, Montenero di Bisaccia and Castel del Giudice, in the provinces of Isernia and Campobasso, soppressata is a cured salami made with pork loin and neck and small amounts of lard. The meat are hand carved, stuffed in a natural casing and seasoned with spices. It is then pressed under a weight for a couple of days. Once taken out of the press, soppressata is hung to dry in airy aging rooms near a fireplace which will lend a slight smoky note. Aging lasts approximately five months after which it can be consumed immediately as is or sliced and preserved in glass jars filled with lard.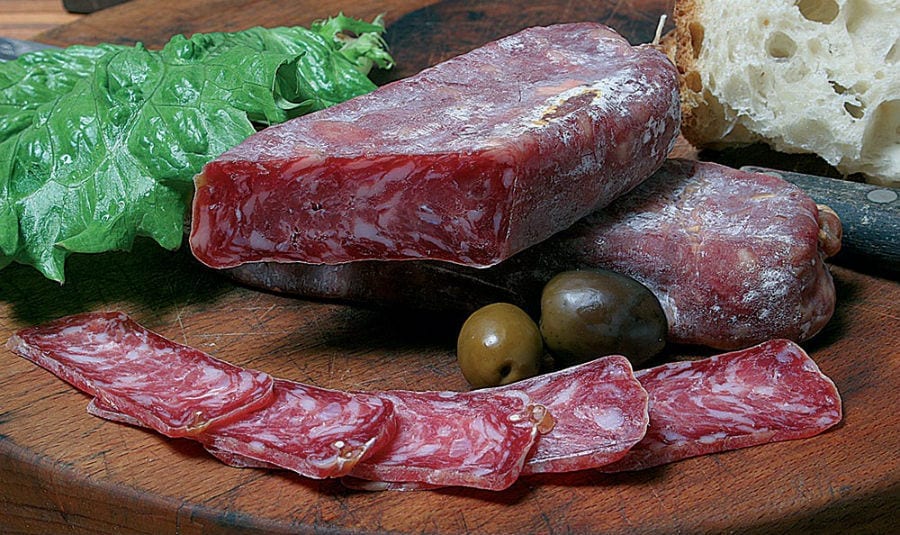 Stracciata
This dairy product is made cow's milk hailing from the towns of Agnone, Capracotta, Carovilli and Vastogirardi, in the Isernia province. The fresh cheese owes its name from the action "stracciare", that is the tearing of the stretched curd necessary for the characteristic elongated and rubbery shape and texture. Snow-white and rind-less, the cheese is delicate with intense milky notes. It is eaten freshly made, or after a few days, when it becomes velvety and spreadable. With prosciutto it is the typical Molise antipasto served at weddings.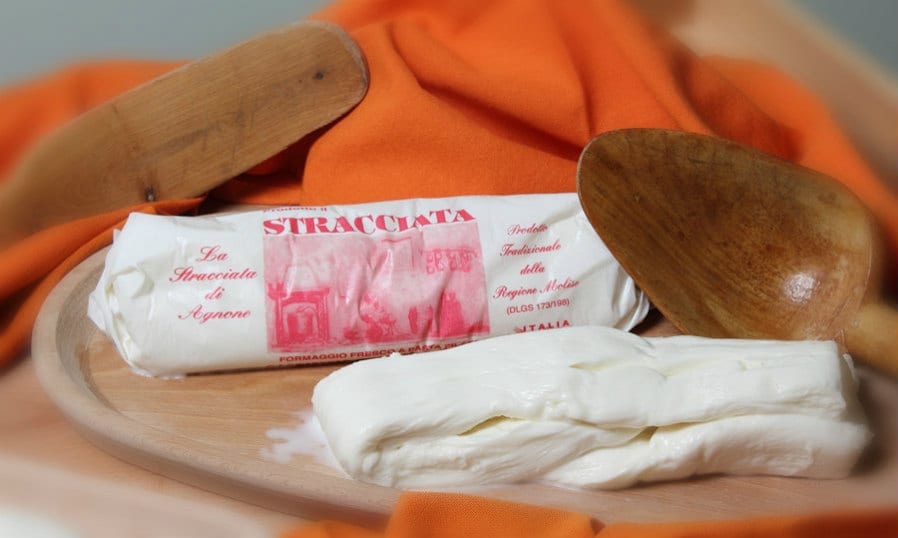 Stracciata molisana, Di Nucci creamery
Tartufo molisano
Far from any form of contamination and pollution, truffles from Molise are well-loved both in Italy and abroad. The Molise valleys are home to two different varieties: the prized white truffle is particular to the inland areas in the provinces of Isernia and Campobasso, in particular in the surroundings of Carovilli, S. Pietro Avellana, Boiano and Capracotta. The skin is satiny and conceals a milky white, ochre or hazelnut pulp. Black "uncinato" and "scorzone" are typical of more arid areas. Wrinkly and knobby, it is often pyramid-shaped. The pulp is whitish and darkens as the truffle matures. Scorzone, aka summer truffle is black and bulbous. The pulp is hazelnut to dark with white marbling. In the kitchen these truffles are used in various dishes, from fresh pasta to entrées and also desserts.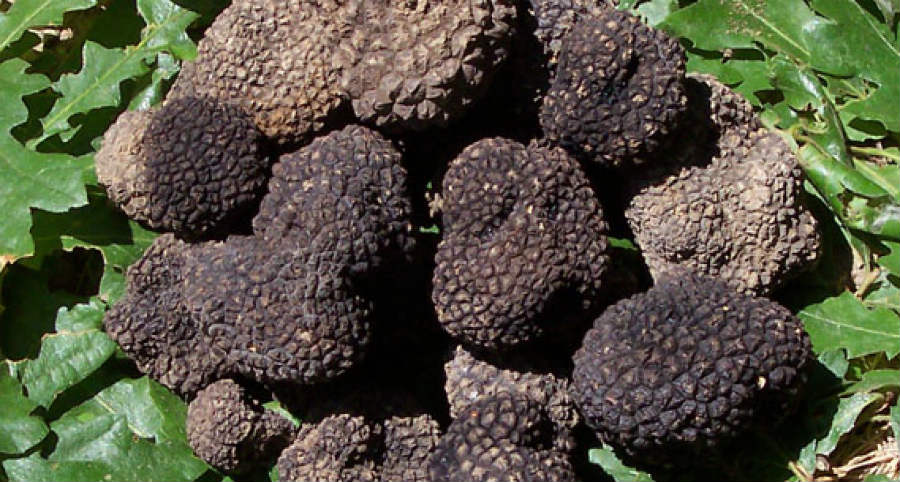 Treccia di Santa Croce di Magliano
More a decoration than an actual cheese, treccia di Santa Croce di Magliano is a typical festive food eaten during the Madonna dell'Incoronata and Patron Saint San Giacomo celebrations held in Magliano in the province of Campobasso, during which shepherds wrap it around their shoulders during parades. The semi-hard, fatty stretched curd cheese is made with cow's milk. No rind, and elastic, the cheese is white when fresh, yellow when slightly aged. The stretched curds are cut in strips and pulled into longs strands with the addition of boiling water. The strands are then soaked quickly in cold water to set and then soaked in a salt brine to flavour. The strands are then braided on a cotton surface.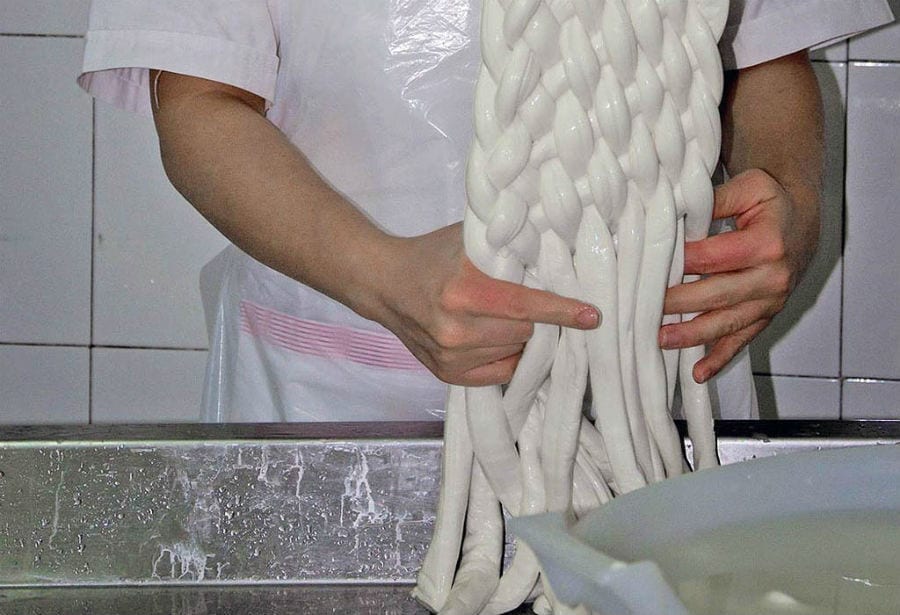 Testine di agnello o capretto (cuccette)
The head of the lamb, severed in half and then oven baked is a traditional Molise entrée. The heads are soaked in water for a day, changing the water every 3-4 hours to purge the blood. The heads are then left to drip and are then rubbed in olive oil, breadcrumbs, garlic and parsley. The grill is then brushed with water and olive oil and the heads are baked for a couple of hours.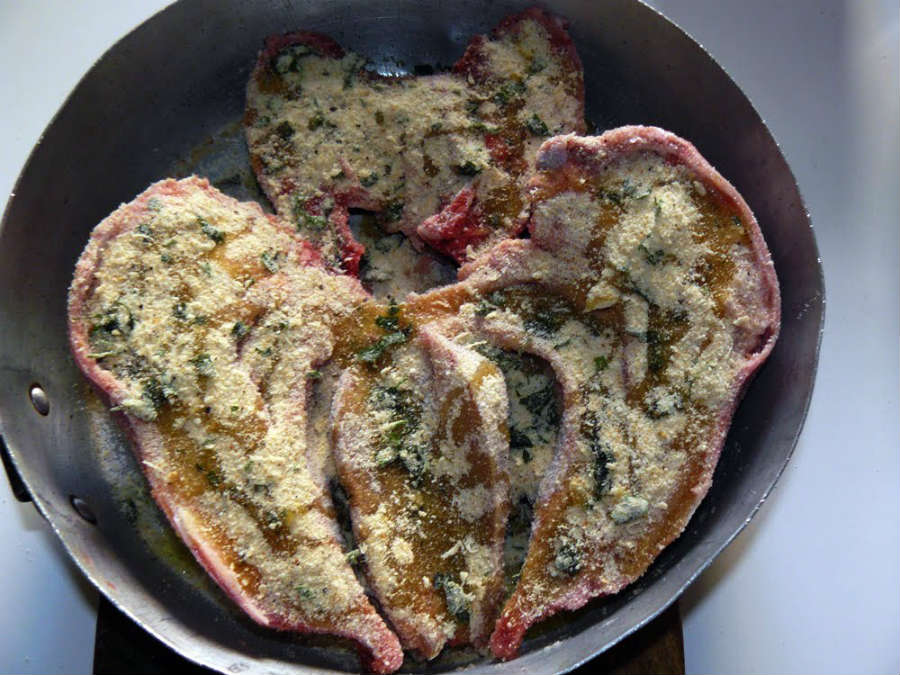 Ventricina di Montenero di Bisaccia
Among Molise's most famous sausages, ventricina is produced in the entire Campobasso area, in particular in Montenero di Bisaccia. Traditionally, only the noble cuts of local pork were chopped and stuffed in the animal's gut casing. Nowadays ventricina is made using also thighs, loins, chuck and a percentage of fatback seasoned with salt, pepper, fennel pollen and powdered peppers. The stuffed casing is then shaped into compact spheres that may vary in size, weighing 2-3 kg. The salami is then hung to dry near a burning fireplace for a week. Then aging lasts approximately 6-7 months but may last up to a full year to 18 months. In this case the ventricina is rubbed with melted lard so the meat is shielded from summer heat.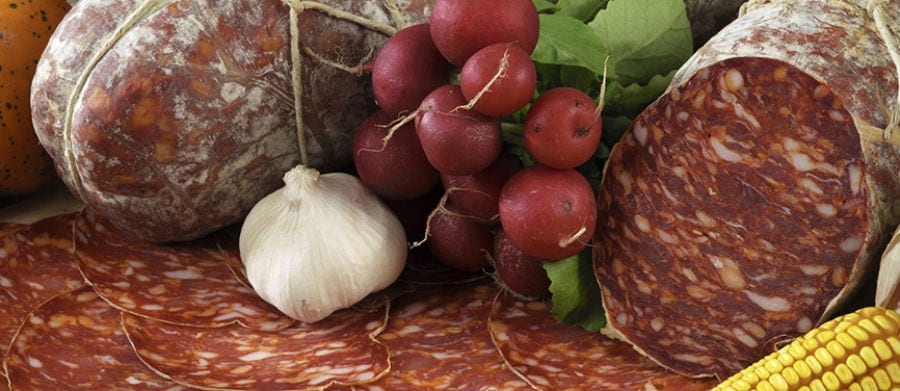 Copy has been revised by Ms. Mariassunta Palazzo of restaurant Miseria e Nobiltà in Campobasso.
by Francesca Fiore
translated by Eleonora Baldwin
Read also:
Regional cuisine: Alphabetical guide to the foods of Puglia
Regional cuisine: Alphabetical guide to the foods of Calabria
Regional cuisine: Alphabetical guide to the foods of Sardinia
Regional cuisine: Alphabetical guide to the foods of Sicily