Aglio di Papaglionti
The very important garlic of Papaglionti we begin this series with hails from a very small community: the village of Zungri in the Vibo Valentia province. This particular garlic is smaller than other varieties, the bulb is pink and owning a very spicy, aromatic flavor. With two crop cycles, it is sown in Autumn and harvested in Spring, and again planted in February and harvested in July. Rich with more antioxidants than other varieties, this garlic is employed to flavor vegetable and seafood dishes, rubbed on bruschetta as well as enhance meat dishes and pasta condiments.
Arancia di Villa San Giuseppe
Purportedly at the court of the Russian Czars prior to the October revolution, everyone loved Belladonna oranges, aka Ovali di San Giuseppe, and therefore called them "the Czar's oranges". These blonde oranges grown in the plains of Reggio Calabria, amid valleys of the Gallico and Catona streams, in particular in the Villa San Giuseppe area, were well-loved thanks to their sweet flavor and total lack of seeds. Nowadays oranges of the Belladonna and Biondo Tardivo variety – a probable mutation of the Belladonna – are a protected species. This is a late harvest cultivar harvested between February and March, with full ripening between April and May.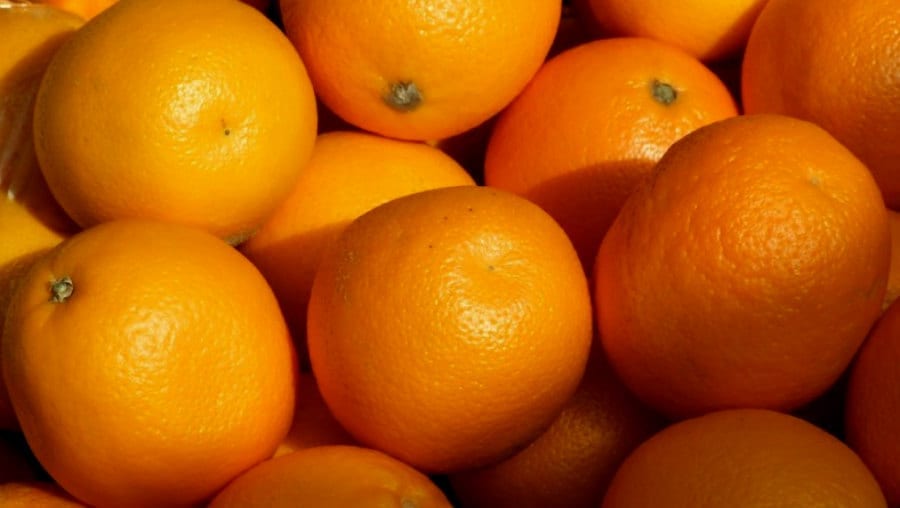 Asparago selvatico della Calabria Igp
The asparagus family boasts beyond 300 varieties, one of these is Asparago selvatico della Calabria, or Asparagus acutifolius, a wild spear that grows throughout the entire region. It thrives in particular in the area of Filadelfia, in in the Cosenza province: where the brackish sea waters meet the cold air and hard soil of the mountains. These elements lend the local asparagus a bitter flavor and an herbaceous aroma unlike any other. The plant grows wild in the countryside of Calabria, with slender spears and spiny leaves and can grow as tall as 3 feet. Calabrians eat it mostly preserved in olive oil, but also fresh and chopped in frittata or as part of appetizer platters and as side dishes.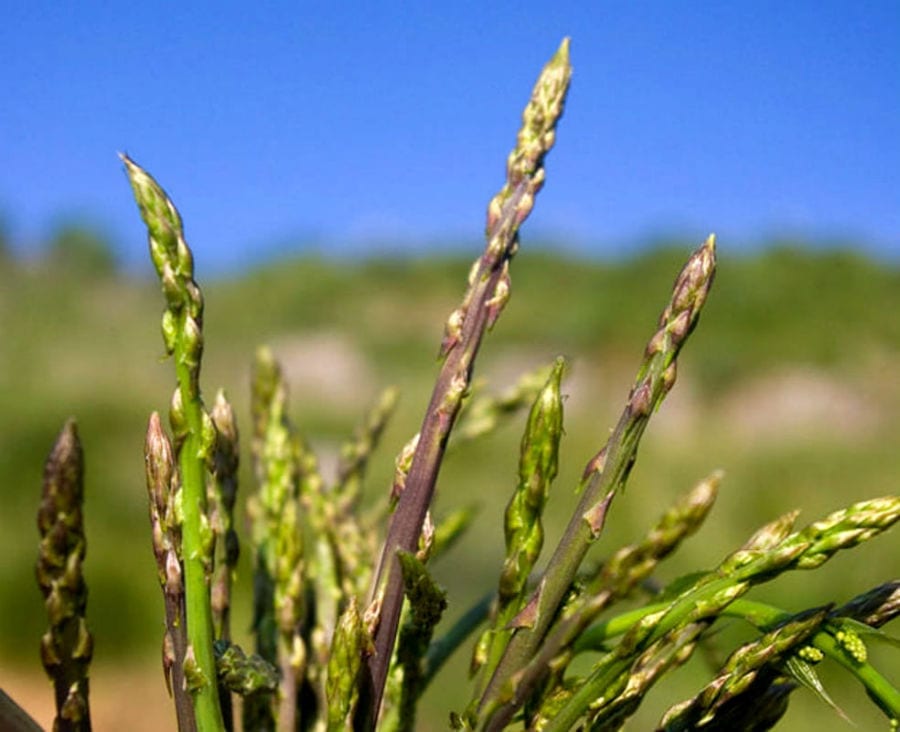 Bergamotto di Regio Calabria DOP
The first ever mentioned bergamot was a citrus planted in the surroundings of Reggio Calabria approximately in 1750. From that moment on Citrus bergamiabecame symbolic of the province. This is a rare fruit that produces an essential oil used both in the kitchen and in cosmetics, in particular for making perfumes. Among the most common varieties present in Calabria are Femminello, Castagnaro and Fantastico. Produced in the areas between Villa San Giovanni and Monasterace, the citrus appears roundish, slightly flattened at the ends and characterised by an intense aroma and a bright yellow rind. The essential oil obtained by grating the rind is unmistakable and rare. In the kitchen it is mostly used to flavor desserts or mixed to make fresh beverages.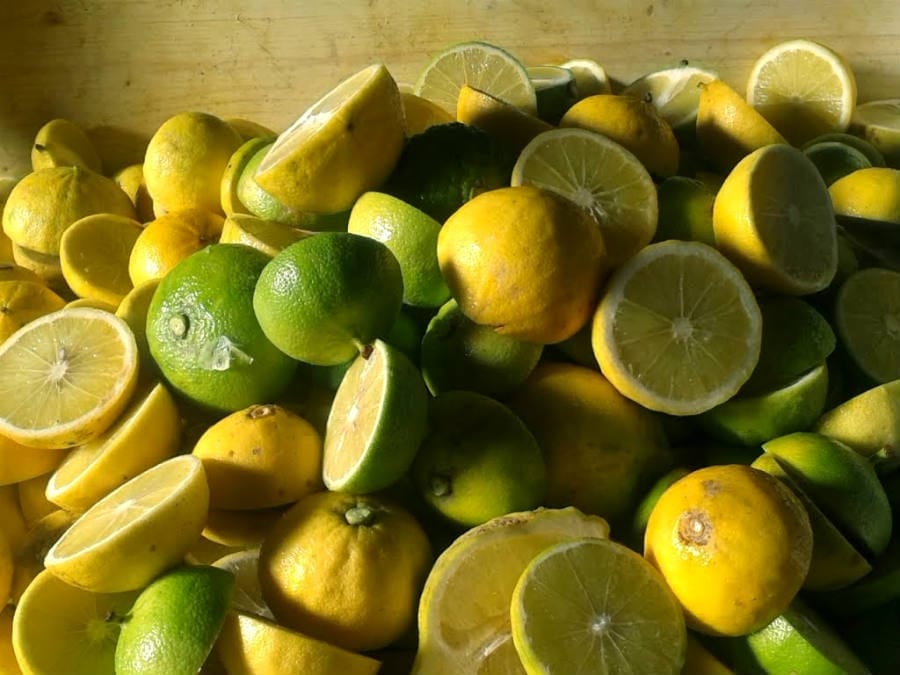 Butirro
Butirro could easily be mistaken for a contemporary cuisine ingredient: a stretched curd cheese shell that conceals a heart of butter. This cheese was however conceived to conserve a precious product like butter long before refrigeration. It is also called manteca, piticelle or burrino. It is produced primarily in the uplands of the Sila and the areas of Pollino, using cow's milk of "mucche annicchiariche" cows, that is cows which have been lactating for at least one year. The shape is reminiscent of caciocavallo, but sensibly smaller, rarely bigger than 300 grams. The rind is thin and shiny, and conceals a core of cream colored butter which becomes yellower with aging. It can be eaten as is as an appetizer, or used as seasoning in pasta dishes.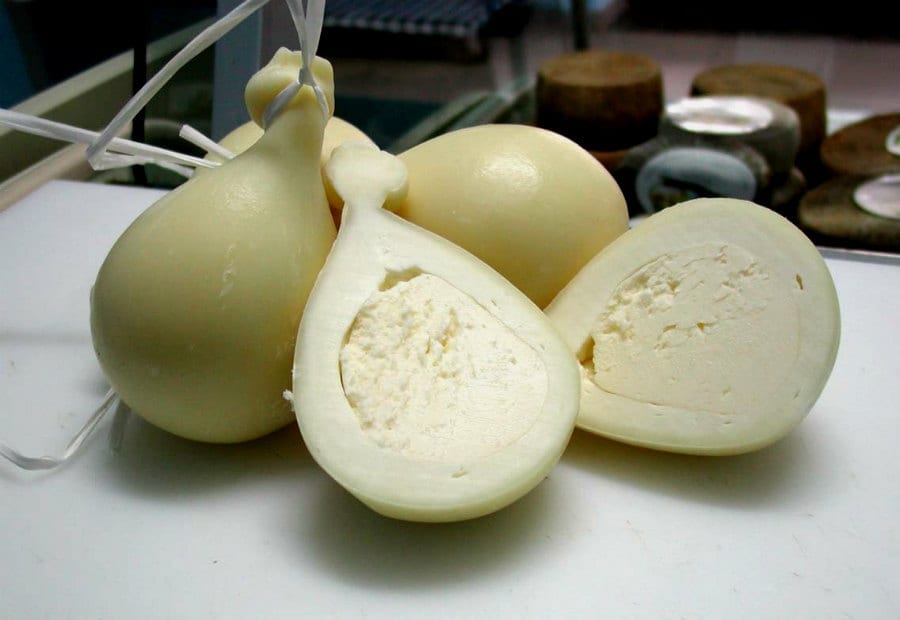 Caciocavallo Silano DOP
Caciocavallo silano obtained protected designation of origin appellation in 1996. It originally owed its name to its peculiar shape: some say the the small head resembled that of a horse. Semi-hard stretched curd cheese made exclusively with cow's milk, this cheese is entirely made by hand, according to ancient methods. Its aromatic flavor is delicate and melty and acquires a spicy note with aging (after 3 months). It is eaten as is, paired with honey and chutneys, or melted on the griddle. Locals actually add caciocavallo to many dishes, as filling in involtini, crumbled between layers of eggplant parmigiana, as filling for fresh pasta pockets and grated over soups and pastas.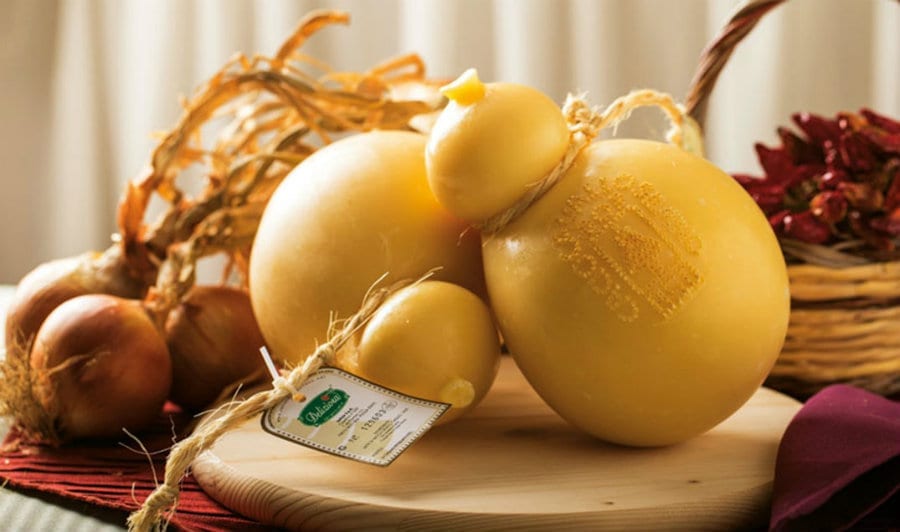 Caprino dell'Aspromonte and caprino della Limina
This goat's cheese particular to the Reggio area of Aspromonte is produced with whole, raw goat's milk and obtained by animals of the Aspromonte autochthonous breed of goats. It is salt-rubbed and aged for a maximum of 20-30 days. After which a small portion of it is aged 4 to 5 months and sold for grating. The flavor is sweet and slightly acidic, turning to spicy with age. It is eaten as an appetizer along with fruit or honey, but performs equally well in cooked dishes and salads.
Caprino della Limina is instead made with various breeds of goat of the Stilaro-Allaro-Limina mountain community, in the province of Reggio Calabria. This is considered one of the region's oldest cheeses. The aroma is unique, the flavor is strong and spicy according to which time of year it has been made in. It needs to age for approximately 8-12 in the cellar, and rubbed with a mixture of olive oil and vinegar, sometimes added with ground pink peppercorns. This is a highly sought cheese and whose yield is positively less that the demand. This cheese is used in a number of local specialties: for stuffed eggplant, meatballs, in frittatas and grated on hearty pasta dishes.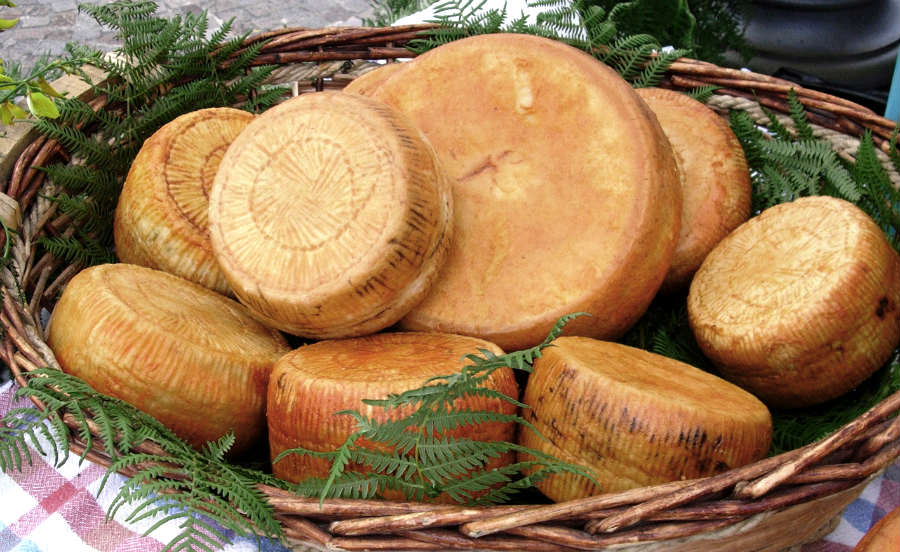 Capocollo di Calabria Dop
Among Calabria's most prized cured meats is capocollo. Obtained from the neck muscles of the pig, the meat is deboned and dry salted every other day for a week. After this, the DOP marked pieces will be brushed with vinegar, the non DOP products will be brushed with wine. In either case the meat is rubbed and pressed adding herbs and pepper. Before the drying period, the capocollo is smoked for a few days. Its delicate flavor transforms with aging, growing in intensity and time passes. Full maturation is 4 months.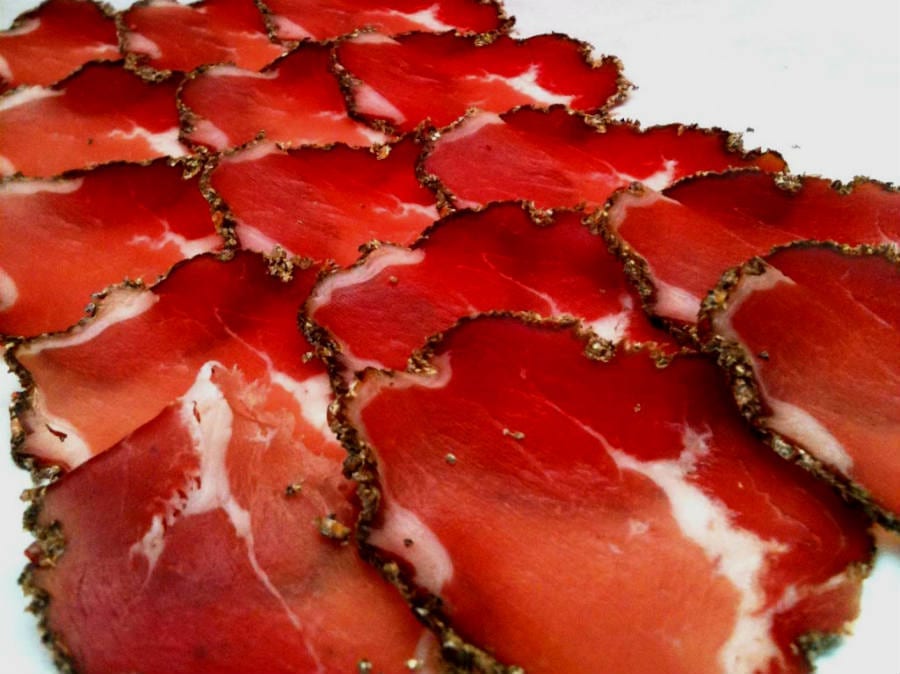 Cedro liscio di Diamante
Another characteristic citrus fruit particularly connected to Calabria is citron. It grows on the Tyrrhenian shores in the area between Tortora and Cetraro, in the Cosenza province. The rind is hard and yellow, while the pulp is intensely aromatic, sweet and acidic at the same time. The plant is very delicate, which needs plenty of water and that suffers temperature changes. For this reason in the colder months, the plants are covered with special tarps. It blooms year round, but fruits are harvested at peak maturation between October and December. In the kitchen it is often candied and used in sweet preparations. At Christmas time in many areas along the coast, it's common to eat fresh citron at the end of the meal.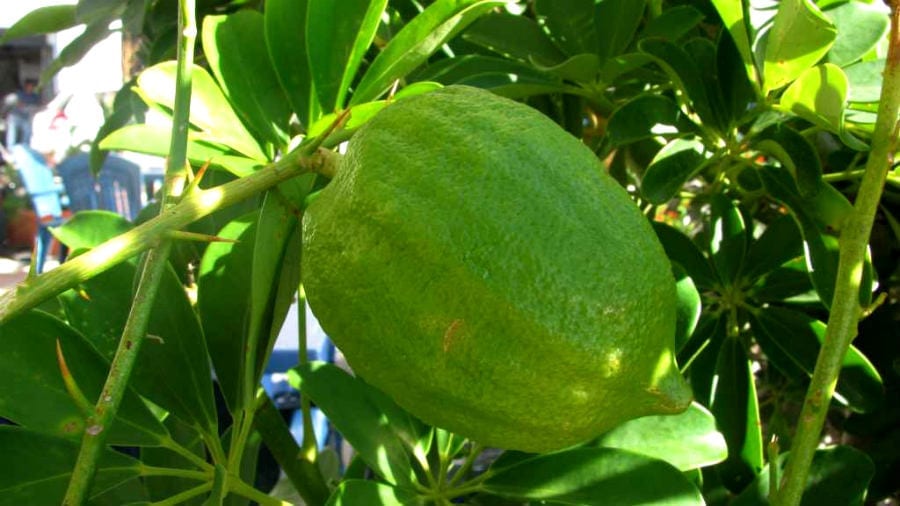 Cipolla rossa di Tropea
Together with peperoncino and 'nduja, Tropea red onions best represents the Calabrian identity in and beyond Italian borders. Allium coepais grown in the area of Nicotera (Vibo Valentia) and Campora San Giovanni, in the Amantea municipality (Cosenza) and along the medium-high Tyrrhenian coast. Evidence has this crop dated as far back as the Phoenicians, but it is between the 1700s and 1800s that yield intensifies. The onion's bright crimson color comes from elevated quantities of polyphenolic compounds that belong to the flavonoid family. This onion is rich in Vitamin C and Vitamin E, iron, selenium, zinc, magnesium and iodine, with a slew of health benefits ranging from protecting the heart and arteries, to the ability of fostering sleep, by way of its undeniable antioxidant properties. What this onion is best known for, however is its light, sweet taste, and a refined and crisp texture. In the kitchen it is made into preserves and jellies that can be paired to cheeses and meats. It can also be eaten raw, tossed in salads, and it is ideal for deep fried onion rings. In some parts of Calabria it's also made into delicious gelato.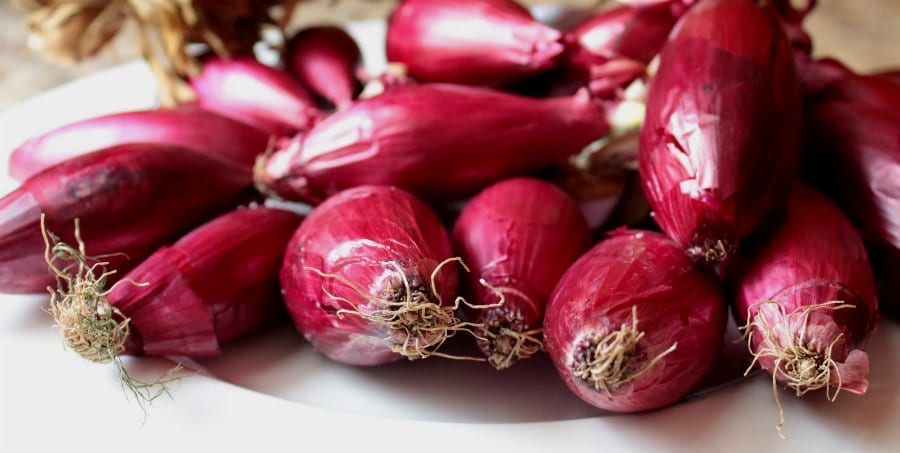 Cuddrurieddri
Among Calabrian Christmas festivity delicacies, cuddrurieddri are definitely the most tasty. Contrary to other southern Italian regions, where the term cuddura or collura indicates an Easter sweet containing a boiled egg in the middle, in Cosenza cuddrurieddri are small fried donuts customarily eaten on the evening of December 7th, eve of the Immaculate Conception festivity. They are made with flour, boiled potatoes, salt and natural yeast. After a 2-3 hour rising rest the dough can be stuffed with salted anchovies, sardella (see under the letter S below), smoked cheese, pitted olives. In the sweet version, they are drizzled with honey.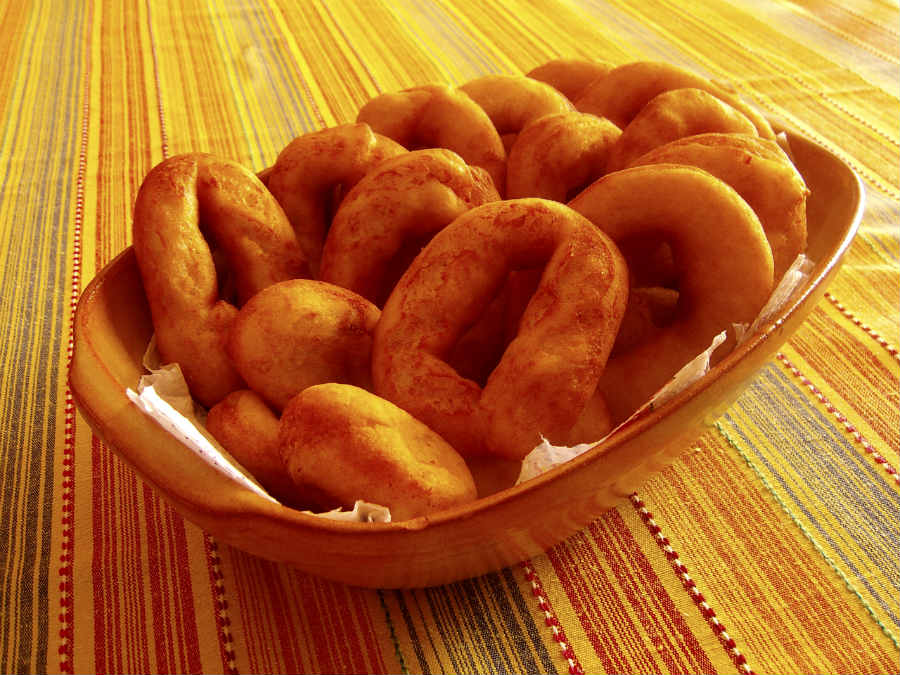 Fagioli di Carìa (Sujaca a Carìa di Drapia)
This is a white bean of the cannellini family grown in some areas of the Vibo Valentia province surrounding the Monte Poro, despite being named after Carìa, a small village in the Drapia district. In dialect the bean is called sujaca or suriaca, it is sweet and pasty, and is harvested between September and October. In the kitchen it is used in a soft soup cooked in earthenware pots (Suriaca 'nta pignata) or in fileja, a fresh hand-stretched pasta from the Tropea area, and added with Carìa beans and 'nduja sausage. For the past 35 years, the Sagra da Sujaca festival honoring the beans is held annually August 6th, and is one of the region's most ancient food celebrations.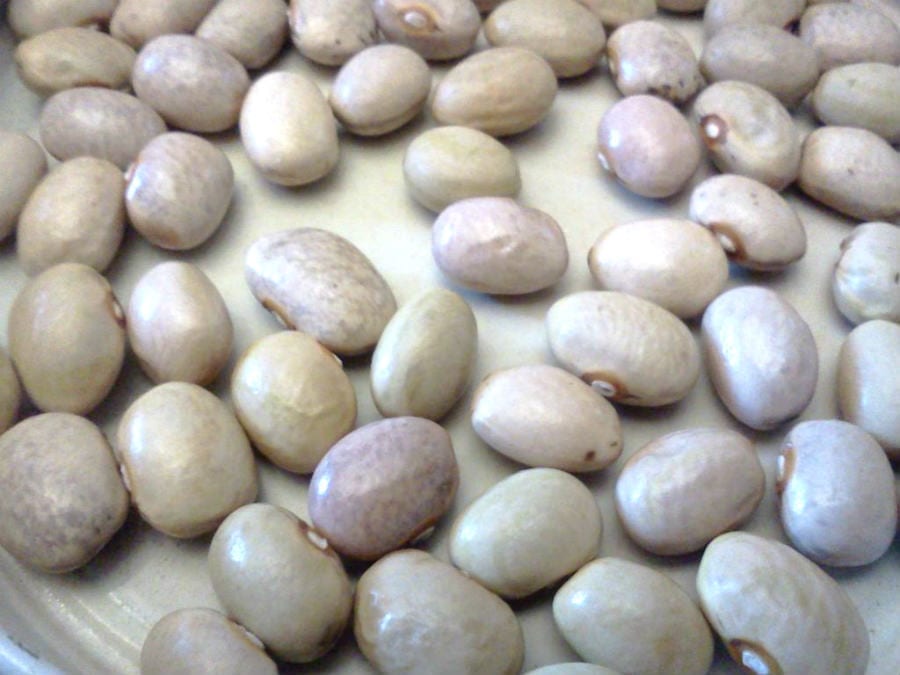 Fichi secchi di Cosenza Dop
Dried figs can be found all over Southern Italy. But the Cosenza kind – boasting ancient origins – are particularly sought after and protected by DOP appellation since 2011 to avoid risk of counterfeit crops. They belong to the Dottato variety and have a bright green skin when fresh, which turns greenish-yellow with age. The pulp is amber colored, firm, lightly aromatic and honey flavored. The denomination covers only figs which have been dried with the traditional method: that is left to dry out and wilt on the plant, then harvested and sun-dried resting on specially woven reed mats for 3 to 7 days, protecting them from rain and dampness. In this way dried figs can be sold and eaten year round, particularly around Christmas and Easter, when they are eaten as a sweet meal ending along with nuts and other dried fruits.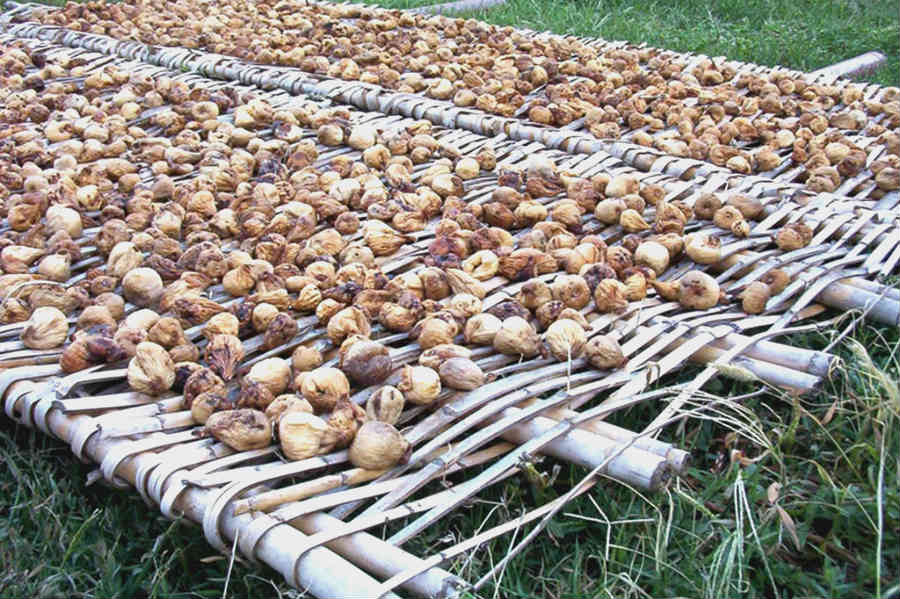 Lenticchia di Mormanno
Lentils from Mormanno purportedly have Middle Eastern origin. This variety is small and multi colored, with hues of pink, green and beige. It is cultivated in Mormanno, a small town in the heart of the Cosenza province at the border with Basilicata, at approximately 900 meters above sea level, and within the Parco Nazionale del Pollino national park. It is also found in Morano Calabro. Having disappeared for a long time, these lentils were recuperated thanks to studies and technical research conducted by regional specialists, who developed their study on a small amount found with small local farmers in the area. In the kitchen the lentils are used for a classic spicy soup, or in a more creamy, delicate soup.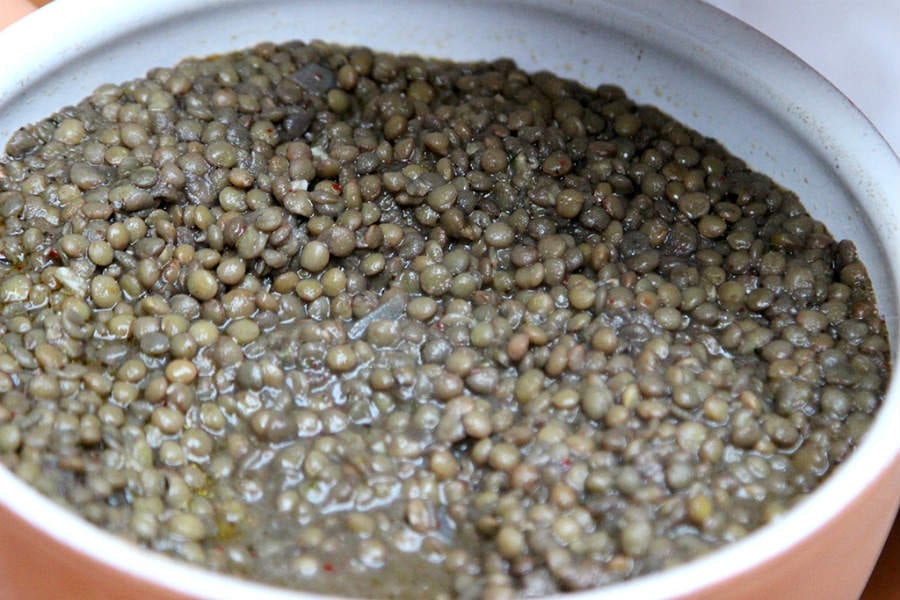 Limone di Rocca Imperiale
Also known as "limone rifiorente" due to its 4-time yearly bloom this lemon is a varietal belonging to the femminiellovariety that's grown in the Rocca Imperiale area, in the province of Cosenza. Cultivation of this citrus fruit dates back to the XVII Century, and boasting a very juicy pulp and intensely rich aroma. Key element in local cuisine, it is the main ingredient of celebrated Calabrian Limoncello, and also used to flavor sweets and cakes like torta al limone, cannoli filled with ricotta and lemon, jams and honey. In modern cuisine, in addition to seasoning meat and fish, these lemons are used in pasta condiments, like for tagliolini al limone, and in risotto.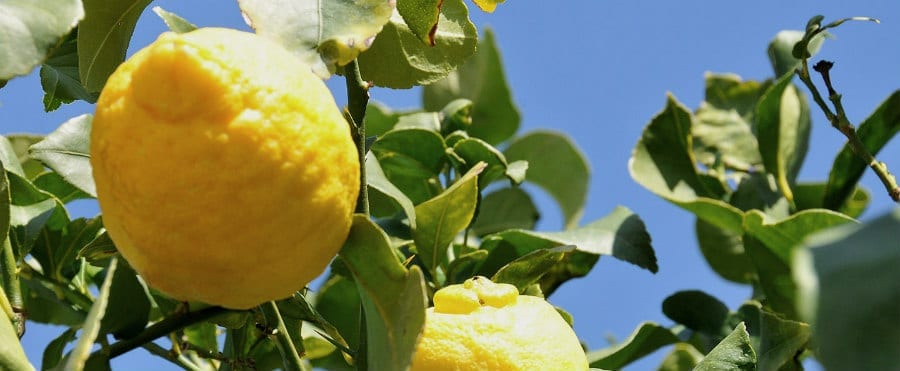 Liquirizia di Calabria Dop
Licorice grows all over the region, over the centuries it has allowed the local economy to develop and flourish. History of its cultivation is however connected to colonial estates and Calabrian feudal families. In the course of the centuries licorice went through a period of decline, but in recent years growers committed to network and recoup original heirloom licorice, thus protecting the region's precious crop. Calabrian licorice, belonging to the Glycyrrhiza glabra genus, is a perennial herbaceous plant that can grow 3 feet tall. It is used in its original form, or extracting its juice whose properties are employed in a number of ways, including digestive and detoxifying. Licorice essence is mostly used in confectionary to make cakes, candy and gelato. In Calabria, in particular in Rossano Calabro, is the only Italian museum dedicated to licorice, with displays of tools and machinery used over the ages to describe its history. In particular, the manuscripts by the Amarelli family, which for the past 4 centuries has been committed in making quality licorice.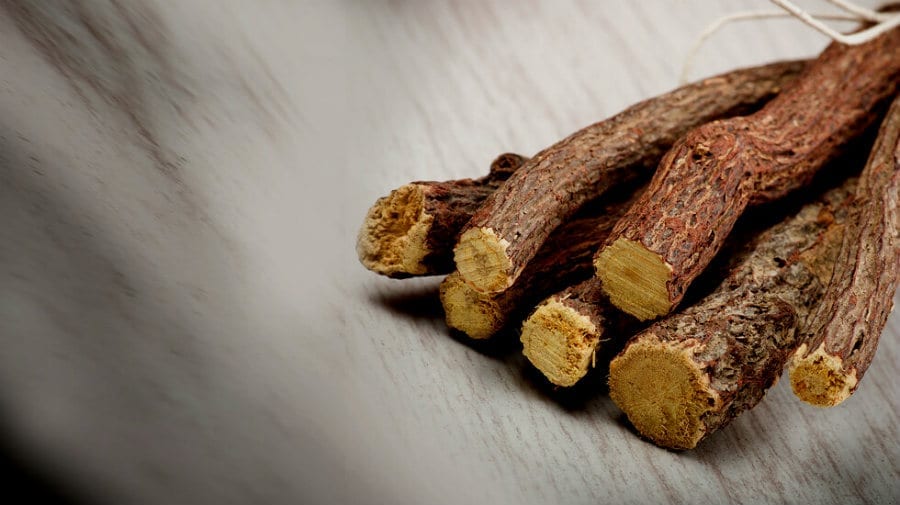 Maccheroni col ferretto
Despite the word maccheroni in Italy indicates different kinds of pasta shapes according to various regional traditions, Calabrian maccarruni are considered the ancestors of the pasta developed in Southern Italy. These are made by kneading semolina flour and water, and then shaped by twirling noodles around a knitting needle. They are dressed with meat-based sauces then dusted with salted dry ricotta cheese. The original shape of the Calabrian maccheroni is actually square sectioned, in the past in fact to create this pasta shape homemakers used an especially carved reed which shaped the squared noodle section.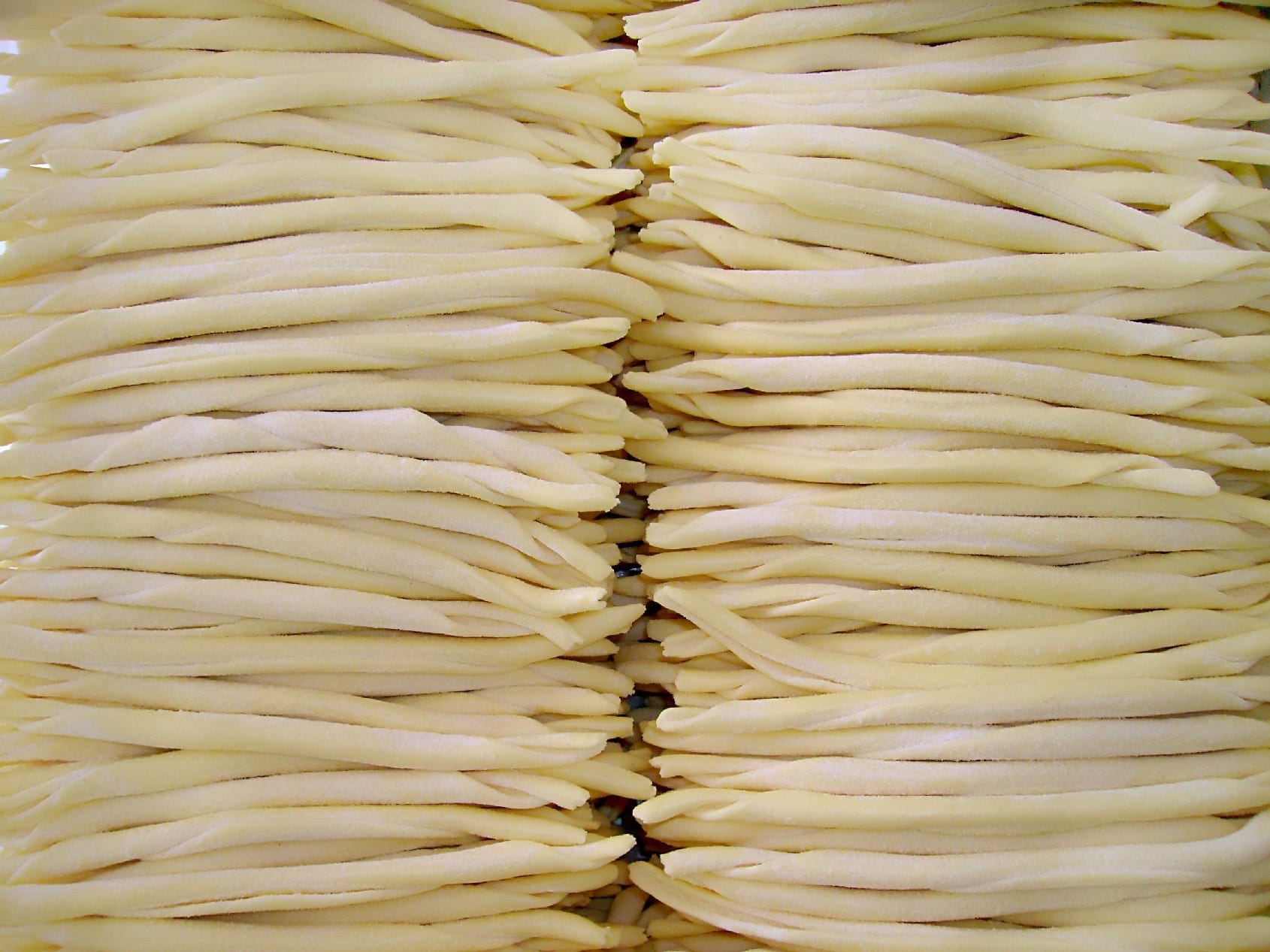 Musulupu
Literally, "wolf bite", this soft mixed sheep and goat milk cheese has Greek-Albanian origins. The name is referred to the musulupara wild mulberry baskets the cheese was made in. Soft and with no skin, the cheese is spreadable and ivory colored with no aging. The shelf life is 2-3 days during which it can be served as an appetizer, added to salads, served along with vegetable side dishes. After this period it can be breaded and fried. This cheese is normally made around the Easter festivities in the province of Reggio Calabria, and in particular in the area of Aspromonte, of Zomaro and on the Ionic coast of the province.
'Nduja
A basically poor regional food that now has risen to world fame: spicy and spreadable 'nduja sausage. The name derives from the Italian verb 'to insert', inherited from the Piedmontese dialect salam dla doja and the French word for sausage, andouille. This creamy salami is made with pork entrails: spleen, stomach, intestine, lung, esophagus, heart, trachea, pharynx, parts of the snout and head, fat and other various pork meat cuts. In more "commercial" versions it only contains innards, fat and pancetta. The meat parts are added with spicy peperoncino at a 2:1 ratio. The mix is then ground and stuffed into natural gut casings and ultimately smoked. Locals eat it smeared on toasted bread, or added to soffritto (mirepoix) in meat sauces. 'Nduja is also often added as topping for pizza or paired to semi-aged cheeses.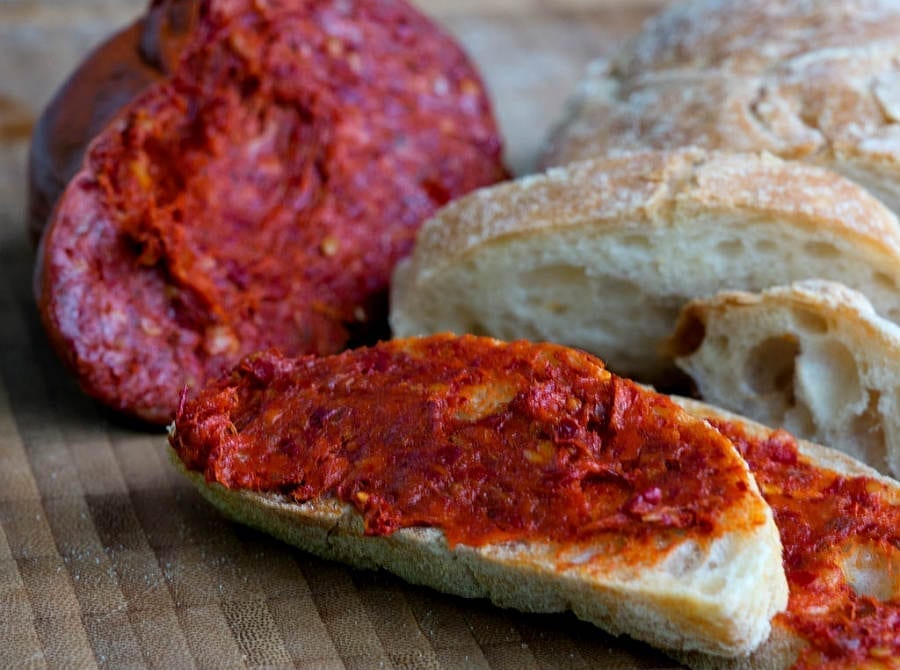 Pane di Cerchiara, pane di Mangone, pane di Cuti, pizzata
Made with 60% soft wheat flour and 40% bran, natural yeast and water, bread from Cerchiara is also known as "pane scanato". Intensely aromatic and flavored, the loaves weigh between 500 grams and 2 kg but can also come in loaves that weigh 10-12 kilos. The particular kneading process lends this bread its characteristic trait: a kind of bump that resembles the Monte Sèllaro that towers over the village of Cerchiara and Parco Nazionale del Pollino national park. It is specifically this bump that in the past was offered to the most prestigious guest at the table, referred to as the "casarolu" in the small village it takes its name from.
Production of Mangone bread is local, both geographically and in terms of quantity. Only three bakers produce it, one of which historic. The community is requesting Protected Denomination of Origin appellation.
Bread from Cuti gets its name from the small district of Rogliano, a hamlet in the Cosenza province. It is also nowadays the name of a family-run business that makes the famous bread. The dough is made with durum wheat flour and natural yeast obtained from previous doughs, mixed in wooden containers and baked in a wood-fired oven built with clay bricks. The loaves are round and a brownish crust conceals a white crumb.
Pizzata is commonly eaten in the villages belonging to the Comunità Montana della Limina mountain village community in the Reggio Calabria province, and in the neighboring villages in the Vibo Valentia province. This is a round bread made with cornmeal, natural yeast and dried chestnut leaves. Once a poor man's dish, this product is now highly prized and sought after rarity. Weight of loaves can be between 500 grams and 1 kilo. The crust is dark yellow, the inner crumb is golden color. Intensely flavored with a persistent and fragrant aroma. Traditionally baked in a wood-stoked oven and placed in a bed of chestnut leaves which lend a particularly unique aroma.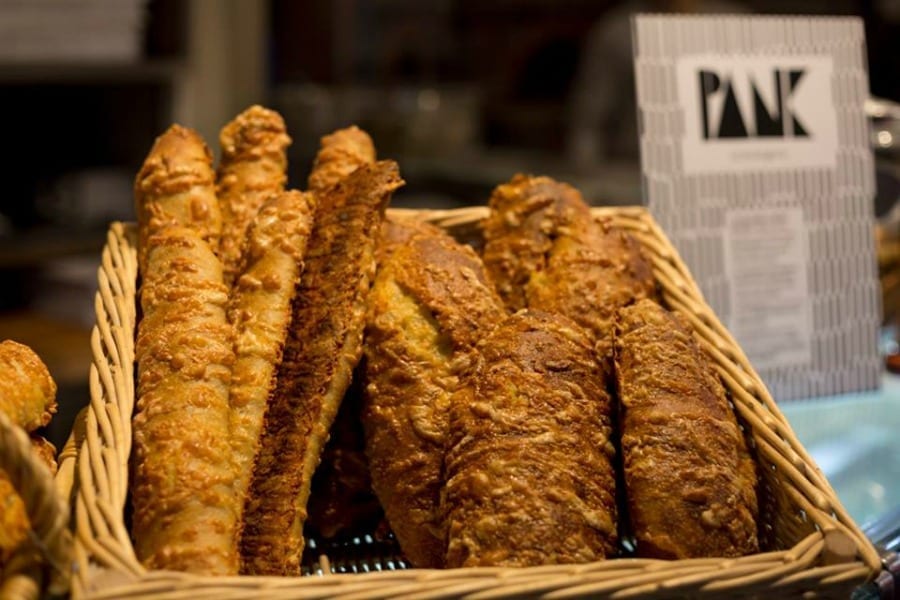 Patata della Sila IGP, patata dell'Aspromonte
Potatoes from Sila come in different varieties: Agria, Désirée, Ditta, Majestic, Marabel, Nicola. The common characteristic is the high starch content. This means shorter cooking time. Delicious and nutritious, these potatoes owe their flavor to the high altitude plateaus where they are cultivated above 1000 meters asl.
The Aspromonte potato instead can be grown in three varieties: Bellina, Rotonda and Spunta, The first is a versatile spud, the second is great for boiling, the Spunta is ideal fried and baked. In Aspromonte this potato is made into licurdia: a potato and onion soup served with toasted crusty bread and drizzled with EVOO and grated pecorino cheese.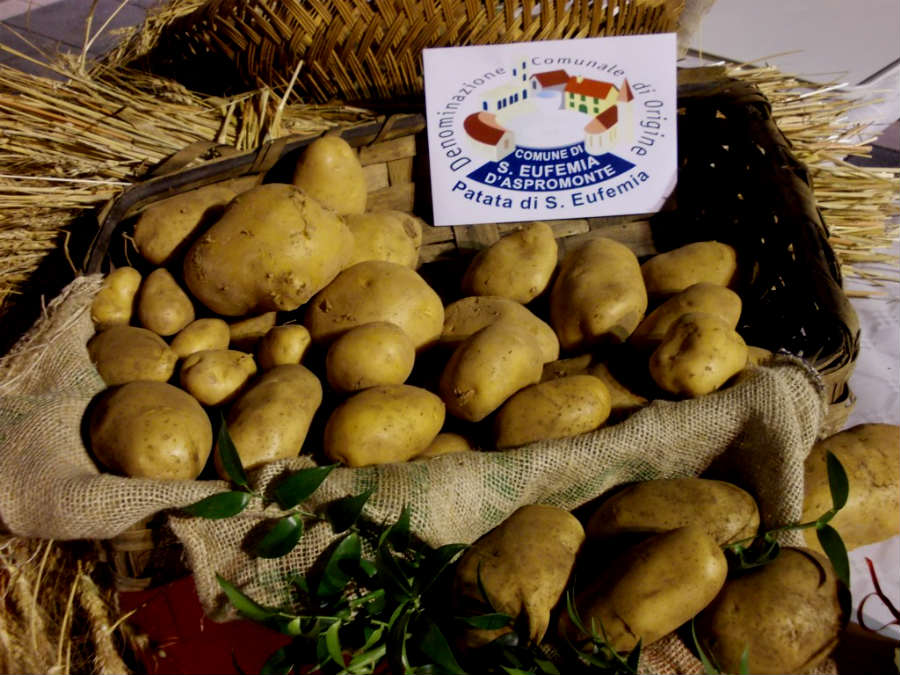 Pecorino crotonese DOP, Pecorino della Locride, Pecorino del Monte Poro
Once only made with milk of the Gentile di Puglia sheep breed, Pecorino crotonese Dop is one of the region's most popular cheeses. Today it is made with mixed milk of goat and sheep in a restricted area surrounding Crotone, in particular in the cities of Cutro, Isola di Capo Rizzuto and Strongoli.
The cheese is eaten fresh mostly spooned in pasta dishes, often mixed into spicy pork meat ragù. The aged kind which can mature as much as 2 years, is eaten as appetizer paired with local pickled vegetables: a perfect savory and piquant pairing.
Pecorino from the Locride area is made in total artisanal fashion exclusively with sheep's milk in the Ionic coast of the Reggio Calabria province and on the eastern flank of the Aspromonte. The flavor is delicate.
The pecorino from Monte Poro is a historic cheese, particular to a small plateau in the province of Vibo Valentia, the sheep that provide the milk for it graze at the foot of this upland and which lends the cheese its signature flavor. According to what the animals graze, the cheese can take on notes of mint, undergrowth, hay and the aroma of clean animal fleece. On the table it can be enjoyed fresh as appetizer or grated over meat ragù.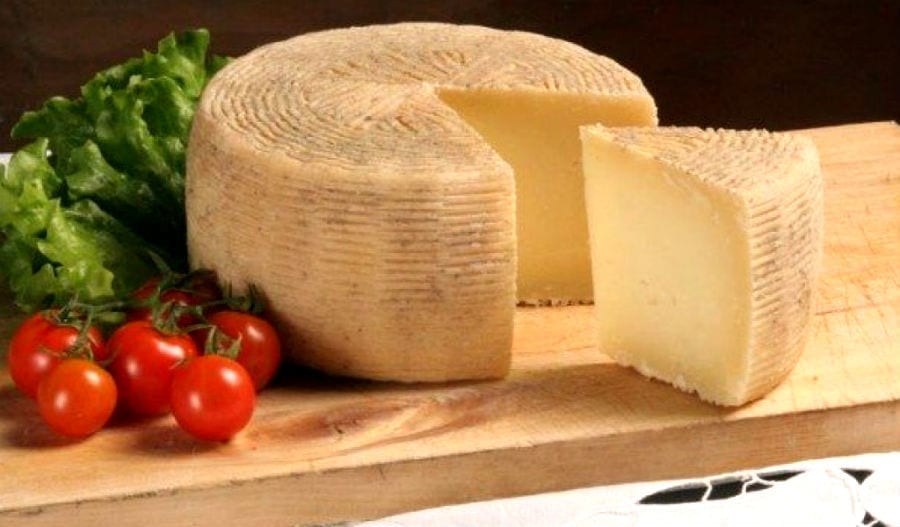 Peperoncino calabrese
The Calabrese variety of spicy chilli pepper is considered the king of peppers. In the area it is also called spagnolicchio, diavolicchio, pipu, pipi bruscenti, ruggianti. The spicy yet aromatic flavor have allowed this pepper to become an essential ingredient in local cuisine, used both fresh and dried. Its organoleptic properties are owed to the sandy soil it grows in as well as the weather conditions. The peperoncino is cultivated in sunny areas and where temperatures never go below 5°C, including in winter when it is planted. The plant needs plenty of water, harvest is between August and September. It has always been used as a natural preservative, and it's representative of local cuisine. Ancient traces of this food's production in Calabria date back to 1635. The "calabrese" variety includes varieties such as Soverato or Vulcan, Poinsettia, Hot Super Shepard or Naso di cane piccante, Cherry Bomb or Ciliegione.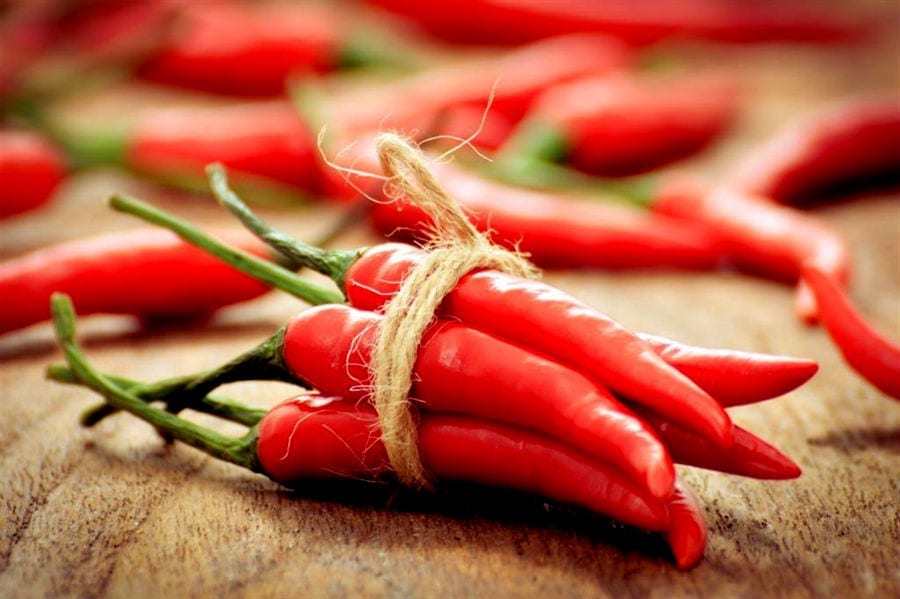 Pomodoro di Belmonte Calabro
Hailing from Belmonte Calabro in the province of Cosenza, this heirloom tomato was imported from the Americas into Italy at the end of the 1800s by immigrant who had lived overseas. The large tomato has adapted to local soil like in no other area of Southern Italy. The types in this heirloom varieties are two, one called Cuore di bue (ox heart) is well spread in the entire area. Each fruit weighs between 400 and 800 grams and has an elongated shape that resembling a heart. The second type is called Gigante and indeed it is gigantic, the weight of each fruit varies between 700 grams and 1 kilo, but it is known to also grow to weigh more than 2 kilos (4.4 lbs) on a vine 3 meters (9ft) tall. The soft pink hue never turns red, the pulp which is not acidic at all and containing very few seeds, is the same color as the thin skin. Due to its delicate flavor, it is eaten raw. Cooking it would be a sin.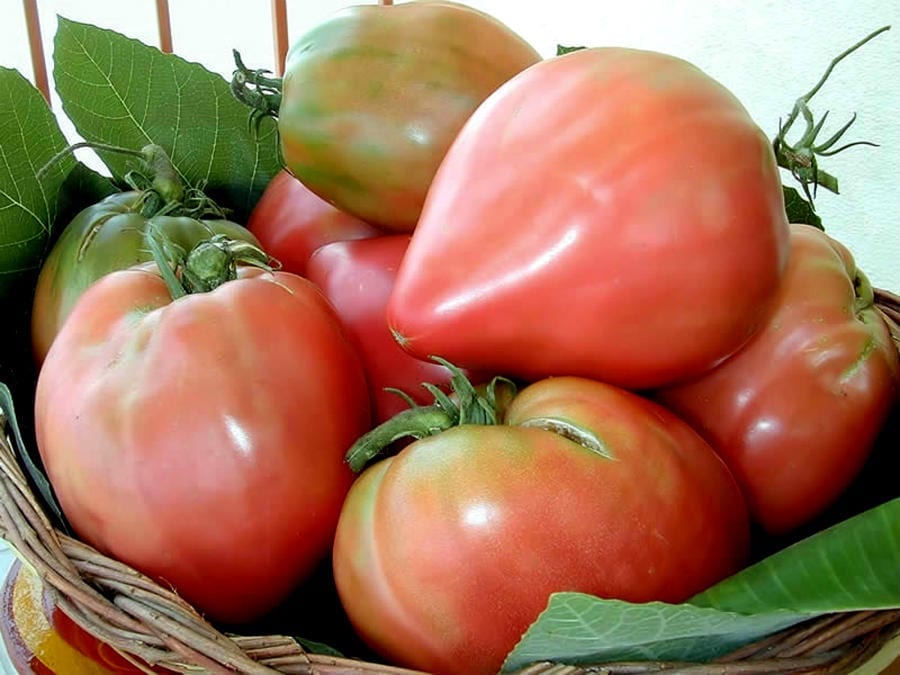 Ricotta affumicata calabrese
Created in order to maintain its shelf life as well as for easier portability in far away marketplaces, smoked ricotta is actually a byproduct of the cheese production. Ricotta is made with the leftover whey squeezed out of cheese curds, the milk is a mix of sheep and goat, with two aging levels. The fresh version is smoked for 3 days and eaten after a week, the more aged version is smoked for about a month. In both cases the aroma and flavor are very intense owed to the Ontano wood used (from a tree that grows along Sila streams). This smoked ricotta is commonly grated over fresh pasta dishes like gnocchi or ravioli.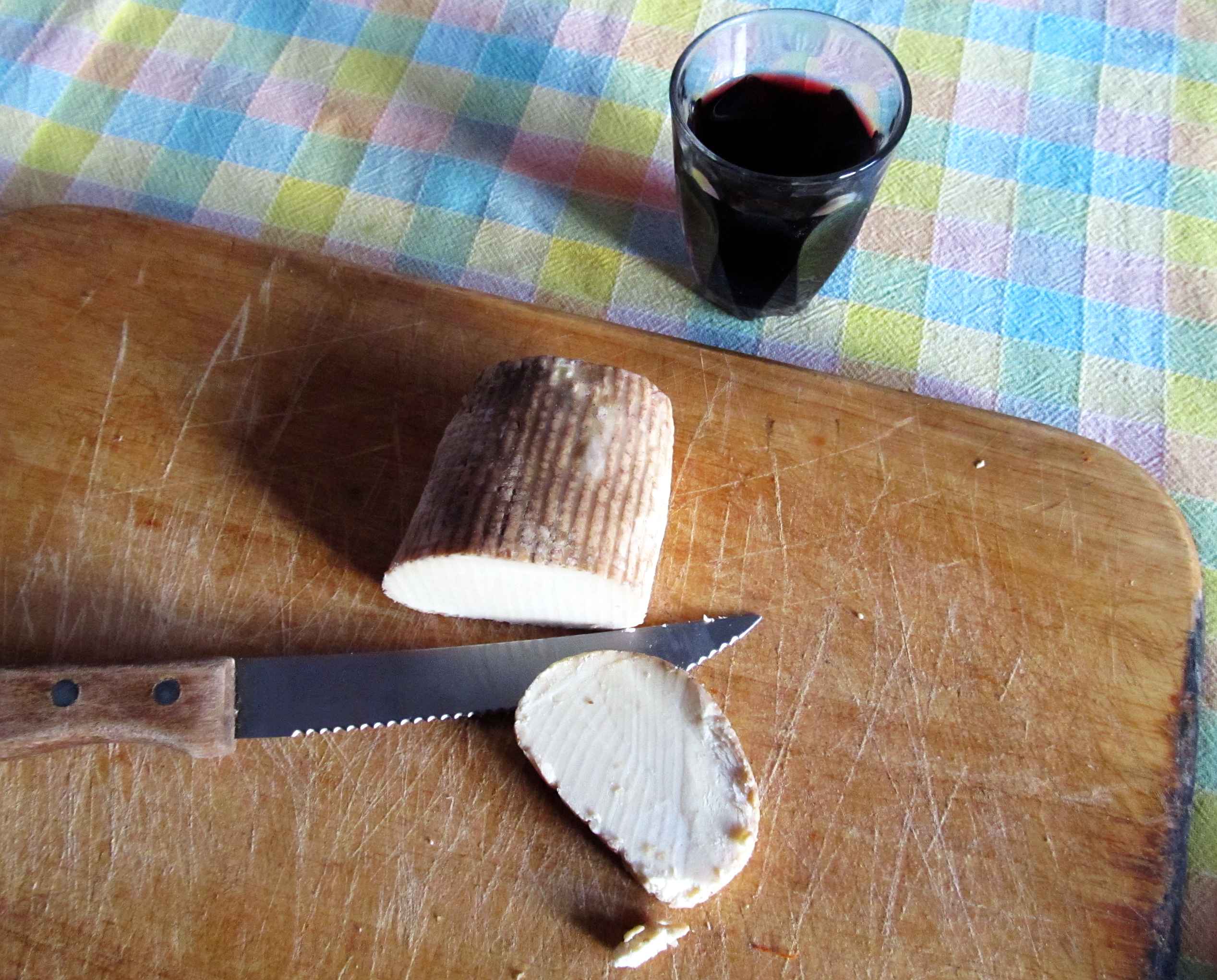 Sardella
Known as "poor man's caviar" or rosamarina, sardella was a sauce made with pureed whitebait added with peperoncino, salt and fennel pollen. It was commonly eaten smeared on bread, as a bruschetta topping, in appetizer platters or used in cooking as a flavoring for sauces and condiments. This product is no longer allowed since the EU banned it with Regolamento Mediterraneo act in 2006, forbidding the fishing of newborn anchovies, mullet and sardines smaller than 11 cm (4.3"). The town of Crucoli in the Crotone province was once known as "Sardella-town" and the historic food festival that celebrated the product every year since 1970.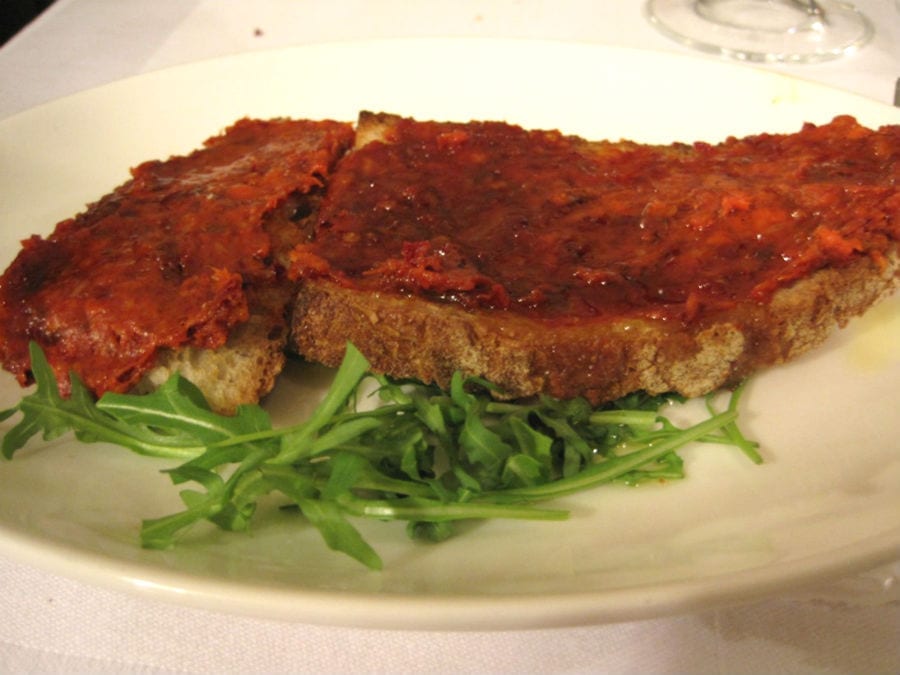 Soppressata di Calabria DOP
An entire chapter should be dedicated, like for 'nduja, to soppressata: a fundamental cured meat product crucial to Calabrian cuisine. Despite lack of evidence, it is purported that this salami was born in ancient Lucania 3 centuries ago and then exported to neighboring regions by the Greeks that colonized them. Only in 1691 is the first written source to explicitly mention sopressata as part of local cuisine.
Prized pork meat cuts are selected to make this particular salami: shoulder and prosciutto for the meat, and the front loins for the fat part. These are then both coarsely ground and added with black pepper, fennel pollen, salt, peperoncino and stuffed in a pork casing. The mixture is covered with linen sheets and pressed for approximately one week to obtain a flat, cylindrical shape. After this the soppressata undergoes the drying phase which lasts 2 weeks. During this time in the drying room, a brazier is kindled with lemon and orange peels to obtain a delicate smoking of the meats. Pressing is then repeated and then the salamis are left to age for 5-6 months. When ready, the original soppressata is spicy and intense rich red color. There are variants of this DOP product sold on the market: soppressata bianca, with no pepper nor peperoncino; and soppressata dolce, seasoned with sweet red pepper or bell peppers.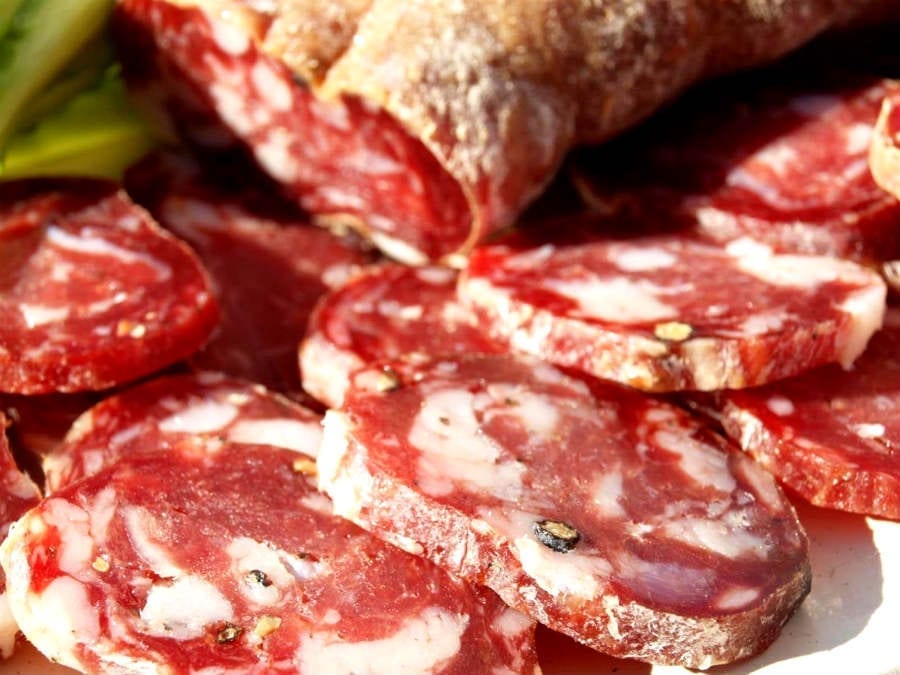 Suino nero calabrese
"Suino nero calabrese" or appulo calabro is a native breed. The slow rearing of the pigs makes the meats perfect for high quality curing. The breed is rustic and robust and raised free-range in the Pollino Aspromonte area. This area is subject to random hunting, factors in addition to intensive production and reduced fertility, that raise the risk of extinction. Products made with nero calabrese pork boast exuberant and intense flavors and aromas, reminiscent of the typical Sila and Aspromonte mountain fragrances. All over Italy, products made with this breed of pig are greatly appreciated: salami, soppressata, lardo, capocollo, pancetta, sausages and 'nduja.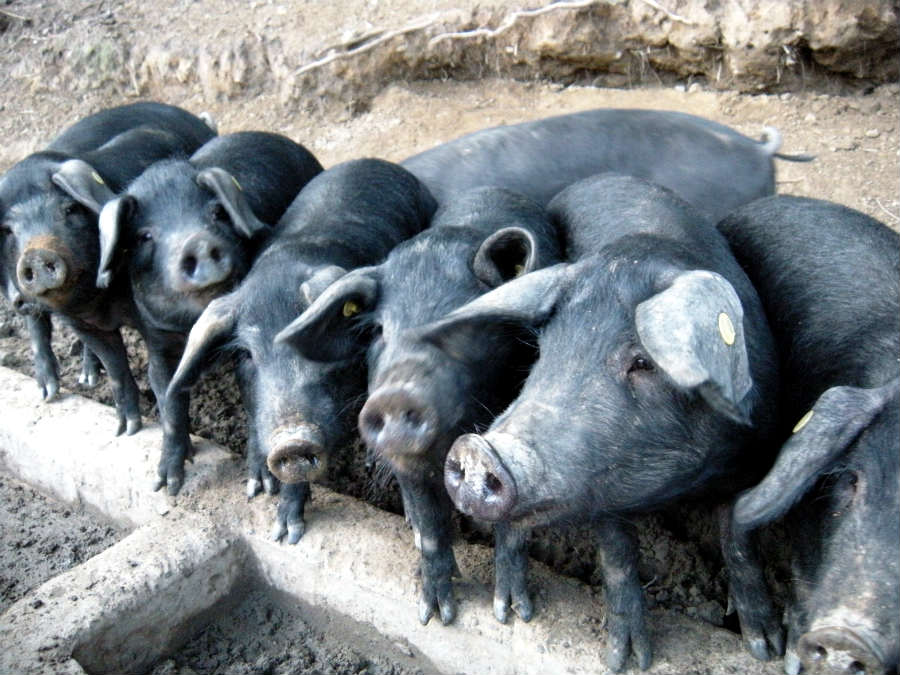 Copy written with the help of chef Agostino Bilotta of restaurant L'Approdo in Vibo Valentia
by Francesca Fiore
translated by Eleonora Baldwin
For other regions in the series, read Regional cuisine: Alphabetical guide to the foods of Puglia