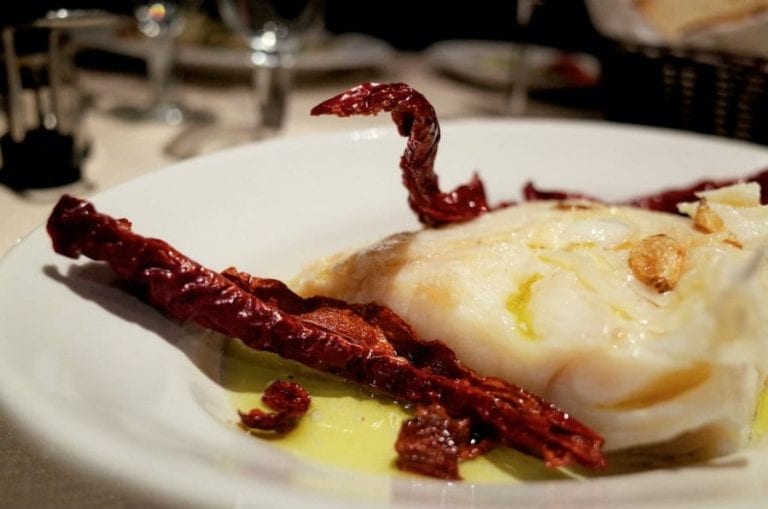 Wedged between mountains and the sea, the Basilicata region boasts an extensive and varied food tradition. A mix of simple, wholesome and intense flavours, that can be enjoyed beyond regional boundaries. For our glossary series of Italy's regional riches, here's an alphabetical primer of Basislicata specialties.
Canestrato di Moliterno
Canestrato is a cheese widely produced throughout Basilicata since the ancient "transumanza" pathways. Made with whole goat's milk and a small percentage of cow's milk, the cheese is made by hand-squeezing the whey from the curds into reed baskets. The flavour is sweet and delicate, with added piquant accents as it ages along with intense color ranging from yellow to brownish. There are three types of canestrato: primitivo, max 6 months aging, stagionato aged 12 months, extra stagionato aged over a year. Canestrato di Moliterno protected by IGP status is so only if the cheese is aged in fondaci, caves dug under the historic palaces of Moliterno, which create ideal microclimate for the aging process. The cheese can be paired with jams or grated over pasta dishes.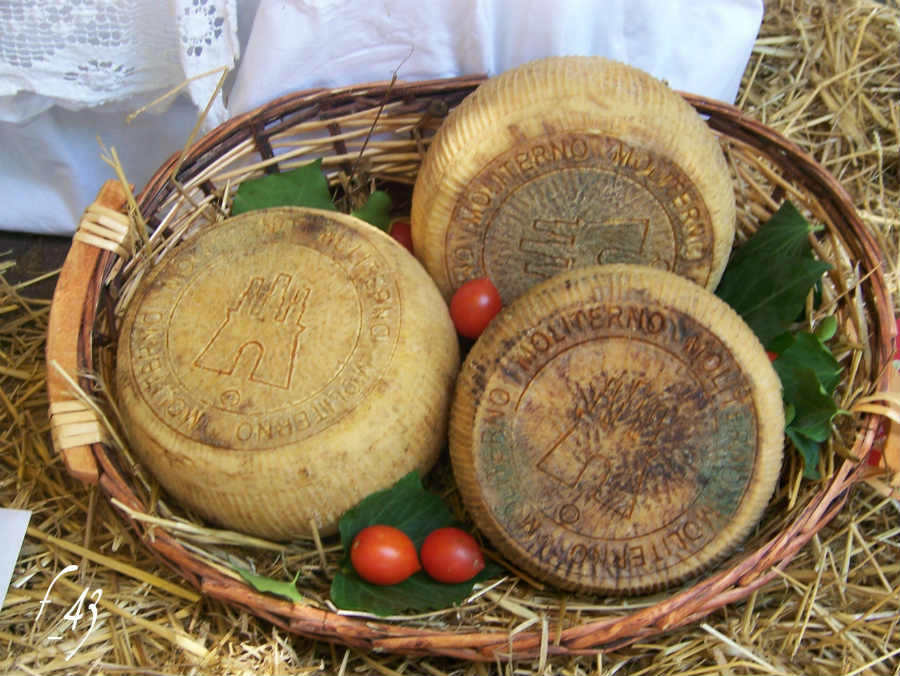 Cavolfiore dell'Ofanto
Cultivated in the peculiar terroir of the Ofanto river valley, on the borders of Puglia and Basilicata, this white cauliflower is used in many local recipes. Among these, caule sauto, cooked snugly in an earthenware pot with a thinly sliced onion, olives, chopped chilli pepper and lard. A glass of water and salt complete the recipe. The dish is ready when the cauliflower falls apart in the pot. Another typical dish employing the Ofanto cauliflower is pettola, that is fried dough, usually stuffed with cauliflower and anchovies.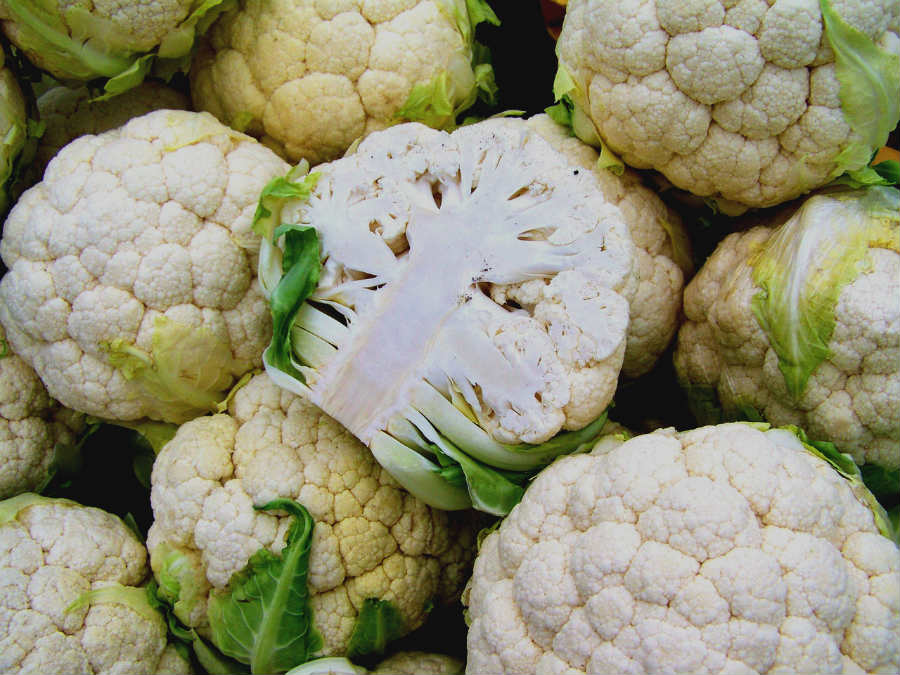 Casieddu
Goat cheese produced in the area of Moliterno (Potenza) is a variety similar to cacioricotta (we talk about it in an article in Italian here). The cheese's peculiarity is the aromatic note lent by Calamintha nepeta savi, a plant similar to mint. It can be eaten fresh aged max 60 days, usually wrapped in fern leaves, or paired with fruit jams, or squash and ginger chutneys.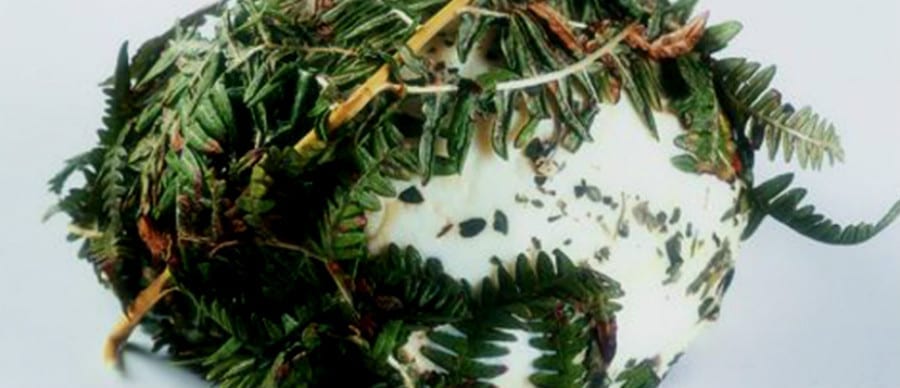 Cinghiale
The wild boar population has greatly increased in recent years, according to the Ministry of Agriculture, during the first half of 2016 a number of 123 thousand specimens have been counted in the region, exactly double the nromal proportion with local fauna. These numbers are alarming, wild boar are disruptive to the local farmin community. Boar meat, dark and bold-flavored is historically very popular on Basilicata tables. It is uded for sausage and salami, as well as braised with red wine, or slow-cooked for ragù.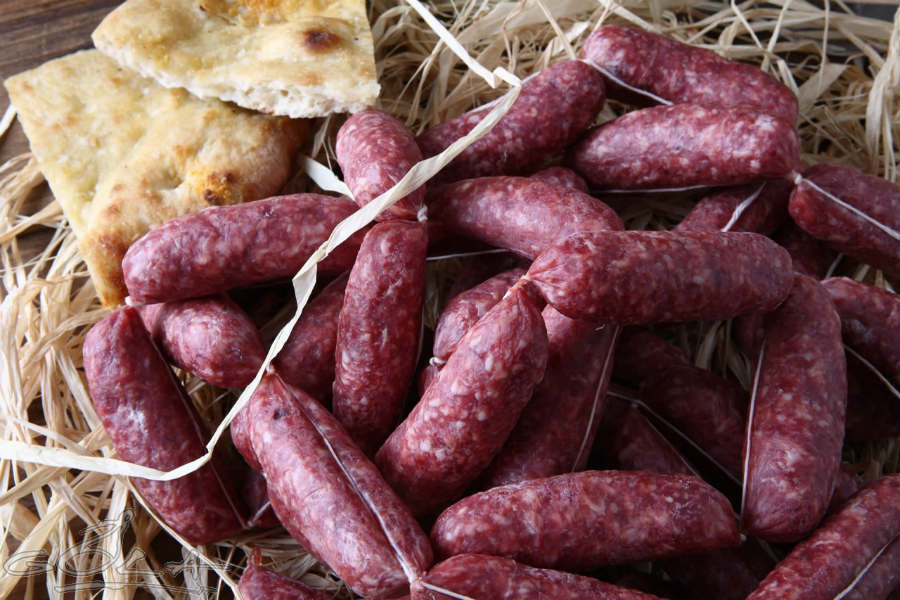 Crapiata
Crapiata is an ancient Matera recipe dating back to the Ancient Roman domani of the area. It's a mix of legumes and grains: lentils, lima beans, weat berries, cicerchie and so forth. These are cooked in a pot with water and seasoned with salt. The soup is important for the local community as a symbol of social gathering original of the Matera Sassi cave dwellings.  Every August 1 Matera citizens eat the soup and dance until late to celebrate the dish that helped sustain the less affluent. In the Matera area this soup can also be bought canned.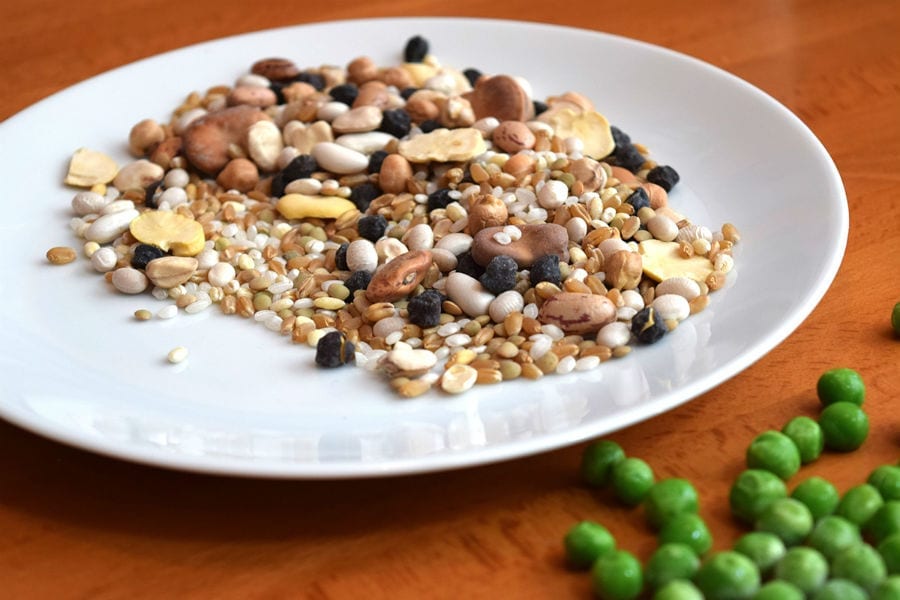 Fagioli (Bianchi di Rotonda DOP, fagiolo di Sarconi)
Rotonda DOP beans are grown in the area of Pollino, where the numerous tributaries of the river Mercure make the soil particularly suitable to growing legumes. The varieties cultivated in Castelluccio Inferiore, Castelluccio Superiore, Rotonda and Viggianello, in the Potenza province, are bianco di Rotonda and tondino bianco. Slow-maturing beans are rich in protein and are sold both dried and fresh and are employed in many local dishes, mostly soups. Legend has it Giuseppe Garibaldi fell in love with these beans after tasting them on his way home from Sicily, and decided to brong some back to plant on the island of Caprera.
The Sarconi bean, locally called fasoli russi, tovagliedde rampicanti, ciuoti and napuletanu vasciu, is grown in the Alta Val d'Agri, a hilly area of Basilicata in the province of Potenza. This bean includes the cannellino and borlotto varieties, and owes its sweet flavor to the high concentration of sugar obtained through slow ripening. These beans don't require long cooking times and works well in many local dishes, among which maltagliati or strangolapreti pasta in soups. Another typical recipe fagioli alla sarconese, that is pan fried Sarcone beans with pork sausages, chili pepper, garlic and salt.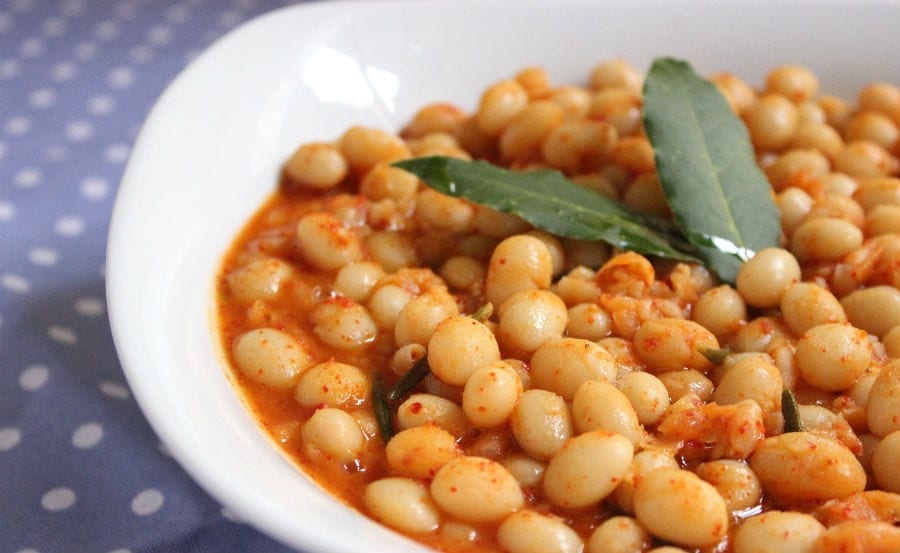 Lagane
Lagane is a type of fresh pasta similar to tagliatelle. Thicker and shorter lagane are made with a simple water and durum wheat flour  added with salt. Many southern Italian regions claim paternity of this pasta, which are also known as sagne. The name is connected to ancient Latin and Greek lasagne known as laganum andlaganon. In Basilicata lagane are cooked along with legumes, in particular with chickpeas. It is said that lagane and chickpeas was the typical dish eaten by brigands raiding the Vulture woodlands in the mid XIX century. The recipe is an assembly of chickpeas, lagane, garlic, rosemary, sage, onion, celery, salt and chili pepper.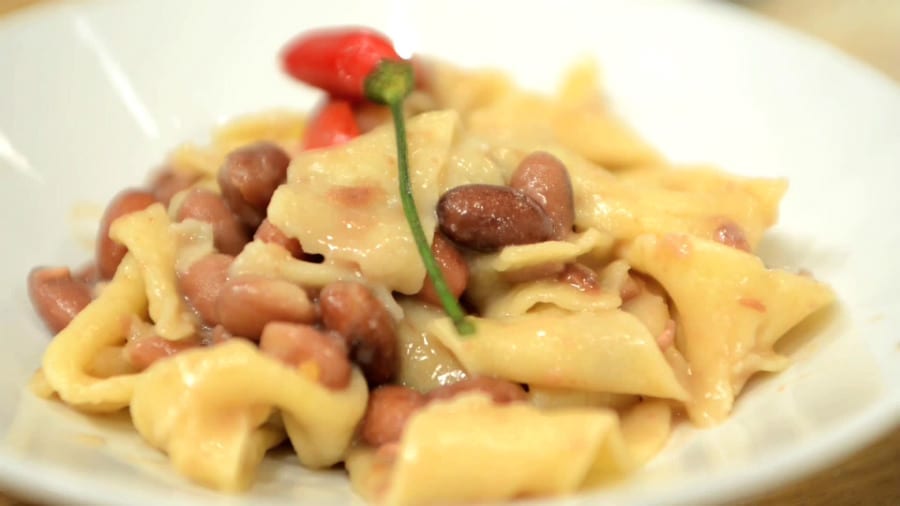 Lucanica di Picerno and lucanica Cancellara
Paternity of this sausage is contended between Milan and Basilicata. According to local tradition, the name derives from the Lucania (another name for Basilicata) slave women who introduced this sausage to ancient Rome tables. This pork sausage is an important part of local tradition. Made with coarsely ground pork shoulder meat seasoned with fennel pollen and stuffed in a natural casing, lucanica is then left to dy and age. Two products in particular are representative of the area: lucanica di Picerno and lucanica di Cancellara. The former is produced in the small town of Picerno in two versions, sweet with fennel pollen; and spicy with red pepper and chili.
Lucanica di Cancellara is produced in the mountain communities of Alto Bradano, in the Potenza province. Its characteristic "U" shape is stuffed with less noble pork cuts and seasoned with fennel pollen and sweet dried pepper. Locals in Cancellara maintain the particular flavour of this sausage comes from the fact that the animals undergo the least possible stress before being butchered. Another element that contributes to the sausage's characteristic taste is that it ages in rooms fitted with a fireplace. In September Cancellara celebrates this precious product during an annual Salsiccia Festival.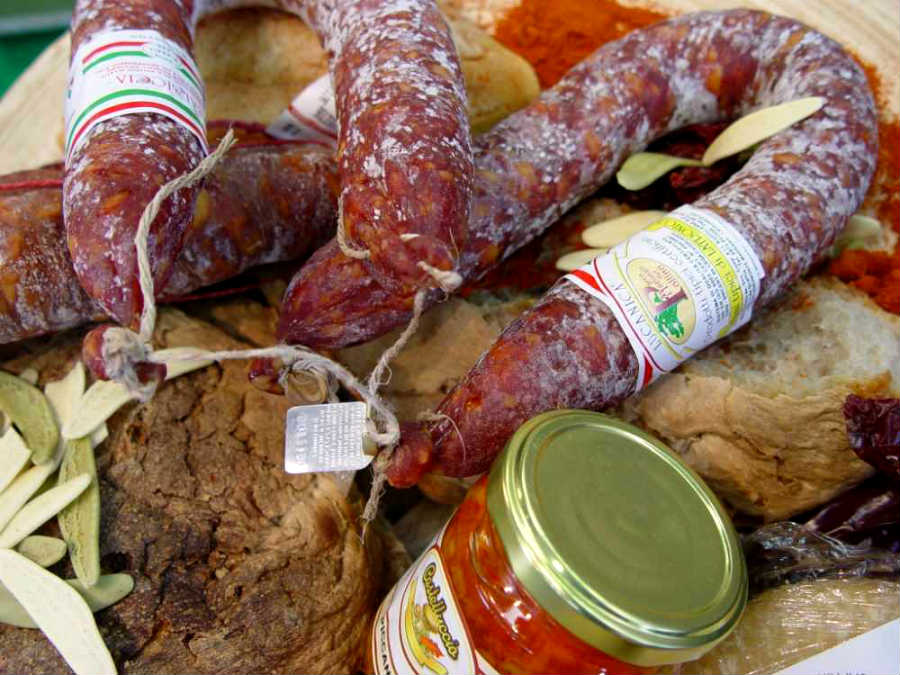 Marroncino di Melfi
Produced in the Vulture area, in particular near Melfi, the marroncino is a large round chestnut. For its size this particular variety is highly sought by the confectionary industry, especially for making marron glacé. In Melfi it is mostly eaten roasted over the coals. Since the Sixties, these chestnuts are celebrated in the annual Sagra della Varola in Melfi, in the second to last weekedn of October. During the feast, the marroncini are roasted in large pierced iron pans calledvarole, and paired to a nice glass of Aglianico del Vulture.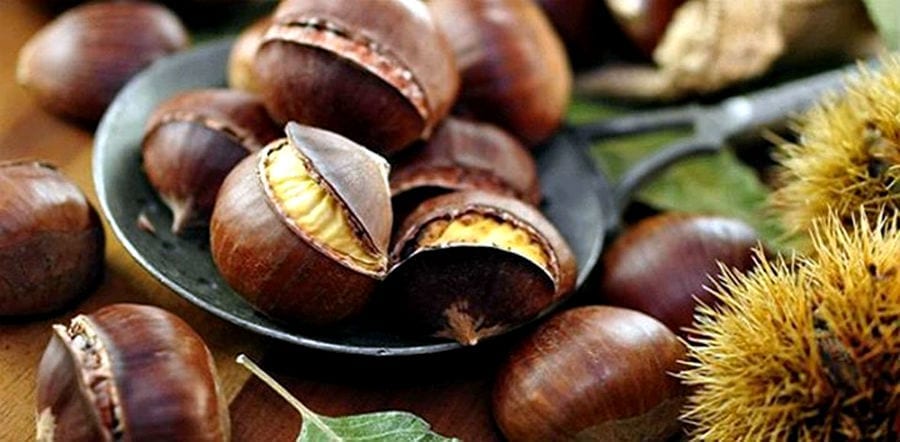 Melanzana rossa di Rotonda (DOP)
Part of the Solanum aethiopicum nightshade family, red aubergines were introduced in Italy at the end of the 1800s by soldiers returning from colonial wars in Ethiopia. It has nothing in common with the purple variety, Solanum melongena, it looks more like a tomato. In local dialect this aubergine is called "merlingiana a pummadora. It is round, colored orange with greenish stripes. The flavor is slightly spicy, with a bitter aftertaste; the aroma is floral and the texture is meaty and the pulp does not oxidize when in contact with air. Local cookery employs it in two ways, pickled or fried and marinated with garlic and shaped into croquettes, or used as condiment to pasta with caciocavallo podolico cheese. Grown in the Mercure river valley, in particular in the towns of Rotonda, Viggianello, Castelluccio Superiore and Castelluccio Inferiore, it is virtually unknown in the rest of Italy.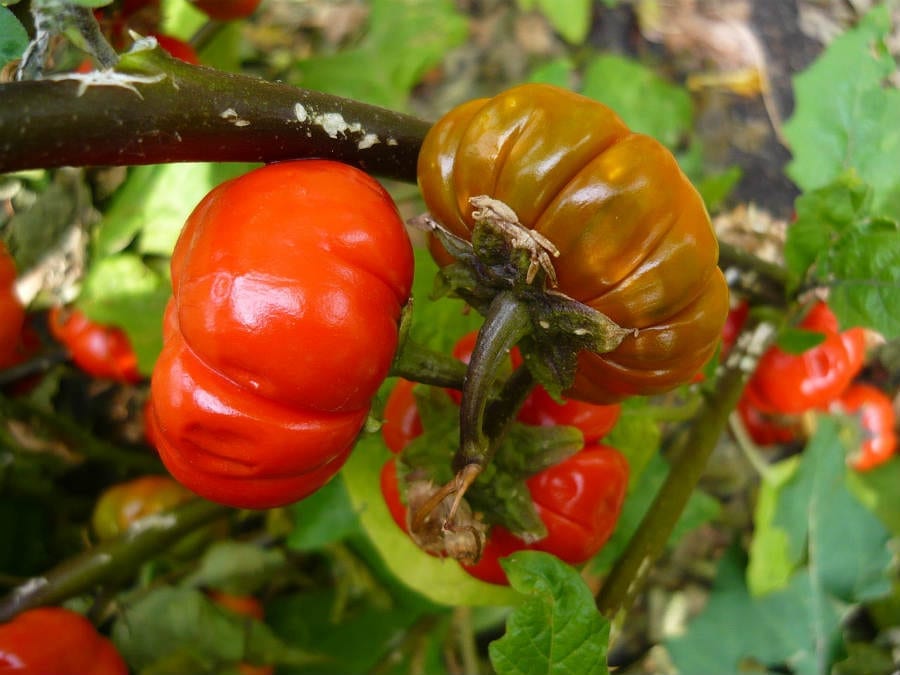 Padraccio del Pollino
Typical of the Pollino area, this cheese owes its name to its round shape, "padda" in dialect. Made with raw goat's milk it has no rind, a soft elastic pulp, snow white color and a fresh, milky flavor. It is eaten fresh and smeared on bread, paired with local greens and pickles.
Pane di Matera
For centuries, bread has been considered sacred in Matera. Inheriting ancient tradition, local bakers would always mark their loaves with a wooden family seal, a practice that was adopted until the mid Fifties. Matera bread is made with durum wheat semolina and natural starter years made with macerated figs and grapes. The characteristic horseshoe shape is symbolic of the Murgia materana, century old what plains in the surroundings. It is eaten dipped in olive oil, salt and oregano or employed in dishes like "cialledda calda" that is slices of bread topped with an egg, olives, bay leaves and garlic; or "cialledda fredda", made with dampened slices of bread and rubbed with tomatoes and garlic.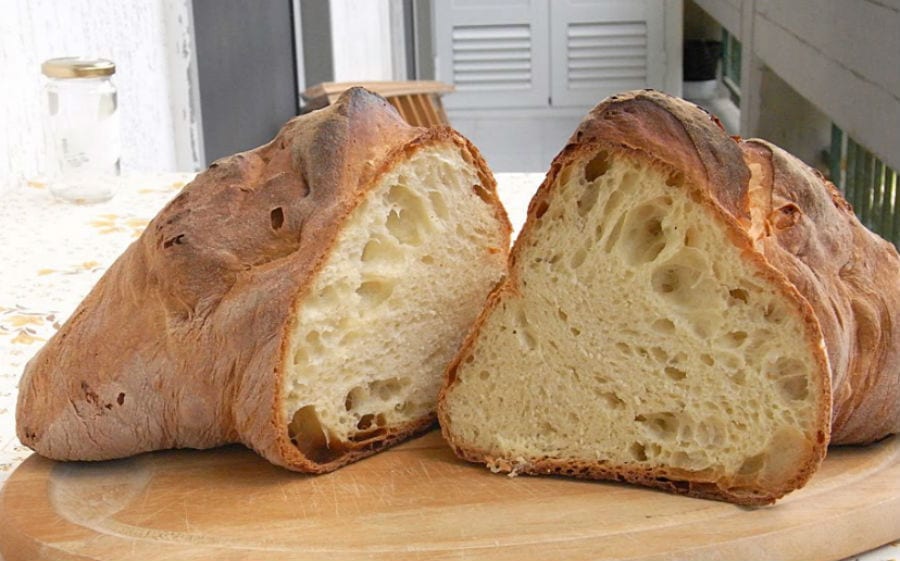 Patate (Rossa di Terranova del Pollino e patata di montagna di Muro Lucano)
Produced in the province of Potenza, red Terranova del Pollino potatoes, aka "patata russa", is grown at 700-800 metre elevation. Delicate and soft, this potato cooks quickly and often paired to lamb dishes.
Patata di montagna, on the other hand, grows near Muro Lucano, in the Potenza province, at 600 metre elevation. Tasty, firm and yellow it cooks slowly. It is often associated to another local product, truffles.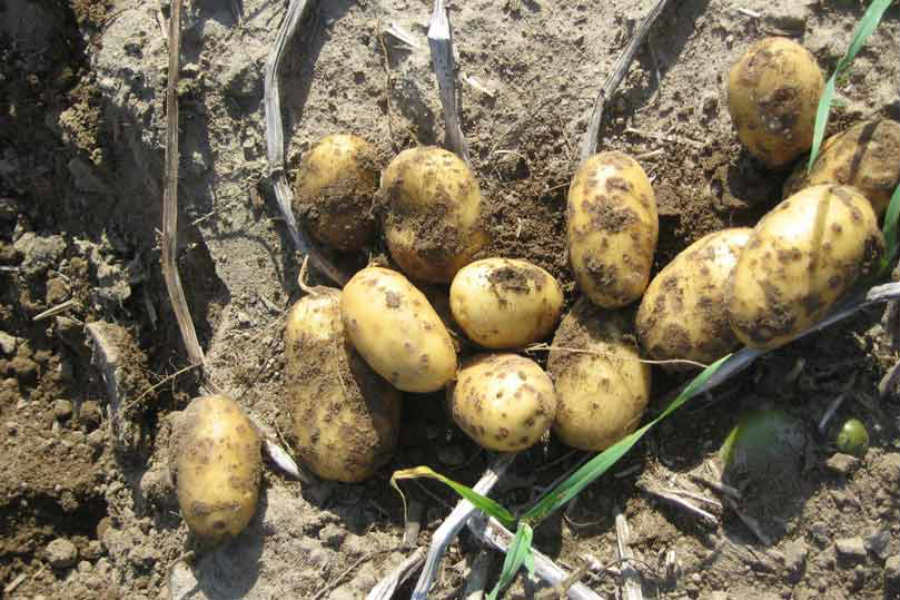 Pecorino di Filiano (DOP)
Pecorino di Filiano is an aged cheese made with sheep milk of the Gentile di Lucania breed. Aged a minimum of 180 days in traditional tufa stone caves. The rind is hard and brownish; the pulp is compact and oily, ivory to yellow depending on age. It is eaten as is with fruit and fresh vegetables and bread; or grated over local pasta dishes.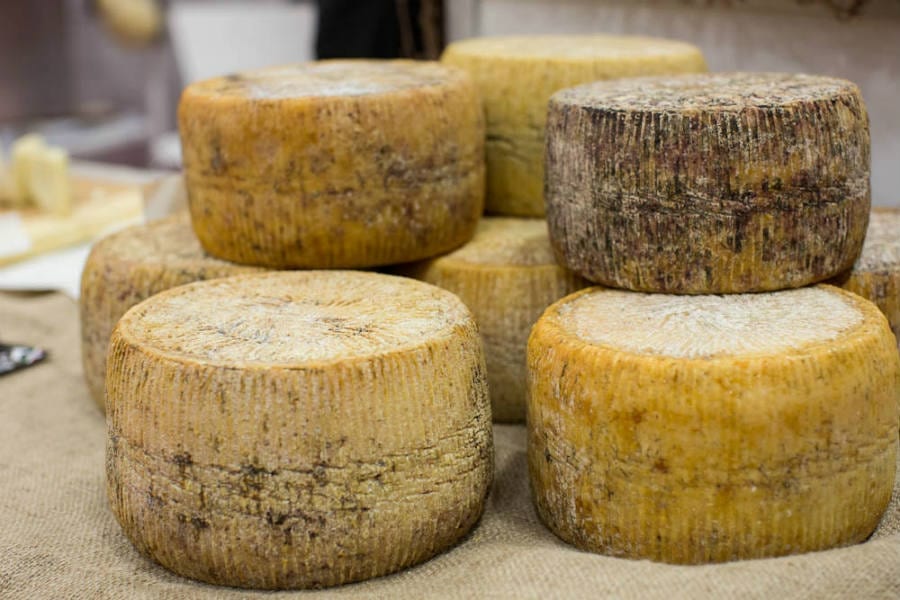 Peperoni cruschi di Senise
Grown in the surroundings of Senise, in the province of Potenza, Senise peppers belong to the Capsicum annuum dolce cultivar. Locally known also as "zafaran", these sweet peppers were purportedly introduced by Spanish navigators returning from the Antilles around the XVI and XVII century. They are locally also called "red gold" or red saffron. They are eaten raw, but are more popular in a local Lucania preparation, peperoni cruschi. The word crusco, in dialect means crispy. The peppers are dried and then quickly oven-baked. At this point they can be either fried whole  in olive oil (becoming classic zafaran' crusk), or powdered to season various dishes, like pasta starters.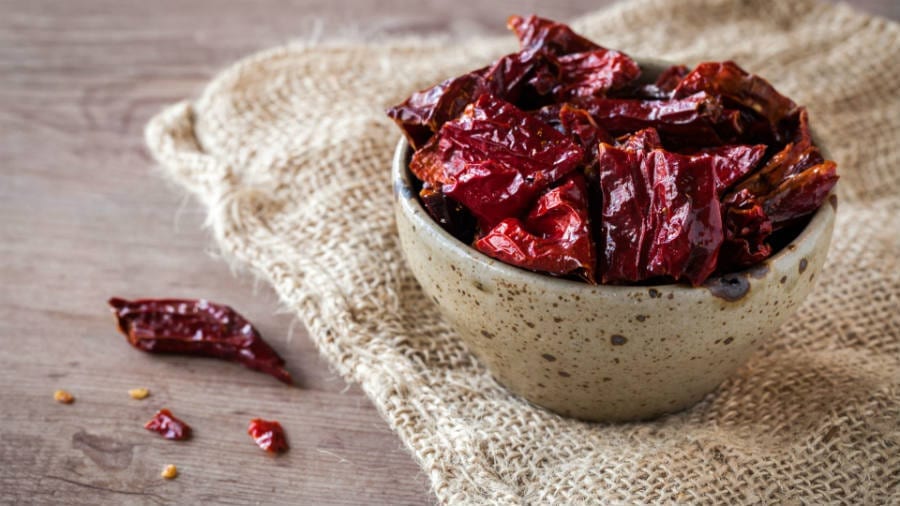 Pezzente
Known as a peasant sausage, pezzente or pezzenta is made with less noble cuts of pork, lamb and veal, including innards and head. The animals used are bred in the Parco naturale di Gallipoli Cognato national park and on Piccole dolomiti lucane mountains. The meati s knife cut and seasoned with garlic, fennel pollen and massive amounts of chili pepper. It is aged 3 months to a full year. The sausage is used for sauces with tomato, fire-grilled, or boiled with vegetables and served on slices of toasted bread. A typical Carnevale dish is fresh pasta fresca dressed with pezzente ragù and grated horseradish.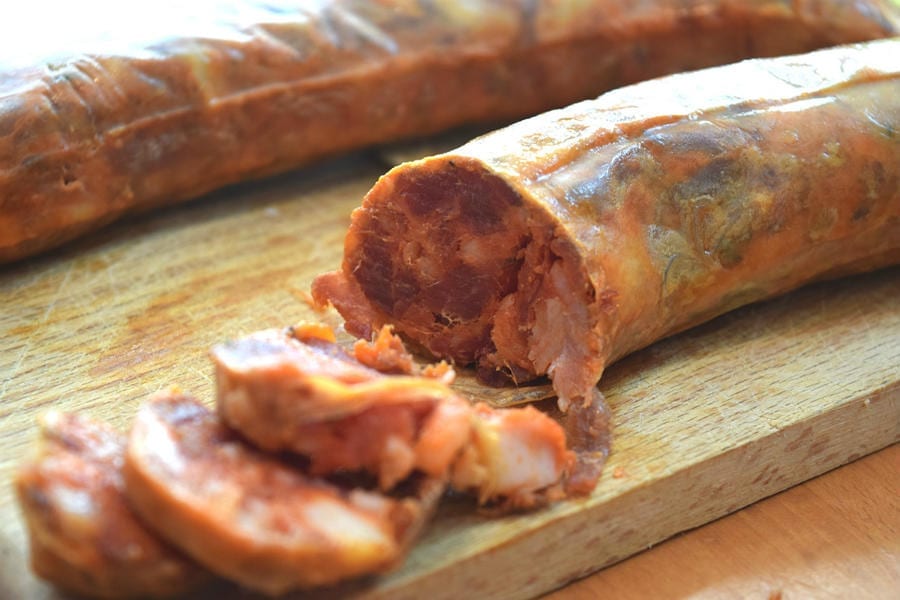 Scorzone (Tartufo nero)
Scorzone, or summer black truffle (Tuber aestivum) grows extensively in western Basilicata. This durable truffle lasts longer than other varieties and considered less prized, but owning an intense flavor, with a delicate and characteristic aroma. Versatile scorzone is used in many different dishes, in risottos and pasta recipes as well as on beef carpaccio or kale dishes.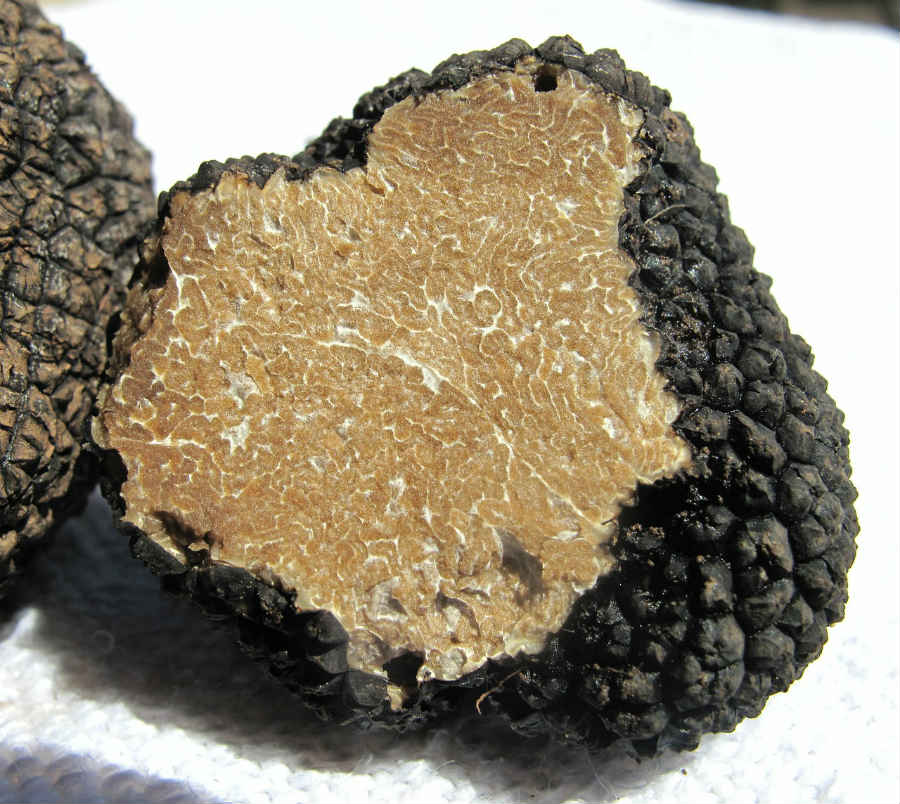 Strascinati
Basilicata shares with Puglia this particular pasta shape, strascinati are hand-pulled larger orecchiette with one smooth inside and a coarse outer side, perfect for capturing sauce and other condiments. Basilicata strascinati are crafted using 3 to 8 fingers, which makes them quite larger than the pugliese varsion. In the past strascinati were simply dressed with vegetables, nowadays they are dressed with meat sauces, with fresh ricotta, cabbage and toasted breadcrumbs. One recipe in particular, expresses tht marine aspect of the culture, topped with shrimp, cuttlefish and artichokes.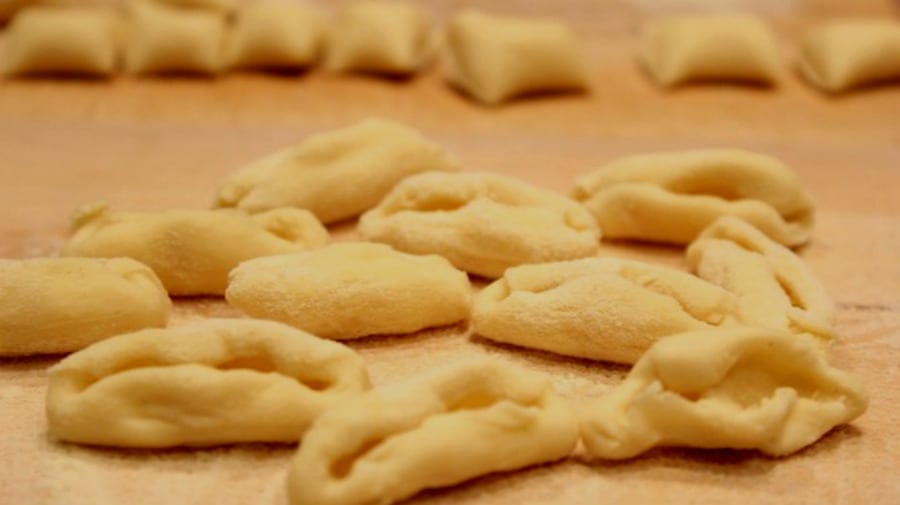 Ventresca di Rionero
Si tratta di un salume prodotto della lavorazione della pancetta di maiale privata della cotenna, aromatizzata e messa sotto sale. Dopo circa una settimana di riposo viene condita con peperoncino e aglio e arrotolata, dopo questo passaggio viene messa a stagionare in ambiente fresco almeno per due mesi. È prodotta in particolare a Rionero, nell'Alto Vulture, in provincia di Potenza. A tavola viene consumata come antipasto o come secondo, accompagnandola con verdure e ortaggi locali: il suo sapore dolce è contrastato dalle spezie come aglio e peperoncino.
This salami is a by-product of pork skinless salt-cured pancetta. After about a week, the meati s seasoned with chili and garlic, and rolled. It is then aged in a airy room for approximately 2 months. It is sliced as charcuterie, or grilled as an entree, paired withlocal vegetables. The sweet flavor contrasts the bold spices.
Copy revised by chef Giuseppe Misuriello of Antica Osteria Marconi in Potenza.
by Francesca Fiore