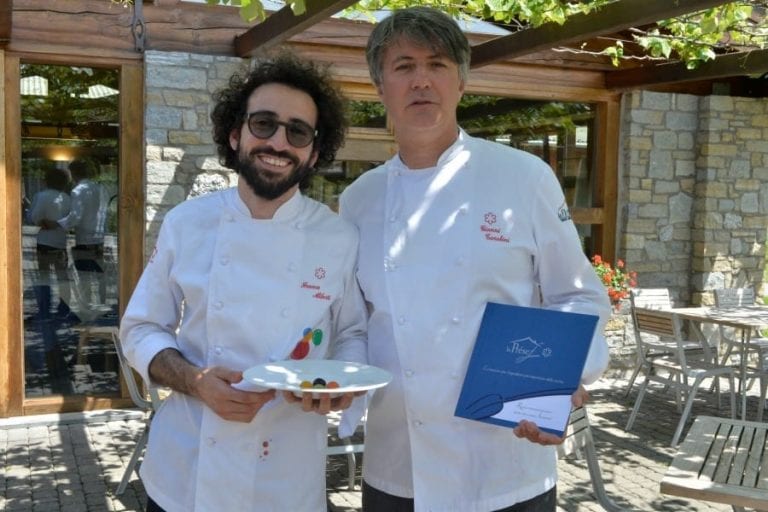 Four hands (and two heads) are at work in this agriturismo restaurant in Valtellina, between Lake Como and the Alps. Pristine nature is the backdrop for creativity and intelligence. Gianni Tarabini and Franco Aliberti turn out modern dishes with powerful colors, compositions and flavors that recount their territory, while looking to the future.
Controcorrente
Ingredients:
For the eel
2 large eel
extra-virgin olive oil
soy sauce
Remove the skin from the eel and reserve. Fillet and vacuum-pack the eel with olive oil. Cook in a water bath at 75 C for three hours. Cool quickly, remove any bones and spread soy sauce on one side of the slices. Cook the surface with a direct flame.
For the lacquered skin
250 g water
400 g sugar
mix of blended spices (cinnamon, anise, cardamom, vanilla, juniper, cloves, fennel seeds, pink pepper, black pepper, white pepper)
Prepare a syrup, bringing sugar and water to a boil.
Add the spice mixture and filter after a few hours. Place the skin on a baking sheet (previously vacuum-cooked in a water bath at 90 C for 2 hours), and remove all fat. Place a weight on top, as if to iron it while cooking and eliminate and further excess fat. Bake at 190 C and check after ten minutes, pressing down the weight to make the fat come out. Repeat the operation until the skin begins to dry and brown. Brush with the prepared syrup on both sides of the skin, baking for about 6 minutes on each side. When it has a uniform brown color, cook and put aside.
For the corncob cream
one fresh corncob
salt and pepper
Extract the juice from the corncob with the help of an extractor. Bring to a boil, stirring constantly. Add salt and pepper to taste. Assemble the dish, placing a spoonful of corncob cream on the bottom, a slice of eel on top. Top with the lacquered skin.