From Japan to Rome
Via Ostiense 73 at the corner of via Pellegrino Matteucci. In the place of a busy office supply store over the course of two months a brand new business has opened. The counter of what promises to be Rome's only ramen bar. According to a very confident Akira Yoshida the place will open the city's doors to authentic Japanese cuisine. Born in 1986, young Akira lands in Italy 13 ago and immediately realizes his plan, Ramen Bar Akira, which will soon open. The Rome opening is a forebearer of (many other) potential locations. The brand was devised along with two other partners, all young and Japanese entrepreneurs. As owners of over 200 venues (not just ramen bars) in Japan and the Far East, they three surely have a hang for this. How did the idea of Italy come about? The project took off about 18 months ago with the intent of riding a constantly evolving trend. Ramen bars are huge in the rest of Europe, but often this elan in Western entrepreneurs ends up being a mere exercise in style and not one in tune with true Japanese food culture. A little like what happened a decade ago with sushi.
Ramen seizes Europe
In this case, Akira played the role of the added bonus. As a marketing consultant for various Japanese businesses with commercial relations in Italy, the man knows his turf. To the partners wishing to take over Europe he suggests the product – ramen – and the scope of the enterprise. Rome, and not Milan "where I was pleasantly impressed by two places, Fukurou (closer to Japan for specialties and prep methods) and Ryukishin (recently opened in the Navigli area, Editor's note). Both these places serve authentic ramen", explains Akira. Rome was more of a virgin territory, and one ready to impress a type of public that will appreciate the ramen variety that is hardly accessible outside of Japan: "Our ramen bar will be successful if we will convey our cultural values to Romans via a specialty that represents our equivalent of a well executed plate of pasta".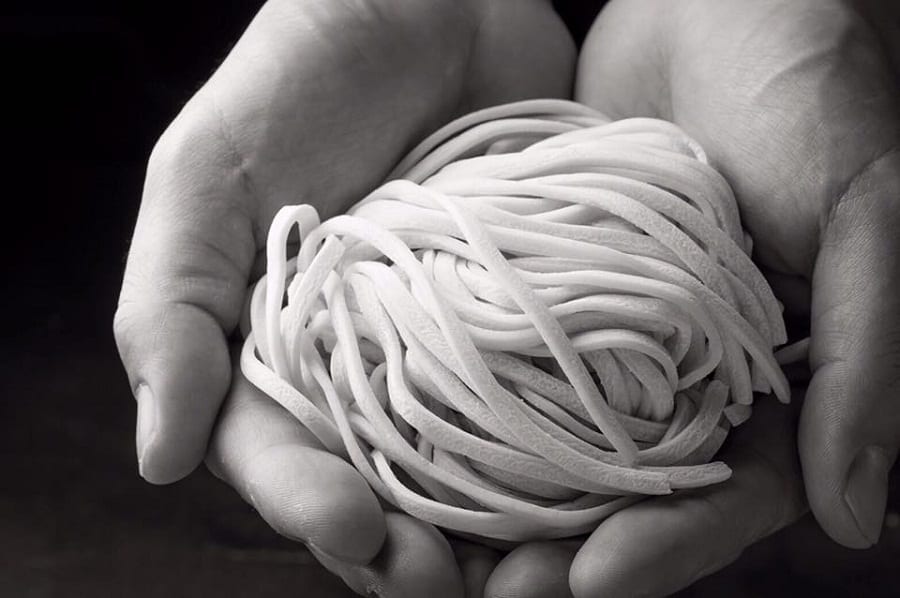 The Iekei Ramen and special noodles
Hence why the pilot opening (other city wide locations will open soon, and in three years the rest of Italy and Europe) is focusing on Iekei Ramen, one of ramen's many regional recipes devised in Yokohama in 1974 by the Yoshimura family. The main characteristic? "The assertive flavor of the broth, which is creamier than average, and which pairs best with a thicker and less smooth type of noodle". As an analogy, Akira suggests something which makes us smile: "Think umbrichelli. Our noodles are similar to those". So this is a Japanese person who knows his Italian food inside and out! The noodle production will be artisanal, obviously. And in order to support what looks like will be an ingent production – with 45 settings divided among tables and counter for both lunch and dinner – the kitchen's protagonist shipped directly from Japan is the professional and specific noodle dough kneader never before seen in Italy. It's "the Mercedes Benz of dough kneaders", for more analogy play. Along with the hardware is also a team of professionals: a master dough expert and a chef. After weeks of training they will work alongside the four resident staff members during the adjustment period after opening. The team of experts will return every 3-6 months to verify if quality standards are being kept, and if necessary, operate any necessary adjustments.
The menu. Tonkotsu broth three ways
The menu features three ramen bowls, all with a Tonkotsu base – a light pork broth diluted in this case with chicken broth. All clients need to do is pick a color: black for the Shoyu version (with classic soy sauce), white for the Shio version (with salt, the lightest option), red for the spicy miso soup. All bowls are sold for 12 Euro. Customers can choose additional ingredients – "just like at home in Japan" – in order to enrich the soup and complement the broth, like for example corn kernels, eggs, leek, seaweed and cheese. All quality ingredients, obviously. While the last finishing touches are being made to the dining area, the kitchen is in full swing. The menu is being designed to include other traditional preparations,"but at the beginning we will serve exclusively ramen" using only the best quality meats. So until late at night large cauldrons of bubbling broth are circled by six or seven young cooks confabing in Japanese, comparing and evaluating test results. Some products are sourced in Japan, others will be supplied locally.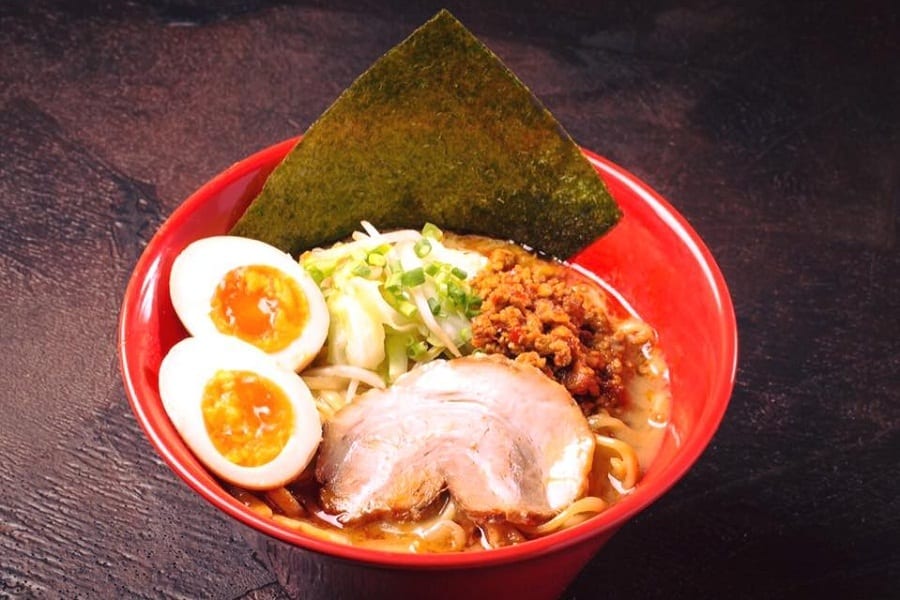 Key words: sleek and funcltional
Same care for detail is also found in the dining area, despite the tight budget challenge. The design was curated by an Italian architect and a young Japanese designer who conceived the project with an essentially basic concept in mind: coarse materials, basic colors, clean lines and functional details. An example? The visible empty space behind the counter will allow chefs to move freely according to the ramen traditional ritual. Photos on the walls will illustrate this very ritual. Soon there could even be a sake bar, open from midnight. July 2 service started only for lunch. The bookings speak clearly, almost completely sold out and only through word of mouth. Akira will be here for a while while developing the brand since he and his partners, "want to invest". We look forward to tasting more.
Ramen Bar Akira | Rome | via Ostiense, 73 | Open from July 2 for lunch and dinner, closed Monday | tel. 392 6499324 | www.ramenbarakira.com
by Livia Montagnoli
translated by Eleonora Baldwin