Despite the uncertain weather, the summer season is approaching in leaps and bounds. This translates to Italians hitting the beach for the day and planning their imminent summer vacation. The list of seaside destinations on the Adriatic, Ionian and Tyrrhenian shores is ginormous, as is the dining offer in the various holiday resort areas therein. Equally ample is the list of venues that cater to coffee lovers, ranging from traditional coffee bars brewing well-executed espressos and cappuccinos, to younger coffee houses and modern roasters on the innovation path, who promote novel extraction processes. The requisites of a quality coffee bar are select artisanal grinds, proper roasting, skilled technique, knowledge and awareness.
In some of Italy's most lionized tourist destinations we have singled out a number of seafront venues in which coffee pros are finally redesigning the concept of coffee bar.
Riccione: Pastrocchio and The Coffee Box
This is one of Italy's most visited seaside locations, especially in the younger demographic. Yet, discos and pubs aside, the province of Rimini has lots to offer to food lovers. Here we have 2 notable coffee bars which, besides great espresso, also brew coffees made with varying types of extraction methods. In addition to sharing the same location these two share the same roaster which supplies them with the beans. This is Pascucci Caffè with the precious supervision of Italian brewing champion Eddy Righi in both venues.
Let's begin by observing the youngest of the two, Pastrocchio. The owner is no newbie: the mastermind behind the Birrodromo August (which garnered 2 wedges in the Pizzerie d'Italia guide) and active food specialist Fabio Ubaldi knows a thing or two about quality. Pastrocchio is a multi-functional space, serving all meals from 7AM to 11PM. Born as a bakery with character, the grounds house a webradio within its confines. Aired programs are hosted by Eddy himself, like the Clever Somministrazioni Alternative, a series that offers edutainment on the various coffee extraction processes (all present in the coffee bar). Pro guests may include Edoardo Quarta or representatives from the La Marzocco team, leading coffee hardware manufacturer in the business. Future projects, starting in September, include training courses held in open kitchens for both baristas and aspiring pastry chefs and bread makers, plus an exciting array of franchised openings.
Another young coffee house – which celebrated its third year of activity in April – is The Coffee Box. This is a coffee bar with annexed barista training school located steps away from the beach. The roaster of choice is again Pascucci Caffè, in particular an organic blend and three single varieties available in both espresso and filtered chemex and v60 (Guatemala, Brazil, Peru). There are 6 people manning the counter, among whom Francesco Esposito who supervises the coffee house along with Eddy occasionally. The offer is further graced by informal and entertaining degustation evenings designed in partnership with renowned venues.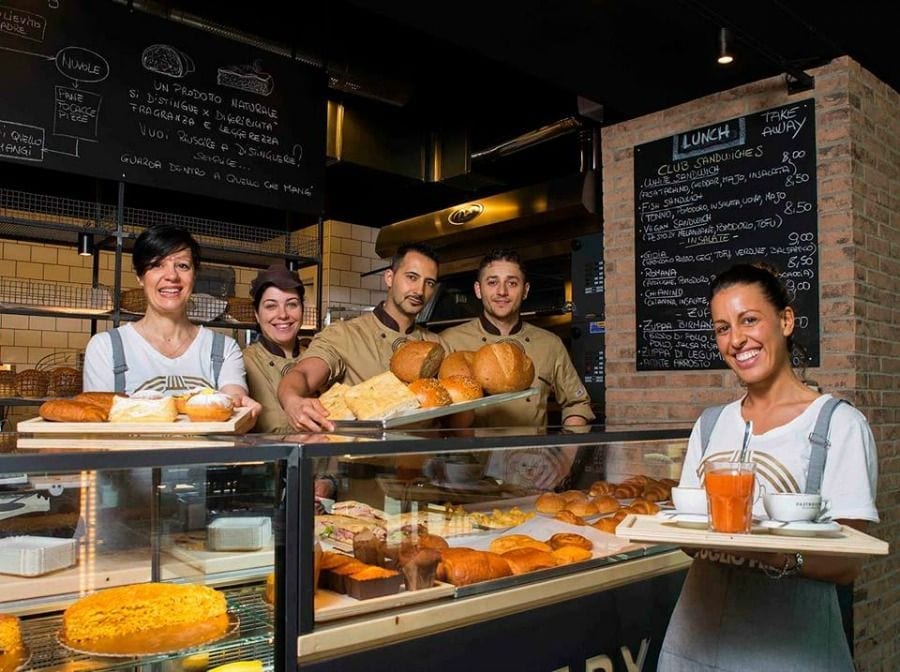 Ports of call: Livorno and Genova
If the choice in vacation spots should instead verge on port cities on the way perhaps to island hopping adventures, Livorno and Genoa will surely not disappoint. In both localities and in close proximity to the port are several quality places. The policy and offer are responsible for the cities' complete overhaul, making these both gourmet city destinations.
Drupa Caffè in Livorno opened in 2013 thanks to Paolo Milani. The place aims to spread coffee culture declined in all its myriad hues: espresso, cold brew, v60, chemex, aeropress and the homespun moka pot. The offer is based on a varied selection of beans sourced at Le Piantagioni del Caffè, a venture which for the last 22 years has been conducting serious research on plantation coffees. Among the choice in single variety are Yrgalem, San Luis, Alto Palomar, El Hato Blue: beans that have been scrupulously selected by Enrico Meschini, the pro at the helm of the roaster, Scae member and one raised since childhood amid burlap sacks filled with coffee beans.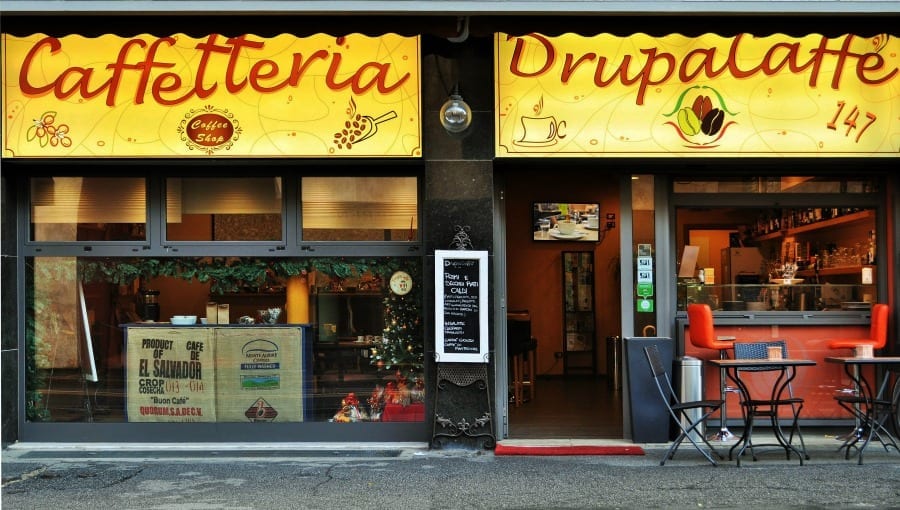 Located in the Liguria region's capital, only a few miles from the port, is an equally familiar name: coffee bar Tazze Pazze, born 6 years ago in the outskirts of Genoa. The place offers – in additio to espresso – sublime v60 and aeropress coffees. In the Rivarolo neighborhood, brothers Andrea Cremone and Matteo Caruso have recently started roasting their small-batch specialty coffees, HQ Specialty Coffee, a brand owned by the Caffè Bonani roaster (with which it has always collaborated). The place is managed by the two along with William Cubeddu, quality supervisor at Caffè Bonani. Andrea and Matteo, in addition to spending hours behind the counter, are constantly involved with spreading quality coffee culture education: hosting events, organizing tastings and leading both pour-over and espresso coffee workshops.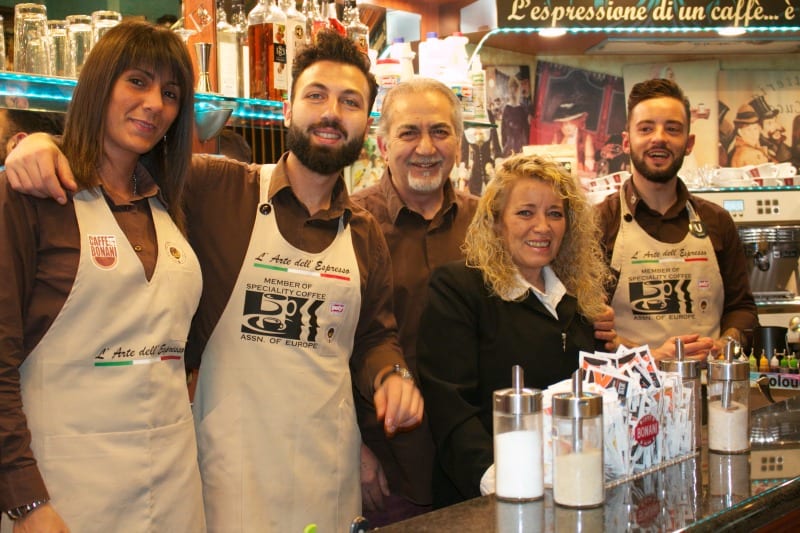 Puglia: Veronero Caffè
Traveling south we investigate another coffee bar/roaster in the heel of the boot: Veronero Caffè. The quality Bari venue is managed by Giuseppe Nitti and offers aeropress, syphon, v60, French press, cold brew: all the existing filter extraction methods available in addition to regular espresso and cappuccinos – all served with Latte Art decorations. Beans are sourced at the eponymous roaster, which offers a blend of 50% arabica and 50% robusta, 3 different 100% arabica blends and 4 single variety: Puerto Rico, Ethiopia, Jamaica Blue Mountain and Brazil.
Sicily: Bar Vabres, Insolito Cafè, Bar del Corso Infantino
Even in Sicily, a region tightly regulated by tradition, it's possible to find quality coffee bars that focus on innovation and research. These are guided by young baristas committed to operating a decisive change in the island's coffee habits.
In Palermo there's Bar Vabres, a coffee shop that offers a wide selection: a classic blend of 70% arabica and 30% robusta as well as single origin, all of which are produced in the local Palermo roaster Histo Caffè. On rotation there are also specialty coffees roasted by the Italian roasting champion Rubens Gardelli. Customers can select the extraction method among espresso, v60, aeropress, syphon, French press and – shortly – also cold brew. Owner Alessio Vabres invests in training and after acquiring barista skills and degrees, also participates in the brewing foundation module. This year he came in fifth at the Italian barista championship.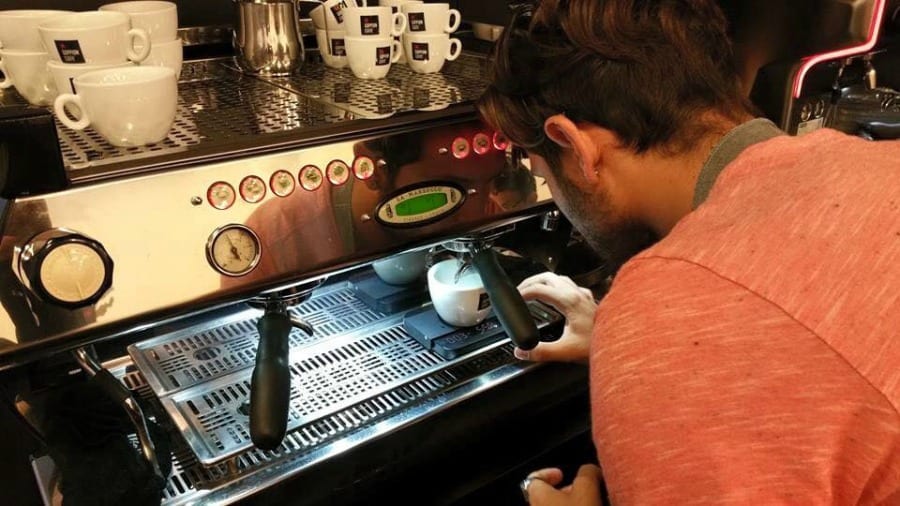 On the western side of Sicily, in Siracusa, the best coffee can be found at Insolito Cafè, a traditional type coffee bar with a single selection. This is a blend of 75% arabica and 25% robusta roasted by Caffè Barbera, a Messina roaster involved with the Slow Food endeavors to improve wild coffee production Harenna in Ethiopia. At Insolito Bar a must is tasting the cappuccinos brewed by Giuseppe Fiorini, Italian Latte Art champion who chooses Catania dairy Latte Sole products for his creations: no ordinary cow's milk. The place also uses skimmed and highly digestible milks, plus soy and almond milk for those embracing the vegan choice. Giuseppe is furthermore committed to communicating the Latte Art discipline with courses and events organized at Probartender in Ortigia and Caffè River in Arezzo.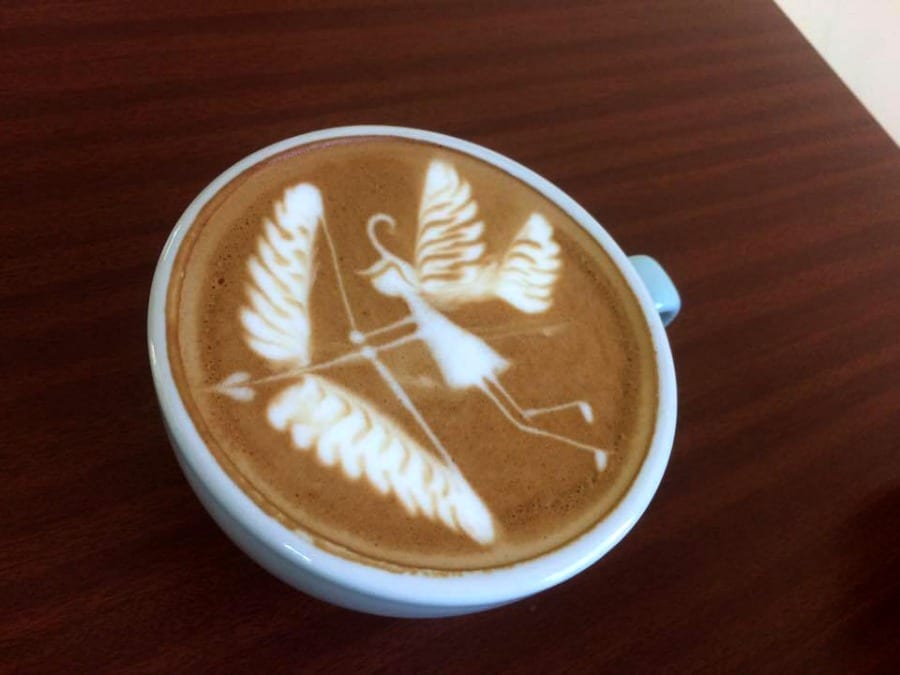 Lastly, again in Siracusa, and specifically in the district of Palazzolo Acreide, there's a coffee bar that caters to tourists and for this reason is looking to add more and more alternative coffee extraction methods to its list. We're talking about Bar del Corso Infantino, a long-time collaborator of Caffè Moak. This is a roaster in Modica that is very active in training and career development. Barista courses organized by the roaster are growing increasingly popular, these are designed in collaboration with training platforms like Scae and held by coffee professionals. Giuseppe Valvo of the Palazzolo coffee bar lends his expertise for Latte Art and Barista Skills courses taught with his own master trainer Marco Padomani. In his coffee bar, Giuseppe has chosen the Brasilera blend (80% arabica, 20% robusta) and v60 as an alternative extraction method to espresso. In the future he will also add syphon as well as a selection of coffee- and tiramisu-based non-alcoholic drinks made with supremely brewed espresso.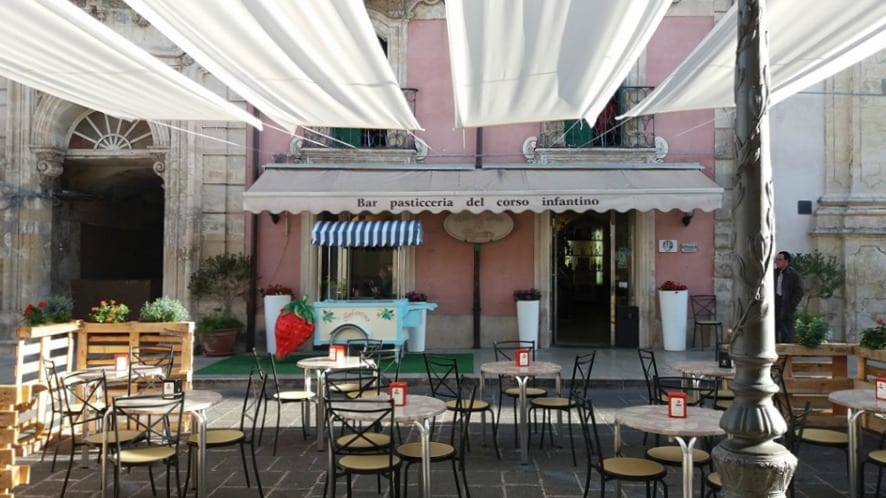 The addresses
Bar del Corso Infantino | Palazzolo Acreide (SR) | Corso Vittorio Emanuele, 18 | tel. 0931 882012 | www.facebook.com/BarDelCorsoInfantino
Bar Vabres | Palermo | via Michele Cipolla | tel. 091 6172014 | www.facebook.com/Bar-vabres
Drupa Caffè | Livorno | via Giovanni Marradi, 147 | tel. 339 3568676 | www.drupacaffe.it
Insolito Cafè | Siracusa | via Mosco, 40 | tel. 348 5581881 | www.facebook.com/Insolito-Caf%C3%A8-Siracusa
Pastrocchio | Riccione | via Cortemaggiore, 8 | tel. 0541 642418 | www.pastrocchio.it/
Tazze Pazze | Genoa | via Faliero Vezzani, 60 r | tel. 320 077 4683 | www.facebook.com/Bar.Tazze.Pazze
The Coffee Box | Riccione | viale Maria Ceccarini, 186/188 | tel. 0541 696009 | www.facebook.com/The-Coffee-Box
Veronero Caffè | Bari | via Piccinni, 81 | tel. 080 5239588 | www.facebook.com/Veronero-Caff
by Michela Becchi
translated by Eleonora Baldwin