Gelato: a recurring passion
In the world of gelato, youth is not necessarily defined by the date on the birth certificate. It's mostly a question of returning to passion. A concept similar to that search for happiness that's obtained by change: changing jobs, lifestyle, city – and approaching a type of profession in search of more elan and truth. It's therefore not rare to find "young" 40-something successful ex-attorneys, ex-employees, ex-consultants that turned into gelato makers. This may be due to the fact that gelato incarnates lightness, pleasantness, gentleness, it's a food that brings smiles to children and adults alike. But also one that's capable of raise grand passion, fuel deep research on technique, recipes, ingredients, hardware. Opening a gelateria and taking the leap is also more cost effective: the investment is minor and the space needed for a gelato business is not necessarily huge.
Costs
At least that's how it appears: according to Simone Bonini the mastermind of the Florence and Rome Carapina gelato "if 30K is all you need to open a shop, it's equally true that numbers for a gelateria business startup can expand just as easily". Costs levitate mostly for the venue and machinery needed: a high end gelateria chips in 8 times that figure, "churners, blast chillers, refrigerators and much more: we have kitchen costs and various employees in order to make the gelaterias function properly all day long". So it's a short step from 30 to 250 thousand, but it all depends on the choices one makes. For this reason and because the gelato business model is dynamic, many wishing to make a life change turn to it. Then there's passion, obviously. Because gelato requires loads of it: waking up at dawn, traveling to find the best ingredients, full days spent comparing studies and taste tests, with long-term experiments until reaching the desired results. This is the sort of artisans we want to talk about today, and the new wave of professionals suggested to us by the big names of the true Italian gelato art.
These are veterans who in many years of honored profession, have contributed to raising the bar of quality. In some cities this reaches noteworthy levels, forming new artisans, acting as models, maestros, reference points, despite the old and nebulous laws that still can't define a canon of quality. Those that are attempting to define a policy are a handful of artisans acting under the wing of Slow Food: Alberto Marchetti, of the eponymous Turnin brand, Andrea Soban in the province of Alessandria, Paolo Brunelli in the Marche region, among those responsible for the Compagnia dei Gelatieri seeking to regulate quality gelato. Above all there is the desire to meet in person among each other and find today the great names of tomorrow.
We asked the most renowned pros a few suggestions of who to follow closely. It's not easy, both Simone Bonini and Claudio Torcé (in Rome) confirmed this, despite his training of the Eternal City's best up and coming gelato makers "I have gone back into my kitchen and rarely come out any more". With a little effort we managed to round up a few names. Some have already emerged, some have just started on this new gelato journey, others will not open until next year. They are all worth learning about and meeting.
Alberto Marchetti
The relationship between he and gelato started early on, says Alberto Marchetti. His story begins in the family gelateria, as a small child he would oversee the churning process and steal spoonfuls of gelato in the making. All while learning. He has not stopped since and continues to work and experiment in his native Turin, even going back on his own decisions when that was necessary. Passionate for product and producers, he dedicates loads of time to travel in order to source ingredients, tasting, deepening his knowledge. He trusts his palate and the network of artisans he is building. He is one of the founders of Compagnia dei Gelatieri, an organ that's attempting to regulate quality gelato. He indicates Francesco Di Nunno in Canosa di Puglia. As a fourth generation gelato maker, he recollects how his grandfather made gelato back then, cooking milk in large cauldrons with homespun methods that can no longer be applied nowadays. But the memory of that was what drove Francesco in 2010 to leave the family gelateria to attend Scuola Italiana di Gelateria at the Univesità dei Sapori in Perugia, and gather other experience before returning to Canosa and take over the family business. The gelateria is called Scoop Gelato e Caffè and it opened its doors less than a month ago, after a complete overhaul designed by Studio Tandem. He is not the sole name mentioned by Marchetti: there's also natural and experiment-driven Simone De Feo of gelateria Capolinea in Reggio Emilia; Mirko Tognetti of cremeria Opera in Lucca, another name for lovers of natural, creamy and tasty gelato. There's also Marco Ottaviano of Il Gelato Gourmet in Florence, and his flavor alphabet: 24 flavors a day and concepts from A to Z. Another name is Antonio Luzi who with wife Paola has created gelateria Makì in Fano, rich in quality and diversity of flavors.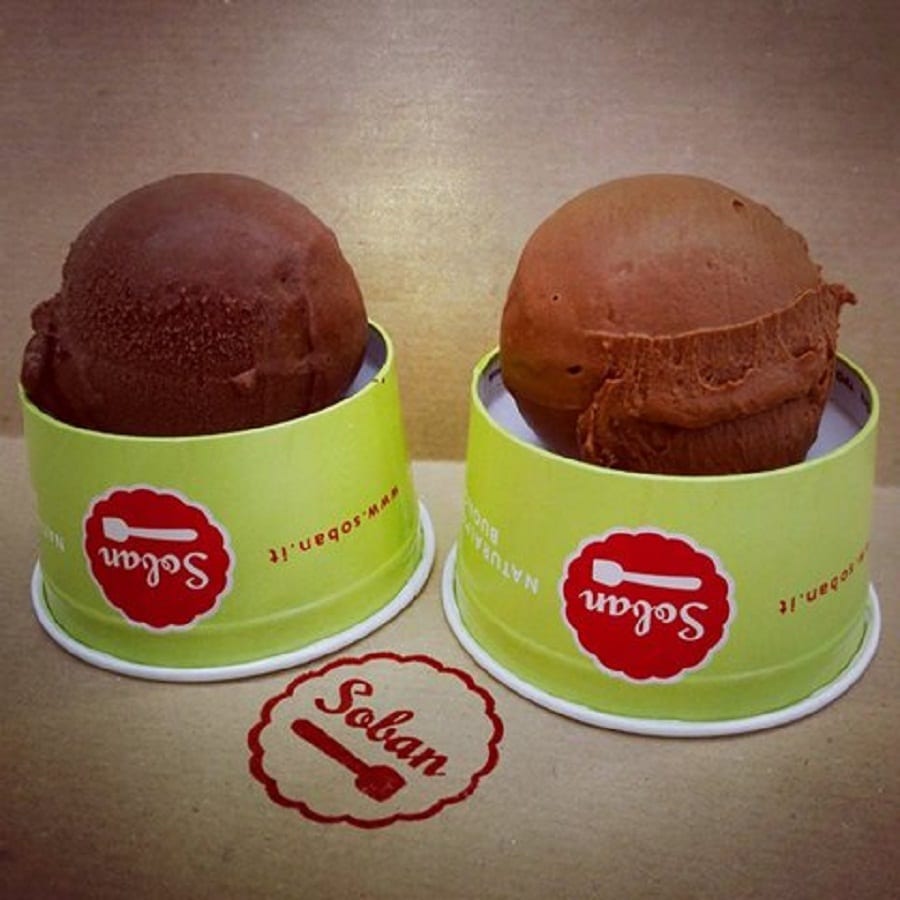 Andrea Soban
We remain in Piemonte, where resident Andrea Soban is another big name in the gelato world, and one active both at home and outside his Piedmontese shop. Soban has always loved following the path connecting product to maker. This may be why he found himself shoulder to shoulder with Marchetti in the quest to draw guidelines for quality gelato. When asked, he listed many names and places to keep our eyes on for the future: like for example Gianluca Degani of gelateria Bloom in Modena. He defines him as a creative and rigorous artisan. He also mentions Simone De Feo whom we already wrote about. Rosario D'Angelo of Bar D'Angelo in Monforte in Sicily is the last heir with his sister Annamaria of the dynasty responsible for one of the most famous pastry and cafes in the area, which has been in business and well loved since 1932. Mattia Cavallaro, with his family is instead the person behind Cremeria San Francesco in Bologna. For the past 10 years this has been a constant source of fine gelato thanks to prime quality ingredients, complete production line and texture. His gelato is mellow and well-balanced and boast interesting recipes and flavor combos. One more name Soban makes is Simona Carmagnola. She is the talented maker of the gelato made at the new Pavè in Milan. The brand counts 3 stores one of which is entirely dedicated to subzero desserts. These are exactly that, desserts reinvented as gelato. Think sbrisolona and "bread and butter", but also the 160 flavor, named after an extraordinary fruit jam made with concentrated fruit. "People hardly know her name" explains Soban "because everyone knows the guys at Pavè" but she's definitely worth knowing.
Paolo Brunelli
51 year old Brunelli – many of which have been spent in and among kitchen and gelato facilities – is a pastry artisan and gelato master (did you there's a cake named after him?) who Soban defines as a "visionary poet" for his approach and creations. His words are, "I can't think a good gelato is technically flawless" but rather more like a gourmet dish in terms of ingredients and pairings used. As the third partner in the Compagnia dei Gelatieri project, Brunelli talks to us of Giovanna Musumeci in Randazzo, Sicily. She is slowly conquering more and more visibility and mastery in the profession of gelato maker, as the last in line in a dynasty of gelato makers in succession after her father Salvo Musumeci. Versatile and capable of great results on granita and gelato, she denotes a clear Sicilian style yet modern and original as far as balance and creaminess. This is someone to keep eyes on, as part of the new generation of gelatieriin the true sense of the term. Brunelli's names are all mostly in the central and southern regions. In Rome, there's Veruska Cardellicchio of gelateria DaRe, 10 years as case worker, today she is busy in the all-wood paneled and stone gelato shop. Not far from her shop is Luigi Tirabassi of Gelato e Cioccolato in Subiaco, who works only with his own fruit or farmed in the area. Brunelli's last tip is Ida di Biagio and Davide Scantamburlo of gelateria and bakery Novecento, who have moved from Molise to Pescara a few years ago.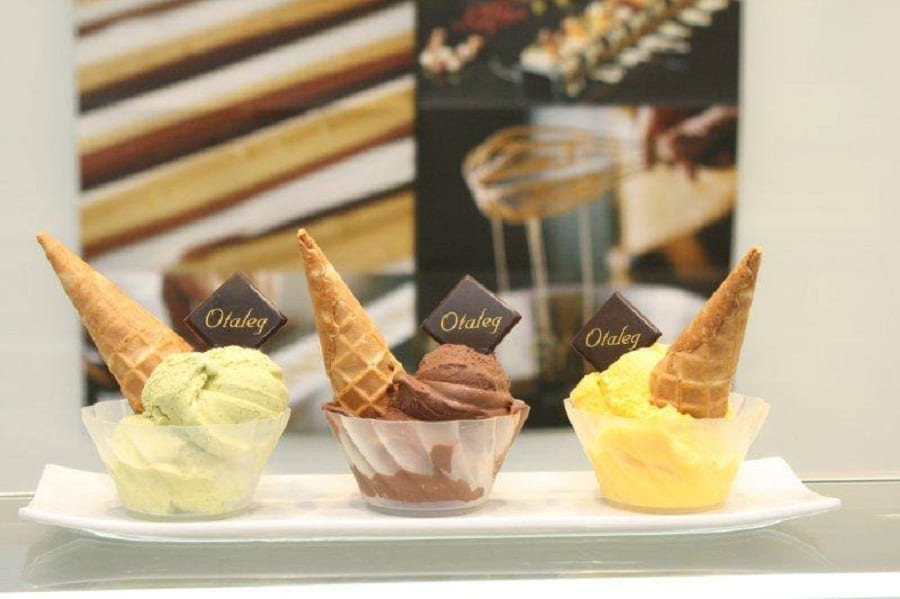 Marco Radicioni – Otaleg!
Marco Radicioni is the maker of Otaleg! in Rome, what he calls a gelateria-fish tank. On the upper floor of which is a lab where his recipes are tested, all of which employ prime quality ingredients portrayed on the glass walls. With a mere 5-year experience, we asked Radicioni his names of the new generation of gelato makers "not necessarily young in age" he confirmed. The first name belongs to Marco Valentini of Lago Gelato in Trevignano, near Rome. Ex steward for Alitalia, Marco is a pupil of Radicioni, who matured a different philosophy regarding gelato: "he chose to employ different machinery and uses carapine pots". He doesn't replicate a model, rather interprets it in his own personal manner. "We only worked together on the theory, he did all practical applications on his own, hence was not conditioned in any way".
Lately many have flocked to his place in Rome to train under him. We'll have to wait a little before tasting their gelato – which in some cases will be made outside of Italy – and Radicioni says, "there's a widespread will to learn a new profession and leave Italy". Some of his pupils have moved to Germany, like Francesca Ricci and her boyfriend for example. They are structuring a gelato + pizza format seeking the advice of Radicioni for the gelato part and Gabriele Bonci for the pizza consulting. "It's a fine project, they own a farm in which they produce everything, from wheat to milk and so forth. A type of self-producing closed cycle". Moving to Spain, we find the same pizza + gelato formula: the pies are by Cristian Georgita, long-time partner of Gabriele Bonci (again) who about a year ago moved to Saragozza with 22.2. The gelato part, on the other hand, will take off later and the person in charge will be his wife Ana, who for some time worked behind the counter and in the lab at Otaleg! learning the trade. Other out of borders projects by pupils of Radicioni: from the south of France to Denver, and a project linked to Alex Liberati and executive chef Marta Biasotti of 4:20 and Smoke Ring in Rome. Then there's Mara Pollutri "who runs on an internal turbine, when she applies it to gelato, she reaches astounding levels" says Marco.
Raffaele Cuomo - Da Gabriele
Raffaele Cuomo, owner of gelateria Gabriele in Vico Equense, hardly ever leaves his shop. His place is a must visit for those in the Sorrento Peninsula. Famous for the delizia al limone pastry and the vast selection of cheesees, his stellar brioche and other products sold in his shop which was founded by his father Gabriele, Raffaele is one of those shy artisans that stay away from the limelight. He's more comfortable in his gelato making facility. "I don't go around much so it would be hard to say" But come to think of it, he does mention one name, Pina Molitierno of Vaniglia ice in Caserta. "She's attentive to the traditional production process". Many use pre-gels "while Pina does a great job on sourcing quality ingredients and raw materials, she puts herself in the position of seeking them out and properly manipulating them". He shyly adds that he can't think of many other names, not having the chance to test them out in person, "I'm always at work".
Alberto Marchetti | Turin | Corso Vittorio Emanuele II 24 bis | tel. 011.8390879
Alberto Marchetti | Turin | via Po 35 bis
Alberto Marchetti | Turin | Via Reggio, 4/q
Alberto Marchetti | Alassio | via XX Settembre 48
Alberto Marchetti | Milan | viale Montenero, 73
www.albertomarchetti.it
Scoop Gelato e Caffè | Canosa di Puglia | piazza della Repubblicca, 20 | tel. 0883 824958 |
Cremeria Capolinea| Reggio Emilia | viale Ettore Simonazzi 14 | tel. 0522 452722 | http://www.cremeriacapolinea.com/
Cremeria Opera | Lucca | via Gaetano Luporini, 951 | tel. 0583 1809707 | http://www.cremeriaopera.it/
Il Gelato Gourmet | Florence | via Matteo Palmieri 34/r | tel. 055 2341036 | http://www.marcoottaviano.it
Makì | Fano | Piazza degli Avveduti, 1 | tel. 0721 179 6064 | https://www.facebook.com/gelateriamaki
Gelateria Soban | Valenza (AL) | piazza Gramsci 23 |
Alessandria | via S, Lorenzo 99 | tel. 0131 445255 |
Alessandria | corso Borsalino 36 | tel. 334 3464246 http://www.gelateriasoban.com/
Gelateria Bloom | Modena |via Luigi Farini 23 | tel. 059 978 3631
Bar d'Angelo | Monforte San Giorgio (ME)| piazza IV Novembre | tel. 090 993 1015
Cremeria Santo Stefano | Bologna | via Santo Stefano 70/c
Pavé gelati & granite | Milan | Via Cesare Battisti 21 | tel. 02 94383619 https://www.pavemilano.com/gelati-granite
Brunelli | Senigallia (AN) | via Giosuè Carducci, 7 | tel. 071 60422| http://www.paolobrunelli.me/
Brunelli | Agugliano (AN) | piazza Vittorio Emanuele II, 3 | tel. 071907190
Pasticceria Santo Musumeci | Randazzo (CT) | Piazza S. Maria 5, | tel. 095 921196 | http://www.santomusumeci.it/site/
Gelateria DaRe | Rome | Via Bisagno, 19 | tel 06 6401 2423 | http://www.gelateriadare.com/
Gelato e Cioccolato | Subiaco (RM) | Via Cavour, 81/83 | tel. 0774 829111
Gelateria Novecento | Pescara | via Marco Polo 102 | tel. 392 312 1394
Otaleg! | Rome | via dei Colli Portuensi, 594 | tel. 338 6515450 |http://www.otaleg.com
Lago Gelato | Trevignano Romano (RM) | via Piero Ginori Conti 2 | tel. 06 99982029 | https://www.facebook.com/LagoGelato-242806815927450
La Gabriele | Vico Equense (NA) | corso Umberto I, 8 | tel. 081 8798744| http://www.gabrieleitalia.com/
Vanilla Ice | Caserta | via Caprio Maddaloni, 134 | tel. 391 736 0341 www.vanillaice.it
by Antonella De Santis
translated by Eleonora Baldwin