Avenue de Champagne, in Épernay is a mile-long straight road flanked by gorgeous XIX century buildings housing hôtels particuliers and grand Champagne Maisons. Given the 110 Km of underground cellars are home to over 200 million bottles of Champagne, many refer to as the "richest avenue in the world".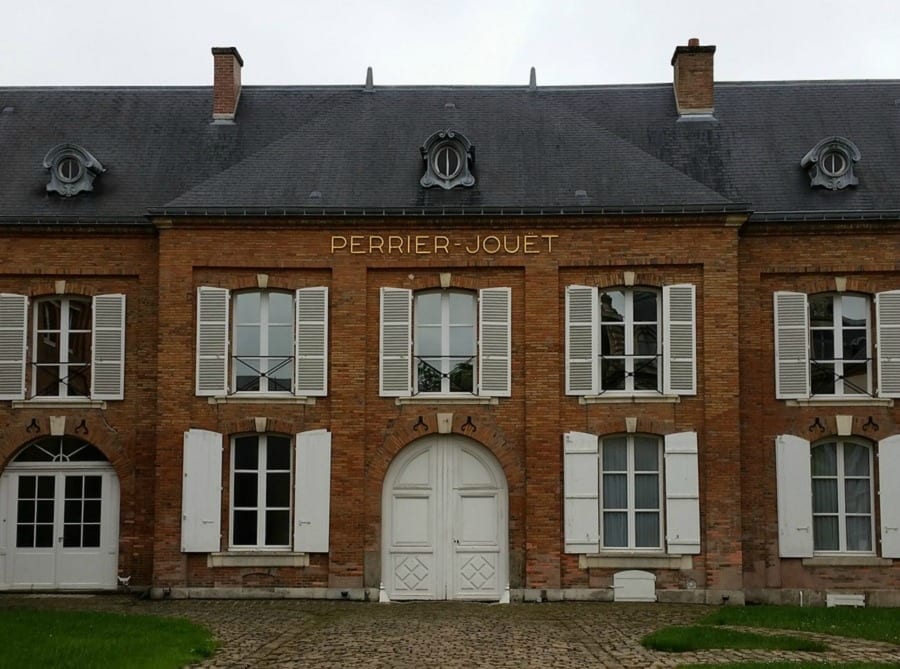 History of the Maison
Located on this avenue, and visited annually by an average of 450.000 wine lovers, is the headquarters of Perrier-Jouët whose history began in the year 1811, exactly one year after the marriage of the two founders Pierre-Nicolas Perrier and Rose-Adélaïde Jouët. He was 25 and she was 18 when they co-founded their Maison. Thanks to the 10 hectares of shared vineyard property – and dislocated among Epernay, Aÿ, Avenay, Dizy, Pierry and Chouilly – the Champagne became immediately popular, also thanks to the foresight of Pierre-Nicolas. In time he acquires more plots in areas destined to becoming celebrated as Grands Crus of Côte des Blancs, Avize and Cramant. "I care about fully satisfying those who honor me with interest in regards to my superior quality wines, that's why I produce them", declared Pierre-Nicolas in 1821. This constant quest for perfection guided him through all phases of Champagne production, starting from grape harvesting – some of which were not being used, and deemed of mediocre quality. Equally to prevent imitations, Pierre-Nicolas was the first person to guarantee provenance of his wines adding mention of cru and vintage on the cork stopper. With her husband's same passion for excellence, Rose-Adélaïde welcomed guests and customers to Epernay and adding value to the brand, effectively creating one of the world's best commercial networks.
The decorated bottle
The same quest for perfection drove their son Charles and later his grandson Henri Gallice so much so that Champagne Perrier-Jouët, over time, became popular both in Europe (served at the table of Napoleon III and Queen Victoria) and in the United States, where in 1880 one million bottles were exported thanks to Henri's work, becoming one of the founding members of Association Viticole Champenoise (1898). In that same period he started nurturing a notable interest in Art Nouveau, to the point where he asked master glass worker Emile Gallé to decorate a number of magnum bottles of Champagne. In 1902 Gallé produced a decoration with a vortex of Japanese anemones. The design re-emerged half a century later thanks Michel Budin in 1964, at the time responsible for the Maison, when he chanced upon the fascinating decorated magnums decorated by Gallé. Going against current trends, he decided in agreement with sales director Pierre Ernst, to use the design to decorate the new cuvée, whose brilliant style was expressed by the unique floral decoration. With a strong reference to Art Nouveau, he named the first vintage sold on the market in 1969 La Belle Epoque.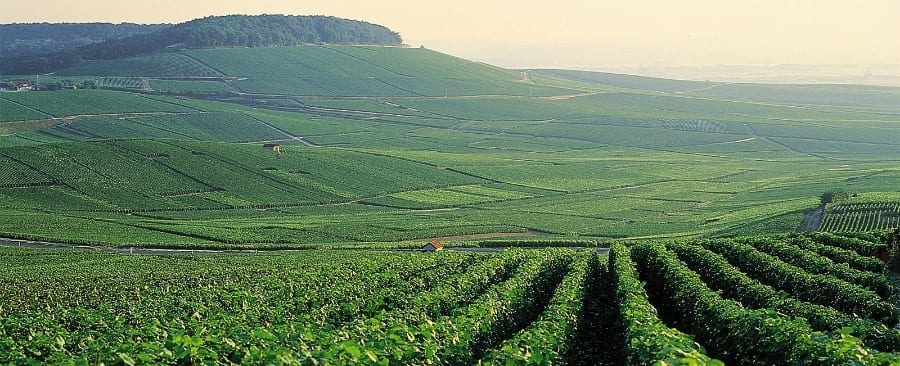 Present day Perrier-Jouët and the vineyards
Over two hundred years of history have brought the vine growing heritage of Perrier-Jouët to extend over 65 hectares, which have been classified 99,2% according to Champagne AOC classification criteria (Appellation d'origine contrôlée). Located in ideal position, the best parcels are part of the Côte des Blancs vineyard. They are planted halfway up the gentle southeast facing slopes providing terroir for chardonnay, the Maison's emblematic grape variety. The Montagne de Reims parcels are for the most part planted in pinot noir while in Vallée de la Marne, Perrier-Jouët boasts vineyards of pinot noir and pinot meunier. Lastly, to complement the production, Perrier-Jouët has been working for generations with other wine producers to select grapes according to their strict criteria.
The Perrier-Jouët wine cellars in Épernay, sitting under Avenue de Champagne – a maze of mile-long underground tunnels – is where Champagne is created and rests, and which in many ways represent the realm of Hervé Deschamps. In this place, the chef de cave who, tasting wines from each single parcel, is the person responsible for the art of blending and thus defining the characteristics of each cuvée.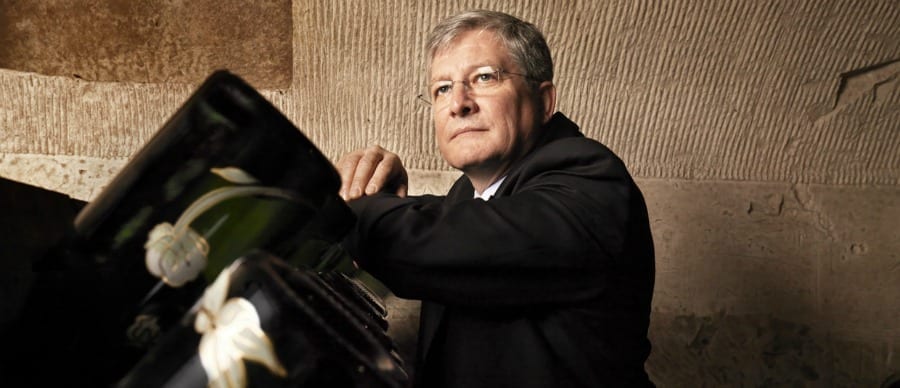 Hervé Deschamps and the art of blending
We meet Hervé Deschamps in the private tasting room. Middle aged, with a luminous smile. For many Champagne lovers, this man is somewhat of a legend. His profession, that is the art of blending, represents a key moment in this wine's production. Secrets of this noble art have been handed down over the centuries by only seven chefs de caves. "I give my heart and soul to each and every single cuvée project. I do this all at once, like in an artist's initial sketch. Intuition, sensibility and competence emerge all together at once. without anyone exactly understanding how", states Hervé Deschamps. Chef de caves since 1993 after an apprenticeship lasted a decade. During which said time he learned not only the secrets of the Maison, but also understood the unmistakable floral touch which characterises its most classic trait. This in addition to maturing the experience necessary to take on full responsibility of detecting an exceptional vintage and one to be used for a millesime cuvée.
The tasting
At the center of the Bollinger tasting room is a large table with many bottles of Champagne waiting to be tasted.
Cuvée Grand Brut is the starting point in the Perrier-Jouët tasting: this is a classic that assembles something like 40 crus hailing from the best chardonnay vineyards (20%), pinot noir (40%) and pinot meunier (40%) which are added with 12-20% reserve wines. After aging 3 years in the cellar, the wine opens in all its expression and the Perrier-Jouët flavor emerges with floral elegance. The perlage is soft and caresses the palate without ignoring balance and noble persistence especially in the finish with tones of linden and white peach.
Blason Rosé (50% pinot noir, 25% chardonnay, 25% pinot meunier), according to Hervé Deschamps, is perhaps the most indulgent Champagne of the Maison and is conceived according to the Cuvée Grand Brut model. It is then lightly enriched by +5% chardonnay to compensate the added structure provided by the pinot noir one part of which is made into red. After three aging years this Champagne acquires a gluttonous nose reminiscent of pastries and berries, and whose curves are confirmed on the palate, fortunately balanced by an almost saline persistence which makes it surprisingly unexpected.
Cuvée Belle Epoque 2007 represents a great classic, and a wine which above all others represents the Maison. A blend of chardonnay (50%) hailing from the Grands Crus from Cramant, Avize and Chouilly, pinot noir (45%) hailing from Mailly, Verzy and Aÿ and pinot meunier from Dizy (5%). The Champagne naps approximately six years on yeast before hitting the market. Hervé tells us of the millesime vintage 2007, which is very balanced and this same purity is immediately perceived also on the nose with enchanting tones of magnolia, hawthorn and elderflower which fuse beautifully in the aromatic mosaic provided by lime, bergamot and white peach. The sip is pleasant, luxurious and balanced with savory tension which calls for an irresistible second sip.
Belle Epoque Blanc de Blanc 2004, confides Hervé, represents the quintessence of the Perrier-Jouët style. We are faced with a grand Champagne created not only of a single vintage, but also a single grape variety and a specific vineyard. The cuvée, in fact, is created exclusively using chardonnay grapes of two legendary parcels: Bourons Leroy andBourons du Midi, situated in the heart of Côte des Blancs, in the Cramant area. Eight years on yeast in the cellar complete this great wine whose main virtue is understatement: the specific weight of a butterfly despite the force and structure of a Champagne worthy of a meditation wine.
We end the tasting with Belle Epoque Rosé 2006. In the plans of the chef de cave this represents the cuvée where elegance and opulence are prominent and equal thanks to the floral lightness of chardonnay (45%) from the best Cramant and Avize vineyards, together with the fruit-forward structure of pinot noir from Mailly and Verzy (50%, including 10% Vertuse Vincelle red) and the harmony of the pinot meunier from Dizy (5%), lend this Champagne an almost irreverent creaminess and voluptuous body, and assuring by the same token a long future.
by Andrea Petrini
translated by Eleonora Baldwin