Only a few days have passed since the release of the guide Pasticcieri e Pasticcerie 2017 of Gambero Rosso. Like every year, the guide offers a snapshot of the sweet side of Italy. This year, recipients of the coveted Tre Torte highest recognition are 18 – among these are three new entries. In Rome it's Walter Musco of Pasticceria Bompiani receiving his first 90/100 points.
Career: The beginning as chef, and the Bompiani adventure
Self-trained, ex gallery owner, lover of beauty and art, passionate gourmand and tireless traveller: Walter Musco is all that. Above and beyond, he is a lover of taste and an innovator. A pastry chef who is never content of just "making desserts" rather he builds them "based on a very precise concept". The journey that brought Musco to this point has been long and starts precisely at Gambero Rosso. "I attended one of the first editions of the Professional Chef courses held at Gambero Rosso, and then I continued along the classic procedure: internship, training in various kitchens, apprenticeships. I was thirty-something by then and cooking had always been part of my life. I studied hard and, mostly, tasted my way around the world". His world travels fuelled his other great passion, art: "I love tribal art, I've visited Africa and Southeast Asia many times. Food is a key factor in learning in depth of a certain culture, plus I am very curious by nature, so I've never turned my head when it was time to taste things, snake and earthworms included".
In time Walter had the opportunity of approaching baking at restaurant Il Convivio, where he works for six months. Following are periods of training at Antonello Colonna and with Giulio Terrinoni at Hostaria Acquolina. Then the decision to start his own business as chef, but which lasts very little: "The role of personal chef, which was becoming increasingly popular at the time, was not a good fit for me. I happened upon Pasticceria Bompiani by chance, I was in the right place at the right time. I caught the opportunity on the fly without giving it much thought". This was in 2009 and Walter was starting to bake his first classic cakes in the small Tor Marancia kitchen. One, which is now completely renovated. "After a couple of years I began selecting products more carefully, starting with chocolate, and steering towards a less traditional type of pastry baking", which he now defines as "French contemporary".
The next step: concept baking
"So now I had amazing ingredients and an OK technique, but I felt something was still missing," he says. Continues: "Technique and ingredient quality represent a fundamental part of my work, but definitely not an added value. That's when I understood that I had to add my confections with something deeply personal. My mind immediately made the connection with art, my other great passion".
He began working on elaborate Italian-style Easter eggs – currently one of the bakery's strongpoints – that are decorated with huge detail. "Three years after the opening, I decided to no longer sell packaged Easter eggs. The confection had to be beautiful without the fancy wrapping nor contain the trinket surprise". From eggs, his attention then shifted to cakes, "which were still lacking any form of careful aesthetic" the minute detail and beauty that now distinguishes his cakes. "I met Massimo Bottura, whom I gave one of my cakes, the Achrome, a single-color creation: white. The number one chef told me he was expecting a single flavour cake and was surprised to taste three different flavours, coconut, passion fruit and mango". The encounter with Bottura is crucial: the concept of cake, the approach and pastry baking are radically overturned: "That's when I realized that I was still immature. A cake like that, in a single, uniform colour has to reflect the same concept in the flavour too. So I chose almond and decided to decline it in its many nuances, and as a single flavour". Now, the cake"has a story which can be told, content that goes beyond technique". One that from that day onwards, Musco has applied to all his creations.
Discussion, events and communication
His cakes are complex, therefore and need proper marketing to be understood. How? "The final user is the absolute protagonist. Consumers are who feed me and that's who I need to interact with. That's why I like talking to my customers directly and not with cooking demonstrations and such". According to him, communication currently dominating the cooking world, is "standardized and very self-catering There's lots of talk of technique, temperature, method, practical step-by-step demos of complex recipes with clients. I on the other hand believe what counts is that consumers learn the story of a cake, the reasoning behind it, the artisan work that goes into it, and not so much how many grams of butter are in it".
According to Musco, then, discussion must happen with consumers first and then with colleagues "Pastry conferences are interesting, but I find the discourse of technique with fellow bakers to be a bit rhetoric. This is a practice that perfected with time and each matures their own and in their own time: is it truly important to learn how my colleagues make pastry cream or short crust? I think it's much more important to discuss what style one will adopt and what each individual's plan will be".
So discussion with colleagues is important: "There are great teachers, whom have led the way and without whom Italian pastry would never have reached its present level: Massari, Fabbri, Besuschio and other names. We owe them everything, but the fellow bakers I feel most in tune with nowadays are those pursuing a creative, more modern approach". Like Corrado Assenza, for example, "who despite adhering to a traditional style of baking, has brought an extremely innovative concept into his kitchen, that is sense of place. He was the first to narrate, through his creations, the sense of his land". Then there's Gianluca Fusto, "who was pivotal in the aesthetic switch that happened in baking with the elimination of excess, and a definite slant towards clean, sleek and minimal look".
Work in the kitchen
No consulting, no events hosted whatsoever, "my job consists of working in the kitchen to bake cakes". On the Pasticceria Bompiani team are 15 employees, divided among coffee bar and pastry kitchen, plus a series of rotating interns. "In my pastry shop there is one main rule: we call each other by name, no titles, no "maestro" nor "chef". I no longer believe in these monikers. We are all equal workers". Walter himself is in charge of training his staff: "I'm a self-taught person, I can't see myself as the teacher who imparts lessons on the basics to his pupils". For this reason, "more than training the kids, I attempt to give them a path, guidelines to follow. Not that mine is the best, who knows. You can learn from anybody, really, even from an intern. Often the best ideas come from those with the least amount of experience".
Future projects
The journey has been laboured – 7 years from the opening – but has brought him to earning the Tre Torte recognition by Gambero Rosso, "a recognition I had almost given up on", and an award which he is emotionally attached to: "Gambero Rosso is the only place in Italy that dedicates a guide exclusively to pastry baking. Mostly, for me, it represents the starting point, the place where I started taking baby steps in the kitchen and where I first started dreaming of working in this world". For team di Bompiani this award is not a final goal. The bakery keeps churning out new creations and new ideas. "Chocolate remains an element on which I want to invest in the future. A malleable element that's hard to transform; a versatile food and an extremely delicious one. Starting with good chocolate there are infinite quantity of specialties that can be created". Mostly, "we want to linger on the concept of minimalism: less is more is my motto, something in which I deeply believe". In addition, are also the Christmas cookies designed for the holidays – like classic gingerbread – plus new cakes and much, much more.
Recipe: Sesame cookies
Walter has decided to prize us with a recipe, the new biscotti he is baking for the holidays. Few, simple ingredients that are easily accessible. The star ingredient is sesame.
Ingredients
150 g. butter
180 g. all purpose "00" flour
1 g. salt
60 g. powdered sugar
24 g. egg yolk
70 g. toasted sesame
Toast the sesame seeds in the oven at 150°-160° C for approximately 20/25 minutes and allow to cool. Cube the cold butter and mix it into the salt and flour using a dough hook attachment. Add the powdered sugar, and then the egg yolk. When the dough comes together, add the toasted sesame and knead for an additional minute.
Roll out the dough to approximately 5 mm. And let it rest in the fridge for at least 1 hour. Cut it in the desired shape. Place the cookies in a parchment paper-lined cookie sheet and bake in the preheated oven at 170° C for approximately 12-15 minutes.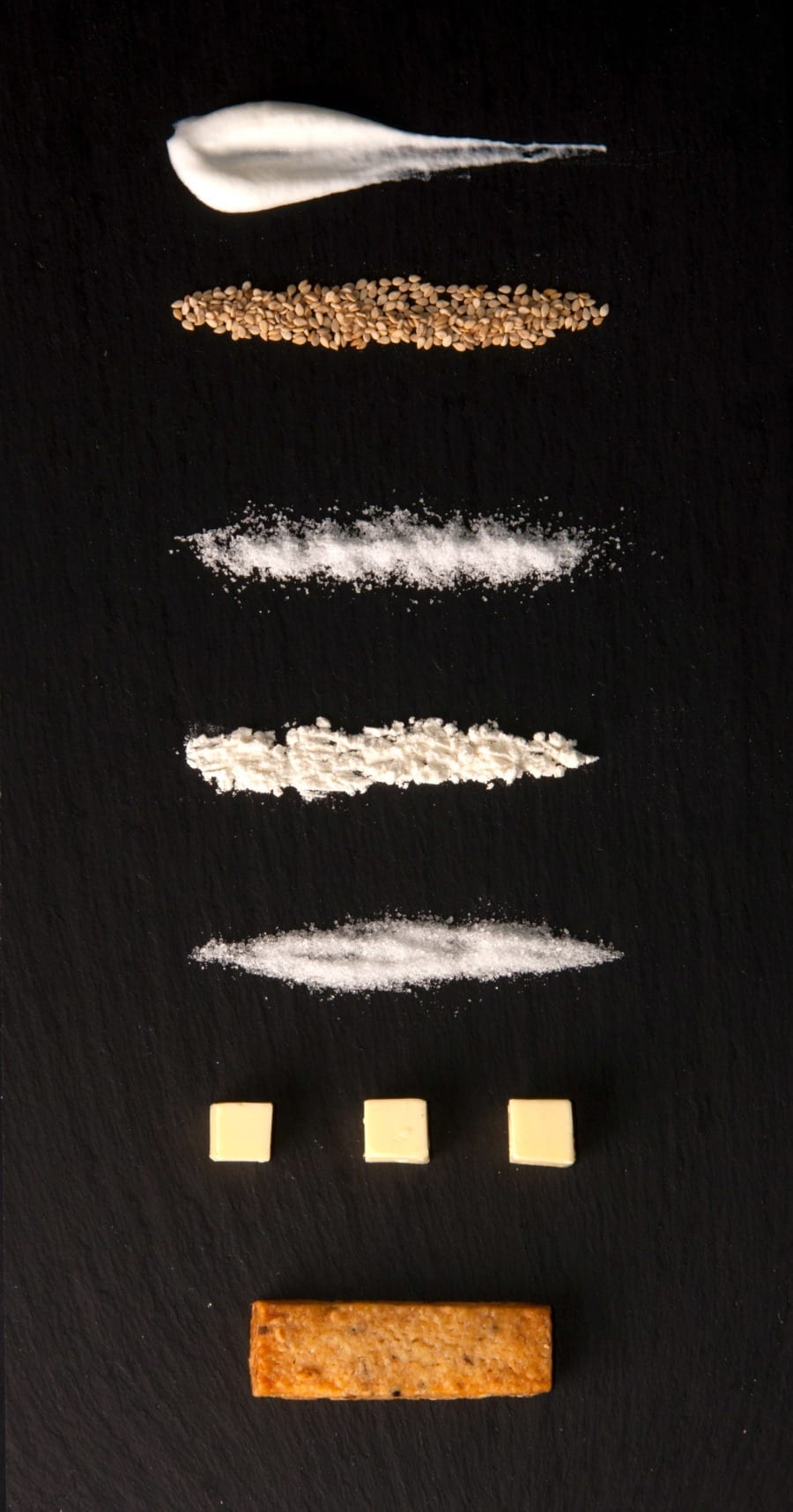 Pasticceria Bompiani | Rome | largo Benedetto Bompiani, 8 | tel. 06 5124103 | www.facebook.com/pasticceriabompiani
by Michela Becchi
translated by Eleonora Baldwin
Pasticceri & Pasticcerie 2017 del Gambero Rosso | Price: 14,90 | available at newsstands, bookstores and online.