The history of Bolognese hand-rolled pasta
Bologna is synonym for fresh hand-rolled pasta. In the shadow of its towers a robust food tradition has developed over the centuries. Bold flavours, strongly meat-based dishes – pork, mostly – and fresh egg pasta. Bologna is furthermore the city of tagliatelle and "sfogline", expert homemakers who have transformed their hand-rolling pasta abilities into a profession. From the rolled out egg-rich and flour pasta dough come a myriad of shapes and sizes: tagliatelle, tortellini and tortelloni, passatelli, ravioli and so forth. In order to safeguard this important cultural heritage, a proposition was presented before Italian parliament in 2011 that defines the particulars and characteristics of artisanal hand-rolled pasta and the figure of the sfogline. Unfortunately this Proposition has still not been accepted.
Despite modernity has by now mechanized this pasta making process; there still are very many sfogline women and men who continue the ages-old tradition. Here is the best found in Bologna.
Bottega dei portici
Agostino Iacobucci needs no introduction. The Neapolitan chef, who is by now Bolognese by adoption, with partner Riccardo Bacchi has added a shop next to his restaurant called la Bottega dei Portici. Here he sells his best fresh hand-rolled pasta including tortellini, tortelloni, tagliatelle and gnocchi. The shop, however, is not your classic "pastificio" pasta maker. It's also a magnet for Bolognese street food lovers, with products sold at competitive prices. Tortellini for take-out can be either cooked in broth, or dressed with brown butter and sage. All menu items and specialties go for 5 to 8 Euro per serving. The pasta sold by weight is priced 19 Euro per kilo for the tagliatelle, and 22-24 Euro for the tortellini and tortelloni.
Opened in 2013, Bottega dei Portici is a successful endeavour. So much so that Iacobucci is already planning a new opening. The new Bottega dei Portici branch will open its doors in Spring 2017 in the stunning palazzo Bega, in piazza di Porta Ravegnana.
Bottega dei Portici | Bologna | via dell'Indipendenza 69 | tel. 0514218522 | www.bottegaportici.it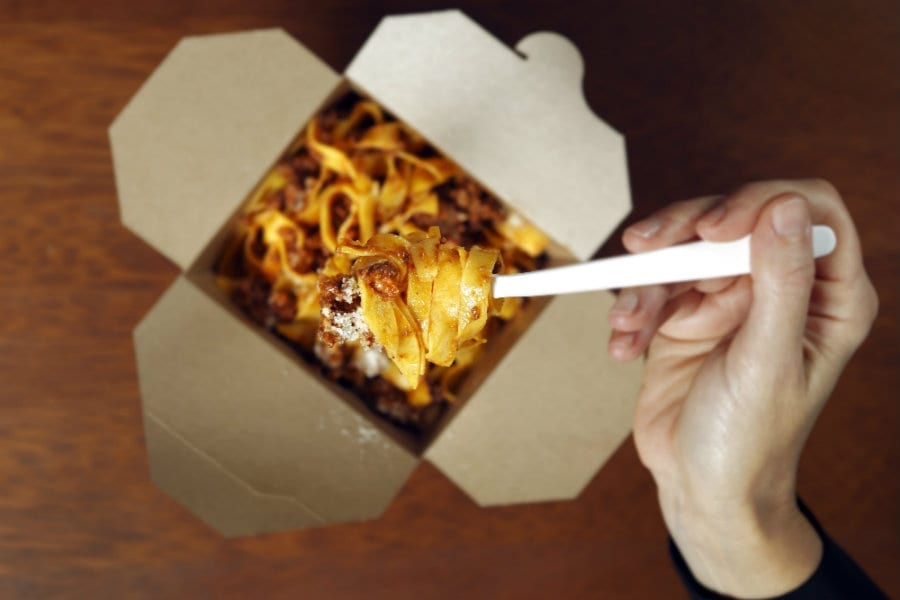 Bottega dei Portici, tagliatelle take away
Il tortellino
From Bologna to Milano and San Francisco this format that blends pasta maker to street food, is a place where gourmands can purchase fresh pasta to be cooked at home, or to be eaten on the premises. The choice can be among tortellini in broth, or topped with ragout Bolognese, or dressed with heavy cream and dusted with nutmeg. Then there's tortelloni with brown butter an sage, or butter and tomato, or topped with seasonal vegetables; in addition to lasagne, passatelli, pasta e fagioli and "zuppa imperiale" (cubes of semolina, eggs and Parmigiano Reggiano swimming in beef stock). Servings can be topped with 4 sauces (2 kinds of ragout, 4 formaggi, a vegetarian sauce or pesto). Entrees equally stick to tradition, with breaded cutlets – either classic or alla Bolognese, or meatballs cooked in tomato sauce and served with roast potatoes.
Prices oscillate between 6 and 9 Euro; with tortellini sold at 22 Euro per kilo.
Il Tortellino | Bologna | via Cesare Battisti, 17/a | www.tortellinobologna.com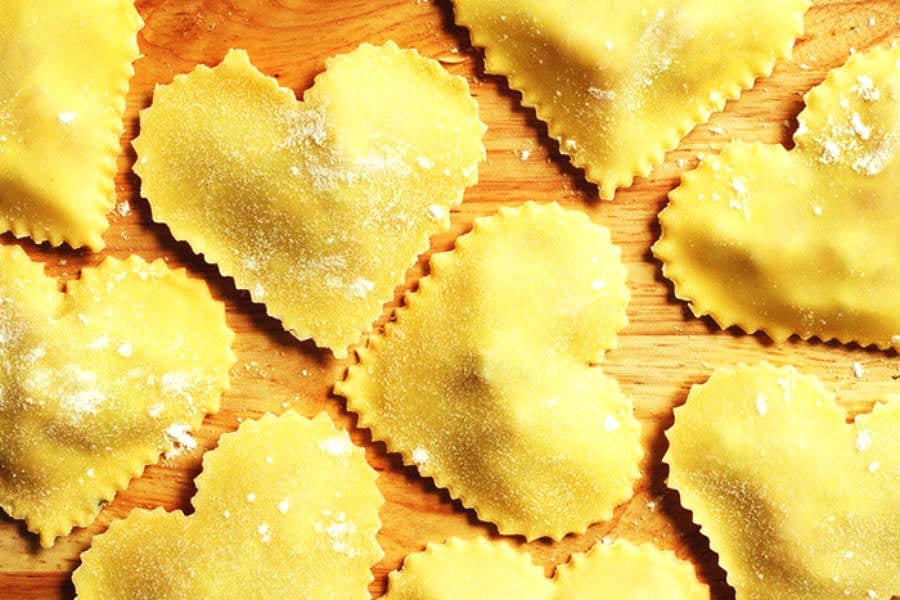 Pastificio Il Tortellino
La Bolognina
This place sells fresh rolled pasta as well as a few cooked dishes. La Bolognina is a pastificio founded by Silvia Montaguti, that's been in operation in the same location since 1957. With Silvia are her precious collaborators, who passionately hand-roll the pasta dough with her. Ingredients used for the dough are of extremely high quality and personally sourced by Silvia in person. In addition to tortellini are tagliatelle and lasagne, plus strichetti, rosette, tortellacci and garganelli pasta shapes. Prices go from 13,50 Euro per kilo for the tagliatelle, to 31,50 Euro for the tortellini.
La Bolognina | Bologna | via Di Vincenzo 33 | tel. 051 370780 | www.labolognina.it
Le sfogline
Classic name for a traditional business launched in 1996 by Renata Zappoli with her daughters Daniela and Monica. The success was immediate, thanks to the strict selection of quality ingredients and the respect for tradition driving the 3 proud women. In addition to classics, this pasta maker also offers unusual pasta shapes like gramigna, quadretti, tempestine, farfalle, and maltagliati. Prices: 39 Euro per kilo for the tortellini – all hand-made – to 23 Euro per kilo for both classic lasagne alla Bolognese and vegetarian, 20 Euro per kilo for the fresh tagliatelle and 16 Euro per kilo for all other extruded pastas.
Le Sfogline | Bologna | via Belvedere, 7 | tel. 051220558 | www.lesfogline.it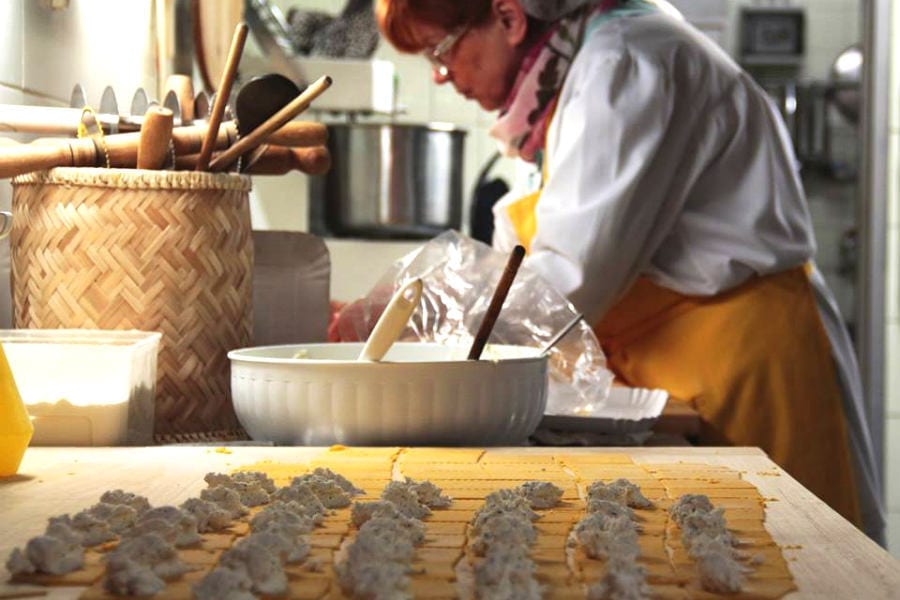 The filling for tortellini at Le Sfogline
Nonna Cesira
Just out of the walled centre of town is this pasta maker in business for the last 3 generations. Nonna Cesira's art of hand-rolling fresh egg pasta has been handed down to her daughter Dina, and then her grand-daughter Rosetta (who shifted the home production to a commercial business), then the great grand-daughter Gabriele and great great grand-daughter Veronica, preserving the long family tradition. To this day, in the via Saragozza store you can buy superb, freshly hand-rolled pasta, including tortellini and tortelloni, ravioli, lasagne, extruded pasta, tagliatelle and plain rolled dough, as well as delicious ragout to dress the pasta with, savoury pies and polenta. Those pressed for time at lunch break, the store offers a handful of prepared dishes for quick take-out. Prices go from 15 Euro per kilo for gnocchi to 28,90 Euro for tortellini.
Nonna Cesira | Bologna | via Saragozza 83/b | tel. 0516446612 | www.nonnacesira.it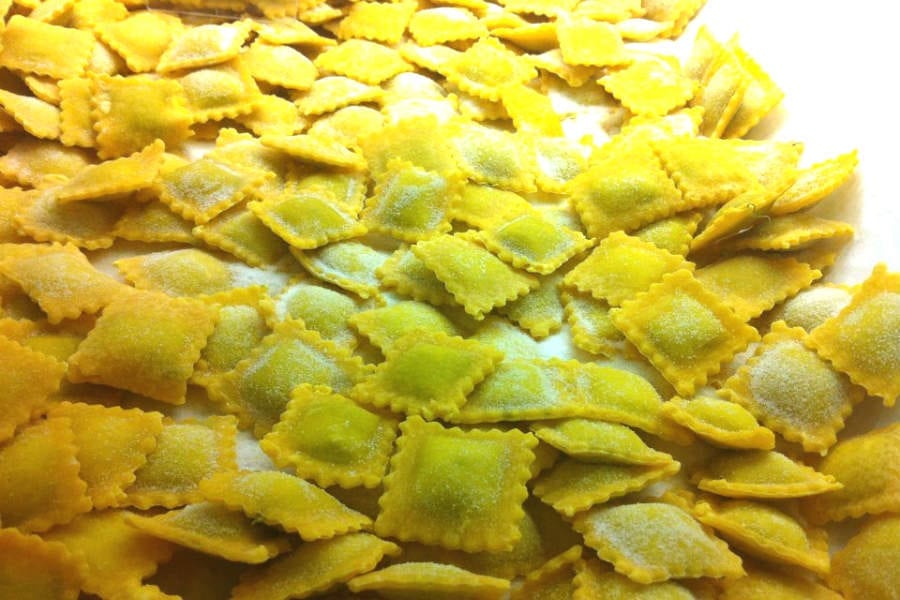 Raviolini ricotta and spinach, Nonna Cesira
Pasta fresca di Gianpaolo
Located in one of Bologna's central streets since 1962 this artisan pasta maker has been creating classic pasta dough as well as farro flour, kamut and whole grain flour doughs. This shop is more than a mere pastificio, it's rather a treasure trove of all things tortellini, tortelloni, ravioli, gnocchi, tagliatelle, lasagne, as well as bread, traditional cookies and vegan biscotti. The owners are particularly attentive in regards to seasonality, so pasta fillings and condiments change according to market availability. Prices range from 15 Euro for the gnocchi and tagliatelle, to 32 Euro for tortellini.
Pasta Fresca di Gianpaolo | Bologna | via Murri 22/B | tel. 051 342746 | www.facebook.com/pg/Pasta-Fresca-di-Gianpaolo-702102106575641/about/?ref=page_internal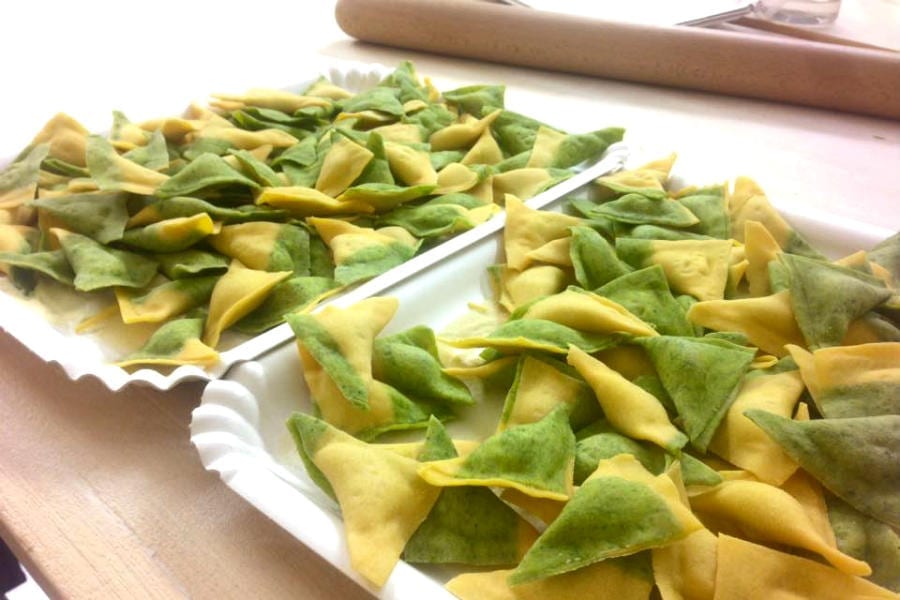 Ravioli plain and green, Pasta fresca di Gianpaolo
Pasta fresca e dolci Buon gusto
This small family pasta maker has been in business since 1970 thanks to Signora Giuliana who still runs the production with precision and passion. Starting in 2005 the family has set up a production line to produce tortellini with competitive prices, and particular attention to quality ingredients, a feather in the shop's hat. In the shop and through the e-commerce website it's possible to purchase classic pasta shapes (sold at 15-22 Euro per kilo) and ready-to-cook cannelloni or lasagne. The offer is equally vast in the dessert department, featuring apple cakes, buckwheat cakes, donuts, crostata tarts and traditional biscotti.
Pasta fresca e dolci Buon Gusto | Bologna | via Milazzo 18 | tel. 051 552388 | www.pastafrescabuongusto.it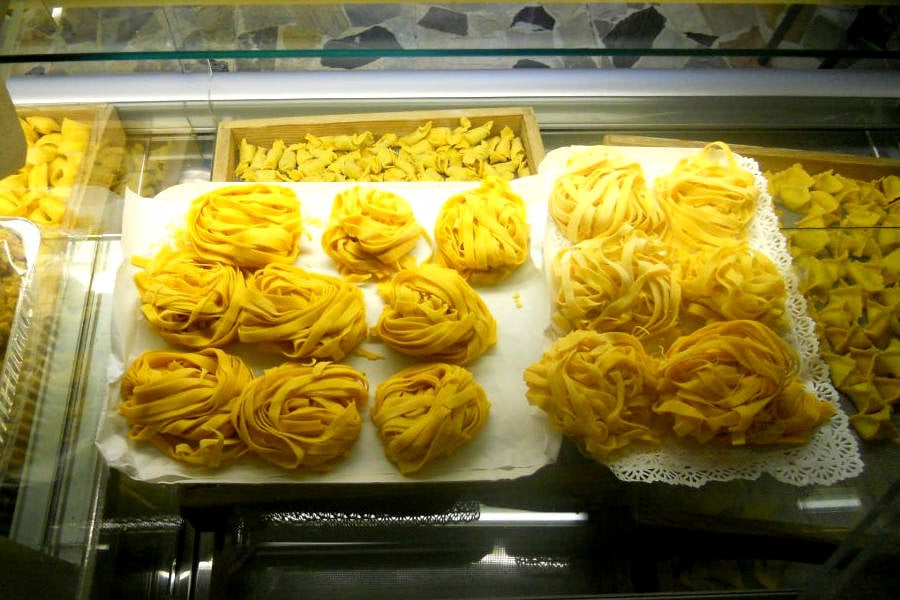 Pasta fresca e dolci Buon gusto
Pasta fresca Naldi
Another historic place for fresh pasta and prepared pasta dishes is Naldi. Founded by Signora Valeria Naldi in 1985 with the intent of cooking dishes using the homemade hand-rolled egg pasta. The idea was immediately a success, since the opening this small shop has become a city must. The offer includes tortellini, tortelloni filled with ricotta, tortelloni filled with pumpkin, fresh extruded pasta, macaroni, gnocchi, and lasagne and, in the colder months, also polenta with ragout and baccalà.
Pasta fresca Naldi | Bologna | via del Pratello, 71/A | tel. 051 523288 | www.pastafrescanaldi.it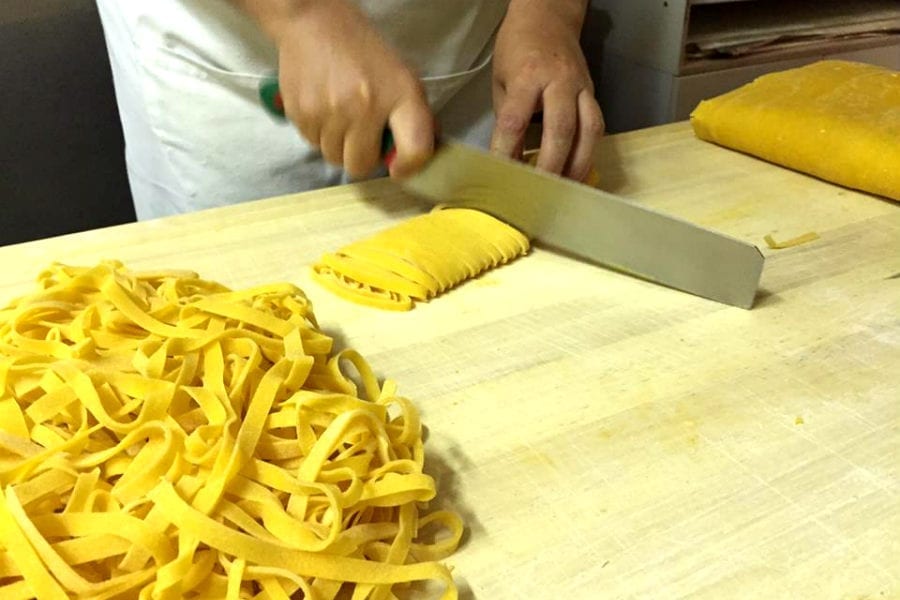 Tagliatelle, Pasta fresca Naldi
Simoni
When in 1969 Signora Silvana Simoni decided to open a shop selling traditional pasta and cakes she wasn't expecting the success and the commitment of the entire family. In 1970 her husband joins in, in '96 her son and daughter-in-law. In 2000 for capacity needs the shop moved to a new location, the menu had room to expand and display the goods in the ample window. Today the offer, which can be purchased to go or eaten in the shop, includes fresh pasta - tagliatelle, tortellini, passatelli and fresh lasagne – to cooked dishes, like semolina gnocchi, tortelloni filled with pumpkin or truffles, various fried snacks like crescentine or battered zucchini blossoms, and traditional sweets like sweet polenta called Amorpolenta, fruit cakes and trifle.
Prices range from 15 Euro/Kg for tagliatelle to 38.50 Euro/Kg for tortellini.
Simoni | Bologna | via Malvolta 8 | tel. 051440158 | www.pastafrescasimoni.it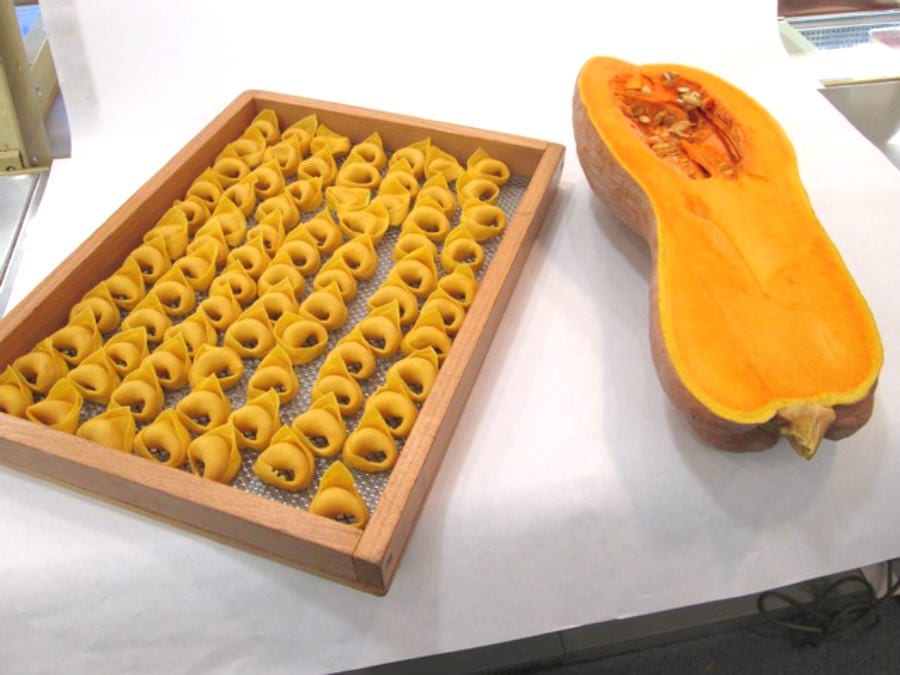 Tortelloni filled with pumpkin by pastificio Simoni
Sfoglia Rina
The success of this pasta maker is connected to deep family ties. Grandma Rina taught her grandson Lorenzo everything he knows. He is one of Bologna's few male sfogline. Since the opening in 1963 in Casalecchio to this day, much has changed, art of hand-rolling fresh pasta aside. Lorenzo Scandellari has transformed the old pasta kitchen in a place that also serves food. Over the years the place moved to Zola Pedrosa, and Sfoglia Rina opens a branch in central Bologna as a veritable restaurant. The Casalecchio flagship remains and produces all the goods for retail and catering. In addition to classic tagliatelle, ravioli, tortellini and tortelloni, the pastificio produces also balanzoni (green doughtortelloni filled with ricotta and mortadella), plus specialties hailing from other regions, including troccoli and spaghetti alla chitarra, or short tube shaped cestine or gramigna. Prices range from 12 Euro/Kg for gnocchi to 34 Euro/Kg for tortellini.
Sfoglia Rina – shop and restaurant | Bologna | via Francesco Petrarca, 11 | tel. 051 6135389 | www.sfogliarina.it
Sfoglia Rina - shop and restaurant | Casalecchio di Reno (BO) | via Francesco Petrarca, 11 | tel. 051 6135389 | www.sfogliarina.it
Sfoglia Rina - kitchen | Zola Predosa (BO) | via Roma, 57/c | tel. 051 572370 | www.sfogliarina.it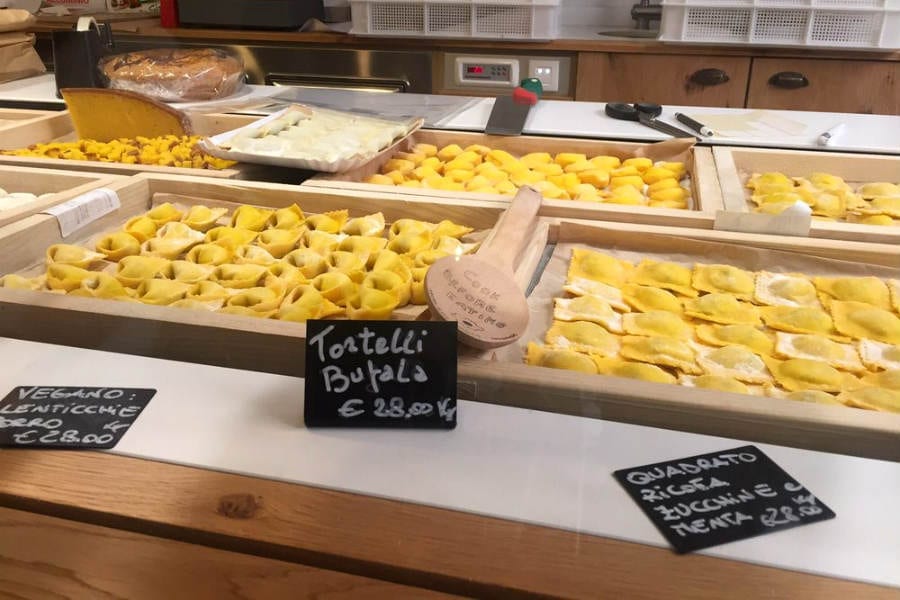 The display case at Sfoglia Rina
Uova e Farina
Open in 2011 in one of Bologna's historic centre's most evocative locations. Run by Simona Fontanella and Rita Rizzi, the place is a well-lit shop where you can buy fresh pasta, or a place to stop for a bite to eat. The kitchen is on the upper floor and in plain view of patrons downstairs. The offer includes tortellini, tagliatelle, lasagne, tortelloni filled with ricotta, tagliolini, maccheroncini and extruded gramigna, plus other preparations that are not strictly particular to Bologna, like tortelli filled with pumpkin from Modena, strettine romagnole and pappardelle. Cakes and other baked goods like cupcakes, muffins, crostata and classic rice pudding and local torta di tagliatelline. Prices per kilo range from 15 for the tagliatelle, to 36 Euro for tortellini tortellini.
Uova e Farina | Bologna | Corte Isolani 5/A | tel. 051 0959620 | www.corteisolani.it
by Francesca Fiore
translated by Eleonora Baldwin