Sora Maria e Arcangelo - Olevano Romano
Giovanni Milana, aided his mother in the kitchen, continues the family tradition of feeding folks phenomenal dishes in his Olevano restaurant. The setting is rustic yet refined, with small dining rooms that chase each other in a maze of exposed bricks, parquet flooring, flower boxes at each window, and beamed roofs. Products are mostly Protected Designation of Origin specialties from Lazio. Wines are also locally sourced. The house cannelloni are not to be missed, but equally attractive are the whims of the chef inspired by whatever the marketplace provides that day. Main dishes employ succulent meats or fish, depending again on market availability. Desserts and cheese platters should not be overlooked.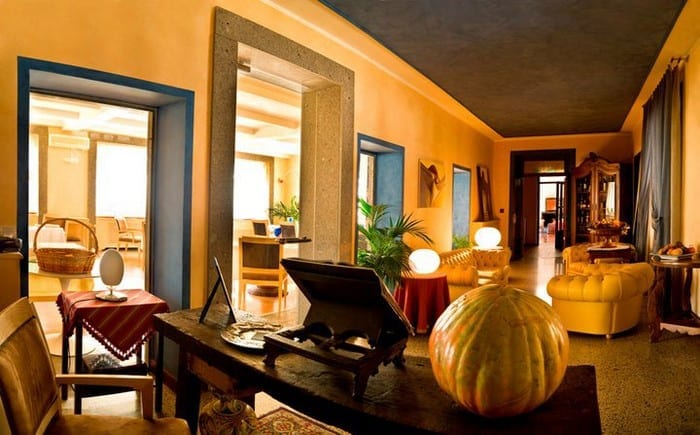 Colline Ciociare - Acuto
Salvatore Tassa, Michelin star chef is the guru behind the fascinating Acuto restaurant in the province of Frosinone. Two tasting menus: one featuring classic dishes; and one that leads diners on a sensorial experience through nature and environmental sustainability.
Almost all the ingredients are sourced in the chef's vegetable garden, and cooked with simple methods. Take the herring, for example – a poor fish, transformed here into "luxury of the earth" cooked in a black iron skillet on a bed of aromatic herbs. Other dishes with a cult following include Tassa's take on "humus" soil component; garlic ravioli with apple consommé, and historic "fondant onion". The ambiance reflects the chef's personality. Dining rooms are embellished with a piano, walls covered in paintings by budding artists.
Agriturismo La Polledrara - Paliano
In a small district of Frosinone, only 60 minutes from Rome is a farmhouse that produces cheese and wine. The cropland that surrounds it and neighbouring farms supply the ingredients used in the kitchen by chef Vincenzo D'Amato. The menu changes therefore according to season. Diners are served family-style from large platters. Meals begin with the farm's renowned antipasto extravaganza: warm sheep's milk ricotta, popped farro salad, delicate sweet and sour pickles, golden and coral comfit tomatoes. It doesn't stop here, servings keep coming, with the likes of fried artichokes and beets and sublime cheeses. The menu is fixed but changes every two weeks, so as to offer a variety of mains and entrees. Leave room for dessert. On Thursdays, the informal Bistrot Contadino serves one of the area's best snacks: battered vegetables served in a paper cone, and the mouth-watering Panino Contadino, a sandwich made with local bread exclusively baked for the farm by a local mill, stuffed with steccato di Morolo cheese produced by the Scarchilli creamery, buffalo sausage, ruby onion and seasonal garden vegetables, pulled from the property's orchards. A handful of cosy rooms and a swimming pool complete the offer.
Osteria Iotto - Campagnano di Roma
The homegrown produce and other ingredients, including meat underline the owner's manic attention to locality. Marco Pasquali and his wife Ines are welcoming hosts and share their passion for their work with every dish that is personally served at the table. The assorted fried vegetables of the house fritto misto are light and crisp, equally delectable are the mains, like the succulent pork livers braised in local Cesanese red wine. Speaking of wine, the wine list – containing an important quota of natural wines – is wide and well structured. During summer, there's live music played by a jazz ensemble for the pleasure of diners in the outdoor seating area out in front.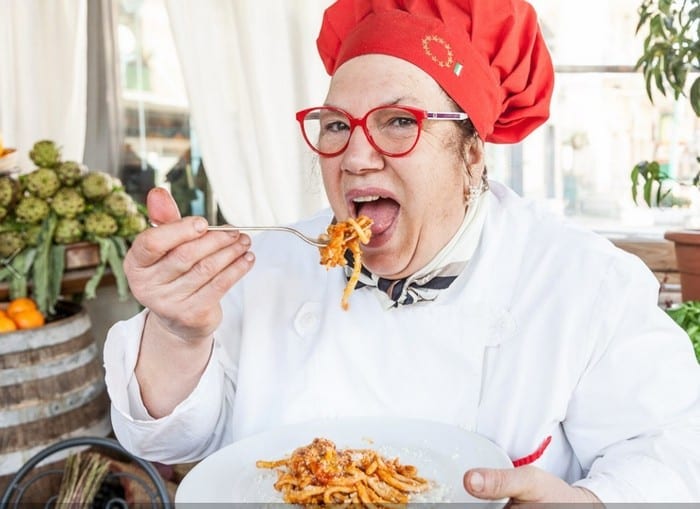 Osteria di San Cesario - San Cesareo
Anna Dente Ferracci is a character. Wearing her flame red chef's hat the histrionic cook is an ambassadress of cucina romana abroad, from Shanghai to Hong Kong where she holds cooking show performances. In her restaurant at a 45-minute drive South-East of Rome, traditional dishes are marked by the seasons and market availability. Coming from a family of butchers, Anna's selection of meats is superlative. Appetizer "svojature" showcases samples of different vegetables, cured meats, cheese, olives and other local bites. Heaps of amatriciana, cacio e pepe, carbonara, homemade noodles with baccalà follow. Not content, the cook will continue to feed you oxtail, or sweetbreads with artichokes, mushrooms or puntarelle, according to season; not to mention the delectable lamb roasted with nepetella, pecorino and wilted tomatoes.
L'Orto di Alberico - Fattoria di Fiorano
Along the Appian Way, Signora Alessia Antinori and her sisters continue their father's wine estate and farm legacy. The orchard is located 20 meters from the restaurant's open kitchen and provides chef Daniele Rossi with all the ingredients he needs. The fertile soil is volcanic, guaranteeing sweet, intense flavours. All produce is treated only with organic farming methods. The orchard that gives the restaurant its name also grows historical and ancient varieties of tomatoes, lettuce, pumpkin and other products. The dining room was transformed from an ancient stable, the menu reflects harvest and seasonal cycles. Do not forego the crisp ricotta with wild rocket pesto, homemade bread crouton and organic poached egg, served with mint yogurt sauce and chunky carrots; or the borage gnocchi with fresh scallion and pecorino. A must experience is booking the chef's table: gather the vegetables in the garden and then cook them in the kitchen with the staff. Open on weekends only.
L'Oste della Bon'Ora - Grottaferrata
Massimo Pulicati, his wife Marisa and their sons Marco and Flavio, are the hosts of this fine dining establishment in the Castelli Romani. Pulicati's roaring laugh while taking orders or serving customers never goes unnoticed. The Savoy cabbage flan with mortadella only shadows Marisa's cream of cauliflower with saffron and fried artichokes. Next in line is the spaghetti with artichokes and clams, and the lamb served with fennel cream. If you love dessert, consider the homemade babà loaded with custard, or the puff pastry studded with nuts and spiked by 25 year-old brandy. The ambiance is warm and cosy, with walls lined with bookcases, old LPs and bottles.
Il Granchio - Terracina
Incredibly fresh fish, large windows overlooking the Temple of Jupiter and the Pontine islands, and the smile on chef Daniela Onorato and her husband Luca Ciamberlano's face. This is the setting for this Terracina dining institution. Drive just a little over 1 hour to sit before starters, which may include celery soup with toasted almonds, scampi, croutons and black salt. The menu may continue to show off with dishes like the black squid ink ravioli filled with cod, served on a cream of cauliflower; or green hand-stretched pasta with red king prawns, artichokes and Castelmagno cheese. An evergreen Daniela simply can't take off the menu is her "boneless soup" which is prepared on request, and in which the flavour of the Mediterranean lingers like a dream. Leave room for dessert. Elegant wine list.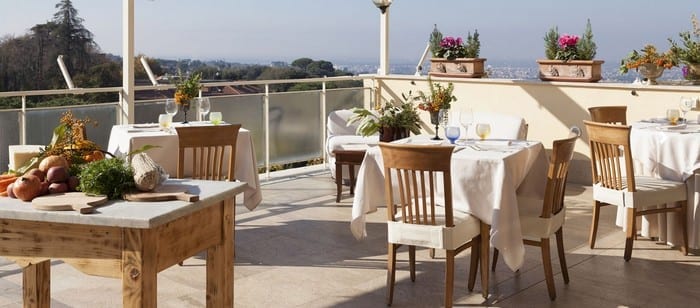 Cacciani - Frascati
A Frascati institution run by the founding Cacciani family since the early Twenties. At the helm now is the last generation: Paolo, Leo and Caterina Cacciani who continue to serve authentic and passionate local cuisine 45 minutes from the Colosseum. Whether seated in the elegant dining room or on the terrace overlooking the Castelli Romani hills, the kitchen manned by Paolo Cacciani will offer traditional Roman dishes, like the Medieval crostini with provatura cheese and anchovy cream of ancient Roman Jewish origin; or the crisp polenta with cauliflower cream, pecorino fondue and poppy seeds. Entrees may feature meatloaf picchiapò, sweet and sour pork fillet with coriander, fennel and ratatouille – all vegetables pulled from the family gardens – or the delectable "pollo alla romana" chicken with bell pepper garnish. At lunchtime on weekdays, if the entire table orders the same two daily specials with wine the price per person is 25 Euro.
Benito al Bosco
At the heart of a lush chestnut forest, in one of Velletri's most evocative rural settings is Hotel Ristorante Benito Al Bosco. The rustic villa boasts views that span from the Lepini hills to the rocky Circeo coast. Located only 30 minutes by car East of Rome, the restaurant and hotel are the realm of Benito Morelli, his surf and turf cuisine is reliable and traditional; his son Roberto is a fine wine connoisseur bringing his sommelier knowledge to the table. On the menu many interesting crudi, raw fish options, like the scampi with orange, carpaccio of sea bass with pink peppercorns and puntarelle. Consider also the fine hand-stretched tagliolini with wedge clams and sea bass. Leave room for dessert.
by Eleonora Baldwin
Sora Maria e Arcangelo Olevano Romano via Roma 42 tel. 06 9564043 www.soramariaearcangelo.com
Colline Ciociare Acuto (FR) via Prenestina 27 tel. 0775 56040 www.salvatoretassa.it
Agriturismo La Polledrara | Località Polledrara Paliano (FR) | tel. 0775 533277 | www.agriturismolapolledrara.it
Osteria Iotto | Campagnano di Roma | corso Vittorio Emanuele 96 | tel. 069041746 | www.facebook.com/OsteriaIotto/
Osteria di San Cesario | San Cesareo | via F. Corridoni 60 | tel. 06 9587950 | www.annadente.it
L'Orto di Alberico | via di Fioranello 34 | tel. 06 79340114 | www.fattoriadifiorano.it
L'Oste della Bon'Ora | Grottaferrata | via dei Cavalieri di Vittorio Veneto 133 | tel. 06 9413778 | www.lostedellabonora.com
Il Granchio | Terracina (LT) | via S. Francesco Nuovo 80 | tel. 0773 709696 | www.ristoranteilgranchio.it
Cacciani | Frascati | via Armado Diaz 13 | tel. 06.9420378 | www.cacciani.it
Benito al Bosco | Velletri | via Morice 96 | tel. 06 9641414 | www.benitoalbosco.com