Omnivore Books on Food
Everyone has stopped by Celia Sack. At least, all those who love good food (and good books). Opened in 2008, her bookshop in San Francisco is a small temple for cooks and food enthusiasts, gourmets, authors and curious readers: among rare editions and vintage books, the shop offers above all a shared space, designed to host book presentations, events and book signings. The antiquarian book collector Sack carved out her Omnivore Books on Food from a former butcher shop, quickly becoming a landmark for the entire Bay Area. Indeed, every author ends up stopping by Sack's shop, which over the years has been celebrating local writers and chefs, as well as world-famous professionals from other countries, from Charles Phan to Nigella Lawson.

How the San Francisco bookshop was born
A sui generis project launched at a time when Amazon was already gaining ground in the United States by selling books online, putting small independent companies out of business. But Sack is specialised in rare books and boasts considerable experience in an auction house. No second-hand, but only antique books, carefully researched by the owner or acquired directly from loyal customers who submit their editions to her. The American celebrity chef Jeremiah Tower, for example, had offered her a copy of 'Mastering the Art of French Cooking' by Julia Child, but she refused it because of some defects. One of her favourites? 'The Zuni Cafe Cookbook' by Judy Rodgers, that she reviewed in an interview for the Eater website: "Her instructions are simple, precise, yet poetic. There's this fantastic chicken braised with figs, honey and vinegar recipe... she tells you everything, every detail, how to look at the sauce, how to know when it's ready. It's almost as if she's teaching you how to consult cookbooks rather than how to cook."

The evolution of cookbooks
When Celia started her business, cooking was already experiencing a rediscovery, with the first videos to reproduce recipes at home and the moment of limelight given by the television. Today, the focus is on techniques and flavours, with a growing awareness and trend towards a plant-based diet: "there is also a widespread use of spices, very popular also thanks to Ottolenghi's work. I'm curious to see in which direction we are going, but certainly technique will play an increasingly fundamental role. And then I feel like I'm going back in time, to the early twentieth century, when cookbooks were consulted with wisdom, and those who read the instructions such as 'prepare a batter' already knew what it meant". The books can be purchased in the shop or online and are shipped worldwide. Among her books, she recommends 'Japanese Cooking: A Simple Art', with detailed instructions on how to fillet fish and recognise its different parts, as well as 'The Food of Morocco' by Paula Wolfert, or 'From My Mexican Kitchen' by Diana Kennedy.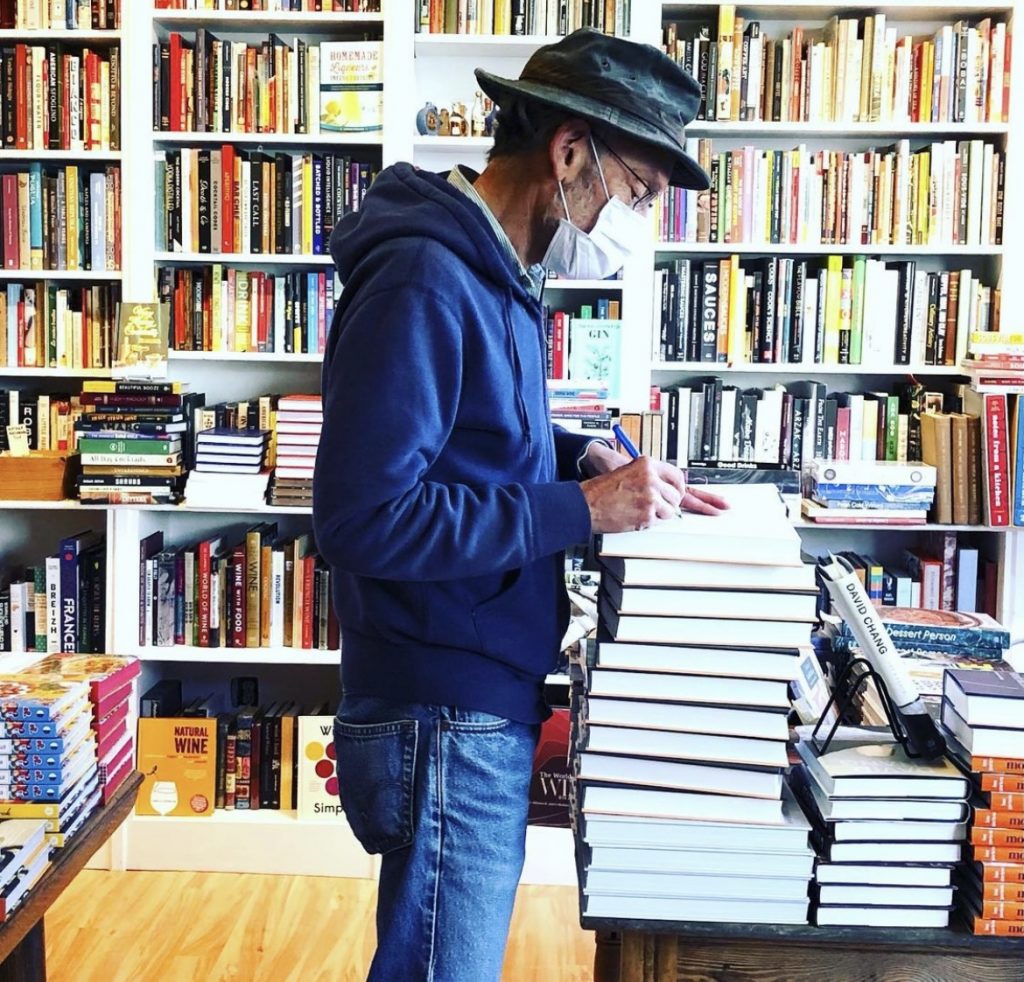 Celia Sack's sales and favourites
There is no shortage of new books, on sale, signed editions by the authors and also merchandising and original products, such as hand-sewn face masks. However, the antique books are the shop's flagships: pages and pages that tell the history of the culinary evolution worldwide, providing a snapshot of the cooking of the past with well-defined habits and traditions, some lost, whilst others are still relevant today. Among Sack's other favourite books there is 'Senegal' by Pierre Thiam, "the photographer makes you feel as if you were really walking through the market", while the details of the preparations "let you understand why Senegal is so unique". And then Zoe's 'Ghana Kitchen' and Lope Ariyo's 'Hibiscus' for a look at African cuisine, and in general all the volumes that deal with a specific tradition since, as she told the Saveur website, "we are moving towards an increasingly targeted specialisation. Today, regional cuisines are becoming more attractive and publishers must therefore respond to this demand". However, one of the bestsellers is 'Made in India', an Indian vegetarian cookbook by Meera Sodha.
by Michela Becchi