The vegan revolution in Rome
And yet, until a few years ago anyone would have had their best bet on Milan, instead. The brilliant, dynamic Milan that's always attentive to the new needs of its customers, with a composite restaurant scene capable of increasingly opening up to the trends of the moment and the flavours of the world. But it has been established for years now: Rome is the most vegan friendly city in Italy. New sui generis openings have landed in every corner, in the suburbs and even outside the city, in the Castelli Romani. No longer just restaurants, but also places to have aperitivo, enjoy a pinsa, have an American brunch with a vegetable-based twist, store for food shopping that recall delis of the past, such as Vegustibus in Garbatella. Pizzerias selling by the slice in the classic Roman-style teglia, like the one sold at Al Pachino in via della Bufalotta, or the pinsas of Veghometro in Ostiense, but also restaurants suitable for ceremonies such as Agrolago in Trevignano Romano. There's also historic establishments such as Romeow Cat Bistrot, among the first to believe in a new type of restaurant dining, which still offers one of the best vegetable-based cuisines in the city. And now there are also innovative fast food restaurants, American-style cafes, cocktail bars that continue to expand the (constantly growing) list of vegan places in Rome, with ever-changing formulas.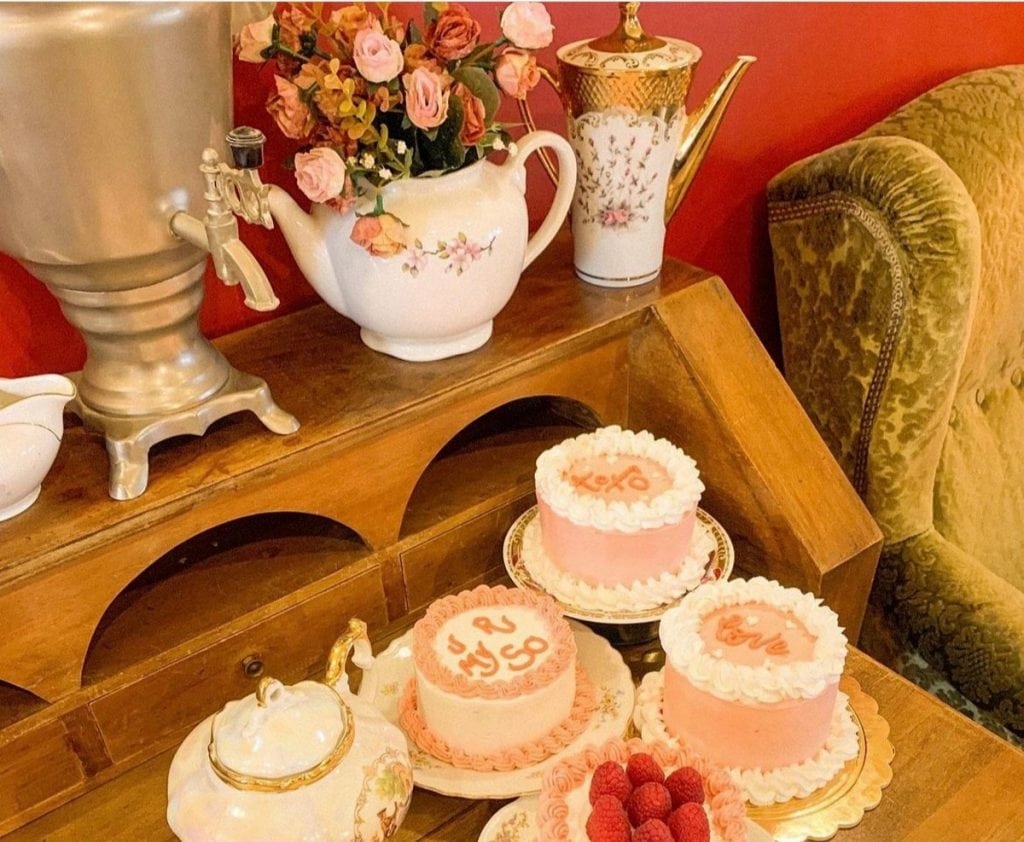 Snug – The Comfort Café, the gentle vegan café
On October 12th came the opening of Snug – The Comfort Café at the Prenestino Village. The watchword here is only one: comfort, in the furnishings and in the offer. It all stems from the experience in the US of owner Ilaria Belbusti: "When we talk about American pastry art, we always think of elaborate sugar icing cakes, but in reality there is so much more. The locations are so welcoming, warm, intimate… they are places that make you want to come back." And for her, for whom pastry has always been a cuddle, "a gesture of kindness towards others, and even towards myself," the opening of a place entirely hers was inevitable. After studying languages, maturing experience in the kitchen and taking a pastry course, she began to write her business plan: it was then that she realised the environmental impact that eggs and milk had, "I began to look for more ethical alternatives, and so I discovered many other aspects of the dairy industry. I began to delve deeper into the vegan philosophy, I decided to embrace it and bring it back to the coffee bar culture as well: what I loved in America was the feeling of well-being I felt in bars, but I wanted this form of kindness to be addressed to everyone, not just customers. I wanted a place that was also kind to animals."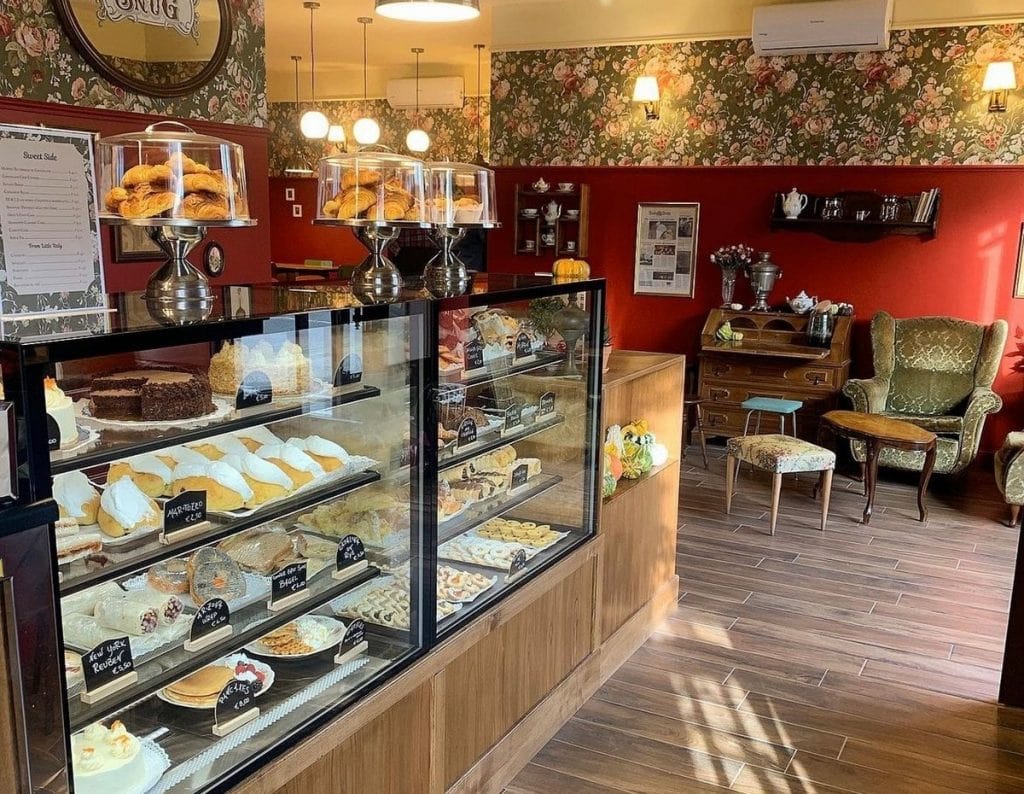 America at Prenestino Village
The Prenestino Village is an area that's still little travelled by the dining world: will such a format work? "It's going far beyond my expectations. New people keep coming, there are returning customers, and not just vegans. People are intrigued and are not used to a similar venue here." But let's get to the offer: at Snug you can eat at any time, from breakfast – with banana bread, brownies and sliced cakes – to brunch, "our bagels are very popular," up to aperitivo time, "we have recreated 10 iconic American cocktails, plus a list that changes periodically following the most famous "on the road" itineraries in the United States, such as whiskey flavoured with peanut butter, a tribute to Alabama." Then there are the sandwiches, "the Reuben sandwich, for example, a 1930s sandwich that we make with sliced beetroot;" the Louisiana potato salad, a plant-based pulled pork from North Carolina, and the Moist Maker, "born from an episode of Friends where Thanksgiving dinner leftovers are used as a stuffing;" or the double decker with plant-based turkey, cranberry sauce and bread dipped in gravy. A one-way ticket to the States comfortably seated on the armchairs of the beautiful restaurant on the eastern outskirts of the Eternal City. "Many people come from distant neighbourhoods… I myself as a vegan travel kilometres to try places that share my same philosophy." Her favourites are "Romeow Cat Bistrot and Nativa as restaurants, Wani for croissants – incomparable – and Lilimpo's Bakery for a classic pastry that never fails."
Radici Cocktails & Beer, the cocktail bar in Albano Laziale
Change of setting, Castelli Romani. Territory of villages and ancient traditions, popular cuisine celebrated in the famous "fraschette," an area that in recent years has made waves thanks to a series of new innovative establishments that are changing the local food scene - with Sintesi in the lead which has brought to the town of Ariccia its first Michelin Star. Radici Cocktails & Beer arrived in this area just outside Rome last November, a vegan cocktail bar created by the couple Simeone Sorgente and Keele Taylor: a past in restaurants in London, love for mixology and home-made culture, and here we are in summer 2022 when they returned to Italy with a new project. They found the perfect location in Albano Laziale, a venue with vaulted ceilings and exposed bricks, which they decorated with taste and dedication, using objects brought back from London and found at flea markets, making candles at home, creating scented blends for welcoming customers in a familiar space, "where they can feel at home," explains Simeone. The name refers to their love for nature but also to their desire to put down roots in Italy, "we are both vegan but everyone comes here. Ours is a rather rich menu, the response so far seems good."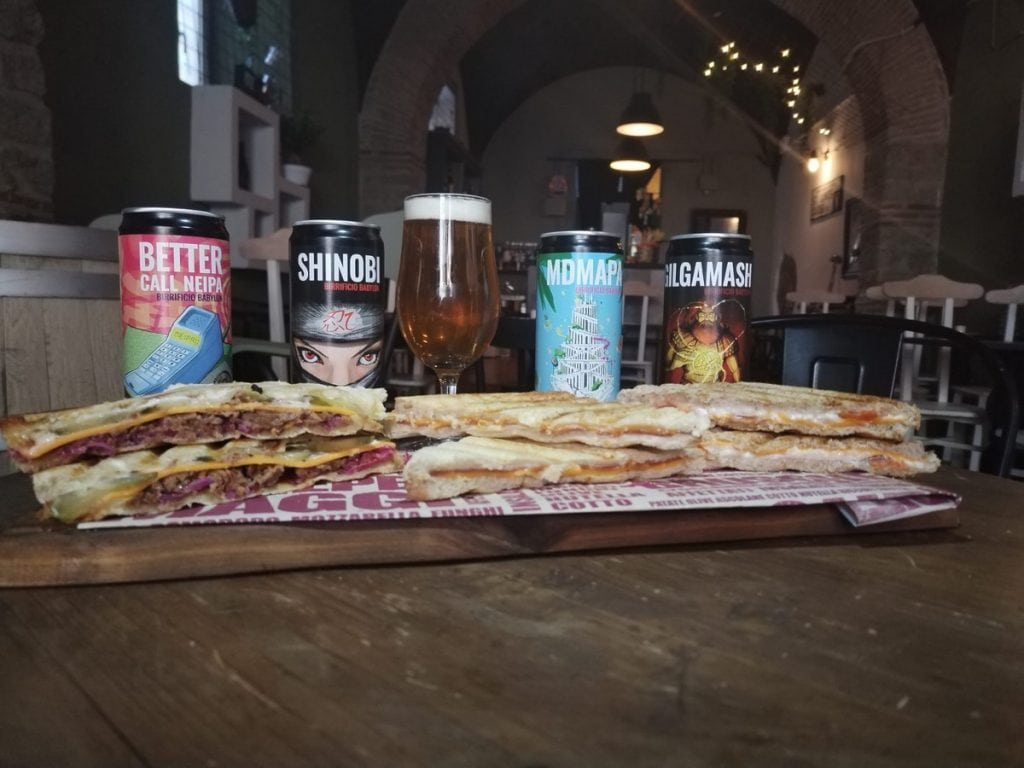 Italian cocktails, British soul and Castelli dining
At Radici one stops for an aperitivo with abundant charcuterie boards – cured meats, cheese and fried vegetables – but also for a plant-based sandwich or kebab, "vegan products today are well made, the level is getting increasingly higher and proposals manage to conquer everyone's taste." The lion's share goes to the drinks, Simeone's passion, "all prepared with Italian ingredients, gin and local distillates that are still little known," but there are also craft beers and wines. The place has only been open for a few months, but the bar can already boast a slice of trusted clientele, "we had good publicity also thanks to influencers and bloggers who talked about us." What's life like in the Castelli Romani? "Better than you might think. Many believe that here people are only looking for old-fashioned cuisine, but that's not the case." The vegan offer, as a matter of fact, continues to grow, "there are Prato di Sopra in Grottaferrata, Borgo Verde in Frascati and Osteria Veggente in Marino which offer beautiful dishes." The favourite restaurants of the Italian-British duo, however, are found in Rome: Rifugio Romano, Buddy and also Bambu Chinese Brasserie in Ostia, "a place that is not 100% plant-based but that offers a nice selection." For the couple, however, the United Kingdom is in first place for the quantity and quality of products available in supermarkets, "where there are many more options." The British touch, of course, will not be missing from Radici, "for St. Patrick's Day we will organise a themed menu, then over time we will introduce other specialties to share true English cuisine."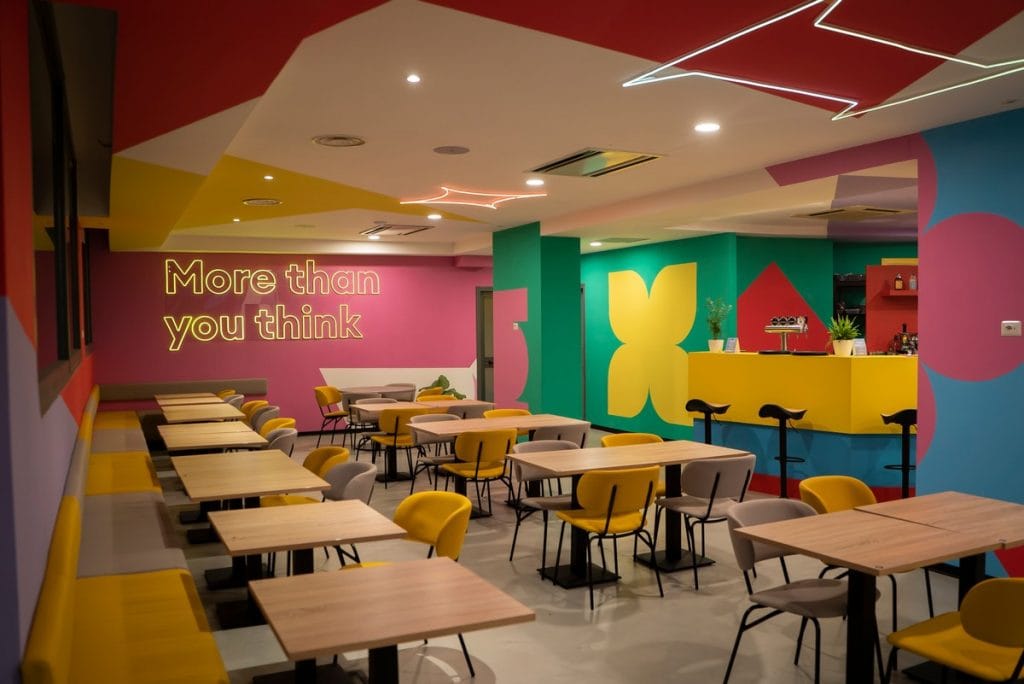 Impact Food, the veggie steakhouse
Delicious proposals that do not make you feel the lack of animal proteins. This is how a well-done vegetable restaurant is built, a dining table that's no longer labelled as just vegan or vegetarian, but that "simply" offers good cuisine. It is from this principle that the team of Impact Corp – a brand created to experience sustainability without giving up on beloved foods – started to create Impact Food, a steakhouse opened last December in Rome, in the Parioli area. "We don't really like labels and we don't feel the need to define the place as vegan," says Alessandro Thellung de Courtelary, founding partner together with Giuditta Di Cosimo and Federica Testa, "our goal was to create a place that was not exclusive, and in fact our average customer isn't even vegan." Let's rewind the tape and go back to four years ago, when the three friends started working on the project: "We come from different backgrounds, but we share a particular concern for the environment. Changing habits is easier than we think: drinking from a compostable cup instead of a plastic one costs nothing. But for food it is different, the kitchen brings with it a profound cultural aspect that should not be underestimated." Flavours and scents evoke powerful memories, which deserve to be kept, "this is why we wanted to re-propose products of animal origin in a plant-based key, so that customers do not associate a different diet with making sacrifices."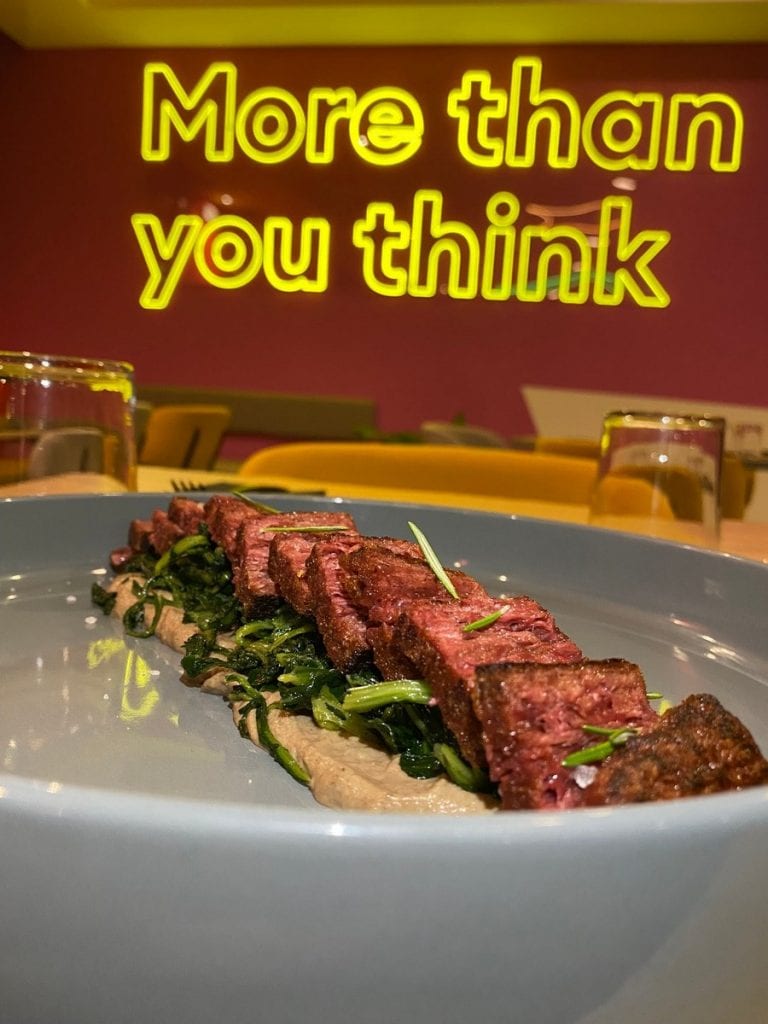 3D printed meat and sustainability
Impact Food was created for this, to make it easier to reduce meat consumption. How? With tagliata, for example, the restaurant's workhorse: 3D printed meat produced by the Redefine Meat company, "the texture is extraordinary, really plausible even in the collagen, which seemed impossible to reproduce." Then there are hamburgers, "not printed but still produced with the same process." Like any steakhouse, here the meat is offered in different types, "explaining the differences between the cuts, describing the aromas and flavours... Here we no longer wonder whether the product resembles meat or not, but which type it's more reminiscent of, whether lamb or pork. It's a victory for us." The restaurant offers two options: fast food options for lunch, "which are also available in the afternoon, when you can have an aperitivo or a snack," and more elaborate dishes for dinner, such as tagliata or pasta cacio e pepe, burgers, bucatini with meat sauce and pulled pork. There is no shortage of sandwiches, wraps, salads and fried foods, with different types of ingredients, "we also use meat substitute products such as Heura or Beyond Meat," combined with each other in recipes created by chef Luca Andrè of Soul Kitchen in Turin, "for me the best vegan restaurant in Italy." Impact Food has recently opened, but success was immediate, "to the point that our suppliers have asked us to sell their products directly, they're working so well." Thanks also to an effective, ironic and colourful social media communication just like the environment, "the chairs are made with recycled plastic and all the packaging is compostable." Another unusual place that enriches the Rome scene, "it is nice to see that Rome is opening up so much to a different cuisine. My favourite is Romeow Cat Bistrot." But there are already new ideas in the pipeline for other venues, not just in the Eternal City, "we have to study carefully, but we have many plans for the future."
Snug – The Comfort Café – Rome – via Fosso dell'Oso, 363/361 - facebook.com/snugthecomfortcafe
Radici Cocktails & Beer – Albano Laziale (RM) – Vicolo del Macello, 26 - facebook.com/profile.php?id=100063863271484
Impact Food – Rome – viale Maresciallo Pilsudki, 86 - impactcorp.it/impact-food/
by Michela Becchi