Seitan, tofu & Co.: the vegan products
What can never be missing in the pantry of a person who follows a vegan diet? In actual fact, nothing different from the usual. There is no shortage of vegetable alternatives today, starting with meat substitutes and ending with cow's milk replacement drinks, but the basis of a plant-based diet is the same as the classic Mediterranean diet: legumes, grains, vegetables. The foundations of the food pyramid, without the two upper steps (dairy products and finally meat and fish), are already sufficient - if well balanced - without having to resort to other solutions. However, products such as tempeh, tofu and seitan can still be useful for both convenience and taste. From a health standpoint, there are no negatives, as nutritionist specialised in vegetable nutrition Silvia Goggi had already explained: "There are no precise guidelines on this, but there is nothing to fear. Seitan, for example, is a protein product that is not harmful, but which has no particularly interesting effects on health, while soy derivatives such as tofu and tempeh have several benefits, including cardio-protective action." Let's discover something more about these specialties, starting with one of the oldest, seitan.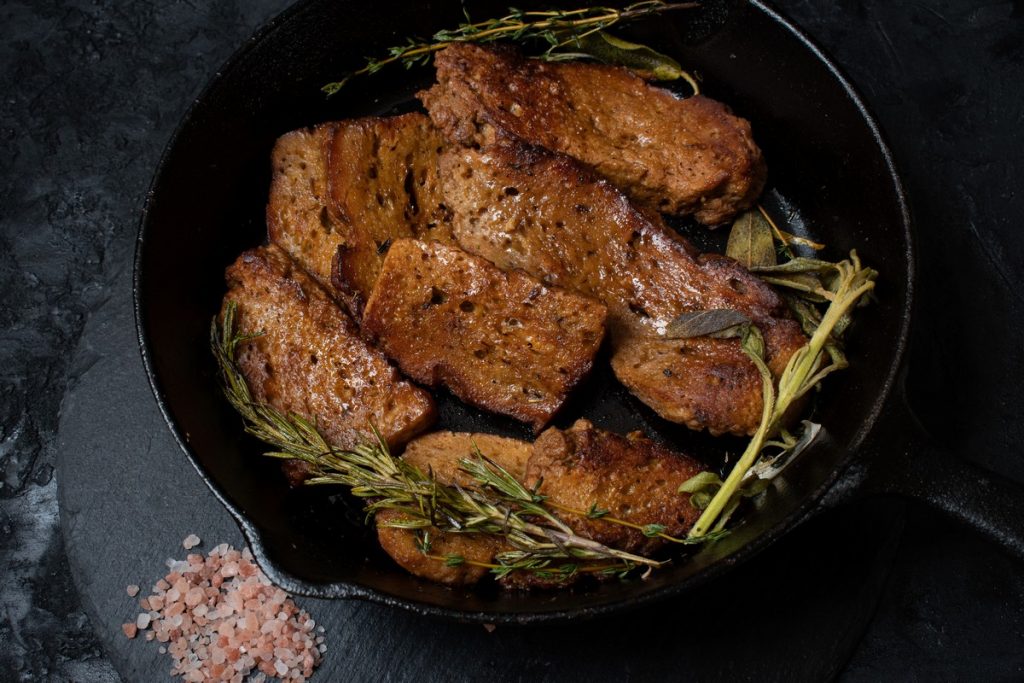 What is seitan and how is it made?
Cut into small pieces and cooked in a pan with soy sauce and vegetables, in tomato sauce for a vegan version of meat stew, but also in the form of cutlets, strips or skewers: seitan has been one of the most popular alternatives to meat for many years, to buy at the supermarket, in specialised stores or to prepare at home. It is a dough made from pure wheat gluten (you can buy it at the pharmacy or in health food stores) cooked in boiling broth, which gives life to a dough with a thick consistency, brown colour and intense flavour. As Dr. Goggi explains, it does not bring particular benefits to the body, but no side effects either: apart from people who suffer from coeliac disease or poorly tolerate gluten, anyone can consume it on a weekly basis. It does not contain a lot of iron but is high in protein, free from cholesterol and saturated fat.
The origins of seitan
The name was coined by George Ohsawa, Japanese writer and populariser who was responsible for the spread of various Asian traditions such as the art of bonsai, acupuncture, but above all macrobiotics, that is the food practice that applies the cornerstone principles of Asian philosophy to the daily diet, based on the balance and harmony of each element. The term seitan appears for the first time in a 1969 publication on macrobiotic cuisine, "Cooking Good Food.". Gluten-rich meat, however, was already widespread among the vegetarian Buddhist monks of Ancient China, to whom we owe the invention of the recipe, which reached popularity only in the middle of the last century, when vegetarian and vegan diets began to spread more massively.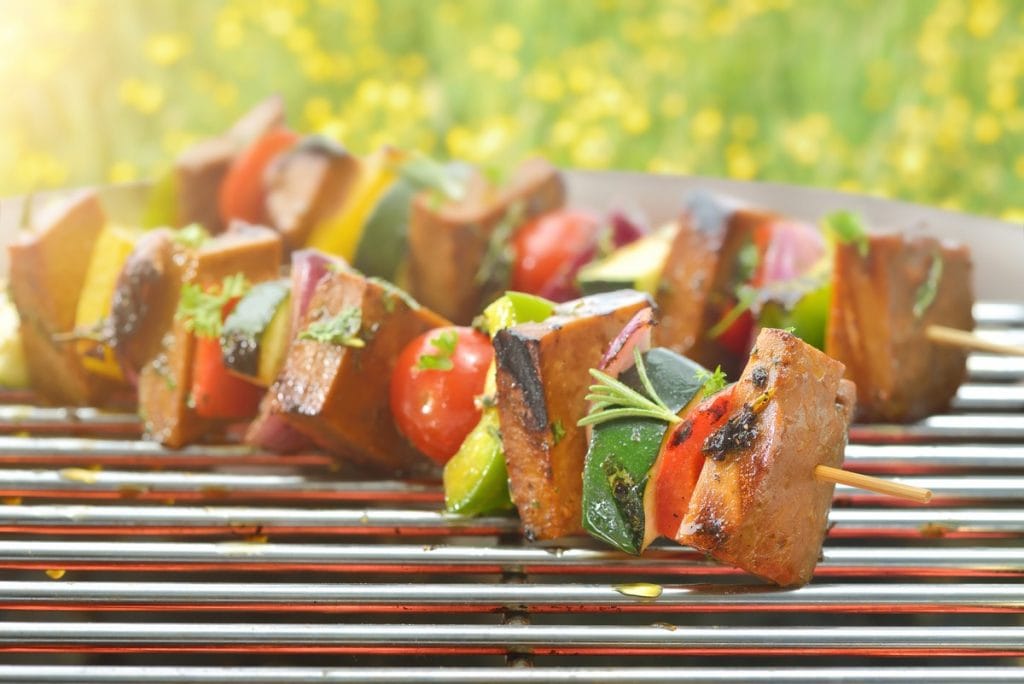 How to use seitan in the kitchen
Among the most loved products by vegans, seitan lends itself to many delicious recipes. In fact, it can be used to recreate almost any traditionally meaty dish: the most classic way to taste it is cut into pieces and cooked in a pan with a drizzle of olive oil, different vegetables and a good dose of soy sauce (tip: add some chickpea flour towards the end of cooking, to make the morsels even more appetising). It can furthermore be transformed into a quick and delicious stew, by cooking it in a pan with olive oil and tomato sauce, to be tried also in the version made with yellow datterini tomatoes. Don't forgo shish kebabs: skewered slices of seitan alternating with vegetables of your choice - zucchini, bell peppers or aubergine are ideal, but in autumn they can be replaced with pumpkin and leeks - and baked in the oven with a drizzle of olive oil and a pinch of salt at 180°C for about thirty minutes. For an special touch, serve them hot with teriyaki sauce or with a sprinkling of nutritional yeast added once out of the oven (this is a vegetable flavouring which we will focus on later). Finally, why not try some straccetti? Obtain thin slices of seitan with the help of a mandoline or a potato peeler, cook them in a pan with a little olive oil for a few minutes, deglaze with white wine, add salt and pepper and serve with a drop of lemon.
The recipe for seitan cutlets with mushrooms
Creamy, comfortable, hearty… in one word: irresistible. For this recipe, it is better to use high quality seitan with a softer consistency, necessary for the success of the dish.
Ingredients for 4
400 g unflavoured seitan
500 g champignon mushrooms
2 leeks
300 ml plant based milk
Flour
Extra virgin olive oil
White wine
Salt and pepper
Fresh sage
Obtain slices of seitan max 1 centimetre thin and dredge in flour. Wash the leeks and cut them into rings (if you don't want to use the green part, reuse it for vegetable broths, or to enrich soups and minestrone, otherwise boil it for a few minutes and add it to omelettes or savoury pies). Toss in a pan with a little extra virgin olive oil for a few minutes until translucent, in the meantime clean and slice the mushrooms. Add them to the pan and cook over high heat for about two minutes. Place the slices of seitan in the pan and, after a couple of minutes, flip to cook the other side. Add the white wine, raise the heat to deglaze, then lower it again, finally add salt and pepper to taste. Add the vegetable milk beverage of your choice, cover with a lid and let the cream set over low heat for a few minutes. Add some sage leaves after cooking and serve the cutlets hot.
by Michela Becchi