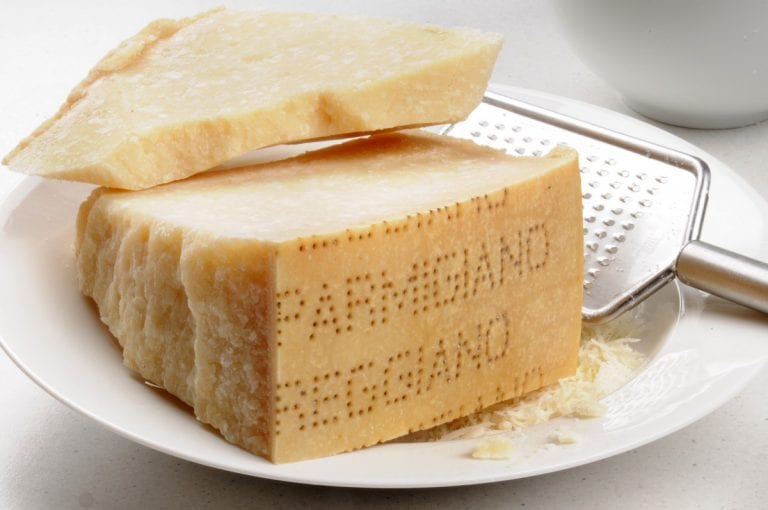 Natural, versatile and unique, Parmigiano Reggiano became famous in the Middle Ages and still today it continues beguiling the finest palates.
Ready to embark on a tour of Italy through its most representative products? Make yourself comfortable and read on. But be forewarned: once these products will be better known, you will no longer do without them. Those who have already tried them know this well. So, today more than ever #icookitalian and #ibuyitaian
The recipe
It's the most loved and most imitated around the world. We're talking about Parmigiano Reggiano Dop, the aged cheese made with surfacing partially skimmed raw cow's milk. Its origins date back to the Middle Ages: over time the production techniques have been refined, but still today production takes place naturally, without any additives. Milk production, transformation, minimum aging and packaging are done exclusively in the provinces of Parma, Reggio Emilia, Modena, Bologna to the west of the Reno river and Mantua, and to the east of the Po river.
The tasting
The classic structure – grainy and crumbly – is in perfect balance between sweetness and savoury, while the aromas range from notes of melted butter to citrus, to fresh fruits and nuts. The resulting flavour is pure art. For this reason we rely on the words of the Parma writer Giovannino Guareschi (another literary flagbearer of the Made in Italy excellence) known above all for the Don Camillo series of novels. "By gazing at the texture of Parmigiano with a very strong magnifying glass, it reveals itself not only as an immutable crowd of associated granules with the identity of cheese, but even as a landscape. It's an aerial photo of Emilia taken from a height equal to that of God".
How to use it in the kitchen
The main characteristic of Parmigiano Reggiano is its versatility. In the kitchen, in fact, it can be used from appetizers to desserts. Don't believe it? Then try for yourself: whether sprinkled on risotto, the mixture for meatballs or even for gelato, Parmigiano Reggiano becomes the absolute protagonist. It enhances traditional recipes and enriches each course with different aromas and scents for each aging. If, however, you want to fully enjoy it, carve a wedge and start eating it. Careful, it's addictive. The perfect pairing? Bubbles. Italian, of course.