The lago, the composer and the ghosts
At the foothills of the Alpi Apuane mountains, located in the plain nestled between Viareggio and Pisa, is a small lake of mere 7 kilometers which is home to an enormous variety of wildlife and legends. It is common lore that lake Massaciuccoli, in the Massarosa locality, is magic. Legend has it many spirits tread its shores, and many stories are set in its brackish waters. The most famous of these tales is linked to Lucca-native composer Giacomo Puccini, who chose the area as a composing and hunting retreat. Near the shore in the property where the composer sojourned is a bronze monument entitled to him. Fishermen say his ghost still roams the property, strange sounds and singing noises included.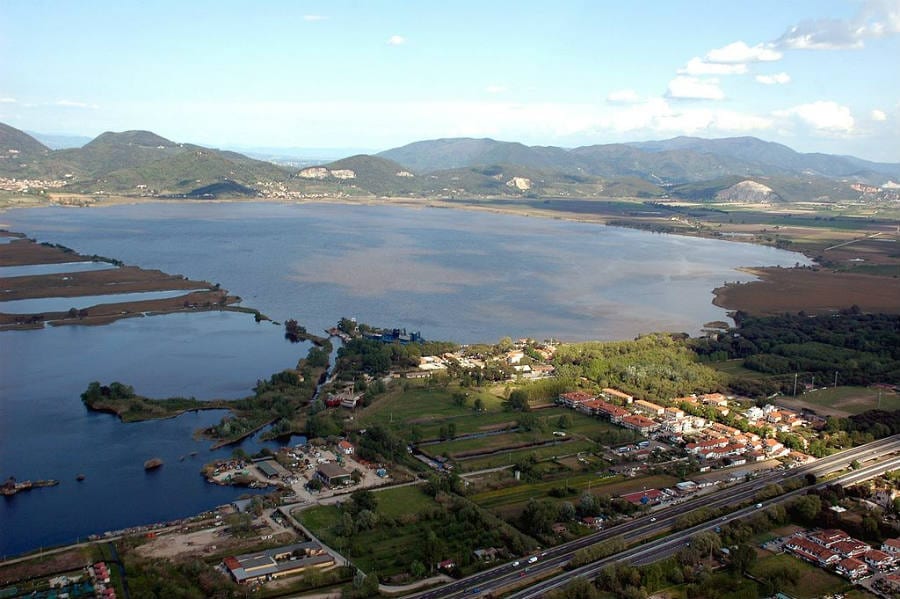 More legends shroud the lake. Its calm waters are said to be ruffled every night by the floating spirit of Nerin Nerone, of Emperor Nero who, according to legend, bothered by the fishermen who navigate the lake by day, attempts to scare them off during the night fishing expeditions, creating terrifying whirlpools in the water. Mention the name Nerin Nerone to a local fisherman, and you'll probably see him go pale. Or burst out in laughter.
Nature, culture and lakeside sports
The lake is in the heart of natural reserve Parco Naturale Migliarino - San Rossore - Massaciuccoli, deep in the Macchia Lucchese area. This differs from macchia mediterranea vegetation due to the very humid environment it is in. In the confines of the natural reserve is the Tenuta Borbone, constructed in 1819 by Duchess Maria Luisa of Bourbon. Despite the unruly exploitation and damage endured over the years, mostly from the extraction of peat and silica soil, the nature reserve is fortunately home to many bird species and houses a LIPU conservation charity focused on protection of birds. Great examples of territorial biodiversity include swamp species of falcons, herons, egrets, bitterns and others like river nightingales, coots, mallards. Among the various lakeside and natural park activities, first place obviously goes to birdwatching. The waters of Massaciuccoli during summer are home to many sailing, canoe, rowing and kayak racing. Many associations also organize lake excursions with boats and ferries.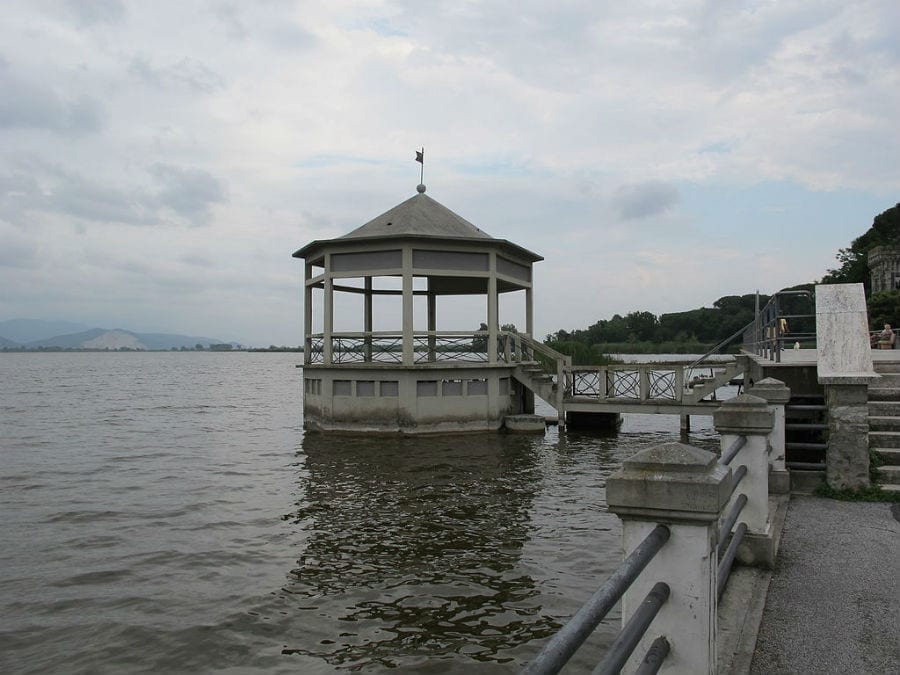 The park can be visited on foot or with bikes, joining organized excursions by local companies, or even explores via horseback riding trails enquiring at Centro Ippico Pineta Salviati in Migliarino. The equestrian center houses the breeding grounds as well as an important dressage and international horse show school. On the recently built bike path, it's possible to visit an area of the lake that is home to one of the largest lotus flower plantations. From mid June with the first blooms, visitors can witness an incredible spectacle: hues of orange, violet and red tinge the water.
Villa Puccini
After all that nature and sports activities, visiting Villa Puccini and annexed museum is a must. Every summer the museum hosts Festival Puccini, during which operas and other music composed by Giacomo Puccini are performed in an open air theatre facing Lake Massaciuccoli, in an evocative setting.
Puccini purchased what is now known as Villa Puccini in 1898 from the Aosta Dukes after having rented the place for several years. Once owner, Puccini had it leveled and rebuilt by architect Vincenzo Pilotti and artist Galileo Chini. In the exterior is a small zen garden, quite the novelty for that time, while the facades are so bare to appear incomplete, conceal eclectic interiors, decorated each room decorated according to each different function. There's the piano room, dedicated to the Maestro; the writing room, where the composer the living rooms where he would entertain intellectuals; the chapel decorated by Adolfo De Carolis. This is where the composer and his wife along with their son and daughter-in-law are buried. Puccini so loved this place and its extraordinary sunsets, that he said to be affected by "acute Torre del Lago illness" and which prevented him from leaving it even for just a few hours. The love was mutual; in his honor the small hamlet overlooking the lake is now named Torre del Lago Puccini. Around the lake are also ruins and other sights to visit, like Terme Romane, the Roman baths built by the Venule family in the 1st Century AD.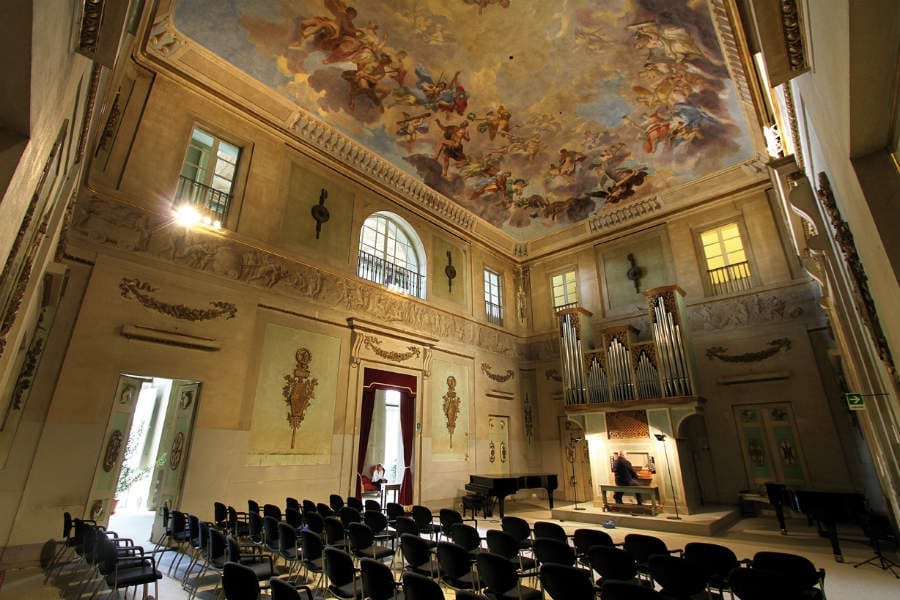 What foods to eat lakeside
As for any lake, sweet water fish plays the starring role on local tables. The waters of Massaciuccoli are home to species like carp, tench, perch, trout, catfish, eel and rudd. In the Nineties the area was introduced with red Lousiana crawfish and this altered the lake's biodiversity balance to the point that marine biologists and scholars had to come in and act upon this.
The natural reserve includes wooded areas and pastures, where Limousine and local vacche pisane bovines are bred. Including the local Massese sheep, these are all breeds risking extinction. In addition to providing meat, the animals supply the milk for the local pecorino cheese production. This is a sweeter, milder cheese compared to classic pecorino toscano thanks to the pasture and selected sheep breed, and the aging on wood planks.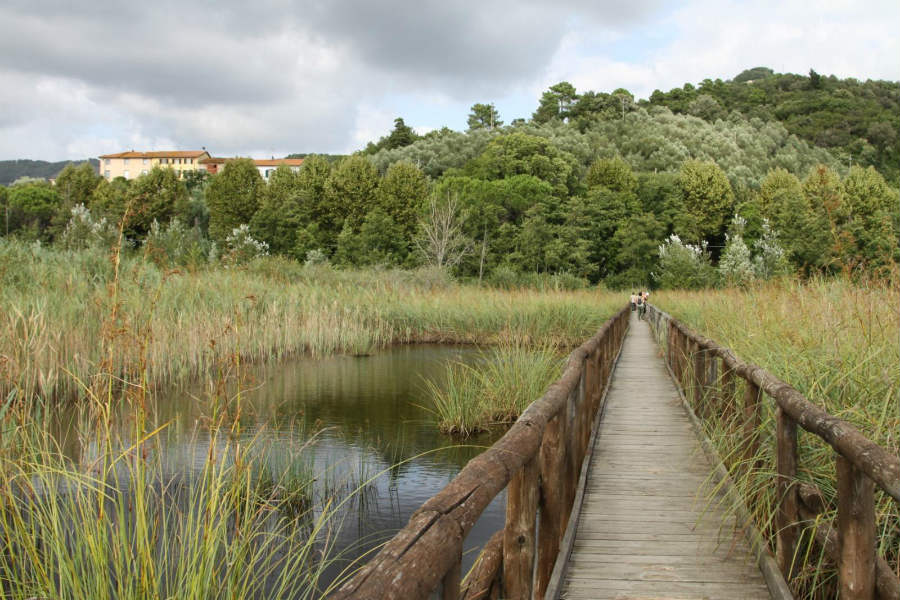 More local productions include ivy honey and "beach" honey, which is obtained placing the beehives on beaches where the local flower camuciolo (Helichrysum stoechas) grows. This plant lends the honey a particular marine aroma. In the natural reserve woods is furthermore an important pine nut production, the pioneer one in Italy to adopt organic farming.
TIPS EXTRACTED FROM GUIDA RISTORANTI D'ITALIA 2016
A casa mia (Pisa)
Classic Tuscan dishes reinterpreted with quality ingredients and attention to detail. This is the home of Fabrizio Tognotti transformed into a restaurant, where patrons can dine both in the dining room and the kitchen, in addition to the delightful garden. The 4-course tasting menu is affordable. The wine cellar conceals labels which pair well with the menu.
Acquasalata (Viareggio)
After managing a famous eatery located on the shipyard, the new challenge for Davide Cupisti is a cozy and reliable family run restaurant. Meat and fish dishes are uncomplicated and well executed, fine service and great selection of wines. There's an interesting mineral water and single origin coffee menu..
Bistrot (Forte dei Marmi)
Refined restaurant owned by the Vaiani family, this is a triumph of seafood cuisine. Elegant and well-balanced, it employs prime quality ingredients. The menu includes a handful of exquisite meat dishes. The wine cellar is ideal for connoisseurs. Interesting selection of coffees. The floral garden overlooks the splendid Forte dei Marmi beach.
Buonamico (Viareggio)
This trattoria is over one hundred years old, and thanks to the Barsotti it has returned to ancient glory. The cuisine is traditional Tuscan seafood based. Desserts are homemade. Marine theme decor, cozy spaces and warm lighting complete the intimate setting. The wine list focuses on local whites but includes other regional labels as well.
Butterfly (Capannori)
Immersed in a spacious park and occupying an 1800s farmhouse, Butterfly offers a selection of traditional Tuscan dishes as well as creative twists by chef Fabrizio Girasoli, which feature local ingredients. The excellent desserts are baked by his wife Mariella Palatresi. Service is warm and courteous. The wine list is ample, featuring rare labels.
Da Beppino (Pietrasanta)
This trattoria with a solid reputation is modern rustic. The cuisine reflects that: simple and wholesome it draws from Tuscan tradition and local ingredients. The place has several dining rooms and a fine wine list with regional and other Italian labels.
Dante e Ivana (Tirrenia)
The seafood menu is prix fixe and changes according to season. The second generation of owners of this solid restaurant is managing it with great care. Warm and welcoming ambiance, cordial and attentive service, well-structured wine list especially regarding its whites.
Filippo (Pietrasanta)
Few tables and a warm welcome make Filippo Di Bartola's trattoria a unique place. The menu is respectful of Tuscan tradition yet leaves room for creativity and innovation, with space for constant evolution, especially as far as planning goes. The wine list is curated by the owner who is also a sommelier. Outdoor seating in summer.
Il Circo (Pietrasanta)
Situated in the heart of the town, il Circo offers traditional dishes from the region which are often modernized and always carefully executed. Meat plays a starring role in chef Andreuccetti's kitchen but there's also room for local fish. Also a nice selection of cheeses, homemade desserts and a mostly regional wine list complete the offer.
Il Merlo (Camaiore)
Temple of Italian and French cuisine, the kitchen at Merlo, guided by Angelo Torcigliani, offers elegant and satisfying fare, based on local niche products which are transformed with masterful technique. The wine list is ample and includes prized French labels. Private outdoor seating in summer.
Il Piccolo principe - Grand Hotel Principe di Piemonte (Viareggio)
Included in a luxe hotel complex, il Piccolo principe offers high quality cuisine to be enjoyed on one of Viareggio's most beautiful terraces. In the kitchen is Giuseppe Mancino who blends his Neapolitan origins with contemporary Italian cuisine, riffing on a play of subtle balance and audacious flavor combinations. The service is impeccable and the wine cellar is well-stocked including with small local vintages.
La Brilla (Camaiore)
The restaurant is located in the villa that once belonged to literary critic Cesare Garboli, which also houses a B&B. La Brilla offers modern versions of traditional dishes, using locally sourced wholesome ingredients. Interesting selection of cheeses and a fine wine list built on regional labels. Outdoor seating in summer, by the fireplace in winter.
La Buca (Pisa)
The strategically located restaurant in the heart of Pisa boasts three ample and well-lit dining rooms. The menu features both meat and fish dishes, made with fine ingredients and an affordable tasting menu. The wine list leans on local labels. Service is courteous and the atmosphere is warm and cozy.
La Magnolia - Hotel Byron (Forte dei Marmi)
Cristoforo Trapani is the new chef at ristorante La Magnolia, after Andrea Mattei's 11-year residency. The menu is elegant and creative thanks to Trapani's southern Italian touch: excellent finger food and well-executed mains. Desserts stick instead to local tradition, we loved the petite pastries. Fine wine list, attentive service in a refined and elegant setting.
L'imbuto (Lucca)
Housed in the Lucca Center Contemporary art, chef Cristiano Tomei playfully charms his customers offering creative and elegant cuisine "in the blind": choosing tasting menus by number of dishes but without knowing exactly what one will be eating. Unusual wine list with various wines by the glass. Service is attentive and courteous, the ambiance is equally elegant and welcoming.
If you're looking for something new, we suggest trying Satura, another brainchild of Chef Tomei:. This is a defunct ceramics factory transformed into a restaurant, market and workshop. The kitchen serves backup to Imbuto. From 10 am onwards to midnight the place also hosts a local market selling local specialties. Patalani pastries and jams by Maestà della Formica, plus produce, cheese, cured and fresh meats of famous Masoni butchers. In addition to this, lunch and dinner service are curated by Tomei himself and include 4-5 main dishes ranging from osteria fare to refined cocktails.
Locanda Vigna Ilaria (Lucca)
In the Lucchesi hills among olive groves and vineyards is Andrea Maggi's restaurant, offering impeccable welcome in its splendid outdoor seating areas. The expert menu curated by chef Maurizio Marsili, is a guarantee of quality: clean flavors, creativity that's respectful of tradition, attention to detail. The cuisine's strongpoint is fish, there are diverse tasting menu options and a fine wine list. Comfortable rooms complete the dining and lodging offer.
Lorenzo (Forte dei Marmi)
Lorenzo Viani needs no introduction: an outstanding host whose style is highly regarded. Chef Gioacchino Pontrelli showcases the best in contemporary classic cuisine: elegant, refined and extremely detailed dishes, plus high quality ingredients and respectful approach towards marine tradition. Service is attentive and forthcoming with customer requests. Three Forks on Guida Ristoranti d'Italia 2016.
Lunasia - Green Park Resort (Tirrenia)
Luca Landi's setting is a play on glass and lighting. The homestyle cuisine manages to also be refined and surprising. The menu features for the most part fish, characterised by harmonious contrast in textures. Bread and breadsticks are homemade, and the wine list is well-structured in relation to the food offer. Service is courteous and efficient.
Lux Lucis - Hotel Principe (Forte dei Marmi)
The restaurant located at the penthouse floor of Hotel Principe boasts splendid views on the Apuane mountains and the sea. Chef Valentino Cassanelli's cuisine leans on solid Emilan roots, sustained by Tuscan training and lands on a creative offer that relies on an Asian touch. The wine list is classic but conceals a few surprises. Service is impeccable and the ambiance elegant.
Nanni (Camaiore)
Elegant trattoria offering fish dishes and a menu that changes daily according to fish market availability. A few meat dishes, homemade desserts, simple yet attentive service. The wine list is slender with a selection of few labels in complete harmony with the food offer.
Pesce Baracca (Forte dei Marmi)
Located on the Forte dei Marmi wharf and including a fishmonger and rotisserie corner, this place is owned by the same people of Bistrot. the seafood cuisine is simple yet tasty, with a handful of creative dishes belonging to the chef's family heritage.
Punto Officina del Gusto (Lucca)
Minimalistic and post-modern decor, in the kitchen an interesting character; chef Damiano Donati. Everything is played on primordial flavors, uber fresh ingredients and always seeking a gustatory provocation. The menu features both meat and fish, homegrown vegetables in the chef's garden and various tasting menu options. Nice outdoor seating in the summer garden.
Looking for a lighter offer? Check out Puntino, the new idea by Riccardo Franchini, whose idea is creating "a corner of Madrid". This is a non-conventional space located next door to Punto, bistro meets cocktail bar, open between 6:30 pm and 10pm.The large counter is manned by a barman and a cook who serve wine, beer, cocktails and tapas in pure Punto style. A complete dinner can also be served.
Romano (Viareggio)
This excellent high end restaurant which has celebrated its 50th anniversary in 2016 manages to renew its offer without betraying the traditional seafood cuisine it represents. Mr and Mrs Checchi have made haute cuisine their flag. Prime quality ingredients are personally selected by the owner, his wife wisely runs the kitchen, while the wine cellar is in the attentive hands of son Roberto. A young yet prodigious chef-patissier completes the fine staff. Three Forks on Guida Ristoranti d'Italia 2016.
Serendipico (Capannori)
The relais is immersed in the Tuscan countryside. Here the cuisine curated by Masaki Kuroda is fusion characterised by unusual flavor combinations. Extreme high quality ingredients, creativity and elegance in the kitchen, sublime desserts. Ample wine list, refined ambiance completed by elegant and cozy bedrooms. The gardens and pool area are impeccable.
Vipore (Lucca)
Located in one of most beautiful villas of the Lucchesi hills, Vipore offers precise and crisp cuisine, attentive to Tuscan tradition and employing prime quality ingredients. Interesting wine list which focuses on local and regional reds. Courteous servico and outdoor seating in summer.
TIPS EXTRACTED FROM GUIDA PIZZERIE D'ITALIA 2016
Apogeo Giovannini (Pietrasanta)
Stone-milled organic flours, natural years starters and long leavening timetables, high quality ingredients for toppings: these are only a few of the elements that compose this ageless pizzeria. On the menu are also antipasti and pastas. Well stocked wine and beer lists. Three Slices in the 2016 edition of the Guida Pizzerie d'Italia guide.
Da Rizieri (Viareggio)
Historic pizza sold by weight place whose strong points are simplicity and efficient service. Fluffy doughs with a crisp crust in a harmonious balance between thickness and topping, plus original flavor combos. On the menu are also antipasti, pasta dishes, fried fish and the ubiquitous cecina.
Il Pachino (Viareggio)
Neapolitan style pizza napoletana declined for local palates in Fabrizio Giovannini's and pizzaiolo Salvatore Arpaia's place. Extended leavening timetables and small quantities of brewer's yeast. Woord-stoked oven, thick rim for the well balanced crust and creativity in the toppings made with prime quality ingredients. There are over 70 labels on the beer list.
Il Montino (Pisa)
This is the first ever pizzeria in Pisa, and it has been baking pies for the last hundred years or so, along with focaccias and cecina. Varied toppings for the pizza sold by weight, there's interesting off-the-menu choices and a small corner selling homemade desserts, with an intimate inside dining area.
Kambusa (Massarosa)
Gennaro Battiloro serves authentic and traditional Neapolitan style pizza in his pizzeria. Doughs made with organic and stone milled flours, rise for 30 hours, and the select ingredients quality for toppings is attentive. Modern decor, dynamic service and a splendid view of Lake Massaciuccoli complete the setting.
TIPS EXTRACTED FROM GUIDA PASTICCERIE & PASTICCERI 2016
Gambalunga (Viareggio)
Located in a central street of the historic center, Gambalunga offers traditional Tuscan desserts, well baked oven products, bite sized pastries and assorted cakes. The breakfast service is efficient, with delightful espressos and cappuccinos. Holiday specialties and other oven products are of great interest.
Gherardi (Massarosa)
Shortcrust pastry, bignès and other bakery goods are the house specialty. Owners Alessandra Gherardi and Massimiliano Bettazzi focus on traditional Tuscan baked goods as well as more creative features like scendilettoand bastoni del nonno. We like the savory products baked here too.
Lemmi (Cascina)
An original locale structured like a miniature hamlet, with an open kitchen and small rooms each one dedicated to a specific product. The sweet bakery offer is elegantly displayed with delicious cakes, biscotti and puddings. During winter the chocolatier staff produces artisanal bars and pralines.
Pasticceria Angelo (Forte dei Marmi)
Despite being from the center of town, clients flock here for the quality confections. Angelo Baldini masters the art of pastry and cake making with beautiful displays of it in his windows: Delicious biscotti, crostate fruit tarts, bite-sized pastries and single portion cakes.
Pasticceria Vannucci (Pietrasanta)
Ex-sculptor Massimo Vannucci channelled his creative force in a bakery, where some of his creations are displayed. Classic cakes are made with prime quality ingredients in his own kitchen. Fine bakery goods and pastries, Neapolitan style sfogliatelle and cakes filled with ricotta. The bar counter is equally as efficient.
Patalani (Viareggio)
The setting at Roberto Patalani's bakery is retro and cozy. Presentation is attentive, with fine displays of bite-sized pastries in personalized ramekins, tartlets, bignès and cakes of all kinds. Among the house specials ate French butter and natural starter croissants, krapfen and macarons. The bar corner is equally as efficient.
Sandra & l'angolo dolce (Lucca)
Modern and functional, this place now occupies what was once the family bakery with Sandra Bianchi at the helm. Classic and creative cakes made in the onsite kitchen and displayed on the shelves. Abundance of traditional Tuscan cakes and bite-sized pastries, and also savory baked goods, both classic and made with whole grain flour. Homemade rusks and typical holiday sweets.
TIPS EXTRACTED FROM GUIDA BAR D'ITALIA 2016
Bar Pietrasantese (Pietrasanta)
Located in piazza Duomo, the bar is more known for its aperitivo than its coffee, which are nonetheless prepared well. Various choices as far as cocktails, rare distilled liquors like gin hailing from Abbazia di Vallombrosa, and unique liqueurs like Persichetto. The savory snacks paired with the aperitivo are worthy of mention.
Bar Sirena (Lido di Camaiore)
Tasty breakfasts, quality lunch break meals, abundant aperitivo and opulent after dinner hours at Bar Sirena in Camaiore. Pairing the aromatic espressos and foamy cappuccinos are flaky artisanal croissants which are baked in the kitchen in back. Nice choice of beverages and a glass-enclosed veranda overlooking the sea.
Caffè Giardino (Forte dei Marmi)
This bar boasting sophisticated decor, with modern and elegant design is frequented by Forte dei Marmi locals. The offer spans from early breakfast to after dinner drinks. Croissants, cappuccinos, modern pastries, and savory snacks. Mid week are dinners with regional products.
Caffè Principe (Forte dei Marmi)
The grand terrace overlooking the town's most busy street is the meeting place of Forte dei Marmi regulars and tourists. Excellent coffees and cappuccinos, plus classic gelatos. Gorgeous tea room for a relaxing afternoon break.
Cremeria Opera (Lucca)
PSelect number of quality flavors created by Mirko Tognetti, ex-truck driver turned gelato maker. In addition to the fancifully named gelatos are also smoothies, juices, salads and other vegan-friendly options. For lunch the vegetable soup changes daily in addition to savory crêpes salate made on the spot. Great espresso coffee.
Cuore Bistrot (Lucca)
Prime quality ingredients and cosy setting for this bakery that also cooks menus for lunch and dinner. Quality cheese and cured meats, careful selection of wines, some rare labels too, plus vegan and vegetarian meals. Outdoor seating in summer.
Galliano (Viareggio)
Historic bar located on the classic Viareggio passeggiata route. In the Fifties they were known for their whimsical gelato flavors, nowadays the offer skews more on high level pastry baking, fruit granitas, classic Tuscan rice puddings, and of course gelato. Good coffee beverages and savory snacks which are good for lunch too, served in one of the two outdoor patios.
Planet Cafè (Lucca)
Quality snacks outside the city walls. Fine bakery goods, excellent coffee beverages made with 100% arabica and creamy cappuccini. There's an entire corner devoted to panini and stuffed focaccias, the lunch offer includes creative dishes. The enoteca wine bar boasts labels from all over Italy and various Champagnes of different price points.
Memorie - Bottega e caffè (Pietrasanta)
Bar inspired by the old Thirties' shops, the bar occupies what used to be an old textile and furnishing store. It offers traditional bakery goods and high level artisanal confections prepared in a nearby kitchen, plus juices and jams, specialty teas and sodas. Nice croissants and sweet rolls, perfect espressos and cappuccinos. Good savory options and beers brewed at local Birrificio del Forte.
Taddeucci (Lucca)
This historic venue furnished with 1800s pieces offers puddings, desserts, pastries and cakes in addition to coffees and cappuccinos. Fine classic preparations, croissants and single portion cakes. Artisanal jams and organic honey and well stocked beverages from the region.
Tambellini (Lucca)
Elegant setting with a slight retro feel in this popular breakfast hangout. The homemade cakes and savory offer grace the menu along with cured meats and cheeses made in local farms. The wine cellar is stocked with regional bottles. Nice choice of fruit juices and nice lunch and dinner options made in the on-site kitchen. Three Cups on Guida Bar d'Italia 2016.
Addresses
A casa mia | Ghezzano, fraz. di Pisa | via prov. Vicarese Calcesana, 10 | tel. 050 879265 |www.ristoranteacasamia.it
Apogeo Giovannini | Pietrasanta | via Pisanica, 136 | tel. 0584 793394 |www.pizzeriaapogeo.it
Bar Pietrasantese | Pietrasanta | piazza Duomo, 29 | tel. 0584 70147
Bar Sirena | Lido di Camaiore | v.le Europa, 149 | tel. 0584619793 |www.caffesirena.it
Bistrot | Forte dei Marmi | v.le A. Franceschi, 14 | tel. 0584 89879 |www.bistrotforte.it
Buonamico | Viareggio | via Sant'Andrea, 27 | tel. 0584 943266 |www.trattoriabuonamico.com
Butterfly | Capannori, loc. Marlia | s.s. 12 dell'Abetone e del Brennero, 192 | tel. 0583307573 |www.ristorantebutterfly.it
Caffè Giardino | Forte dei Marmi | via Stagi Stagi, 44 | tel. 0584 89318
Caffè Principe | Forte dei Marmi | Via G. Carducci, 2 | tel. 0584 89238
Cremeria Opera | Lucca | via Gaetano Luporini, 951 | tel. 0583 180 9707 |www.cremeriaopera.it
Cuore Bistrot | Lucca | via del Battistero, 6 | tel. 0583 493196 |www.ilcuorelucca.com
Dante e Ivana | Tirrenia | viale del Tirreno, 207 | tel. 050 32549 |www.danteeivana.com
Da Rizieri | Viareggio | via Cesare Battisti, 35/37 | tel. 0584 962053
Filippo | Pietrasanta | via Stagio Stagi, 2 | tel. 0584 70010 |www.filippolondon.it
Galliano | Viareggio | viale Guglielmo Marconi, 127 | tel. 0584 50015 |www.bargalliano.it
Gambalunga | Viareggio | via Sant'Andrea, 34 | tel. 0584 962116 |www.gambalunga.it
Gherardi | Massarosa | via di Montramito, 23 | tel. 0584 178 1798
Il Circo | Pietrasanta | vicolo S. Biagio, 28 | tel. 0584 70436 |www.ristoranteilcirco.it
Il Pachino | Viareggio | Via Vittorio Veneto, 46 | tel. 0584 961063 |www.pizzeriapachino.it
Il Merlo | Camaiore | via Provinciale, 45 | tel. 0584 989069 |www.ilmerlocamaiore.it
Il piccolo principe - Grand Hotel Principe di Piemonte | Viareggio | piazza Puccini 1 | tel. 0584 401 8622 |www.ristoranteilpiccoloprincipe.it
Kambusa | Massarosa | Via della Torbiera 38 | tel. 0584 631832
La Brilla | Camaiore, loc. Lombrici | via Nuova 825 | tel. 0584 984657
La Buca | Pisa | via Massimo D'Azeglio, 6 | tel. 050 24130 |www.labucapisa.it
La Magnolia - Hotel Byron | Forte dei Marmi | v.le Amm. Morin, 46 | tel. 0584 787052 |www.hotelbyron.net
Lemmi | Cascina | Corso Matteotti Giacomo, 30 | tel. 050 701527 | www.pasticcerialemmi.it
L'imbuto | Lucca | via della Fratta, 36 | tel. 329 084 3180 |www.limbuto.it
Locanda Vigna Ilaria | Lucca | via per Pieve Santo Stefano, 967/c | tel. 0583 332091 |www.locandavignailaria.it
Lorenzo | Forte dei Marmi | via G. Carducci, 61 | tel .0584 89671 |www.ristorantelorenzo.com
Lunasia - Green Park Resort | Tirrenia, loc. Calambrone | via dei Tulipani 1 | tel. 050 3135711 |www.greenparkresort.com
Lux Lucis - Hotel Principe | Forte dei Marmi | v.le Amm. Morin, 67 | tel. 0584 783636 |www.principefortedeimarmi.com
Memorie - Bottega e caffè | Pietrasanta | via XX Settembre, 10 | tel. 0584 792511
Nanni | Camaiore, fraz. Capezzano Pianore | via Bocchette, 1 | tel. 0584 45250 |www.trattoriananni.it
Pasticceria Angelo | Forte dei Marmi | via Provinciale, 218 | tel. 0584 787841
Pasticceria Vannucci | Pietrasanta | via Aurelia, 173, | tel. 0584 790457
Pesce Baracca | Forte dei Marmi | via Achille Franceschi, 2 | tel. 0584 1716337 |www.pescebaracca.it
Planet Cafè | Lucca | viale S. Concordio, 231 | tel. 0583 584233 |www.planetcafe.eu
Punto Officina del Gusto | Lucca | Via Anfiteatro, 43 | tel. 0583 058490 | www.puntoofficinadelgusto.com
Puntino | Lucca | via Anfiteatro 37 | tel. 0583 058490
Romano | Viareggio | via G. Mazzini, 120 | tel. 0584 31382 |www.romanoristorante.it
Sandra & l'angolo dolce | Lucca | via Borgo Giannotti, 391 | tel. 0583 342462 |www.pasticceriasandrabianchi.com
Satura | Lucca | via Nazario Sauro, 513 | tel. 39054348182
Serendipico | Capannori | via della Chiesa Di Gragnano, 36 | tel. 0583 975026
Taddeucci | Lucca | piazza San Michele, 34 | tel. 0583 494933 |www.buccellatotaddeucci.com
Tambellini | Lucca | Via di Sant'Alessio 1403 | tel. 0583 342077
Vipore | Lucca | via della Pieve Santo Stefano, 4469 | tel. 0583 394065 |www.vipore.it
by Francesca Fiore
translated by Eleonora Baldwin
Minor lakes of Italy, a mini-guide on where to eat around Lake Bolsena
Minor lakes of Italy, a mini-guide on where to eat in the Mantua lake district