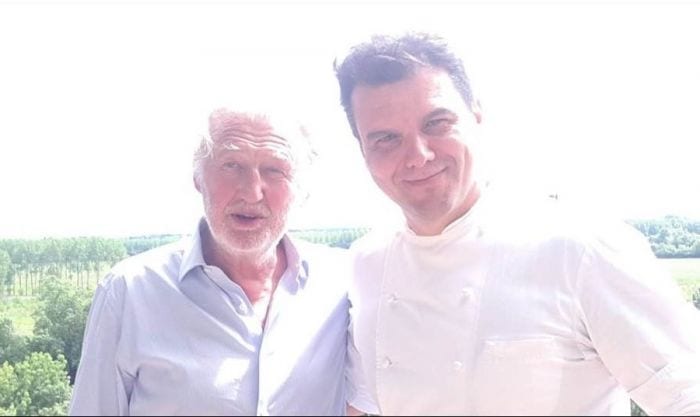 Pierre Gagnaire has been one of his first teachers. After receiving many special awrds, Garfagnini is back in Paris, together with Gagnaire, to open a new original Italian restaurant.
He was born 44 years ago in Carrara, but before he left the city, he won his first Michelin star for his cooking at Ninan in 2000. Today Marco Garfagnini has found a second home in France where he is a respected chef, soon to be starring in a new ambitious project. Meanwhile, many awards have come his way, the latest at the beginning of 2017. During the presentation ceremony of the most recent Michelin guide, the Tuscan chef was recognized for his work at the restaurant of the luxurious Chateau de Noirieux in Briollay, in the Loire valley. His victory is a source of pride to all Italians, especially his success in the home of haute cuisine. The latest news still comes from France, although Garfagnini has always openly expressed his desire to return to Italy one day. He has joined forces with one of his first mentors, Pierre Gagnaire.
Garfagnini met the French master chef in 1992, just a couple of years after completing his degree in hotel work in the school at Massa. Now, before the end of this year, a new project will find him in a kitchen that will showcase his Tuscan and Italian roots. "Marco comes from a different culture than mine, a universe that I love, but haven't had a way to explore fully," said Gagnaire. "But besides his origins, he has surprising savoir faire." Marco's strong points are his spontaneity and his sincerity, according to the partners' declarations. The first hints indicate that a creative Italian table will be inaugurated during the month of October in Paris. Two options for location are being considered, the seventh or the eighth arrondissement. It's still not clear whether Marco will have to pass the torch at Briollay. The new Parisian place, according to Pierre Gagnaire, promises its clients "enthusiasm, creativity, kindness and sincerity." Paris will welcome another talented Italian.