Do you know where some exotic fruits on our dining tables like mango and avocado come from? From tropical areas such as Central and South America or Southeast Asia, you might say. They almost always travel by sea, harvested early and let to ripen in the cargo holds, while some are transported by air. The latter are harvested at the perfect point of ripeness, then a few hours trip to arrive in gourmet food stores and some quality-conscious supermarkets at twice the price compared to their ocean-crossing counterparts. But the flavor is unmatched: tastier, sweeter, juicier. Not everyone knows that mangos, avocados, pitayas and other exotic fruits sometimes come from neighboring Spain, especially from the Costa del Sol and the Malaga area. Located in the extreme south of the Iberian Peninsula, the city enjoys a subtropical Mediterranean climate, with 245 sunny days per year and an average temperature of 18°C (64°F). Exotic fruit and other Spanish agri-food products took center stage at the H&T, Salón de Innovación en Hostelería, which was held in Malaga from February 7 to 9 at FYCMA, Palacio de Feries y Congresos de Malaga. The trade show was designed and organized to present the latest from Spanish and international companies in the HORECA channel, the tourism sector and gastronomy.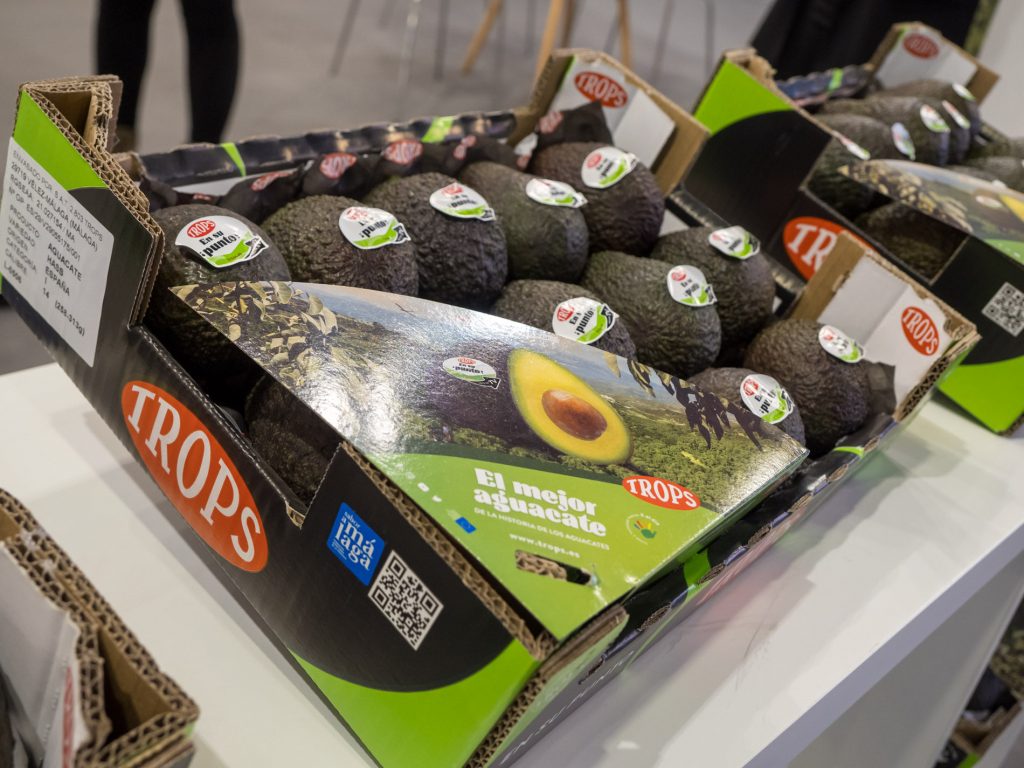 Malaga's trade show among booths, educational spaces and conferences
More than 250 companies and sector organizations, almost 100 agri-food producers, a hundred sector experts, 26 chefs and Michelin stars, 16 sommeliers, oenologists and wine professionals attended the Malaga event, this year recording 30% more visitors and a business increase. The booths represented everything that revolves around hospitality and catering, from large rotating rack ovens to ham holders, from large professional kitchens to 5-star hotel amenities set. There were also spaces dedicated to haute cuisine's innovation and trends, presentation of imported wines, pairing techniques, bartender's secrets in a dedicated classroom, learning pills about the latest gastronomic trends, exhibition areas focused on the Spanish provinces. Besides, the Innovation Forum was a space for debate and dialogue to take stock of the sector challenges in the coming years. Because the Malaga Salón H&T was also an opportunity to discuss the hot topics in the tourism and hospitality sector during the recovery after COVID-19, towards a sustainable revolution among economic needs, mass tourism, transition, ecological and environmental impact.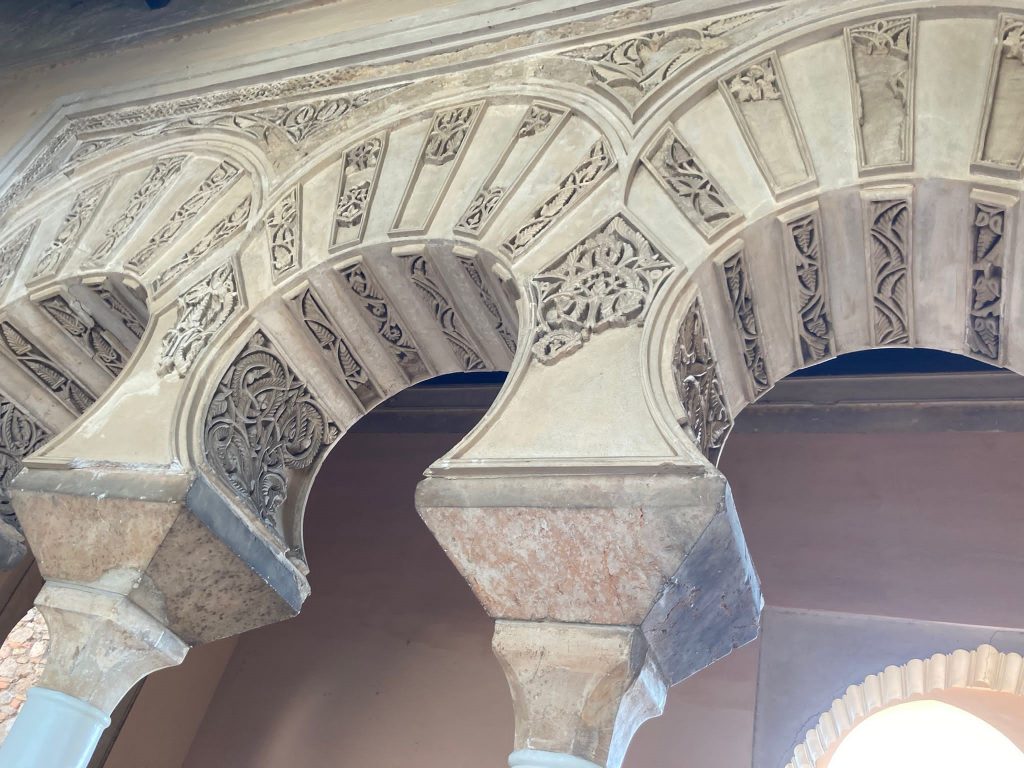 Agribusiness in Malaga and Andalusia: tropical fruits
Agribusiness is one of the mainstays of the Malaga province, alongside the tourism and technology sector. The Andalusian city is located on the world-famous Costa del Sol, Spain's most important vacation destination, home to the Andalusia Technology Park: 2,000,000 square meters dedicated to innovation, 20,000 of which are shared with the University of Malaga. Exotic fruits, as we were saying, is one of the flagships of Malaga and its territory. Their production is carried out by large companies specializing mainly in avocados and mangos, concentrated in the Vélez-Málaga area, such as Trops, Sigfrido Fruit, Frutas Montosa, Tropical Millenium, Reyes Gutiérrez, as well as smaller, eco-friendly companies under a closed-loop system. Located in the Axarquia countryside near Vélez-Málaga, Sabor a Mango is a single-product company dedicated entirely to mangos, which are offered both fresh and processed into excellent jam and cream liqueur. The farm Giallo Royal, instead, is a member of the Surya network, an association of Spanish biodynamic producers, that cultivates exotic fruits using permaculture: avocado and mango but also kumquat, passion fruit, lychee, yuzu, lime, grapefruit, pitaya, Buddha's hand, citrus caviar. Dekúm - Derivados de Kumquat in Vélez de Benaudalla, on the Tropical Coast of Granada, produces kumquats in syrup to make chutney for flavoring salad, enriching a dessert or a gourmet skewer.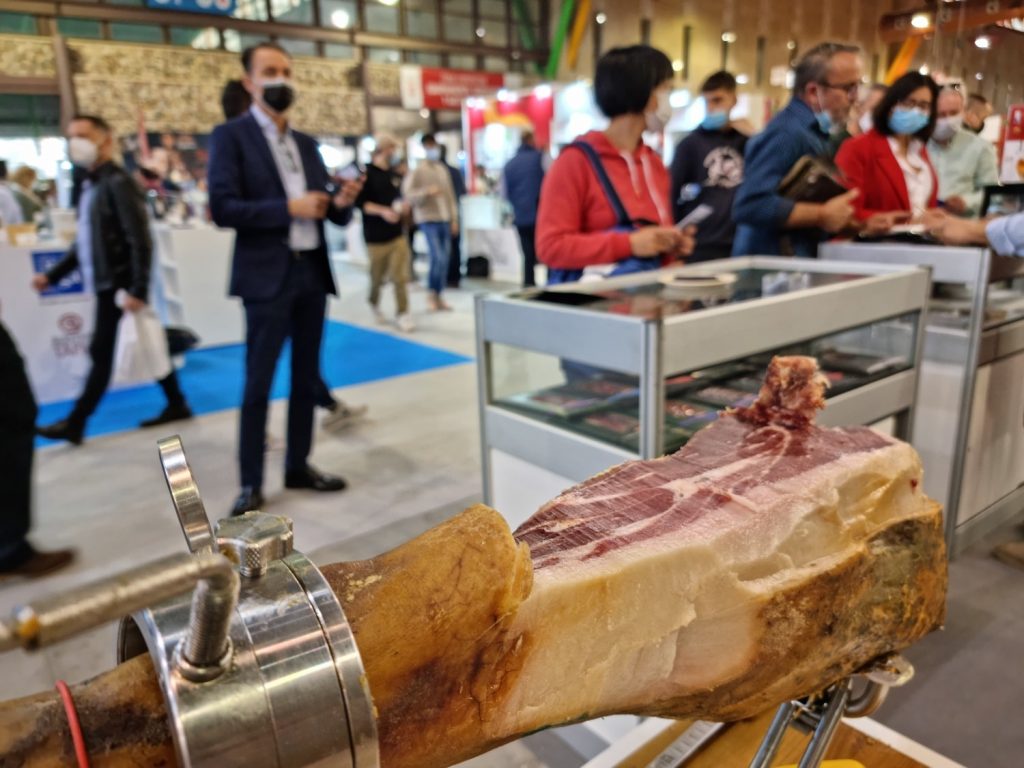 Jamon Iberico
When you think of Spain, cured ham comes immediately to mind, hand cut to perfection by Iberian cortadores. At the 2022 H&T, Spain's beloved cured meat was well represented by a small army of companies producing jamon and paletas (shoulder) from both blonde and black pigs. Quesada Carpio Jamones of Caniles (Granada) showcased a wide range of cured hams from the Gran Reserva Gold of chestnut-fed Duroc Jersey pigs aged 18 months, to the selection of Chato Murciano, an old native Spanish rustic breed with black coat, originally from the Murcia area, a limited edition production aged over 36 months. Also worth trying are the Gran Reserve and Gran Selección of Jamones Muñoz from Yegen (Granada), at the foot of the Sierra Nevada – don't miss the Gran Selección of Chato Murciano, naturally aged 24 and 30 months. Or the raw meat of COVAP in Pozoblanco (Cordoba), which produces Los Pedroches PDO, one of Spain's four protected designations of origin that control the production of national ham. Here the jamones (but also paletas) are made from 75% Iberian pigs, offered in different Expresión, that give rise to the Esenciaúnica selection, where the pigs are free to graze on pasture and are fed on acorns from thousand-year-old holm oaks. La Prudencia in Villacastín (Segovia) specializes in different jamon and paleta lines (but also loin, sausages and chorizo), depending on the type of breeding and feeding of pigs: de bellota (from Iberian pigs that have been grazing during the montanera season, the fattening period from October to March with feeding exclusively on grasses and acorns) and de cebo de campo (natural pasture), with long aging from 24 to 48 months.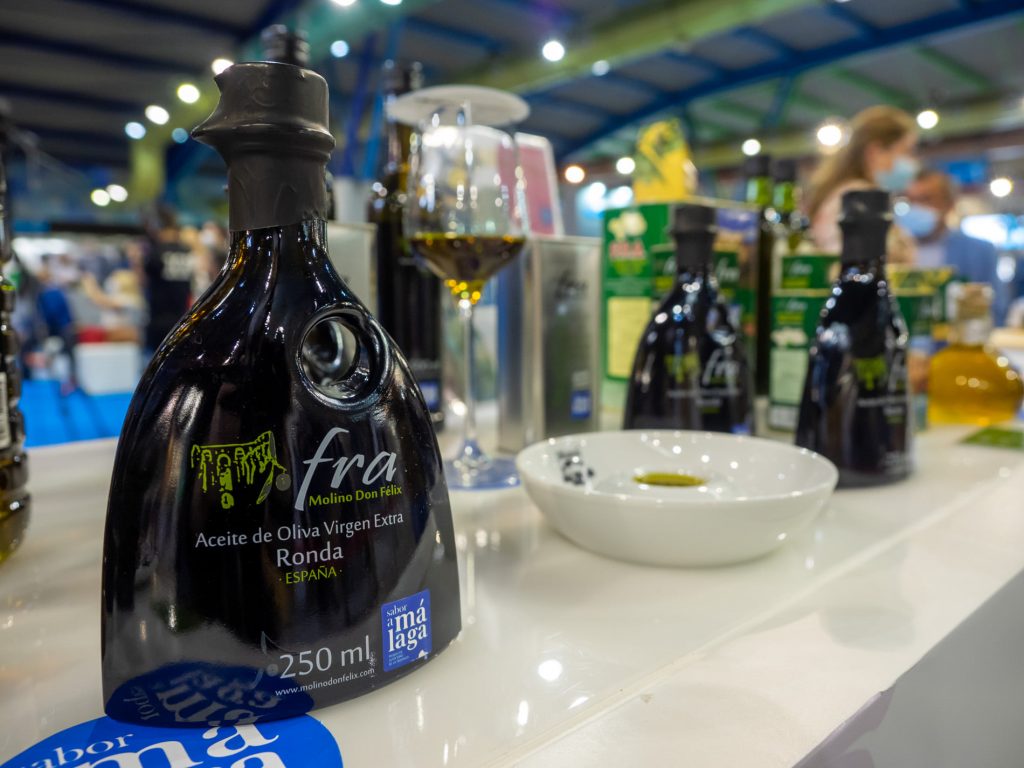 The green gold and goat cheeses
Another Andalusia mainstay is extra virgin olive oil. Solid companies attended the Salón of Malaga: Finca Rosa Alta of Archidon (Malaga) which produces a particularly fresh and clean green gold from olives harvested in September at the beginning of veraison, and Herriza de lo Lobilla of Osuna (Seville) that offers different types of extra virgin olive oil, characterized by different aromatic profiles depending on the harvest time. And then goat's milk cheeses of great character, especially the raw milk and the closed-loop productions. Here, too, Malaga holds its own with the products of Quesos el Pinsapo in La Huertecilla (Malaga) – don't miss the queso Madurado and the Gran Reserva – and, above all, with those of Santa Maria del Cerro in Villanueva de la Concepción, which offers a lactic goat cheese with mold rind aged in charcoal: a real culinary experience.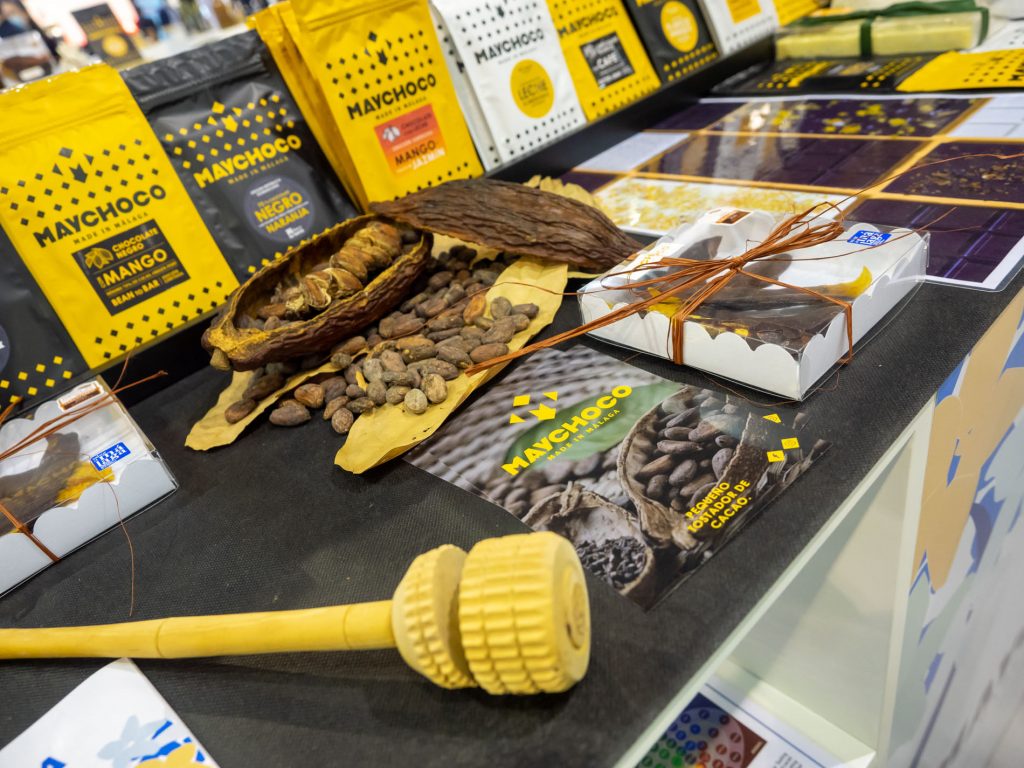 New trends: an award-winning chocolate maker and a kombucha champion
Her name is Mayte Sánchez and she's a bean-to-bar chocolate artisan. She opened her workshop Maychoco in 2019 and, in less than two years, her dark chocolate-covered mango won gold at the International Chocolate Awards, the world's top competition for quality chocolate. A passion for good food that comes from her DNA (she honed her cooking skills in the kitchen of her parents' restaurant), and the two years of training (courses with local pastry chefs and at the International Institute of Chocolate & Cacao Tasting). Then the choice to craft her products using cacao beans from the best areas and the best plantations worldwide. And here it is, the very blonde Mayte and her black gold creations: bars, chocolates and covered fruit made according to certain criteria: craftsmanship, link with the territory (part of the ingredients are sourced from local companies, such as mangos, extra virgin olive oil, almonds, the Flor de Sal sea salt from Cadiz) and the ethical approach (the cocoa is sourced from ethical and sustainable plantations). Another interesting discovery is Víver Kombucha from Granada. The fermented tea drink with probiotic properties is made through the fermentation of just 4 simple ingredients: tea, water, sugar and scoby (natural probiotics). The range includes 4 fresh, lively and funny flavors: lemon & spirulina, pineapple & mint, strawberry & hibiscus, and the very fresh and fragrant turmeric & ginger.
Tropical fruits
Sabor a Mango
Puerto de la Torre, Malaga
Avda. Lope de Rueda, 65
+34 648 037 338 - +34 620 40 59 47
saboramango.com
Giallo Royal
Torre del Mar, Malaga
Calle Los Prados, 2 (3-6)
+34 609 543 474
gialloroyal.com
Dekúm - Derivados de Kumquat
Vélez de Benaudalla, Granada
C/ Hoya de la Mora s/n. Polígono 5, Parcela 42
+34 666 517 592
dekum.es
Jamon
Quesada Carpio Jamones
Caniles, Granada
Ctra A-334 Baza-Caniles (km 8,3)
+34 958 710 829 - +34 610 212 504
jamonesquesadacarpio.com
Jamones Muñoz
Yegen, Granada
Calvario, 2
+34 958 85 10 35
jamonesmunoz.es
COVAP. S. Coop. And. Ganadera del Valle de los Pedroches
Pozoblanco, Cordoba
Av. Marcos Redondo, 2 (8)
+34 957 77 38 76 - +34 957 77 38 88
covap.es
La Prudencia
Villacastín, Segovia
Cita. Madrid - La Coruña
+34 921 198030
laprudencia.com
Extra virgin olive oil
Finca Rosa Alta
Archidon, Malaga
Cortijo de Rosa Alta
+34 607 50 50 57
fincarosaalta.com
Herriza de lo Lobilla
Osuna, Siviglia
C/ Carraca Europea, 23
+34 854 56 13 13 - +34 607 81 66 14
lalobilla.es
Cheeses
Quesos el Pinsapo
Malaga
Calle Limitación 14, Polígono Industrial La Huertecilla
+34 952 179 311
quesoselpinsapo.com
Quesos Santa María del Cerro
Villanueva de la Concepción, Malaga
Santa Maria del Cerro, Barriada el Cerro
+34 626 96 25 71
quesossantamariadelcerro.com
Beverages
Maychoco
Vélez-Málaga
Campo de la Iglesia, 12
+34 600452553
www.maychoco.es
Víver Kombucha
Atarfe, Granada
Peral, 8
+34 958 99 38 21 - +34 601413366
viverkombucha.com
Where to eat in Malaga and the suburbs
Nerva, Malaga
Cristo de la Epidemia, 55
+34 952 26 79 49
Coffee shop, tapas bar and restaurant that offers traditional and homemade dishes from local products.
Asador Puerta de Málaga
Casabermeja
Calle Paseo Puerto de la Horca, 25
+ 34 952 758 554 - +34 651 914 707
asadorpuertademalaga.es
Steakhouse and restaurant offering a traditional cuisine, best known for its grilled meats. 25 minutes from Malaga.
Sarmiento
Casares, Malaga
Crta. de Casares (km 12,5)
+34 952 89 50 35
restaurantesarmiento.com
In the Sierra de Ronda, less than an hour from Malaga, try the 'Andalusia meat grill' and the cocktails, while enjoying the wonderful view of the white village of Casares.
La Sociedad
Canillas de Aceituno, Malaga
Calle de la Iglesia, 12
+34 952 51 82 92
Vegan restaurant with a wide variety of dishes, open kitchen, and an interesting wine selection.
Seafood restaurants
Parador Playa
Benalmádena Costa, Malaga
Ctra. Cádiz (km 131)
+34 951 264 931
Next to the Hotel Playa Bonita, less than half an hour from Malaga, a glass restaurant and beach bar with outdoor seating offering Mediterranean cuisine on the Parador beach.
La Milla Marbella
Marbella-Malaga
Urbanización Los Verdiales
+34 952 00 90 80
lamillamarbella.com
Restaurant bar on the beach in Marbella. Modern Mediterranean cuisine.
El Saladero
Caleta de Velez
Calle Real, 70
+34 670 59 05 63
Restaurant by the sea that proposes fresh fish and shellfish dishes.
Antonio Moreno
Playa de la Araña
+34 657 94 50 92
Mediterranean cuisine restaurant on Playa de la Araña. Fried and grilled fish, seafood, soups, paella, as well as grilled meat.
Tapas and bistros
La Revuelta
Malaga
Av. Pío Baroja, 20
+34 951 38 76 11
Restaurant specializing in tapas. Lots of fish and shellfish, but also meats and vegetables with touches of spices.
Taberna Uvedoble
Malaga
Calle Alcazabilla, 1
+34 951 24 84 78
uvedobletaberna.com
Small tavern in the center of Malaga specializing in fish and meat tapas.
Primitivo
Malaga
Av. Salvador Allende, 21, local 15A
+34 951 45 32 02
Small brasserie restaurant with sidewalk dining. Mediterranean and Spanish cuisine.
Lígula
Malaga
Calle Shanti Andía, 9
+34 951 485 128
ligula.restaurant
Traditional cuisine restaurant next to the Palacio de Congresos. Regional and seasonal dishes with a modern twist.
Where to buy in Malaga
D·OLIVA Marbella Aceites de Oliva Premium
Marbella, Malaga
Nueva, 9
+34 952 76 67 44
dolivaonline.com
Physical and online store specializing in evo oil and by-products, gourmet food, natural cosmetics and wines produced in Spain.
Panadería Pastelería Salvador
Benajarafe-Malaga
Carretera de Almería, 150
+34 952 51 30 78
panaderiasalvador.es
Bread, cakes, baked goods and pastries at Panadería Pastelería Salvador, Benajarafe (Málaga)
Maychoco
Vélez-Málaga
Campo de la Iglesia, 12
+34 600452553
www.maychoco.es
Bean-to-bar chocolate workshop and store: bars, pralines, covered fruit.
Places to visit in Malaga
Atarazanas Central Market
Malaga
Atarazanas, 10
+34 951 92 60 10
Historic covered market built at the end of the 19th century, where once stood the fourteenth-century Muslim shipyards. Lively and charming, it is the largest market in the city center, with more than 250 stores, including grocery stores, coffee bars and outdoor kiosks, where you can eat tapas and local specialties. Since 1979 is part of the Spanish Cultural Heritage. Open in the mornings from Monday to Saturday.
Honey Museum
Colmenar-Malaga
Calle Pósito, 1
+34 952 71 80 30
museodelamiel.com
Center dedicated to beekeeping with a large collection of objects used throughout history to raise bees.
Interactive Museum of Music
Malaga
Calle Beatas, 15
musicaenaccion.com
The MIMMA is located in the Palacio del Conde de las Navas, an 18th-century building in the historic center of Malaga. It houses an extensive collection of musical instruments from all over the world and of all ages. Almost 1,000 pieces, 400 of which make up the permanent exhibition.
Alcazaba
Muslim fortress palace near the ancient Roman theater, at the foot of Mount Gibralfaro. It recalls a small Alhambra of Granada and the Alcázar of Seville, a Moorish wonder made of decorated rooms and pavilions, horseshoe arches, stucco arabesques, courtyards, terraces, gardens, fountains and water features.
Roman Theatre
At the foot of the Alcazaba hill, this theater dates back to the first century AD. Today it is used for open-air performances.
Gibralfaro Castle
Located on the hill of the same name, the 14th-century Moorish fortress is connected to the Alcazaba by a long wall. From the terrace you can enjoy a stunning view of the city and the port of Malaga.
Malaga Cathedral
It is Malaga's main religious and Andalusia's most important Renaissance building.
by Mara Nocilla