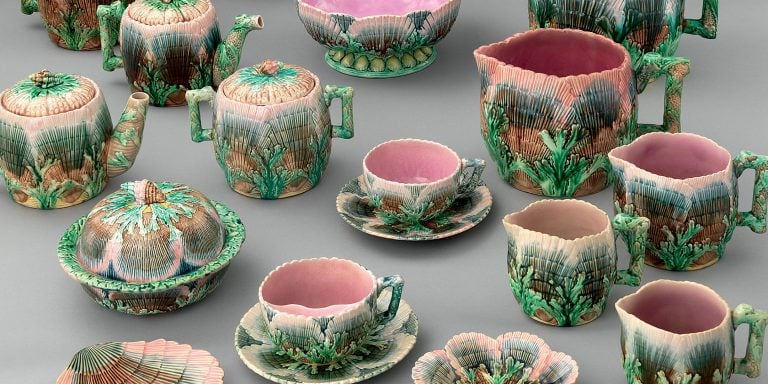 From floral teapots to oyster plates: the Bard Graduate Center in New York presents an exhibition on the history and art of polychrome glazed pottery.
Majolica Mania, majolica on display in New York
Mainly produced in Spain, with Majorca leading the way as the most active production centre, but it was Victorian England that made it famous. We are talking about majolica, the tin-glazed pottery known and appreciated all over the world, now the protagonist of an exhibition in New York at the Bard Graduate Center, Bard College's research institute and gallery. Majolica Mania is a unique collection of pieces dating from 1850 to 1951, when majolica enjoyed its heyday following the Great Exhibition in London in 1851. This growth was primarily linked to the Mintons, the leading ceramic factor in England that created one of the most famous pieces ever: a seven-foot-tall jardiniere.
Victorian-era majolica
An original exhibition to retrace the history of ceramics and the table as well: majolica was in fact widely used in the kitchen to make plates, bowls, tureens and cups. First incorporating elements of the natural world – in response to Darwin's 1859 release of 'On the Origin of Species' – then influenced by Asian motifs. The lead-based glazes originally used in majolica factories allowed for brighter colours to be fired all at once, lowering the cost of production, thus infusing Victorian interiors with these fine, shiny and richly decorated ceramics, which added extra colour to the room. "From its beginnings, Minton majolica was seen as a British triumph of art applied to industry," explains Susan Weber, founder and director of the Bard Graduate Center and curator of the exhibition now on view through January. "And, what's more, these new ceramics were accessible to large swaths of the public. Bold, experimental, eccentric, and gloriously colourful, the ware appealed to a cross-section of classes and budgets, and by the end of the 19th century, could be found in all types of homes – from those of the royal family to the rapidly growing middle class."
19th century teapots and output
This success continued throughout the second half of the nineteenth century, with large-scale production in Great Britain and the United States. The output ranged from ceramics with simple and childlike decorations for the everyday, such as sunflower-emblazoned teapots or matchboxes shaped like a fly, to showstoppers such as Minton's jardiniere made for the 1855 Exposition Universelle in Paris, "decorated with a fantastical mash-up of Renaissance revival forms and painted grotesque ornament," says research curator Laura Microulis. "And this is the first time it's being shown in the U.S.". In 1883, its popularity was so vast that historian Llewellynn Jewitt recorded a manufacturer producing 26,000 teapots per week! And to think that by the mid-20th century garish painted ceramic cups and jugs were considered a bit too kitsch…
Majolica today
As is often the case, these items are gradually making a comeback more than a century later. Perhaps this might be also due to a renewed ecological consciousness, which drives many people to buy second-hand goods or to shop at the flea market, such as antiques – including ceramics – that now give a pleasant vintage touch to modern homes. "Majolica pieces add a sparkle and splash of colour on the walls," says designer Frank de Biasi, who hung a harlequin set of deep spearmint green majolica plates in his living room, suggesting those who have little space, but still want to display their best pieces, to do the same. Interior designer Asia Beker Stokes also affirms "the painterly look of the glazes and wonderful variety of shapes and colours can add so much to a wall or a coffee table". Her obsession? "Oyster plates and dishes with carved crabs and lobsters."
Majolica Mania – New York City – Bard Graduate Center – until January 2022 –  exhibitions.bgc.bard.edu/majolicamania/
by Michela Becchi