Sunday sweet meal endings in Italy
In Rome they're called pastarelle, technically they are mignon pasties, but in any case we are talking about the Sunday dessert par excellence, a tray full of small delights to share with friends and relatives at the end of the meal. With a vintage look and taste, traditional desserts in Italy are varied, from fragrant biscuits to enjoy with a fine espresso or dipped in a glass of sweet wine, to simple cakes sprinkled with icing sugar and boasting homemade flavour. The perfect completion for that timeless tradition: Sunday lunch, a ritual now dated but which, albeit less frequently, still a habit of many Italians. Here are the most significant typical desserts, true musts during family reunions.
Sunday desserts, region by region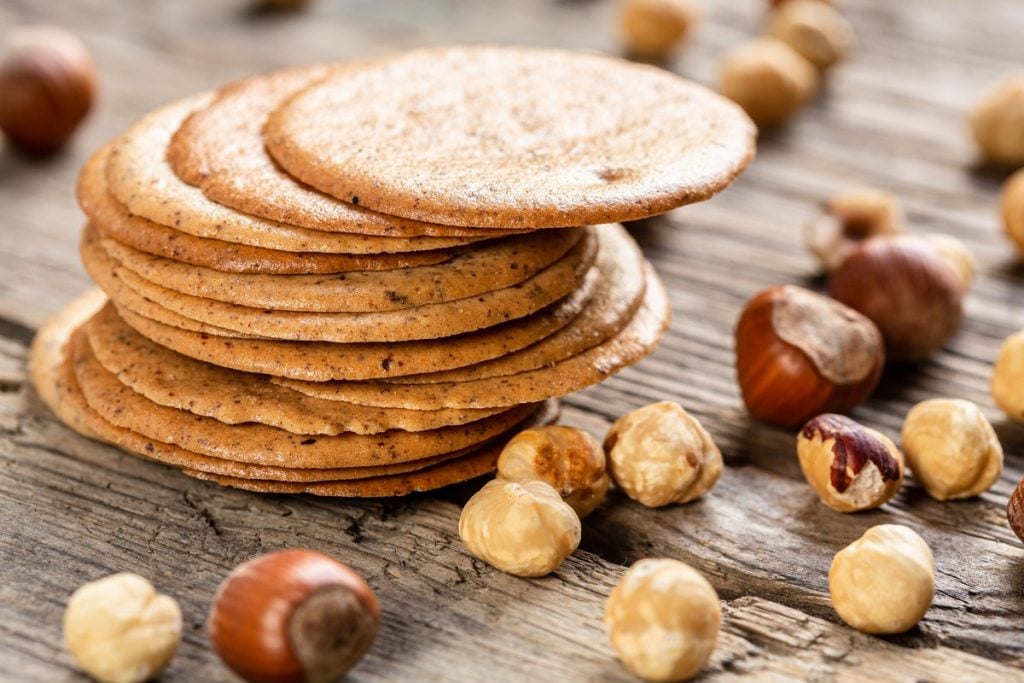 Tegole – Valle d'Aosta
Perfect with a cup of coffee or tea, tegole ("tiles") are the most popular desserts of the Valle d'Aosta region: their history is linked to the Boch family, pastry chefs for generations who, returning from Normandy in the 1930s, created these delights. In the beginning, the cookies had a wavy shape after baking, a characteristic that led to the creation of the name, but today they are almost always flat. They are prepared with 00 flour, sugar, white almonds, hazelnuts, butter and egg whites.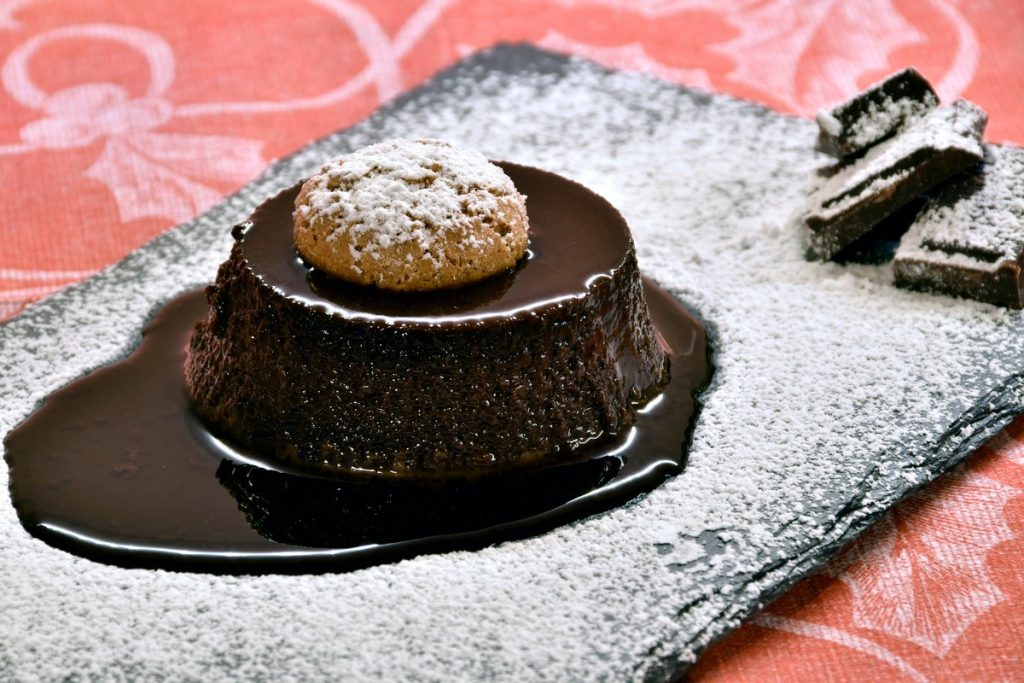 Bonèt – Piemonte
Piemontese pastry art is sumptuous and refined, but nothing better than bonèt represents the perfect conclusion of a meal: the primordial version of this pudding was prepared in the Langhe and Monferrato already in the Middle Ages as a final course of the most sumptuous banquets. Milk, eggs, crumbled amaretti cookies and sugar were the main ingredients at that time: it was only in the 18th century that bonèt began to be made with chocolate, becoming the delicious dessert we all know. The name derives from the rounded hat that recalls the shape of the mould in which it was prepared, called bonèt ed cusin, or "kitchen hat."
Torta sacripantina – Liguria
A soft sponge cake alternating with layers of plain and chocolate pastry cream, dome-shaped and covered with crumbs of dough, a bit like Mimosa. A retro-flavoured cake, scented with liqueurs and generously filled. It's an ancient recipe probably born in the 19th century and dedicated to the Circassian king Sacripante, who fell in love with the beautiful Angelica in Ariosto's Orlando Furioso. A dessert with a long and elaborate preparation that, precisely for this reason it's a must on birthdays and special occasions.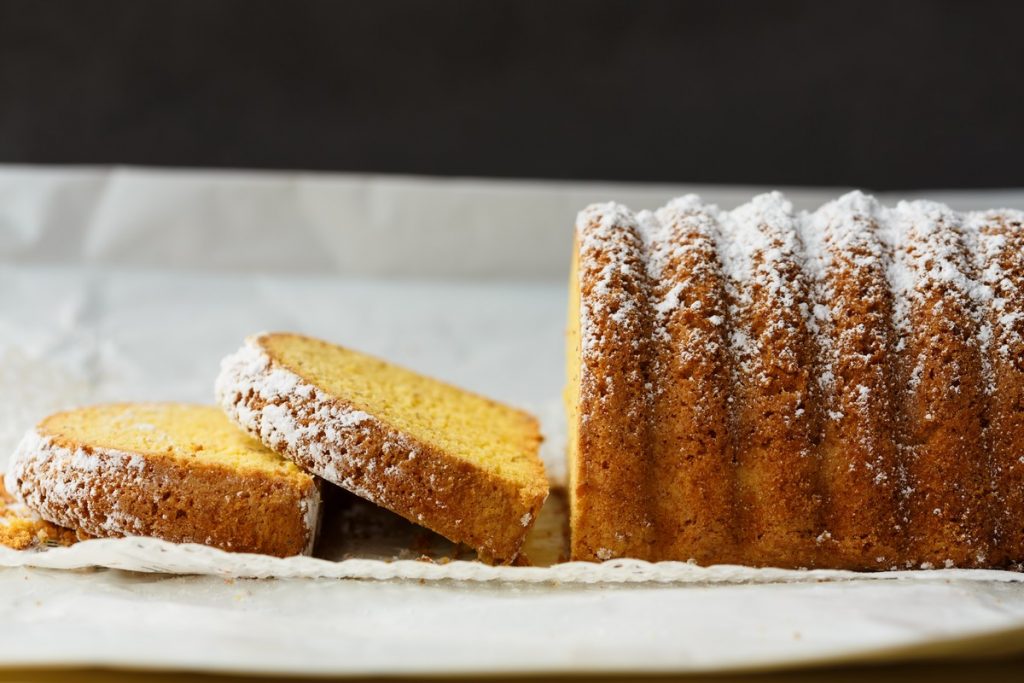 Amor polenta – Lombardy
It is difficult to single out one Lombard dessert for Sunday lunch: there is the tasty sbrisolona of Mantua, the soft Donzinetti cake from Bergamo and, also from Mantua, the inimitable Margherita cake, a very simple lemon-scented specialty that never goes out of style. This time, however, we decided to focus on another soft cake, the amor polenta, a Varese dessert with an elongated shape characterised by grooves on the surface. The colour is amber thanks to the presence of corn flour in the dough, an intuition of the historic pastry chef from Varese Carlo Zamberletti, who decided to create a product with typical local ingredients. Curiosity: it seems that in the 1960s the cake was very popular among prominent personalities, particularly appreciated by the soprano Renata Tebaldi.
Macafame – Veneto
There are many versions of apple cake in Italy and around the world. In Veneto the traditional recipe is macafame, a peasant dessert of humble origins, made with stale bread, typical of Vicenza cuisine. The leftover bread is soaked in milk and then enriched with nuts, sugar and apples: a soft and substantial cake, perfect for "killing hunger". As in the best regional traditions, each family has its own recipe, which sometimes includes the addition of dried figs, honey or liqueurs.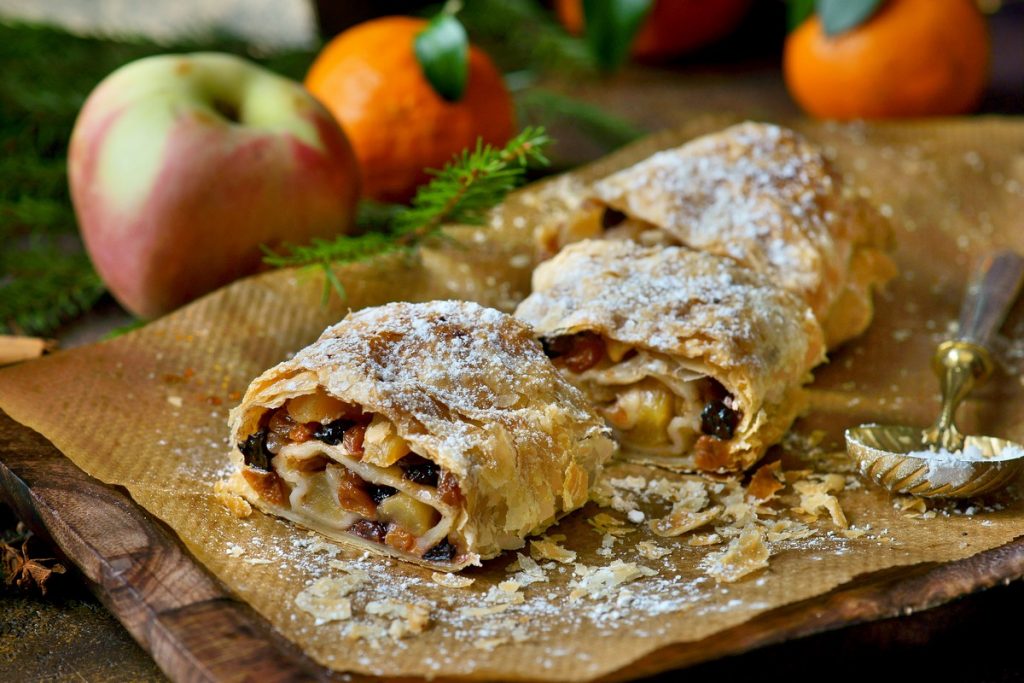 Apple strudel – Trentino Alto Adige
The pastry art of Trentino Alto Adige is rich and delicious, but it is the apple strudel that reigns supreme in traditional cuisine, a thin dough casing that contains a juicy filling, to be served with tufts of fresh whipped cream or pastry cream. For the filling, Golden Delicious apples from Val di Non or Renette, raisins (softened in rum), pine nuts, cinnamon, sugar and lemon are used, to which breadcrumbs can also be added.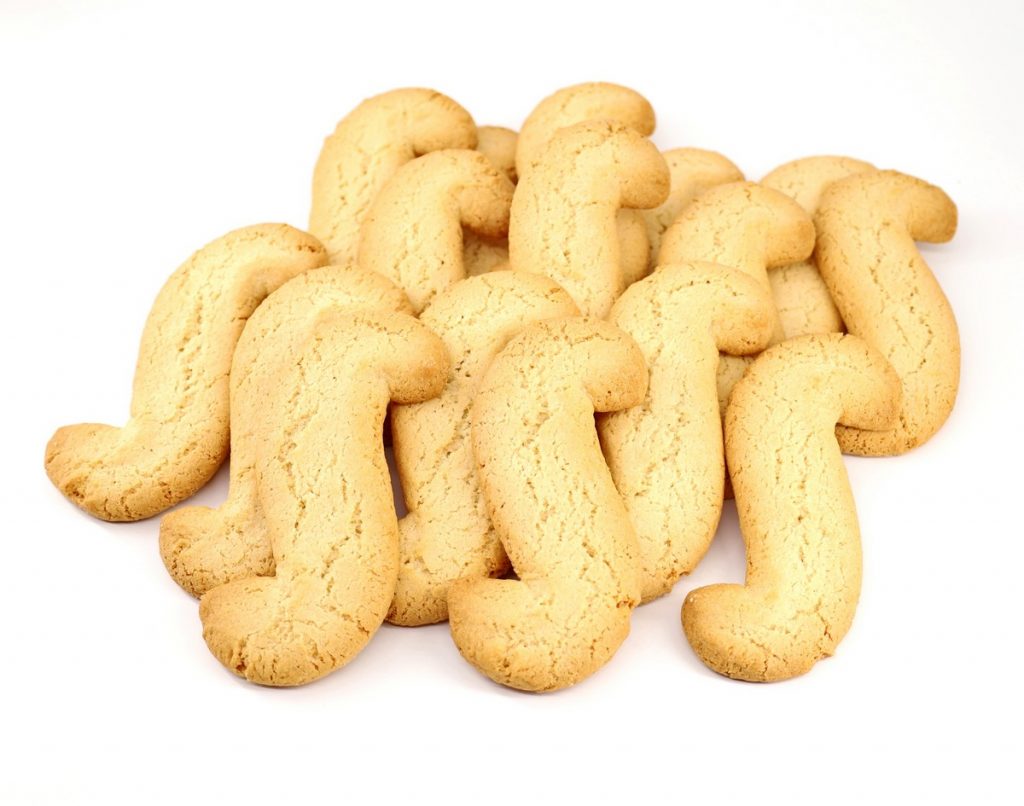 Esse di Raveo – Friuli-Venezia Giulia
These have become famous as "Pope John Paul II's cookies", because it is said that once he tasted those brought as a gift by a girl, he fell in love with them to the point of periodically ordering a pack. What is certain is that the Esse di Raveo, a small village at the foot of the Carnic Prealps, was invented by the local pastry chef Emilio Bonanni in 1930. A simple dessert that had an incredible success, so much so that it immediately became one of the traditional specialties of the area. Not only that: in the 1970s the laboratory created a production room entirely dedicated to the preparation of Esse! They are simple to make: all you need is flour, butter, eggs, yeast, vanilla and a pinch of salt.
Torta di riso – Emilia-Romagna
Commonly known as rice cake, even if the official name is torta degli addobbi: in any case, we are talking about the most famous dessert of the Bologna tradition, born as a typical dish of Addobbi, the periodic parish feasts in conjunction with the celebrations of Corpus Domini, in which it was customary to display coloured drapes in the windows. The recipe was deposited in 2005 at the Bologna Chamber of Commerce, but obviously each family has its own version. In any case, it is a soft pudding made with rice cooked in milk, almonds, liqueur and lemon.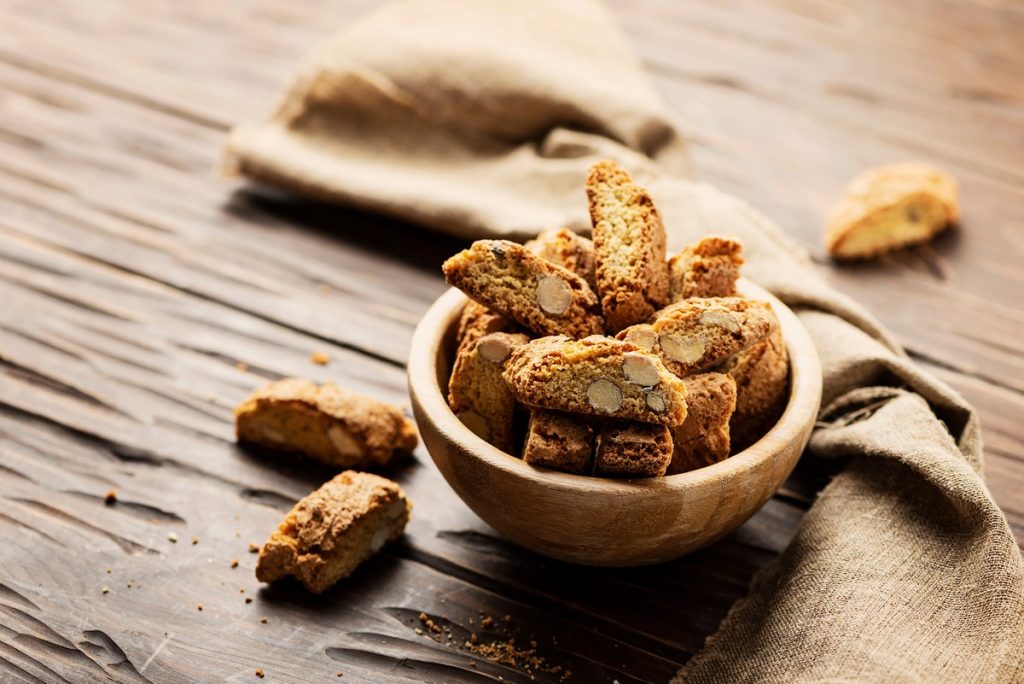 Cantucci – Tuscany
Good at any time but sublime at the end of a meal dipped in vin santo: there is nothing better than cantucci to round off Sunday lunch on a high note. The Accademia della Crusca is the first to provide a technical definition at the end of the 17th century: a "sliced ​​biscuit, made of fine flour, with sugar and egg whites", which has long since become one of the symbols of Made in Italy. But what is the difference between cantucci and biscotti  di Prato? Although they are very similar products, the biscotti di Prato are made with a simpler recipe, with flour, sugar, eggs, almonds and pine nuts, which does not include the addition of yeast or flavourings; while cantucci are slightly more elaborate sweets. Both, however, are best enjoyed dipped in vin santo. A similar version but made with hazelnuts and lard is usually also found in Umbria and Lazio called tozzetti.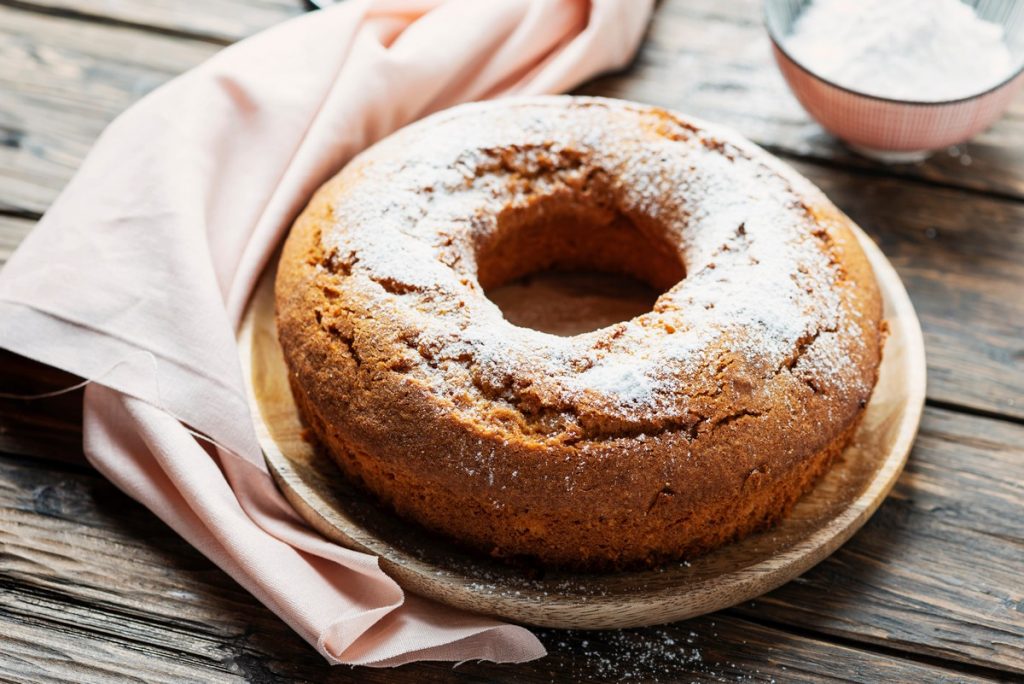 Ciambellone – Marche
It is the Italian dessert par excellence, highly appreciated at breakfast but often served at the end of a meal: this donut shaped pound cake is one of those passepartout products that never go out of fashion. A humble dessert typical of the peasant tradition, in the past it was also called "cake of the crowds" because it was the most popular during family lunches. A simple and quick preparation that can satisfy with little effort: it is prepared all over Italy but with the Marche region ciambellone has a particular bond. In this region there is also a crisp rustic version, known as ciambellotto, a kind of shortcrust pastry rolled and stuffed with jam or chocolate and covered with sugar grains.
Rocciata – Umbria
Also common in the Marche region, rocciata is one of the sweet symbols of Umbria, so called because of its twisted "rocky" shape. According to some, it could be a close relative of strudel: it seems that the Lombards greatly influenced local traditions during the Middle Ages, leaving an imprint even in the kitchen. The origins, however, are uncertain: surely, it is a delicious dessert made with a thin dough of flour, water, olive oil and salt, filled with apples, nuts, cinnamon and cacao, rolled on itself and closed in spiral. The main feature is the final brushing of alchermes liqueur, which gives a touch of pink to the dessert.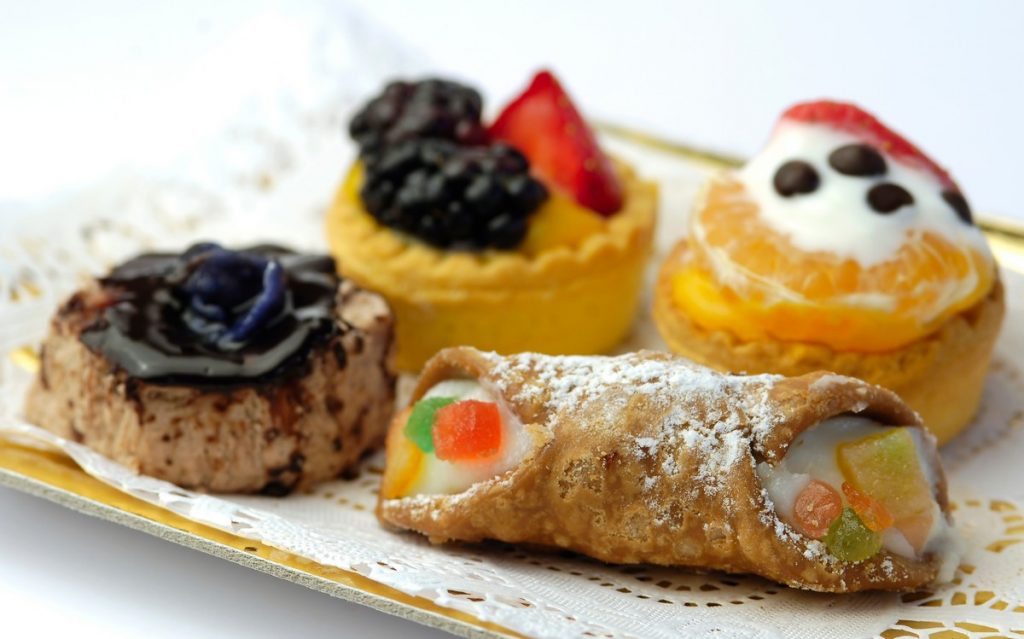 Pastarelle – Lazio
The tray of pastarelle, mignon, or "guantiera" in Neapolitan dialect: this is the typical image of Sunday lunch, the most vintage and traditionalist there is. A golden cardboard tray filled with various sweets, from puff pastry cannoli with cream and diplomats, the tray comes wrapped and packaged with ribbon, a gift that's always appreciated by the hosts. In Rome, the tray of pastarelle is a must, one from which everyone can pick their favourite pastry. The diplomat is a must; or the most mistreated of the mignons which however is always present: a puff pastry pie, sponge cake soaked in alchermes and pastry cream, the most retro of pastarelle. And then the lobster tail, similar to the Campania sfogliatelle but more elongated and filled with chantilly or chocolate cream, without forgetting the cream puffs - which in Rome are topped with pink, black or hazelnut-coloured icing according to taste, or are sprinkled with sugar granules if filled with whipped cream - plus tartlets with cream and fruit.
Pizza dolce – Abruzzo
In dialect pizza dogge, this is a baroque-looking cake made up of several layers of sponge cake dipped in alchermes and other liqueurs, layered with classic and chocolate pastry cream, all covered with a white icing made of egg whites decorated with coloured sprinkles. It is the holiday cake par excellence, a dessert that brings the whole family together around the table, in the past ubiquitous even during weddings.
Torta alla Tintilia – Molise
Dominating the Molise vineyards is Tintilia, an ancient black grape variety, rustic and able to withstand the cold well, which usually yields intense and full-bodied wines, with spicy scents and notes of red fruit. The pride of regional viticulture, it is no coincidence that this wine is the protagonist of a traditional cake, characterised by its dark colour and the alluring aroma also given by the addition of chocolate. An ancient dessert, usually prepared in the shape of a donut, made with flour, butter, eggs, sugar and wine, covered with melted chocolate.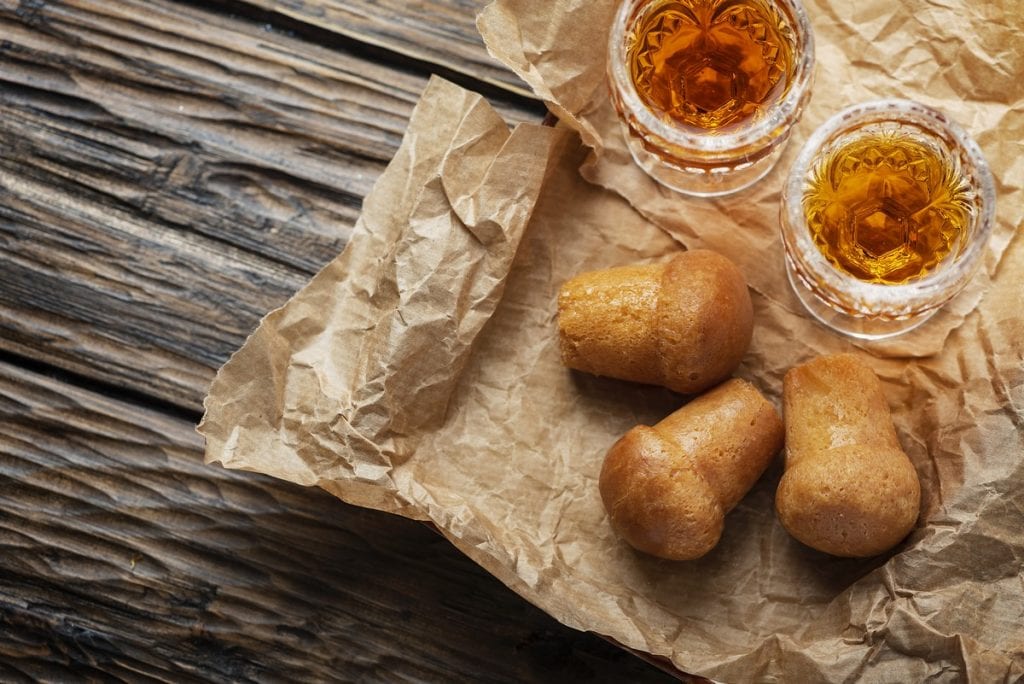 Babà – Campania
In Naples, just like in Rome, the tray of Sunday pastries cannot be overlooked. Here, however, there is another typical dessert to take the lion's share, the babà, king of Campania pastry that has its origins in Luneville, Lorraine: this is where the long journey of this specialty begins, invented by Polish king Stanislaw Leszczyński in exile in the French region. The king considered the kugelhopf (a traditional Alsatian cake) to be too dry, so he decided to wet it with a rum syrup to prolong its softness, later modifying the recipe and adding three leavening phases. Thus he gave birth to an ancestor of the babà, which he called Ali Babà in honour of the protagonist of "The One Thousand and One Nights", a dessert then landed in Versailles thanks to his daughter Maria, wife of the French king Louis XV, who moved there together with her pastry chef Nicolas Stohrer, who used Jamaican rum for the first time. In Paris, the babà takes on its current form with a swollen dome and finally arrives in Naples thanks to Marie Antoinette, wife of Louis XVI and sister of Maria Caroline of Austria, married to the King of Naples Ferdinand IV of Bourbon.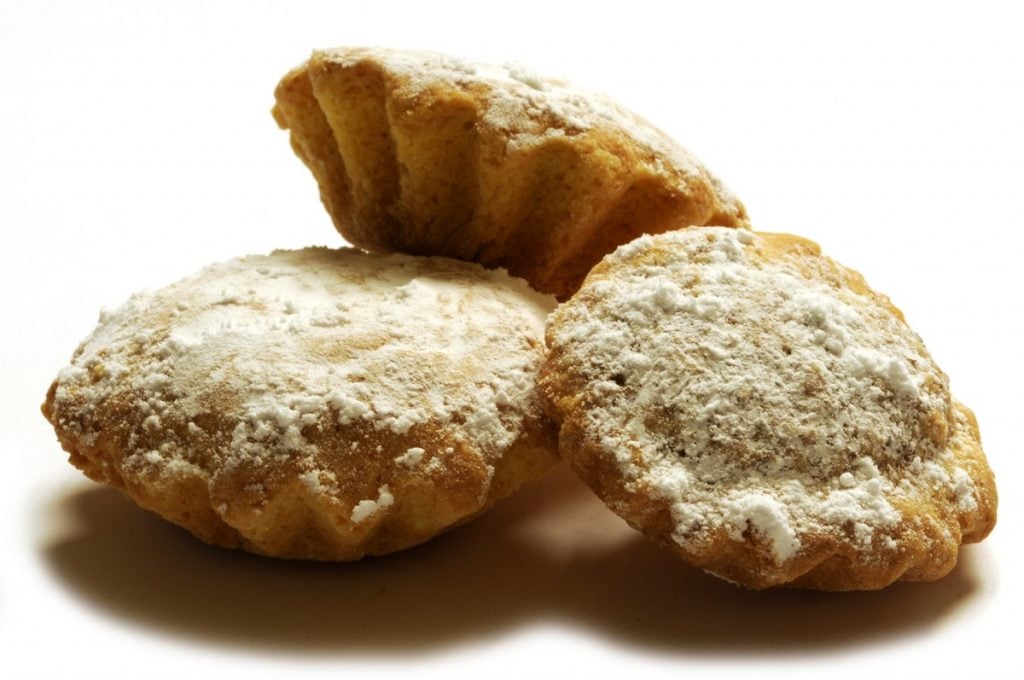 Bocconotti – Puglia
Also present in Abruzzo, bocconotti are shortcrust pastry shells filled with different ingredients depending on the production area. In Puglia they are said to have been born in the Murgia hinterland: the name indicates in fact the small size suitable to be eaten in a single bite, and therefore perfect to be transported by farmers while working in the fields. Generally this pastry is stuffed with ricotta and jam or chocolate. Then there is the traditional Bitonto version of the Benedictine nuns which only includes ricotta with a little sugar.
Scorzette – Basilicata
Originating from Bernalda and Marconia, two towns in the province of Matera, scorzette are designed to accompany coffee or bitters at the end of a meal. The name derives from the dialect scorz 'd' arvl, which means "tree bark", which indicates the arched shape of the sweets and the colour given by the almonds. On one side, they are covered with dark chocolate even though they are often also found in a plain version. To record the recipe for the first time was pastry chef Vincenzo Spinelli in 1977: the preparation includes egg whites, almonds, sugar and dark chocolate.
Mostaccioli – Calabria
Mostaccioli are pastries common to all of Central and Southern Italy, generally prepared for the Christmas holidays. In Calabria, however, the recipe is very different: they are hard and compact loaves, with a rustic look and taste, prepared for any special occasion, whether it is a wedding, a birthday, a village party or a simple lunch in the family. The main flavouring is honey, used in abundance together with flour, eggs and yeast: few ingredients for a simple and homemade dessert.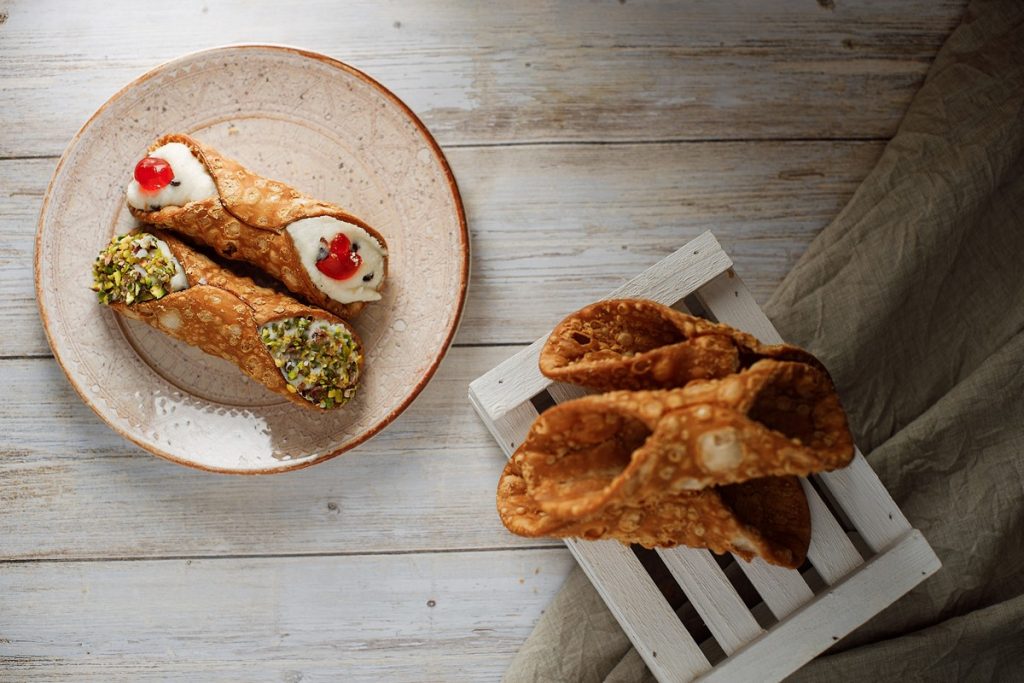 Cannoli – Sicily
Impossible to mention all the Sicilian sweet preparations: for Sunday lunch, among cassata and almond pastries there is plenty of choice, but the absolute protagonists are cannoli. A dessert that has made the history of the island's gastronomy and around which various legends revolve: the most widespread theory about its origin belongs to the nuns of the convent of Caltanissetta, who seem to be the original authors of the recipe. Another hypothesis claims that the women of the harems of the emirs during the Arab domination in Sicily created the dessert: the name Caltanissetta derives from Kalt El Nissa, or Castle of the Women, precisely because of the many harems present in the territory at the time. It is said that one day the woman of an emir created the cannoli as a phallic symbol to represent the sexual gifts of the man, as well as a wish for fertility.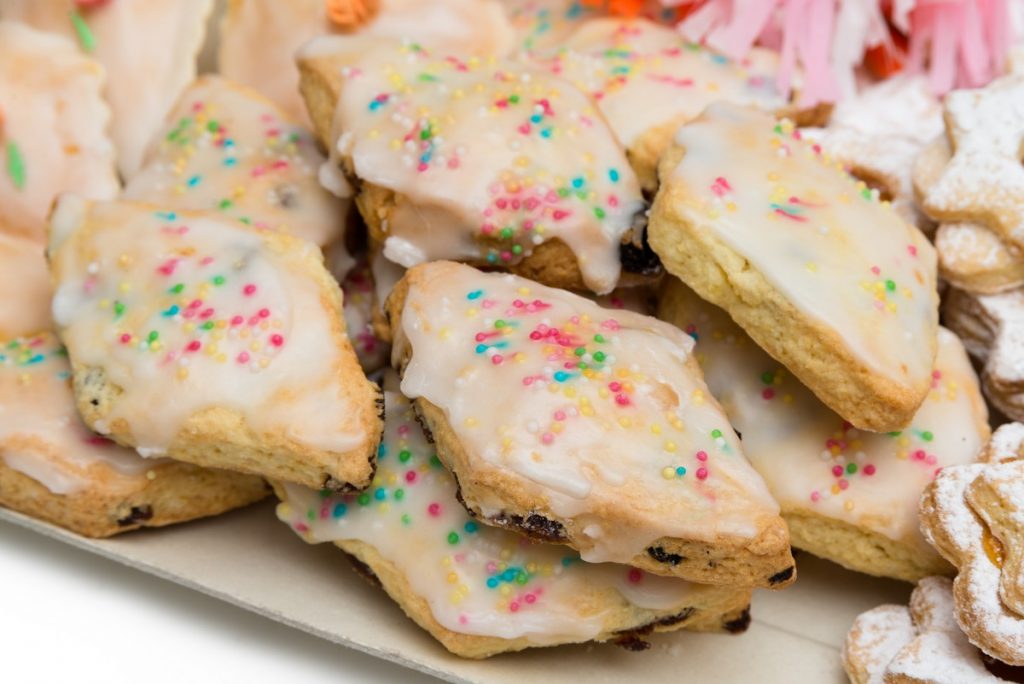 Pabassinas – Sardinia
Originally born to honour the feast of All Saints, pabassinas have long been eaten year round and are a must during a family lunch. These are shortcrust biscuits decorated with icing and enriched with raisins (pabassa in Sardinian language). Depending on the area, they are enriched with different ingredients such as sapa (concentrated grape syrup), cinnamon or aniseed liqueur. In any case, flour, almonds, walnuts, raisins, sugar, yeast, butter or lard, eggs, lemon and orange zest, and a pinch of salt are fundamental.
Piemontese bonèt recipe
Ingredients
1 l milk
8 eggs
80 g dark cacao powder, sifted
100 g amaretti
180 g sugar
2 Tbsp. rum
For the caramel
2 heaped Tbsp. of sugar
Put the sugar for the caramel in a saucepan, add a tablespoon of water and cook slowly until it turns brown. Pour it very hot on the bottom and on the sides of a pudding mould moving quickly so as to coat it with a thin layer of caramelised sugar. Break the whole eggs into a bowl, add the sugar and beat with an electric whisk to obtain a puffy and light-coloured mixture. Add the finely crumbled amaretti cookies, the cacao, the rum and the milk. Mix carefully, then pour the mixture into the caramelised mould, place it in a hot bain-marie (double boiler) and bake in a preheated oven at 180°C for about 45 minutes. Let it cool completely before turning it over on a plate.
by Michela Becchi