The Easter meals offer release from the somber religious rituals of the previous Lenten period and solemn Holy Week events.
In some southern Italian homes Easter celebrations––after morning Mass, of course––may begin with the head of the family, or the eldest member of the group (usually a nonna), blessing the table, foods and invited guests with an olive twig (saved on Palm Sunday) dipped in holy water (collected earlier in church) splashing everyone with a prayer, and a word of hope.
In Alpine regions, Easter Sunday cannot be complete without boiled calf's tongue served with horseradish. In Sardinia, peasant tradition maintains spit-roasting a whole piglet for the entire family. Not to mention the Easter Monday celebrations, Pasquetta– or little Easter – when Italians take off and enjoy a day of meditation and rest, gathering for a scampagnata, or day trip to the countryside.
The Italian Easter and Pasquetta food fests follow a typical menu. Here are some of Italy's most common and traditional Easter dishes.
Easter antipasto
In Rome, the classic Easter meal always starts with a special kind of salami called corallina, this is paired to slices of golden and savoury cheese bread called "crescia" (typical of all central Italian regions), enjoyed with hard boiled eggs, that have been ritually painted together on Good Friday. Another Rome must during Easter season is making seasonal vignarola, a flavourful medley of spring vegetables and legumes like fava beans, peas and artichokes, sautéed together with bits of crisp guanciale.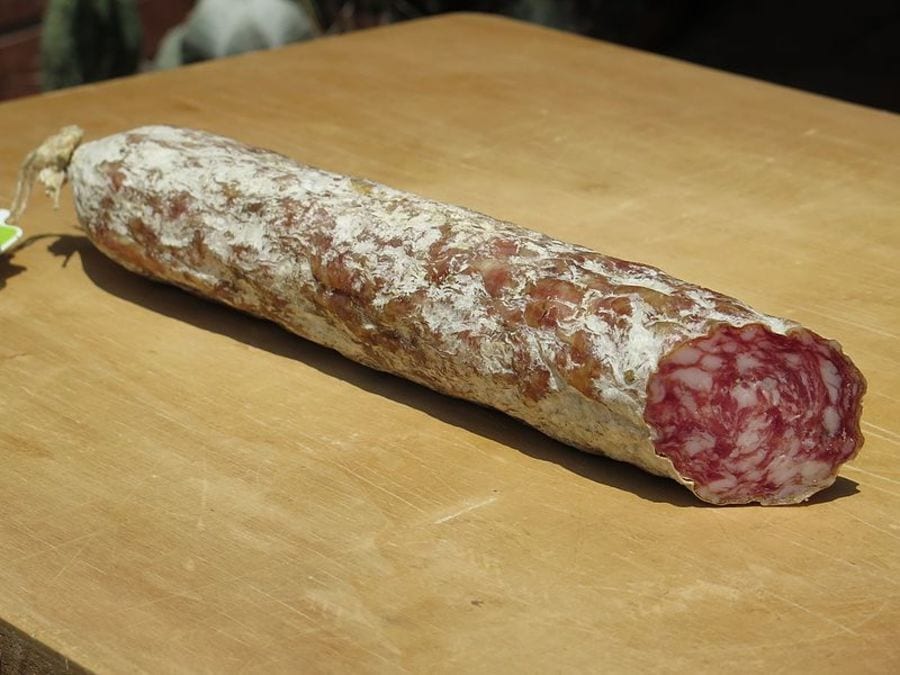 Corallina
Holiday bread
In Campania, the region of which Naples is capital, casatiello is the mandatory Easter specialty: a rustic ring-shaped bread made with lard and an assortment of pork cracklings, salami, pancetta and provolone cheese – and which differs from the similar tortano only in the symbolic addition of eggs that cook whole in their shells nestled within the dough. In the Valle d'Aosta Alpine region, crescia   valdostana   bread is baked without milk and becomes super fluffy thanks to the addition of beaten egg whites.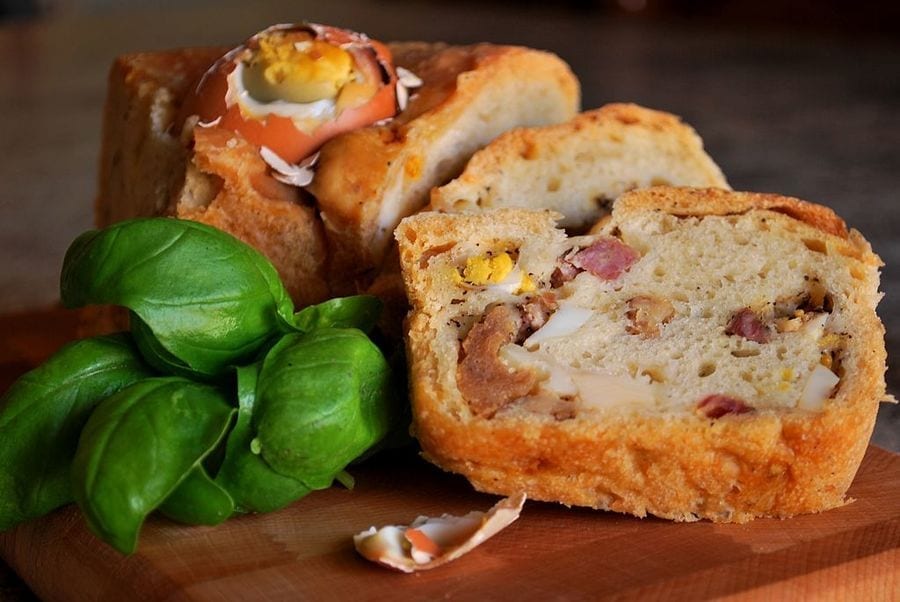 Casatiello
In Liguria, however, torta pasqualina is a rustic pie made with a shell of flaky dough concealing ricotta, eggsand finely chopped chard or spinach.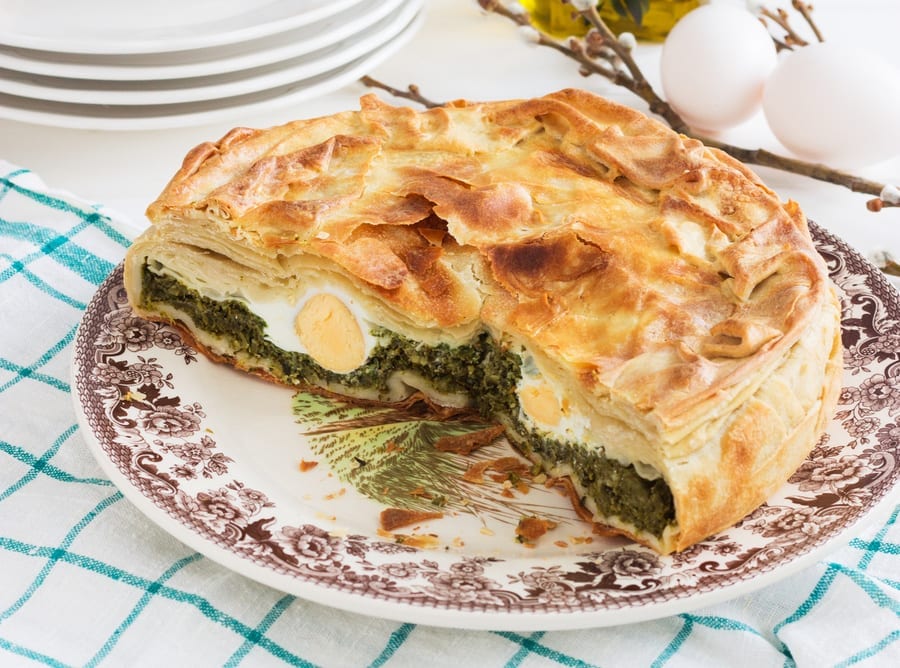 Torta pasqualina
Pasta and rice
Easter pasta tradition is overall gargantuan and involves lasagna, especially in the Emilia-Romagna region where the dish is made with green spinach-rich pasta sheets. In the south of Italy lasagna becomes a complex layering of hard-boiled eggs, rich tomato sauce, ricotta, pork meatballs or crumbled sausage, between sheets of homemade pasta. Other areas of Italy make different pasta dishes at Easter time: in Piemonte, for example, it's meat-filled ravioli del plin, while in Sardinia it's the gorgeous culurgiones dumplings filled with potatoes and cheese. But for Easter lunch Italians also eat rice. In the Veneto, spring risotto is cooked with asparagus, wild herbs or bruscandoli (wild hops), or even with baby artichokes typical of the northern Venetian lagoon called castraure. What is brought to the tables of Puglia and Basilicata is a tiella casserole of rice, potatoes and mussels, in which the ingredients come together in a heady a mix of surf and turf.
Entrées
The southern Italian Easter entrée usually includes some kind of roasted ovine meat, either agnello (spring lamb) or capretto (suckling goat) duly accompanied by roasted potatoes and other side dishes, which may include seasonal delights, or savory torte rustiche (savoury vegetable pies), braised artichokes and a delightful specialty of Puglia, fave e cicoria (boiled chicory and fava bean purée).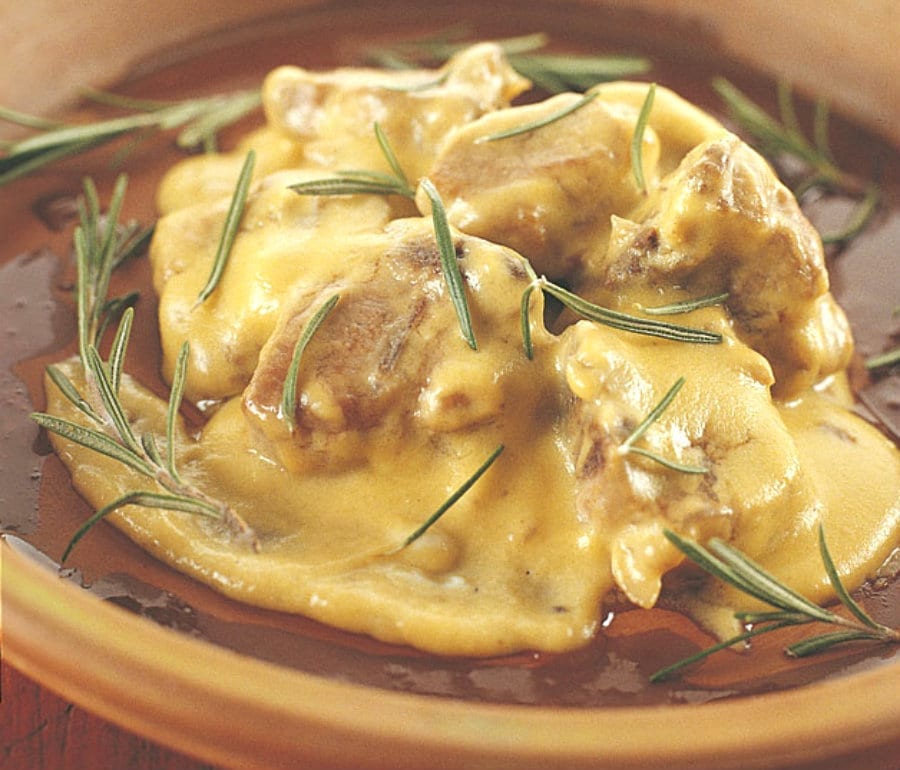 Agnello cacio e ova
In the Valle d'Aosta, lamb is slow cooked and braised in wine; in the Marche goat meat morsels are wrapped in slices of pancetta and baked in the oven with herbs and white wine. Nearby, in Abruzzo, lamb is preparedin a rich cheese and egg sauce, cacio e ovaor fire-grilled in small delightful skewers, arrosticini. In Piemonte, barolo wine is used to slow-cook a large piece of meat, usually local veal for brasato al barolo.
Dessert
The Easter Sunday meal usually ends with a slice of freshly baked pastiera – an open face tart made of cooked wheat berries, ricotta, eggs, orange blossom water, candied citron and spices. Pastiera was purportedly invented in a Neapolitan convent by a novice who wanted her Easter cake to be symbolic of the Resurrection, and by the same token be redolent of the spring flowers growing in the convent's orange grove.
Traditional colomba is also a must:egg-rich cake whose dough is similar to panettone Christmas cake, and whose dove-shaped crust is studded with almonds and sugar sprinkles.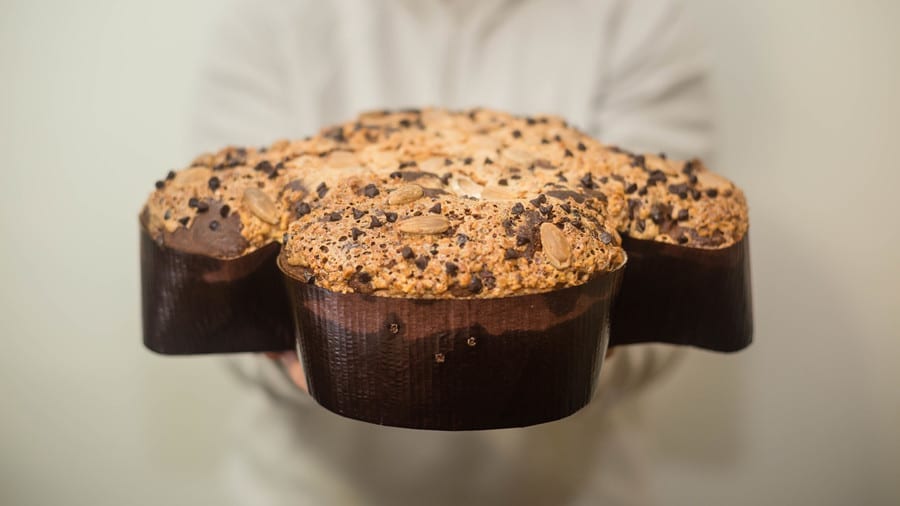 Colomba
Chocolate eggs in Italy are no Easter bunny droppings, they are large hollow productions made of the finest dark or milk chocolate and containing trinket surprises. These historically symbolize fertility, renewal and life, so the bigger the better!
Another classic Rome springtime meal ending is fave e pecorino––a match made in heaven. As the afternoon sun rays fall obliquely at the end of the afternoon, Romans lazily double-shell fresh fava beans and nibble them paired with bite-sized wedges carved out of a hunk of savoury Pecorino Romano.
Pasquetta
Also known as Lunedi dell 'Angelo, or Monday of the Angels, Pasquetta, or Little Easter iscelebrated in remembrance of two Marys (Mother of Christ and Magdalene) who, upon finding the tomb of Christ to be empty after he resurrected, were comforted by angels. But the origins of Little Easter actually date back to ancient Rome. When the spring equinox arrived, the feast of Lupercalia marked the end of winter, rejoicing in the coming season of rebirth. Easter Monday is a public holiday in Italy, so businesses, schools, banks and public offices will be closed.
The Italian adage, "Christmas with family, Easter with whomever you choose" is particularly applied on this day. The annual custom for those living in the city is seizing that 'whomever' and getting out of town. Pasquetta can be celebrated at a secluded tavern by a lakeside or gathered for a picnic of Easter leftovers in the meadow, or as a roaring group in an informal trattoria perched on a breezy hilltop: the point of Pasquetta is allowing folks to eat themselves into a stupor.
In some places, there is more to Pasquetta than just eating however. In some towns, there are egg chases, folk festivals and other…. In other locations "ruzzola" races take place: a competition that sends a 9-pound round of cheese rolling around the perimeter of town. The cheese is launched with a leather strap, wrapped around the cheese and "steered" by a wooden stick.
by Eleonora Baldwin