Italy is surrounded for the great majority by coasts, with 8000 kilometers of shoreline and only five landlocked regions out of twenty: Piedmont, Lombardy, Valle d'Aosta, Trentino-Alto Adige and l'Umbria.
Beaches are either public or divided up into private clubs called stabilimenti. In exchange for an entrance fee these establishments grant access to a whole range of facilities from simple to luxurious. You can usually count on parking, changing rooms, bathrooms and showers, a lifeguard, beach chairs, umbrellas and loungers for rent. Some lidos have additional perks like playgrounds for kids, pools, beach volley courts, plus paddle boats and kayaks for rent. There's almost always a snack bar for coffee, sandwiches and light meals, and a full service restaurant. Despite this, some beachgoers stay true to tradition and pack a picnic.
Long gone are the days of Fifties-style bundles filled with trays of eggplant parmigiana, spaghetti and breaded cutlets. Nowadays beach meals are still brought from home, kept in a cooler and fed to family members between swimming and sandcastle building. Compared to what they used to be, modern beach meals constitute rather a lighter, more summery fare.
Think large bowls of insalata di riso, a cold assembly of parboiled rice tossed with a variable mix of fridge-cleaning chopped foods, like corn kernels, tomatoes, packed tuna, pitted olives, hard boiled eggs, peas, carrots and so forth. Or pomodori al riso– steak tomato pulp scooped out and mixed with oregano, olive oil and rice, spooned back into the tomato shells and baked in the oven alongside potato wedges. Instead of the mandatory heavy ruotoof baked lasagna, nowadays families gathered under the beach umbrella enjoy frittata stuffed in sandwiches, mozzarella and tomato skewers or a cold pasta salad and fruit. The key word is still not frugal, but there is less baking and frying involved than in post-war food hoarding.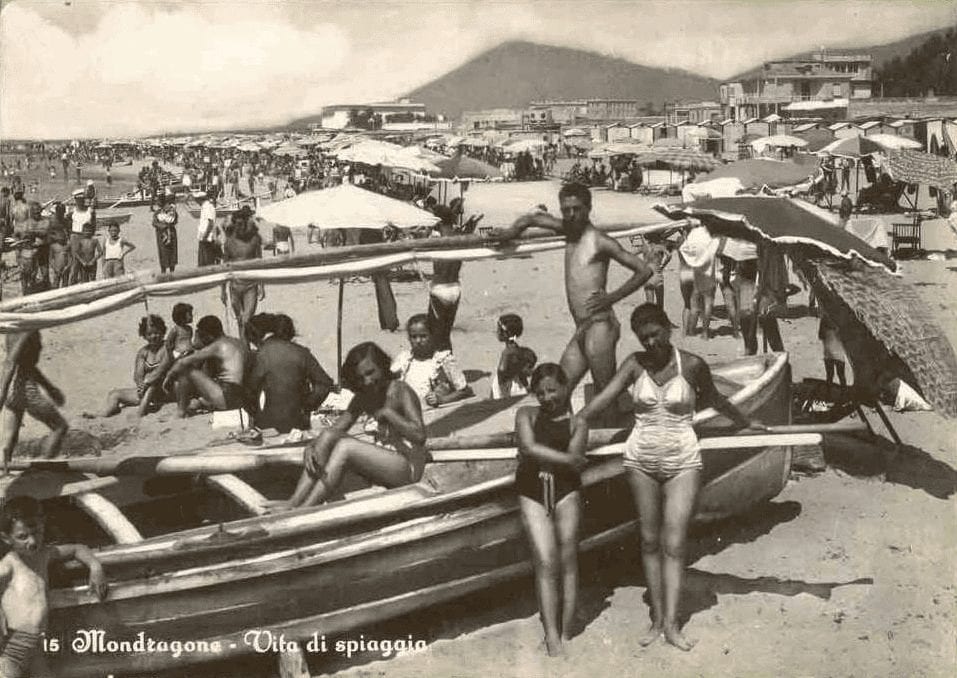 Those that do not bring lunch from home can still count on very traditional beach foods. From region to region and greatly according to tradition, lunchtime fare and snacks change. Here is a list of the most popular Italian beach meals along the peninsula.
Emilia-Romagna – Piadina
In the coastal provinces of Romagna, that is the areas east of Bologna that are wet by the Adriatic Sea, the snack of choice is a symbol of the area itself: piadina. In popular coastal resorts like Cervia, Cesenatico, Rimini and Riccione, the piadina, a tortilla-type flatbread, is made into a tasty typical sandwich that's crafted express and filled with prosciutto, squacquerone – a soft cheese – and snappy leaves of arugula. But fillings change and can be selected from a wide range of offers. There are kiosks making piadina around the clock. The ones located near the beach are the busiest.
Tuscany – Bomboloni
One of the classic Tuscan summer snacks on the beach is bomboloni. Kiosks and roving vendors on the beaches of the northern Tuscan area of Versilia sell the sweet, soft dough fried krapfen-like snacks coated with sugar for a few Euros. This happens daily at around 4 in the afternoon.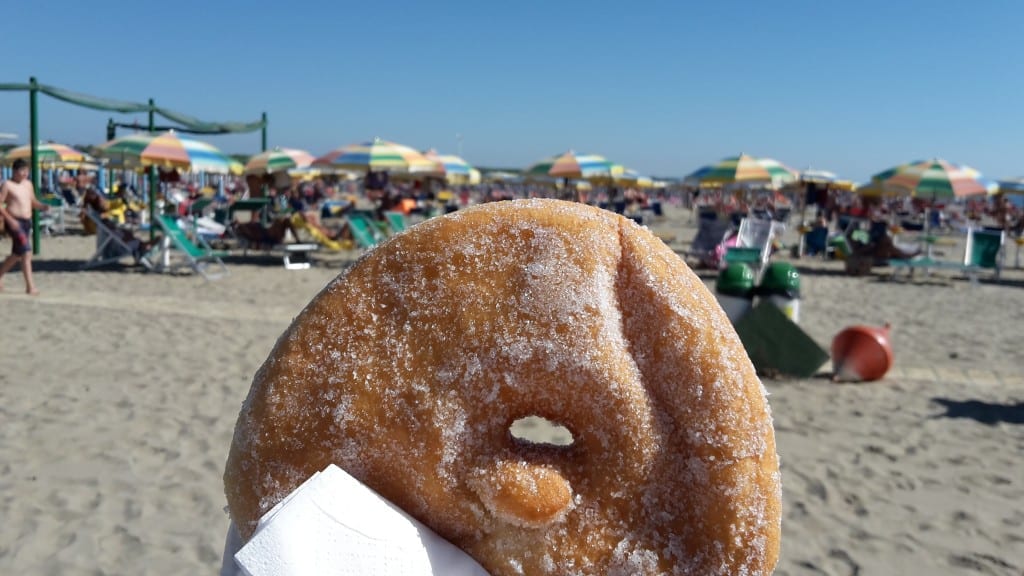 Liguria – Focaccia al Formaggio
The Cinque Terre and the rest of the region may be best known for the quaint fisherman villages, rocky beaches and romantic coves. But Italians conjugate their passion for these romance-filled locations with another love: fugassa cö formaggio.Two gossamer layers of focacciabread conceal a gooey dripping layer of delicious melted cheese. There's debate over which coastal town is the birthplace of this cheesy delight, but one thing is for sure, the town of Recco managed to get the snack IGP status (Protected Geographical Indication) by the EU in 2013.
Bari – Beer and raw octopus
As early as dawn locals collect at the Bari pier – better known as "N' dèrr'a la lanze" – to buy and snack on super fresh fish, raw mollusks and sea urchins directly from the local fishermen. Beer is part of this equation.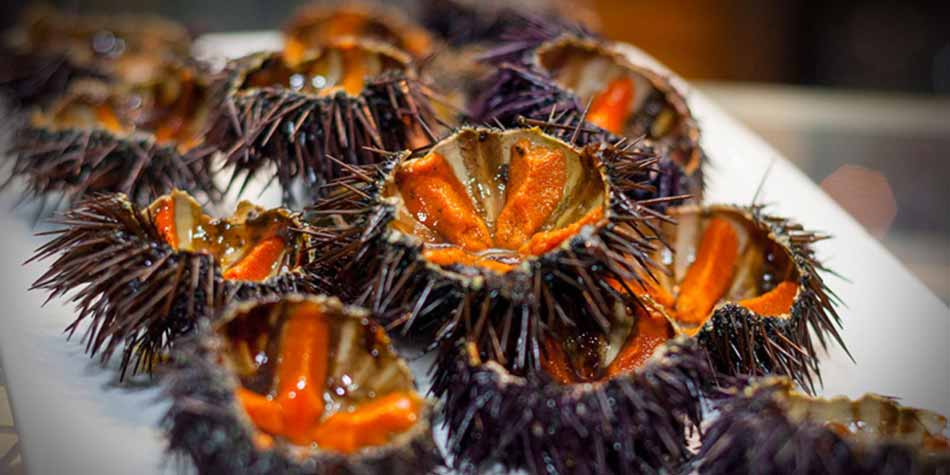 Salento – Pampanella
It's still common to spot local vendors walking on the beach with a basket lined with fig leaves and selling pampanella, a type of cheese that is purportedly made in Puglia – the heel of the boot – since prehistoric times. The fig leaves do double duty: they flavor the cheese and the enzymes contained in the sap act as coagulant. The texture of pampanella is similar to yogurt, the flavor is delicate and reminiscent of mild ricotta. On the beach it's best enjoyed spread on bread or eaten alongside crisp taralli.
Palermo – Pane e panelle
Panelle, pancake-thin chickpea flour fritters, are a trademark of western Sicilian street food. Palermo friggitorie(shops that fry and sell several kinds of food) and street food vendors cut their panelle in irregular squares and stuff them in sesame rolls. Perfect to bring to the beach for a tasty picnic.
Rome – Pannocchia
Rome coastal frequenters are familiar with vendors selling chunks of coconut and their familiar call "cocco bello cocco fresco", but this is somewhat of a dwindling tradition. The more popular seaside mealtime snack nowadays is the one sold for under 3 Euros at barbecues on wheels: ears of corn are grilled and seasoned with salt and lemon juice and eaten on the cob with chilled beers and smiles.
by Eleonora Baldwin