There's fresh water fish, diadromous (that live in both fresh and salt water, like for example mullets) and saltwater fish. And among these are the white and blue oily fish. In a sea in which there are more than 30,000 classified species we like to clarify: a handbook for knowing, choosing, and purchasing sensibly; fish buying advice by fishmonger Beppe Gallina; practical indications of chef Gianfranco Pascucci and a focus on the fishing dynamics and the legislations that regulate it. In the February issue of the Gambero Rosso monthly, we did a feature on winter fish (here's an extract with 10 winter varieties). Now it's time to focus on the main methods for cooking fish and seafood, which can be easily applied at home..
Fish consumption since Ancient Greece to modern day
Since ancient times, when it was still caught by hand, fish has always been very important in our diet. It was the Greeks and then the Romans who perfected fishing, breeding, cooking and preservation techniques. Testimony of the vast knowledge of this food are the many recipes reported by Apicius in his De Re Coquinaria, some of them still made to this day. In the Trajan markets of ancient Rome the fish arrived on stall displays still alive, transported in nursery ships or even, for those caught at sea, fed into the markets with special pipes directly from the sea of Ostia. Only at the end of the 18th century seafood cuisine suffered a sharp collapse in favour of meat, then back in popularity in the present day. The merit is certainly the great nutritional qualities of fish and the ever greater possibility of having it fresh in any geographical area.
Cooking fish? It can easily be done at home
The (wrong) idea that fish is difficult to cook still puts the biggest bucks in the restaurateurs' pockets, but actually cooking a roasted fish is no more complex than preparing roast pork. Searing a tuna steak is as simple as grilling a chicken breast. But knowing the methods for proper fish and seafood cooking is crucial in preparing tasty and healthy recipes at home. A good general rule is that the fish must be cooked relatively quickly and paired with light side dishes, in respect of the fish's delicate nature. The methods of preparation vary from one species to the next, so sea bream is perfect baked in the oven, anchovies are best fried, monkfish is best stewed. Roasted, in foil pouches, enveloped in tasty crusts, grilled, steamed, fried, sautéed, as well as the new fangled sous vide technique: this chapter of our cooking methods guide is a good basis to start for those fearful of cooking fish.
Roasting
Roasting means cooking the fish by direct or indirect contact with the heat source. This is why roasting is not merely spit-roasted, but also grilled and baked. While spit roasting is not very popular in Italy, if not for large pieces of cooked eel, baking is definitely the most widespread because it adapts to many fish varieties of medium and large size. Sea bream, San Pietro, sea bass, monkfish, trout and many other fish ensure maximum taste cooked in the home oven. The fish can be whole or in steaks, scaled or not. Proceed by placing the fish in a pan lined with parchment paper and wetting it with a splash of white wine or lemon juice. Season with salt and pepper, olive oil; and if necessary fill the belly of the eviscerated fish with aromatic herbs or enrich the cooking base with garlic, onion, tomatoes or other vegetables as needed. The cooking temperature should be around 210° C for the first 5 minutes and then reduced down to 180° C. Times vary depending on the size of the fish. A secret to understanding when the fish is ready is to lift a strip of the belly and observe the colour near the bone, which must be white. It is important to always preserve the moisture of the flesh, avoiding cooking for too long and at high temperatures.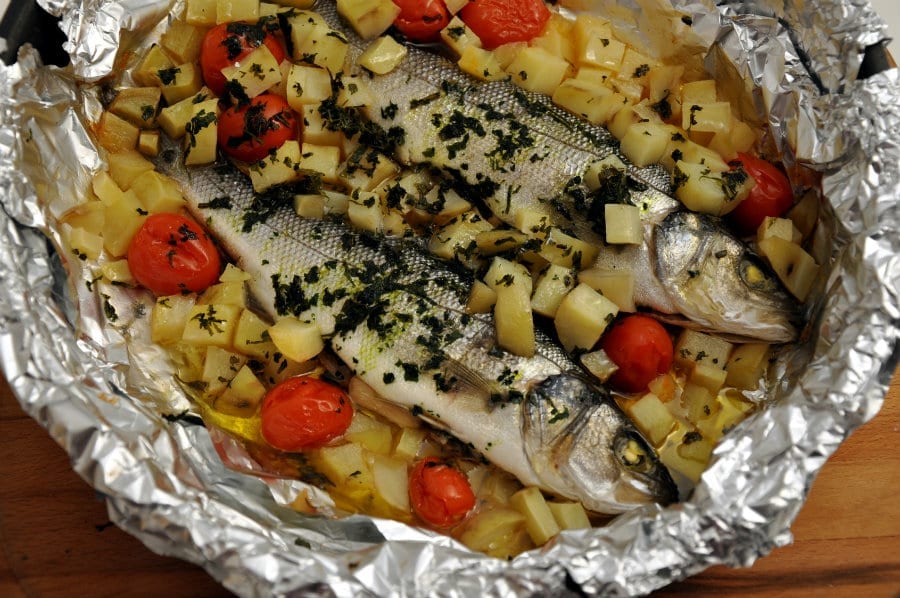 Equally baked, fish can be prepared in a foil pouch or in a crust. Baking uses the natural fat content of the fish, which lends a concentrated flavour, as juices and nutrients are maintained in the flesh. This cooking method is ideal for fish of all sizes and varieties, even if oily fish is the least suitable for this method. The eviscerated and cleaned fish is seasoned with olive oil, salt, pepper and aromatic herbs. Wild fennel is perfect with sea bass, while capers are good for tuna, garlic and parsley are a always good too. Place the whole fish in an aluminium foil or parchment paper pouch which must be then carefully sealed (a brushing of egg-wash always helps). Oven temperature can vary from 220° C for an aluminium foil pouch, to 200° C for a parchment paper one. The fish is ready when the steam inflates the surface of the pouch the most. Large fish can be cooked together with a side of molluscs or crustaceans that help further flavour the fish flesh (see recipe below).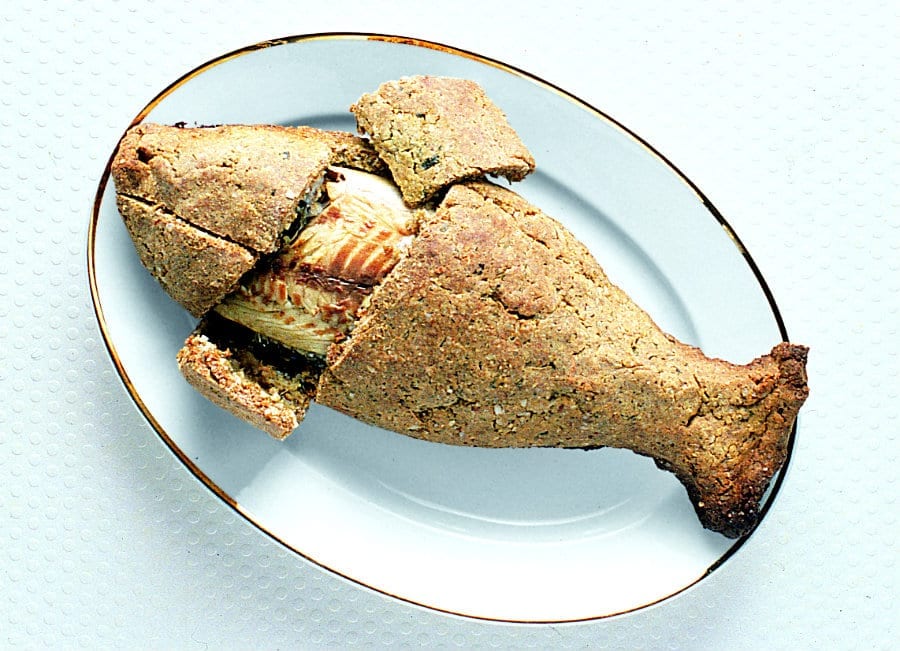 The same principle applies to cooking fish in a crust, since the function of the crust (as well as that of aluminium foil or parchment paper) is to protect the meat of the fish and maintain it full of flavour. The crust may can be made with dough, such as bread dough or a brisée crust, or one made with salt or clay. The salt crust method is the most widespread and easy to make at home. Sea bream, sea bass, dentex, sea bass and oily fish in general are perfect for this technique: clean the fish but do not scale it, season the belly with garlic, parsley and lemon wedges, salt and pepper. Prepare a mixture of salt and lightly whipped egg whites, and create a semi-dense mixture, cover the fish on all sides with the mixture. In general, consider slightly more salt than the total weight of the fish. Bake at 200° C until the crust becomes dry and crisp and serve the fish on the table still in salt crust. Crack the crust and gently fillet it. The perfect dressing is a lightly fruity extra virgin olive oil. This type of cooking is best suited for small fish (weighing max 1 kg); not recommended for freshwater fish.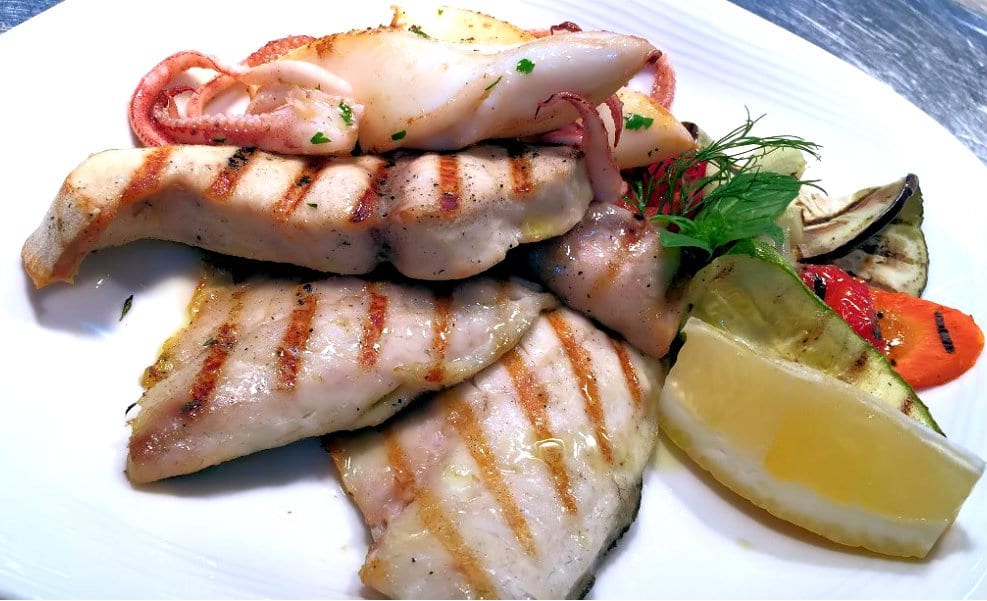 Then there isgrilling. Whether on a grill grate or on an electric grill, fish is in any case easy to prepare and tasty to eat this way. The fish can be seasoned with olive oil, lemon and salt, or it can marinate for a short time. If you cook a whole fish, it's better not to scale it. Grilling requires a quick searing of the fish at a high temperature and a subsequent slow cooking phase. It's important not to burn the surface of the fish: this error leads to drying the pulp too much, and fosters unpleasant aromas and flavours..
Cooking in liquid or with liquid
In order to preserve nutrients and aromas intact we advise against boiling fish; try steaming instead, typical of Asian cookery. In this case it's necessary to have a pot fitted with a steamer basket. The liquid for steaming can be court bouillon (acidified broth, in three variations: vinegar, wine and milk), a lighter fish broth, or simply water flavoured with onion, celery and carrot. This technique works for cooking both fillets and whole fish, be it cod, skate, hake, trout or salmon. If cooked whole, fish should not be scaled. Cooking times vary depending on the size of the fish and are generally double those of baking. The ideal temperature for steaming is around 80-85° C.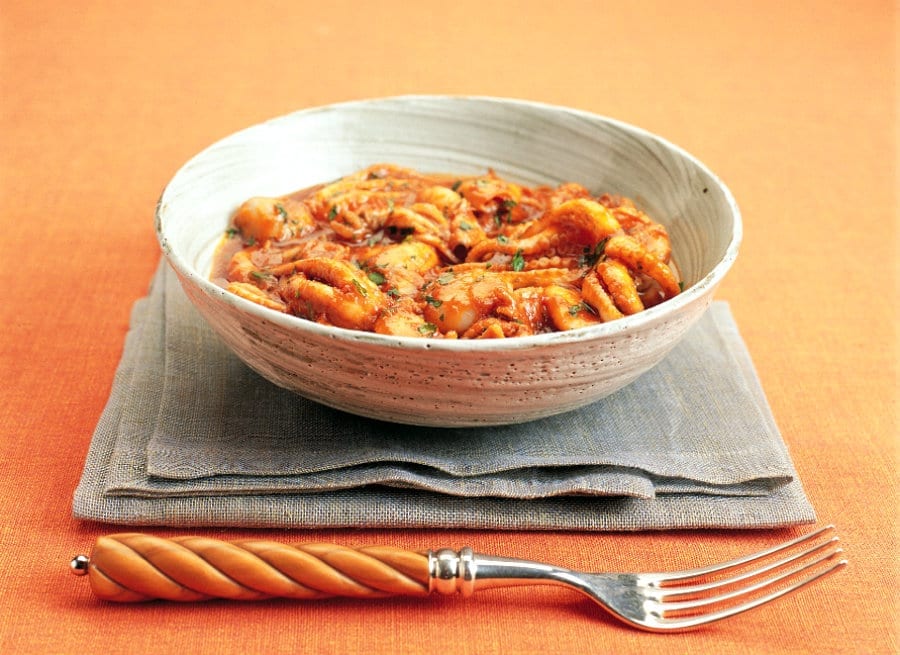 Finally there are two cooking methods in which the fish is completely immersed in liquid: stewing and frying. Cooking in stew, typical of central Italy, includes addition of tomato pulp during cooking (see recipe below). Frying, on the other hand, necessarily involves the use of a fat. Small fish can be fried, even whole, like anchovies and sardines, or small pieces of flesh belonging to larger fish. Frying necessarily also includes mentioning batter: an amalgam of flour and water to which oil and egg white can be added and, in some cases, brewer's yeast. The task of the batter is to preserve the moisture of the flesh from the heat of cooking and ensure crispness. Before battering a fish, it needs to be scaled, gutted and dried carefully. Small fish like anchovies can be fried whole. The fish is immersed in the batter or simply rolled in flour just before being fried. The oil or fat used must be piping hot and frying must be quick. Then the fish is placed on blotting paper to absorb grease and served hot. Saltwater fish are mostly fried in olive oil or peanut oil, while freshwater fish are best fried in lard or in butter.
Recipes: Stewed baccalà alla romana and Pagello fragolino baked in a pouch
Stewed codfish alla romana
700 g revived dried codfish
300 g canned tomatoes
1 medium onion
2 garlic cloves
30 g sultanas
30 g pine nuts
3 tbsp. extra-virgin olive oil
Salt and pepper to taste
Rinse the sultanas and soak it in lukewarm water. Clean the baccalà by removing all the bones but not the skin (it can be removed after cooking). Cut the fillets in sections of about 6cm x 4cm. Peel and finely slice the onion and the garlic. Heat the oil in a large pan (possibly earthenware) and sweat the onion and garlic over moderate heat, making sure it doesn't darken. Place the cod in the pot in a single layer and brown lightly on both sides. Add the canned tomato, the drained sultanas and the pinenuts, seasoning lightly (revived codi s salty by design) with salt and pepper. Cover and cook over mild hear for about 30 minutes, turning the fish sections gently a few times, adding hot water if the sauce loses moisture. Serve hot in the same cooking vessel.
Snapper baked in a pouch
1 fresh snapper weighing approx. 1 kg
4 prawns or shrimp
1 bunch of parsley
A few garlic cloves
2 tbsp. extra-virgin olive oil
Salt and pepper to taste
Gut the fish and using a pair of shears, remove the fins and scale. Rinse under running water, dry with kitchen towel and season the entire surface with salt and pepper. Wash the shrimp and pat dry. On your work surface, lay a sheet of foil or parchment paper measuring about 45cm x 70cm and grease the left half, place on the greased side unpeeled garlic cloves and some sprigs of parsley.
Now place the fish, surrounded by shrimp and cover all with more garlic and parsley. Season with salt and pepper and drizzle 1 tbsp. olive oil on the fish. Fold over the right side of the paper to meet the opposite edge and fold over, crimping to seal. Do not leave any openings otherwise the pouch will not inflate during cooking (if you're unsure on how to do this, make a double fold and stable the edges together). Place the pouch on a sheet pan and bake in the hot oven at 200° C for approximately 40 or until, thanks to the steam build-up, the pouch will have inflated completely. Serve the fish straight out of the pouch, opening it at the table. Make portion starting with a long longitudinal incision.