Lilliano
Halfway between Castellina in Chianti and Monteriggioni, between Florence and Siena, the village of Lilliano has been a border town for centuries. Fought over by the two important republics of their day, the Florentine and the Sienese, between the 12thand the 13thcentury, because of its strategic position, Lilliano is still magnetic. The Strada Santa Cristina a Ligliano, which crosses the village and borders the beautiful estate owned by the Ruspoli family since the 1920s, seems to want to remind us that the flow of people, armies, olive oil and wine is part of the history of this town. Lilliano has always been open, welcoming, magnetic and luminous. A beautiful tree-lined avenue leads off the provincial road and, after a few hundred meters, enters a modified space-time dimension, which the Pieve di Santa Cristina with its sober mien best defines. "This village was heavily contested. It was destroyed and rebuilt over and over. Florence and Siena fought over its strategic location. Its appearance today is 19thcentury, but the medieval footprint is still strong. You can see it best looking at the arrangement of the buildings, at their cellars and the town walls."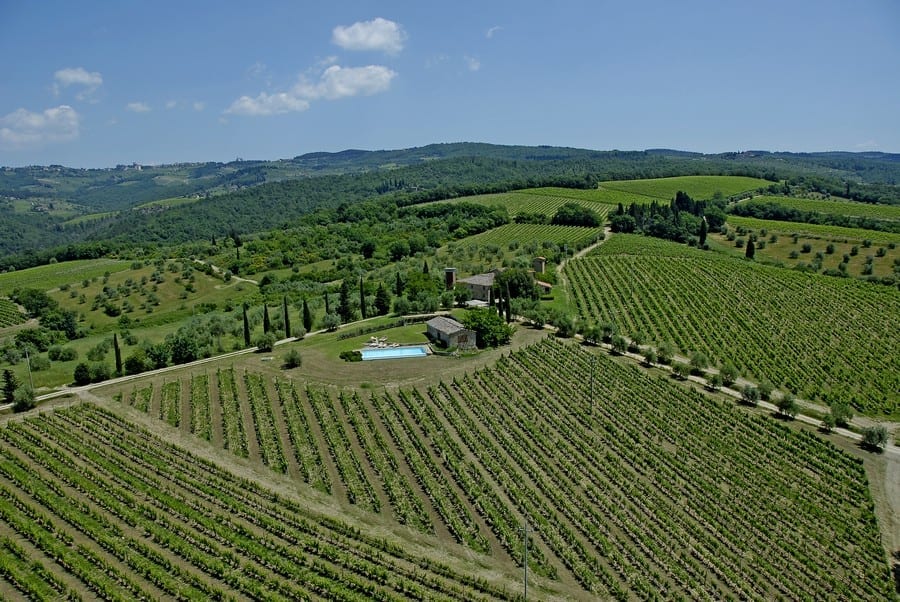 Tenuta di Lilliano
The property passed from hand to hand until it was inherited by present owners Giulio and Pietro Ruspoli. "In the 1920s, the estate was bought by our great-grandmother's family. It took another generation before wine was bottled, though. In 1958, Eleonora Ruspoli Berlingieri, a modern and forward-looking woman, independent and strong-willed, decided on a complete change of direction. She aimed for quality that had never been even considered before." Alessandro Ruspoli, Giulio's grandson, took us around the estate. He explained that enologist Giulio Gambelli was called in, and he gave a classic and territory-inspired style to the wine, which lasted until the 1990s and a move towards modernization. "Since 2003, Lorenzo Landi has been our consulting enologist. He worked with Giulio at the start and eventually took over. It was a gradual transfer of marvelous continuity, as the wines themselves show us. Lorenzo is a great professional, and above all, he respects the estate. We wanted to maintain a certain character in our wines, that is, the character of Chianti Classico, closer to Siena than to Florence, that gives wines of structure and determination." Still today, the Riserva is vinified in vitrified cement tanks. Aging takes place in large casks, ranging in size from 28 to 34 hectoliters. Over the years, the Riserva blend has changed. Through the 1970s, malvasia and trebbiano were added to sangiovese, then canaiolo and colorino grapes until 2009, when merlot replaced canaiolo until the next harvest, when sangiovese was vinified on its own.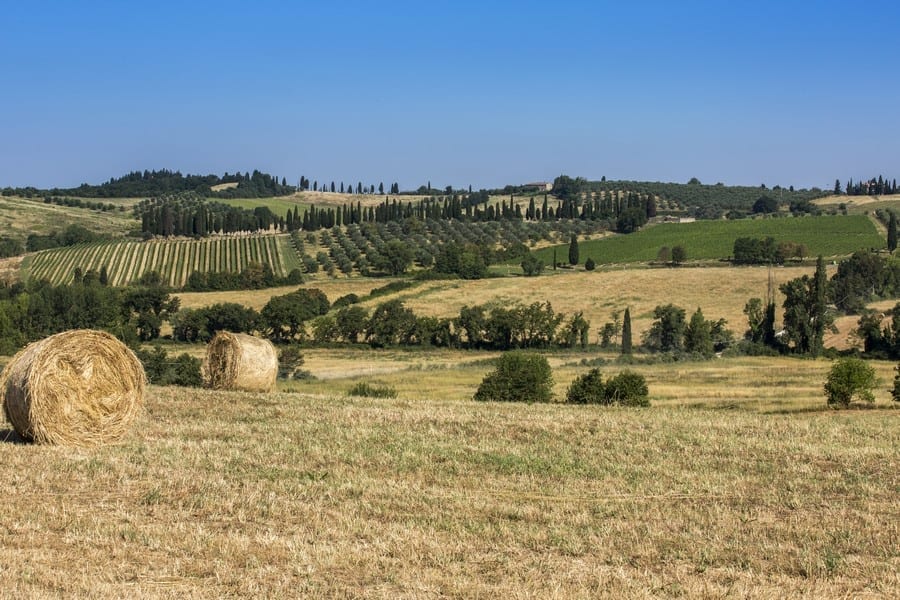 The vineyards
"The improvement of the raw material in our vineyards, largely due to better genetic and agronomic quality, to the age of the vineyards, and certainly to our increased competence, showed us that complementary varieties are no longer necessary for us. The grapes that go into the Riserva always come from the same vineyards, the ones that have shown, over the years, that they produce grapes well-suited to aging." Agronomist Stefano Porcinai confirmed, "There are three vineyards, each with different characteristics. Casina Sopra Strada has excellent western exposure and is in the higher part of the estate vineyards, at 300 meters, on a very breezy hill. The soil is markedly skeletal and has little clay. It was planted in 2007. Rondò has deeper soil, with an important clay component that gives more concentrated and structured grapes. It's from 2004. Le Rose is from 2001, and it is something between the other two. All the vines are spurred-cordon trained. In the future, the grapes from Le Piagge will be used in the Riserva blend. That is a recently replanted vineyard, between 230 and 330 meters above sea level, on alberese and clayey marl soil, with a great limestone presence."
The Vertical Tasting
The vertical tasting demonstrated the stylistic continuity of Lilliano wines. A sizable gap in the period from the early 1970s to the end of the 90s removes the possibility of an overall view, but the wonderful performance of the old vintages leaves no doubt as to the quality of the missing bottles. Blessed are the collectors who discover them in their cellars….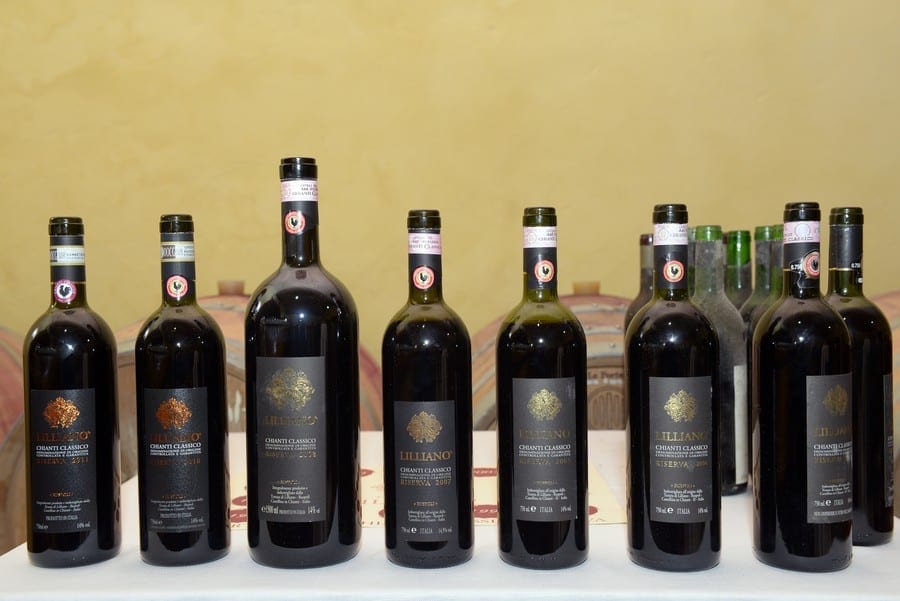 2011 | 88
A warm year with little rain meant a healthy, ripe grape at harvest, translated into wine with intense color and an expressive nose: precise notes of dark berries, dried leaves, spices. The palate is mouth-filling and intense, round, flavorful and rich in alcohol, with precise, amalgamated tannin and contained acidity that works in the background to nonchalantly sustain so much substance. A Mediterranean finish, with great sensations of medicinal herbs.
2010 | 92
This famously cool vintage year delivered a more subtly shaded wine, intriguingly chiaroscuro. On the nose, black fruit is accompanied by wonderfully ripe strawberry, followed by sensations of lavender and bay leaf, dried leaves, pepper and vaguely balsamic sensations. Although this is a wine of structure and substance, it has more acidity than the previous year, which gives it tension and length. A truly fascinating finish, with notes of forest floor and humus.
2008 | 89
A fairly warm but rainy vintage year gave us fresh and light-hearted wines. Along with the typical black-fruit notes of mulberry and black currant come greener sensations of freshly cut grass, of bay leaf and sage. The palate notes the good acidity in the background and a certain tannic rigidity, leading up to a broad and satisfying finish.
2007 | 86
The nose faithfully reflects the warm year with tones of plum jam, hay and pipe tobacco. The sensation of ripe fruit comes back in the mouth, accompanied by a general roundness and a certain degree of alcohol. Tannin is a trifle dry and a bit rigid on the finish.
2005 | 86
A cool and rainy year delivered a wine that was a little tired over all, but still fascinating. The nose suggests ripe fruit, a little jammy, forest floor, cigar box, bay leaf and cloves. The palate is a little tight and closes suddenly, but the finish picks up immediately on a tannin that still has a lot to say.
2004 | 88
This vintage year is defined by an unusual nose, with sensations of rock and iron, of tar, black fruit and balsamic notes. The palate has tension and drinkability, is aromatically elegant and displays a great, fragrant and coherent finish.
2003 | 85
The limits of this torrid vintage year are evident in this wine, more appealing to the nose than to the palate. The sensations of ripe fruit, blackberries and blueberries, intersect with those of fruit in syrup – plums and yellow peaches – but still bring in fresh hints of bay leaf. The palate is enjoyable but lacks length because of an assertive tannin that suddenly closes off the finish.
1998 | 93
A wonderfully and surprising version in which the evolved aspects have character and charm. The nose alternates more evolved notes such as black fruit jam, dried leaves, pipe tobacco and tamarind with fresher and lighter notes of rosemary and flowers. The palate is progressive, steadily taut, with appealing notes of spices and of rosemary, which returns vividly on the finish.
1971 | 88
The nose shows clearly evolved notes which include damp earth, dried leaves, hints of amaretto and wonderful sensations of saffron. The palate, although it is in equilibrium between sweetness and acidity, is penalized on the close by excessively drying tannin. Nevertheless, fascinating.
1958 | 90
A decadent, yet at the same time reactive nose that after initial reduction notes provides sensations of alcohol-preserved cherries, pencil lead, goudron and wet asphalt. The palate shows tension and the finish holds lengthily with a clean close that hints at dried orange zest.
Chianti Classico Riserva | Tenuta di Lilliano | Castellina in Chianti (SI) | www.lilliano.com
Antonio Boco, Eleonora Guerini and Franco Pallini participated in the tasting