Let's start from the end. Gianluca Legrottaglie is about to open a restaurant in Walnut Creek and another one in the Marina district of San Francisco. The former is 54Mint Forno, named after his Italian (even if it would be better to say Roman) restaurant in 16 Mint Plaza, while the latter is Montesacro, the pinseria born in Stevenson Street (also in town) and replicated in Brooklyn. A time of intense ferment that coincides with a great restart after two difficult pandemic years, during which ideas, courage, vision and determination never lacked.
Let's take a physical and temporal step back, more precisely to New York, where for Gianluca it all started. "It all began more than twenty years ago at 'Il Buco' in New York. It was there that I took my first steps in the (Italian) dining in America. If I think about it, back then I was more in love with wines than food," Gianluca Legrottaglie tells us. "Then I joined the team of Aurora group in Brooklyn as general manager and wine director for five years. From the beginning, I thought about doing something of my own, but I had no financial means, neither money nor other resources... Then I had the chance, or a better opportunity, to take up the management of 54Mint in San Francisco. I left New York and moved to California. San Francisco was a great springboard for me to see this industry from a business standpoint. I immediately decided to bring my culture here, therefore Roman cuisine and Italian traditions from carefully selected raw materials. They must always be faithful to the traditions of my country, while the modern cooking techniques should bring out the best in certain ingredients. The success of 54Mint led me to think about creating something new, my brainchild. The idea was to open something different in the same neighborhood as the restaurant, so as not to conflict. Pizza was the epitome of my thoughts. But while Neapolitan pizzerias had already experienced a boom, the same cannot be said for the Roman-style pizza. I began to travel around Rome, stopping at several bakeries. One day my parents invited us for pizza (Gianluca is married to Viviana and they have two beautiful little girls). They took us to a 'pinseria' in the neighborhood where I grew up and on the plastic menu I read 'Pinsa Romana, la pizza degli Dei' (Roman-style pizza, the pizza of the gods). We got an oval-shaped Margherita. I took my first bite and felt a unique crunch! I ordered another one and I was just amazed by its lightness. So, I went back to San Francisco and decided to open the first pinseria in the US."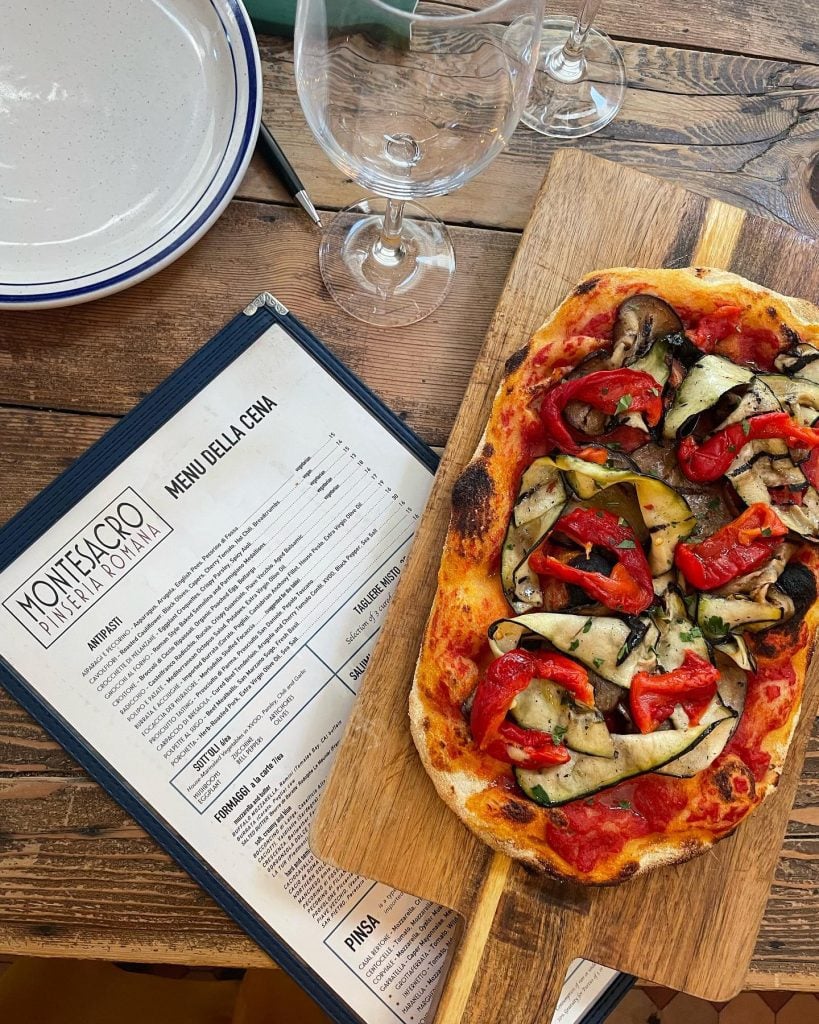 And that's how Montesacro was born, dedicated to a Roman district to which Gianluca is very attached, but also taking inspiration from the 'fraschette' in the Castelli Romani (typical spartan places in Rome's surroundings, where people used to go to enjoy nibbles and bulk wines). Besides the dough, quality can also be seen from the quality raw materials, appropriate pairings, not to mention an extensive and funny wine list from top-notch small artisans. "The first thing I wanted to bring to my restaurant was conviviality. At Montesacro, food is ordered and shared." The pinsas are divided into wedges with a pizza wheel that makes them crunch, and everyone bites into their piece. What is amazing is the dough hydration, its sponginess, and crispness. Many pizza makers (in the meantime, many pinseries have sprung up in the United States and Italy) pre-cook the dough for convenience and time optimization.
They do, instead, everything on the spot, thus preserving the unique characteristics and its fragrance. In addition to pinsas, only a few excellent appetizers and cold cuts and cheeses from artisan productions, some are even local. Three years after opening in San Francisco, it was Brooklyn's turn in 2019. Now it's high time to open the new location in town: it will be in the Marina district and it will be a new challenge. We'll keep the name 'Montesacro', since it is its true blood child, while 54Mint "is like an adopted son, I didn't create it." In 2015 the name was also given because of the idea of having a sacred mountain on Stevenson Street (Montesacro translates indeed as 'sacred mountain'), "a green corner in the grayness of a then dirty and unkempt street." That street is now clean and the festive lights on the street are illuminated year round. In a nutshell, a small wonder, or a dream come true. A dream that continues even though Gianluca's eyes are wide open and can see far, far away...