Pasta in Sicily
The relationship Sicilians have with pasta plunges its roots in an ancient past. The very first written source regarding dried pasta – which later spread in the entire continent – dates back to 1154 with an account by Arab geographer Al-Idrisi, in the volume Book of Rudiger, in which he narrates how in Trabia, near Palermo, there was a production of tryia, the ancestors of spaghetti.
From this ages old tradition come a variety of pasta shapes hailing from different areas, and which often mix in local productions: anelletti from Palermo, which are practically impossible to find outside of Sicily, or lasagne cacate with their typically ruffled edges and used mostly in Palermo and Trapani, cannaruzzuni (large rigatoni), busiati from Trapani, agnolottiSiciliani (square or rectangular shaped and normally filled with ricotta and sausage).
This historic multitude pairs with the recent rediscovery of ancient Sicilian grains. The safeguarding of biodiversity and thanks to the nutrients contained in them, these are finally being revalued after decades of being replaced with durum wheat cultivations. For the next instalment of our series on pasta makers today we travel to Palermo discovering local shapes and best local artisan productions.
Fabio Serina Pastificio
We start by investigating a pasta "one man band": Fabio Serina. In his artisan pasta production he does it all by himself. The passion for pasta started at an early age, watching the women of the house rolling out pasta dough. This then became his profession. "I select the ingredients, I knead and roll out the pasta; I also shape it and deliver it" he says, "I only use local ingredients, all prime quality materials and all made in Sicily". Founded in 1999 in the neighbourhood adjacent to the train station, Fabio produces various shapes: gnocchi – both classic or flavoured with cuttlefish ink – tagliatelle and fettuccine, meat-filled tortellini, ravioli filled with ricotta and spinach, and ravioloni stuffed with artichokes."I use both double-ground durum wheat semolina and Tumminia (or Timilia) flour, an ancient Sicilian grain which lends pasta a particular texture and flavour. For the dough I only employ fresh farm eggs for that traditional texture and flavour". Prices range from 5 Euro/Kg for tagliatelle, to 12-13 Euro/Kg for giant ravioli and tortellini.
Fabio Serina | Palermo | via F. P. Perez, 60/h | tel. 091 6160025 | www.facebook.com/pg/fabioserina2
Mastro Pastaio
This pasta shop opened in 1989 thanks to the culinary passion of Francesca and Gabriella, the two owners.Specialties include classic shapes such as busiati, paccheri, tagliolini, fettuccine, and caserecce to filled pockets like ravioli (stuffed with mushrooms and truffles, cacio e pepe, grouper); as well as other filled shapes such as cappelli ripieni with pistachio and cheese, potatoes and sausage, pumpkin or assorted vegetables. There is also a range of special seasonal pasta shapes: reef mullet papillon or ravioli filled with assorted crustaceans. There's also a line of creative shapes, which includes the "calla lily" and which perfectly reproduces the flower. The shop also sells ready made pasta sauces, such as wild boar ragout, reef mullet ragout, or artichoke sauce, plus a series of other prepared dishes like savoury pies and beignets, timballo, gateau and vegetable tabouleh. If you're still hungry, there's also dessert: strudel, watermelon gelo, and crostate with various fruit fillings. Prices for pasta go from 8 Euro/Kg for the simpler shapes, to 23-24 Euro/Kg for the filled pastas.
Mastro Pastaio | Palermo | Via Principe di Belmonte, 40 | tel. 091 321598 | www.facebook.com/pg/Mastro-Pastaio-216308961886185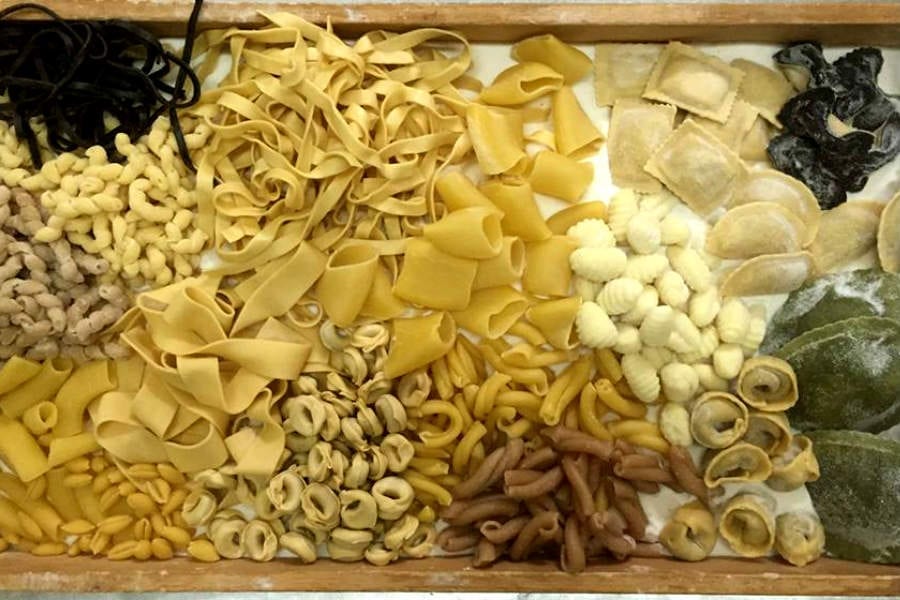 The offer at Mastro Pastaio
Pasta Giglio
Thirty years of experience of certified supply chain, Pasta Giglio boasts guaranteed quality and offers specialties made with a mix of Sicilian grains such as Duilio, Iride and Simeto, as well as whole grain shapes made with Tumminia and Russello. The production is also certified: "Our pasta is the only one that's been certified by the Regione Sicilia governing body and by the Consorzio Gian Pietro Ballatore consortium for the use of ancient Sicilian grains. This (Pasta di grano duro siciliano - Qualità Certificata)is a mark of quality that characterises our production" explains Girolamo Giglio, locally known as Mimmo. "Our supply chain is certified from the source, it starts with the people who grow the wheat and ends with the final consumer. We apply this same principle to the entire production, including the cooked dishes". The production is based on the seasonal cycle "within reasonable limits and according to market demand", Giglio owes to this its immense popularity.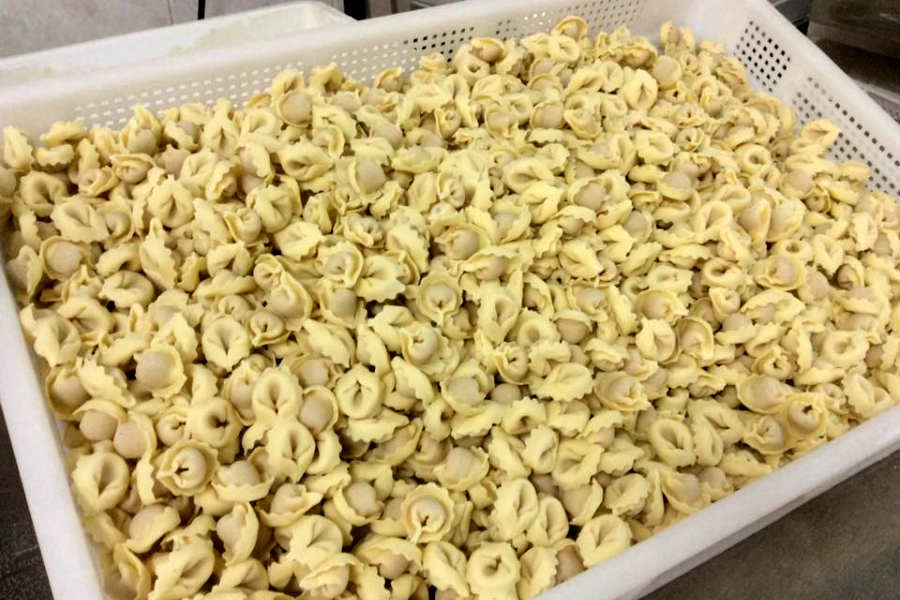 tortellini at Pasta Giglio
The food offer includes simple pasta shapes like tagliatelle and gnocchi (including variations with black cuttlefish ink, cacao or eggplant flavoured) as well as special shapes like busiati, creste di gallo, boccolotti, anelletti siciliani, and filled pastas such as ravioloni stuffed with apples and almonds, or with artichokes and lamb, or soft cheese and chives. The most peculiar shape is ravioli alla trazzera, which are filled with ground mortadella, natural ham and prosciutto made from Suino Nero dei Nebrodi pork breed. The kitchen also cooks up swordfish caponata, sardine meatballs, various involtini and carpaccios.
Prices range from 7-10 Euro/Kg for the simpler shapes to 13 Euro/Kg for the filled pastas and 18 Euro/Kg for the ravioli filled with lobster and sea urchin.
Pasta Giglio | Palermo | via Cala, 62/D | tel. 091 326111 | www.pastagiglio.it
Pastando
This pastificio-delicatessen was devised by a team of thirtysomethings and first opened in 2016 in one of Palermo's most central areas. "Before the opening we studied the market for 3 years," says Christian Giuliano, the owner "to develop a concept that could blend artisan pasta making to cuisine and by the same token could also showcase local specialties". The artisan pasta makers at Pastano make fresh durum semolina pastas, as well as with ancient grains like Tumminia, Russello and Senatore Cappelli, and without eggs, ideal for vegans. In addition to this, also ready made dishes for take out or for immediate enjoyment at the large counter with charge point. This allows patrons to also exchange thoughts with the chef. "For takeout we designed a special packaging solution with boxes and plates in cellulose pulp as well as plywood cutlery, everything is 100% biodegradable, yet allows our dishes to remain fragrant and warm during transportation".
The offer at Pastando includes caserecce, tagliatelle, square section spaghetti and gnocchi; plus more complex shapes like ravioli filled with ricotta, radicchio and speck, or ravioli alla Norma (filled with eggplant, tomato and ricotta salata cheese), or with pesto made with pistachio di Bronte and shrimp. In addition to these, also agnolotti with pumpkin or eggplant, or classic filled with meat, such as slow cooked beef. Prices range from 7-9 Euro/Kg for the base shapes, to 15-18 Euro/Kg for the filled pastas according to filling and grains used.
Pastando | Palermo | via Valerio Villareale 21 | tel. 091 765 4787 | www.facebook.com/Pastando.Palermo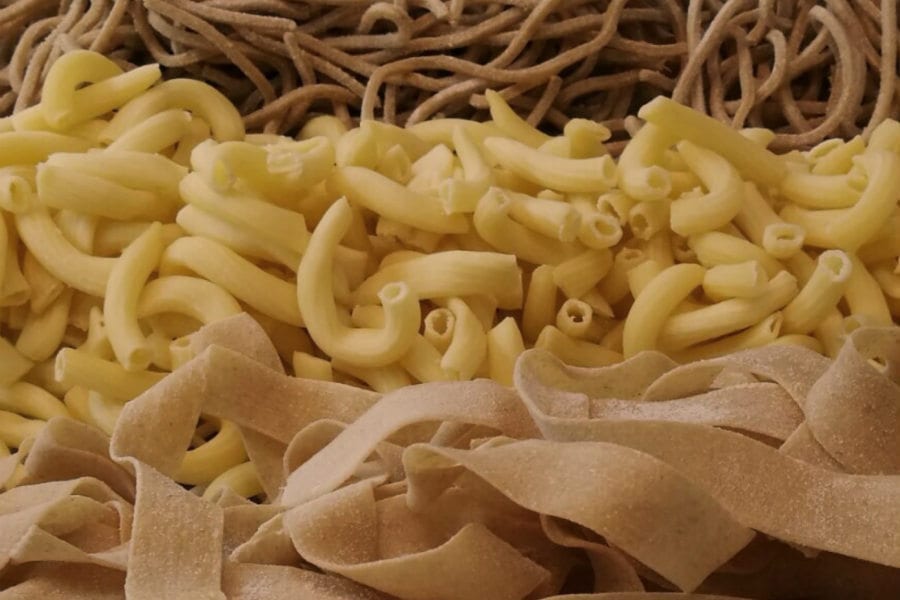 Fresh pasta at Pastando
Pastificio Conigliaro
This family-owned pasta maker has been in business in the Malaspina neighbourhood for the past 30 years. The production includes pastas made with durum grain semolina and eggs (or without eggs) in simple shapes like fettuccine, maccheroni, gramigna, busiati and calamarata; to more complex shapes like margherite, mezzelune and hearts, all in classic version, or flavoured with tomato or black cuttlefish ink. In the filled pasta line, the specialties abound: ravioli with almonds, ricotta and basil, or with pesto made with pistachios and shrimp, or made with prosciutto and artichokes. Those too lazy to cook, there is also a wide variety of prepared dishes such as cannelloni, pasticcio alle melanzane, anelletti al forno, gateau. Upon request, also traditional desserts: sfinci di San Giuseppe, cannoli and sospiri di monaca. Prices range from 7 Euro/Kg for fettuccine and maccheroni, to 15 Euro/Kg for filled pasta.
Pastificio Conigliaro | Palermo | via Giovanni Zappalà, 49 | tel. 091 685 9603 | www.facebook.com/Pastificio-Conigliaro-699067013605982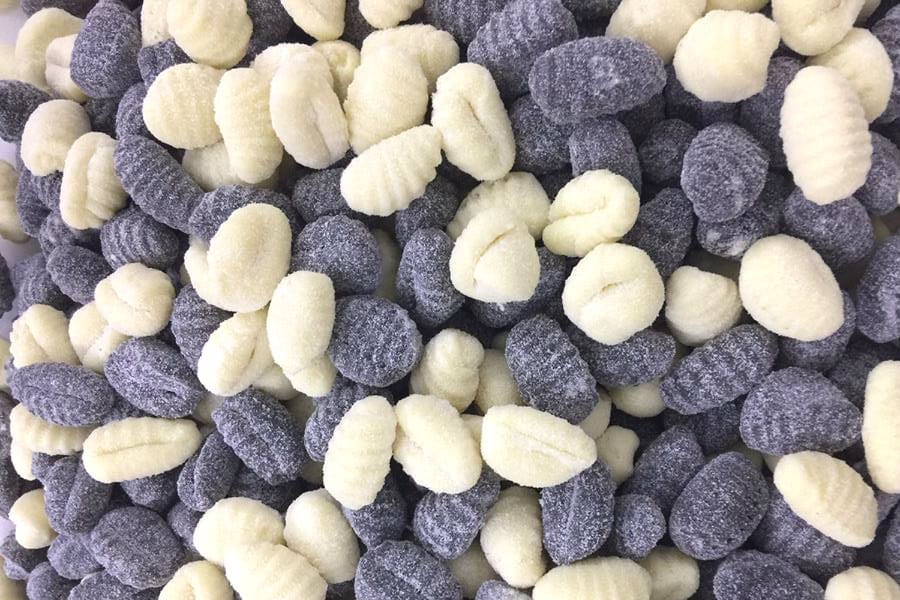 classic gnocchi or with cuttlefish ink, Pastificio Conigliaro
Past'ovo
The pasta makers in the Sabatino family in the Nortarbartolo neighbourhood next door to the English gardens, first opened in 1968 and for the past 50 years has been a local institution. "My mother first opened the shop" says Attilio, son of signora Angela, "with sacrifice and will power she created work for the entire family, now this job has become my vocation". Past'ovo offers pastas made with durum wheat flours, as well as Russello, Tumminia and Perciasacchi (aka farro lungo) flours that are all stone-ground, and all organic and whole-grain.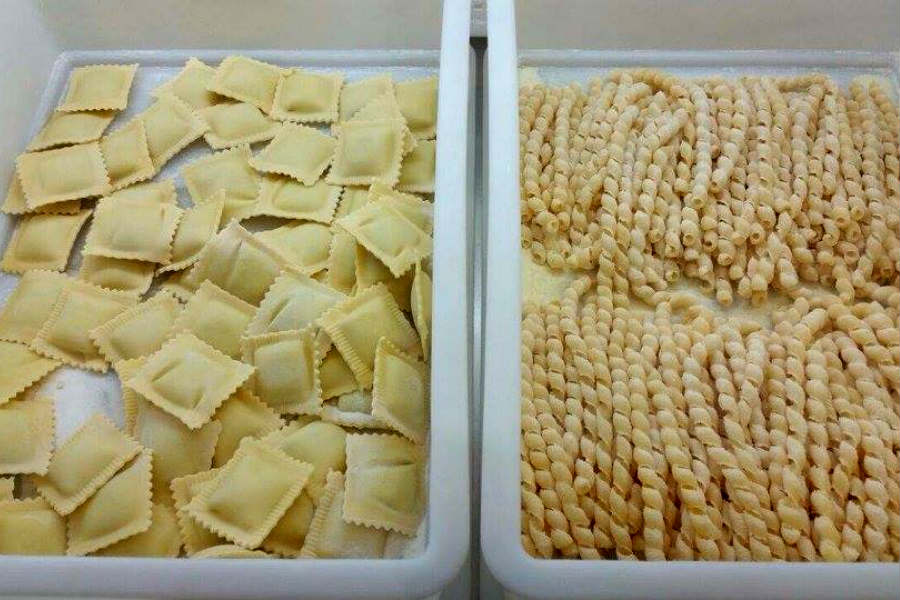 ravioli and busiati, Past'ovo
The shapes available include classic ravioli and tortellini, or regional shapes like trenette, capellini and paccheri, as well as Sicilian special shapes such as busiati trapanesi, anelletti palermitani, maccheroncini, as well as rolled out pasta sheets for cannelloni and lasagne. In addition to these are also the "special pastas" such as ravioli filled with grouper or swordfish, or mozzarella and artichoke, or filled with ricotta and pistachios. Lastly, the deli takeout specials, all cantered around Palermo traditional cuisine: baked maccheroncini with ricotta and eggplant, ricotta and spinach pasta roll, baked anelletti with mozzarella and meat, panelle (chickpea fritters) and crocché (potato croquettes), eggplant involtini, various savoury pies, vegetable tabouleh and eggplant caponata. Prices go from 6 Euro/Kg to 14-15 Euro/Kg.
Past'ovo | Palermo | via Cesareo, 48/50 | tel. 091 6250009 | www.pastovo.com
by Francesca Fiore
translated by Eleonora Baldwin
Read Pasta makers in Bologna, top 11 places for the good stuff
Read Top 5 pasta makers in Bari
Read Fresh pasta in Genova, 8 places for quality goods