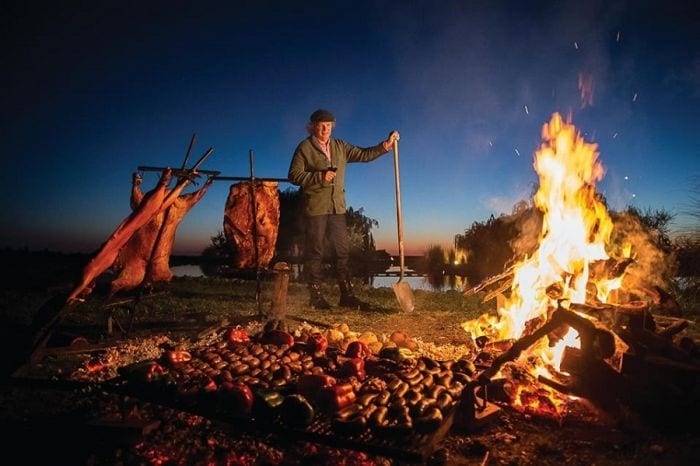 A celebrity chef in the 80's with many restaurants and a dedicated episode of Chef's Table: Francis Mallman is an ambassador of the Patagonian culinary movement and he's about to open his first restaurant in Europe.
Mallman
Those who first saw him in front of the television cameras of Chef's Table remember him dealing with extemporaneous flames, wild landscapes, primordial surroundings. That slightly naïve approach to the kitchen, and to life as well, is a quality that Francis Mallmann, 61 years old, is still proud of. Born in Argentina, in the Buenos Aires region, and the ambassador of a Patagonian culinary movement which he has dedicated himself to over decades of his career, today Mallmann is a celebrity recognized not only in South America. He is also a capable restaurant entrepreneur. Strongly attached to his roots and his own territory – in Argentina and Uruguay he manages various restaurants – over time he has also exported his gastronomic philosophy north. In Miami, his name is on the kitchen of Los Fuegos by Francis Mallmann, in the Faena Hotel since 2015.
The new restaurant
In the past, in the early years of his career, a 20-year-old Mallman went to Paris to learn the basics of classic cuisine from the greatest French masters of the day, a direction that Mallmann abandoned when he returned to Argentina. Instead, he followed a more passionate, individual path. But now, many years after his first French experience, Mallmann has decided to return to Europe and open his first restaurant in the Old World, inside one of the most celebrated wineries of Provence, north of Aix-en-Provence, Château La Coste, noted also for its open air gallery of contemporary art. The chef has dedicated the place of honor to a grand grill, which is almost an artistic installation itself. It will be used to slowly cook large cuts of meat and whole fish. Restaurant Mallmann, as the sign proclaims, completes the wine estate's food offerings, which also include the cooking of Tadao Ando, Restaurant Louison – Gerald Passedat, the Terrasse café and an exemplary kitchen garden designed by Louis Benech.