"Every morning at breakfast, my brothers and I would fight over the leftovers of bread from the night before, to soak them in hot milk with a drop of coffee. We used to call this pie "milk soup". . . Then, to my own liking, I would add sugar, lots of sugar, until my mother would scream "Massimoooo – it's too much sugar!" She loved to tell this story to strangers, with a commentary "Look at him now – a famous cook!" This is the memory of Massimo Bottura, narrated with nostalgia in "Il pane è oro", a volume created with the collaboration of 45 great Italian chefs, united to demonstrate that a great dish can be made from even the most humble ingredients.
The recipes with leftovers in Italy
A practice that has always existed in Italy, that of recovering leftovers, and which has contributed to the creation of many recipes that symbolize the tradition: "Sprecare was inconceivable, in a world accustomed to treasuring its resources, to making the most of them", explains Massimo Montanari in "Il Sugo della Storia". In order to fight the age-old issue of food waste, many laudable initiatives have been launched – and continue to be launched – (the most recent being the handbook for donating surpluses). But sometimes, to live more sustainably, it is enough to look back at the past, at our roots, and find the (good) practical sense of the past.
Italian recipes with leftovers
Here, we gathered the typical recipes of Italian cuisine based on leftovers, leaving out those based on dried bread and tomato and soups, to which we had already dedicated separate articles.
Bread cake: the countryside sweet
Among the foods that most often end up in the waste, bread. Versatile and very useful product even once stalemate, if wet with a little 'water, oil or milk. Extraordinary also in desserts, such as bread cake, a genuine sweet usually embellished with raisins and pine nuts, but which can be interpreted in many ways, with the addition of bitter cocoa or fruit, or perhaps a little 'cream inglese (as in the Anglo-Saxon variant of bread pudding).
Macaroni omelet: the Neapolitan beach lunch
Neapolitan dish prepared with spaghetti or advanced vermicelli, mixed with eggs, grated cheese and then cooked in a pan like an omelet. The macaroni omelet is the typical lunch for a trip or beach, usually seasoned with cold cuts and local cheeses. Not to be confused with the frittatina di pasta, one of the most popular street food in the city, a medallion of spaghetti stuffed with cooked ham, besciamella and peas.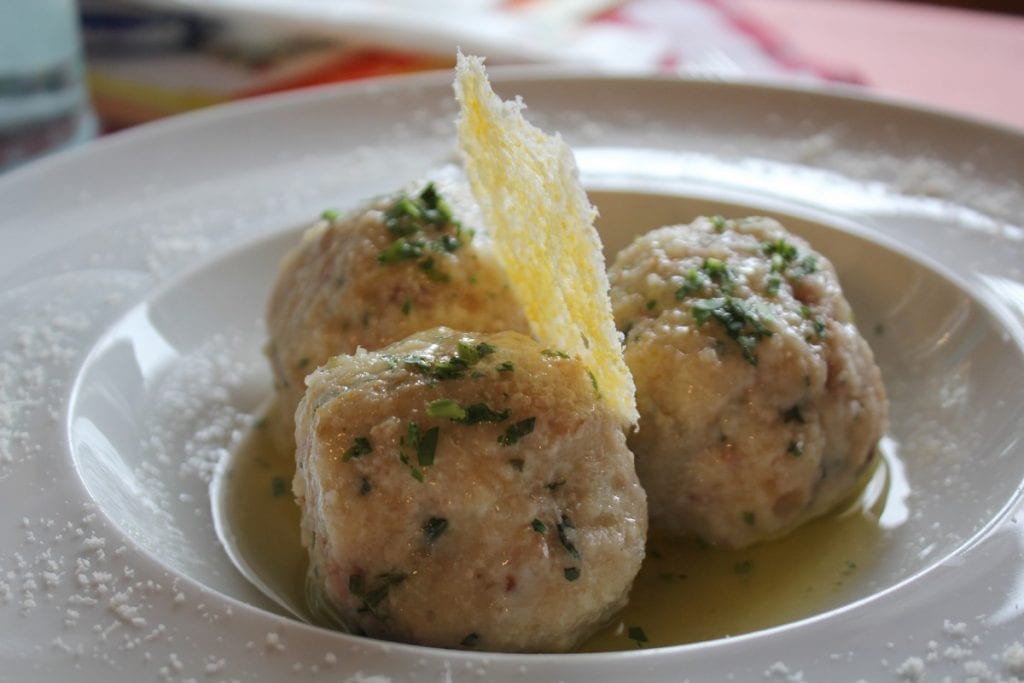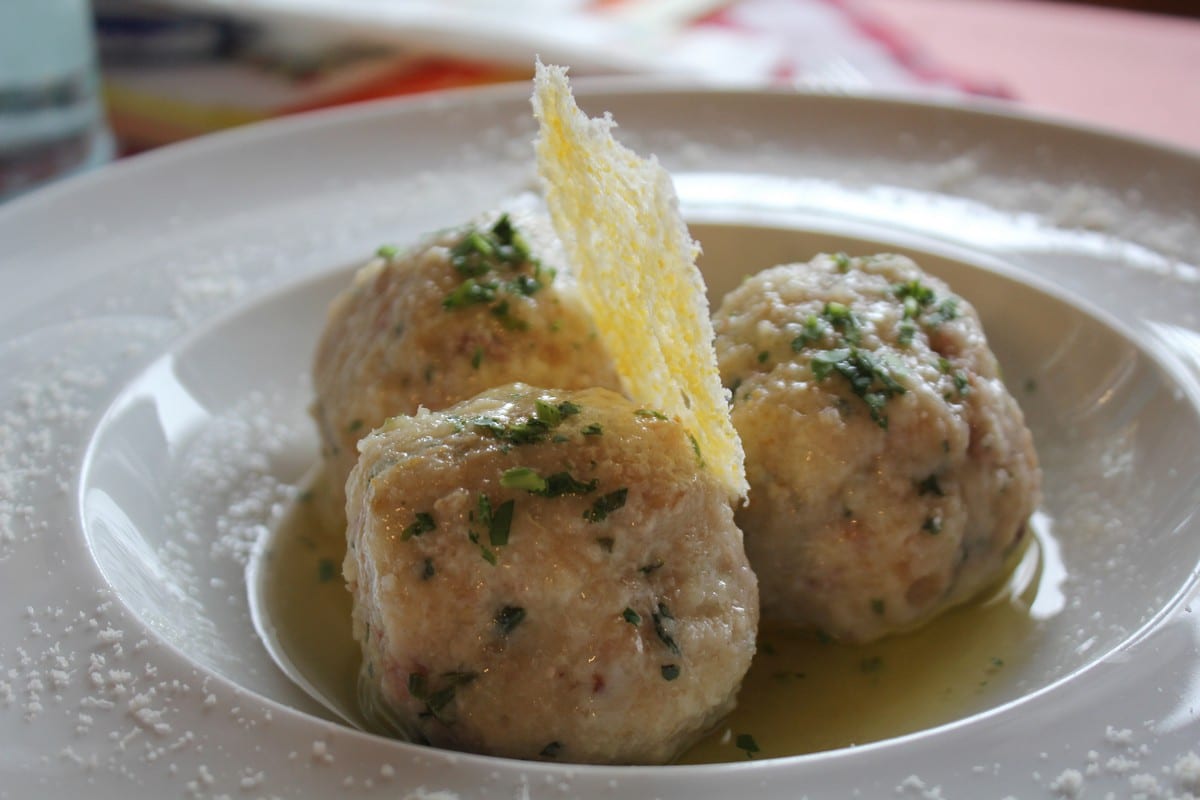 Canederli: the bread paste
Still bread, but this time for a first course: the canederli – found in almost all of Northern Italy and also known by the German name knödel – are typical Trentino gnocchi made of stale bread, flour, eggs, speck, parsley and parmesan cheese. A recipe that contains all the typical flavors of the high mountains, from sausages to cheeses, from alpine herbs to mushrooms and broths that go to flavor everything.
Pallotte cacio e ova: the meatballs of Abruzzo
They can not miss, then, the meatballs, "empty-fridge" food par excellence. Those from Abruzzo are called pallotte cacio e ova and are made with dry bread, eggs, salt, black pepper and grated cheese (usually pecorino cheese), fried first in a pan with a little 'oil and then dipped in abundant tomato sauce. In the past, they were prepared during special occasions, especially on St. Martin's Day, to celebrate the new wine, and on Shrove Tuesday, to celebrate Carnival. Again in Abruzzo, grandmothers' typical breakfast is pane maritato, particularly linked to the gastronomy of the village of Scanno (L'Aquila): a classic accompaniment during outings and a typical breakfast offered by grandmothers. It is a slice of stale bread soaked in egg and then fried in a pan with olive oil, to be flavored with a pinch of salt or sugar to taste, or - in true Abruzzo style - with a little honey.
Black cherry biscuits: pastry leftovers
Recovery not only at home, but also in the clubs, pastry shops first of all: in Naples, entering any bar, it is impossible not to notice the many biscuits with the black berry, symbol of a historical art of recycling Neapolitan. They were invented, in fact, precisely to avoid throwing away the leftovers of pasta or imperfect sweets that were not on sale: some slices of sponge bread, excess pastry, and mixed pastries from the day before, all mixed with syruped black cherry and cocoa. Today, the recipe is coded and includes a filling of sponge bread, black cherry jam, cocoa and rum, but at home they can still be prepared the old way, so as to reuse all the surplus cakes, pastries and biscuits, especially on holidays.
Recipes from abroad: cake pops, banana bread, Angel food cake
There are also specialities of recuperation typical of the foreign tradition. Among the most popular are the cake pops, tasty balls made from leftovers of sponge bread or other soft cakes, mixed with a few tablespoons of jam and then sprinkled with sugar, bitter cocoa, coconut flour or colored codette. They are so called because, usually, they are stuck with a fine stick and served like lollipops, but they can also be turned into small bon bon bon. Furthermore, the banana bread, a kind of plumcake made with bananas too ripe to be eaten alone, and the Angel food cake, a soft and airy cake (hence the name "torta degli angeli") to be prepared with the advanced egg whites of the custard, perfect accompaniment to the dessert.
Anti-wasting tips: cooking with scraps
Recipes aside, there are many strategies to recover all those parts considered waste. Vegetable skins, for example, can be frozen in a bag and stored in a freezer, to become the basis for an excellent vegetable broth if necessary. For those who don't like to cook, dry bread is not only used for soups and panzanelle, but can also be easily turned into crostini to add to salads and soups, or breadcrumbs.
Potato and citrus peels
For the greedy, potato peels are excellent if fried, while lovers of vegetables can find valuable allies in broccoli stems, delicious if used in a cream or velvety, as well as pea pods. Citrus peels are ideal for flavouring desserts (for DIY enthusiasts, combined with vinegar can also become a valid multi-purpose household cleaner), while carrots can be chopped and added to the dough of dumplings. Do not forget, then, the cooking water of the vegetables (untreated): an excellent solution for watering the plants.
by Michela Becchi