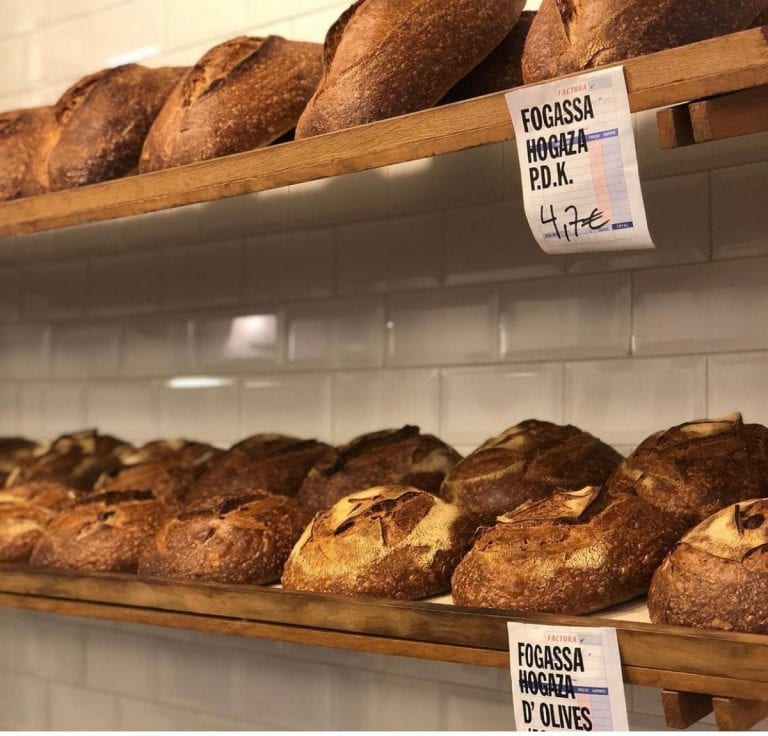 With a wide selection of bread types, pastries and viennoiserie, the corner for the sale of gastronomic specialties to open also a coffee spot: here is the new bakery in Barcelona that has made a name for itself.
Pa de Kilo's creators
First teacher at the Hofman culinary school, then chef de cuisine at Mano Rota, and now an avant-garde baker: Oswaldo Brito is a real professional, among the ones who did not let himself be overwhelmed by the unfortunate events of this past year. On the contrary, it was the crisis in the bakery industry that gave him the strength to get back on his feet and to focus on the white art with a fresh and appealing approach. Together with Jordi Mestre, owner of the Nomad Coffee in Barcelona, Brito took over a 30-year-old bakehouse with a gas oven and restored it. "Of course you have to turn it on manually every morning" affirms the chef, "but it is worth the wait, particularly for the flavour that this baking gives the bread, quite different from the one obtained with an electric oven." And continues "every loaf is different."
Pa de Kilo's specialties
Since its opening in mid-November, the sign saying Pa de Kilo could soon become the benchmark in Barcelona for high-quality bread. Their secret? Long fermentations, stone-ground flours, a good acidity level and a wide selection: besides the classic "kilo" white loaf, which never falls out of fashion, there are wholemeal bread, spelt bread, nut and seed bread, delicious ciabatta bread, brioches and all the other fixtures of every self-respecting bakery. Each creation originates from sourdough (and from the professional advice of Nuño García, baker and pastry chef), and many of these delicacies can also be found at Nomad Coffee, the café known for its fine specialty coffees. However, as soon as the pandemic will be over, the main goal is to sell bread to quality restaurants too.
Bread and coffee, a winning combination
Thanks to this new partnership, Nomad's trusted customers can count on top-notch brioches, croissants and pastries, while Pa de Kilo's patrons will soon be able to rely on a great coffee selection thanks to the new Nomad's coffee corner. A project that draws several souls together, "we knew that bread and coffee could be a winning combination: the Covid-19 pandemic has had a devastating impact on the hospitality sector, but at the same time it opened up new opportunities. In our case, it was a question of finding the time to take the place and put our ideas to use." A successful formula that "works well and restores the respect for bread that has been lost since it became a product that can be bought anywhere, even in a petrol station bar", Brito told 7canibales.
Confectionery and products on sale
But back to the products: white and wholemeal bread, with pumpkin seeds, oat flakes, seeds, nuts, olives, rye bread, and a wide range of confectionery. At first brioche bread, breakfast pastries, cinnamon rolls and croissants, then – since the collaboration last January with pastry chef Laura de la Fuente – brownies, carrot cakes and banana bread. An expanding confectionery section, which also includes festive cakes, such as roscón de Reyes, the Three Kings' day ring cake, traditionally prepared on January 6. Another novelty, only a few months after the opening, is the sale of niche products, such as Juan Vargas' Kalamata olives (featured in the famous focaccia with oil), anchovies, trout, pastrami, Rooftop Smokehouse's smoked butter, Nomad's coffee, of course, and a fine selection of natural wines.
Pa de Kilo – Barcelona – Carrer del Dr. Dou, 12 – instagram.com/pa.de.kilo/
 by Michela Becchi