It seemed like a passing trend, but in actual fact the vegan diet is becoming increasingly popular in Italy as well. Sometimes resorting to substitute products is necessary, but to follow a tasty vegan diet it's enough to browse through traditional recipes. The immediate examples are pasta dishes, from pasta with tomato sauce to orecchiette with turnip tops from Puglia, or polenta, to be enjoyed as is, grilled, fried or topped with mushrooms, and even pizza, plain or slathered with marinara sauce. And what else? Here are the Italian dishes that are suitable for vegans.
Winter dishes
Acquacotta
Typical of Maremma in Tuscany, this is the traditional cow handler's lunch based on unsalted bread, a Tuscan saltless loaf, extra virgin olive oil, water, salt, tomatoes and seasonal vegetables (broccoli with wild chicory or green beans with borage). All usually seasoned with a generous sprinkling of pecorino, but vegans can skip this step and still enjoy an excellent winter soup.
Artichokes "alla romana" and "Jewish style"
There are two recipes for cooking artichokes in Rome: "alla romana," stuffed with minced garlic, mint, black pepper and salt then cooked in a pan over a low heat stems upwards and bunched together, braised with a mix of extra virgin olive oil and water. And then "alla giudia," or Jewish style. This version was born in the Jewish quarter to celebrate the end of the fast on Yom Kippur, a Jewish holiday that celebrates the day of atonement. In this case, the artichokes are fried whole, directly in boiling oil, without any batter or breading.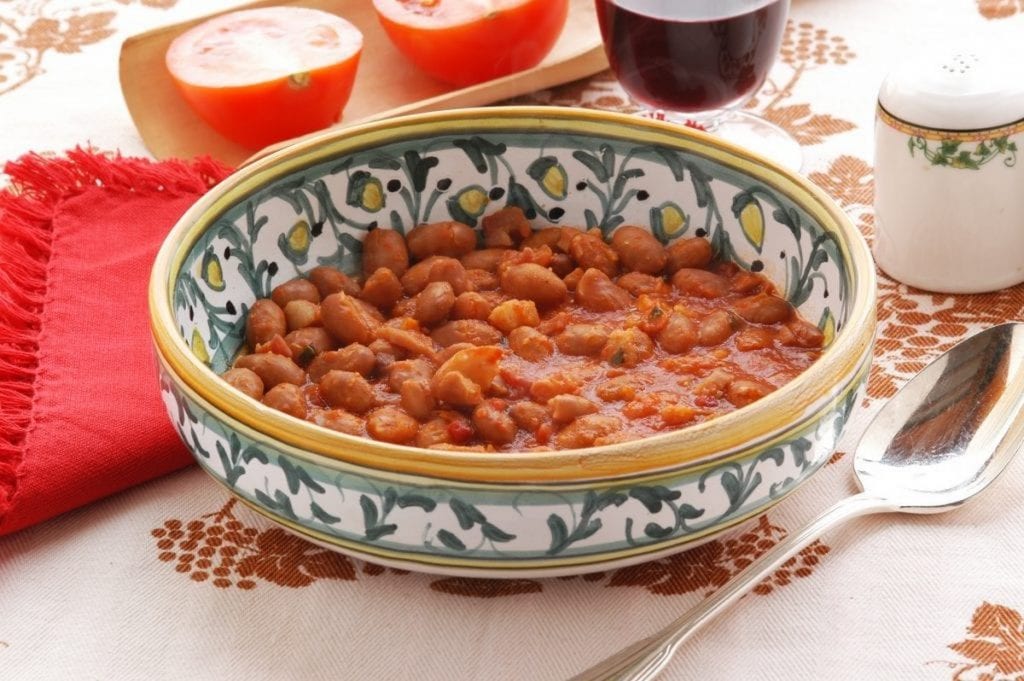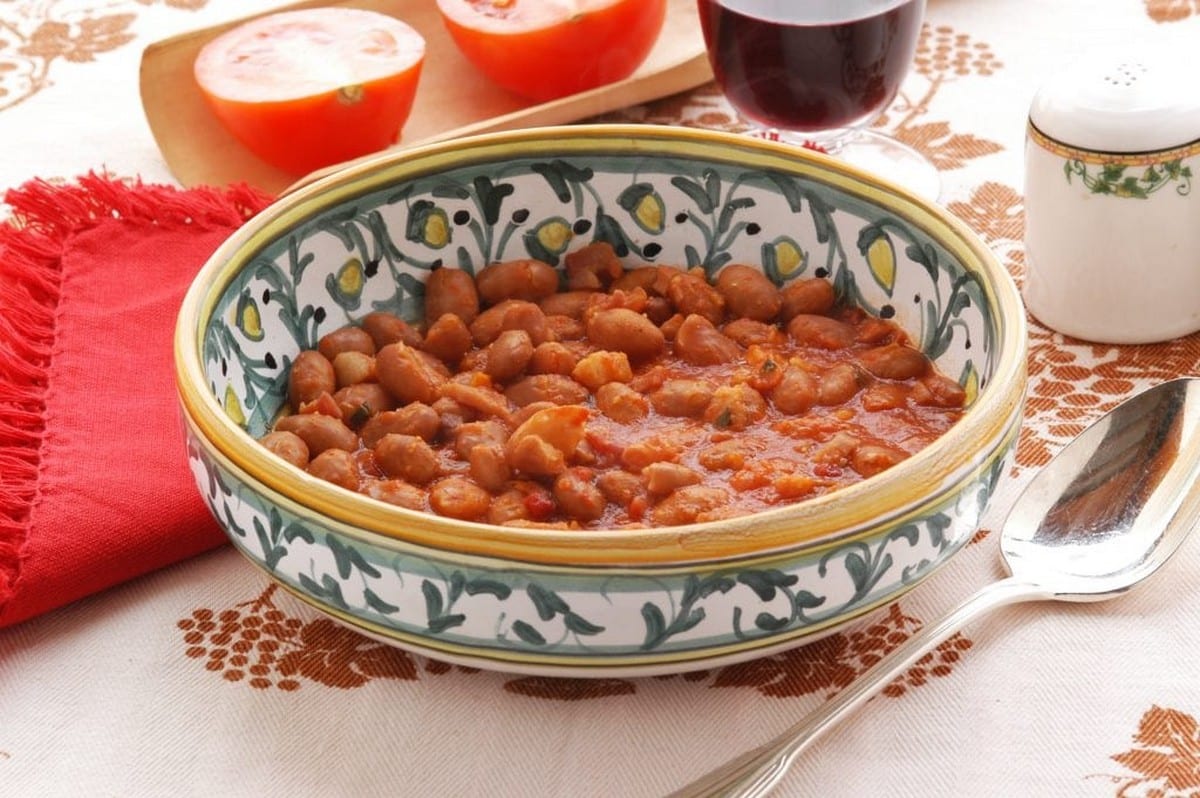 Fagioli all'uccelletto
In "The Science in the Kitchen and the Art of Eating Well", Pellegrino Artusi mentions them as "beans in the guise of birds," but claims to have heard them simply called "fagioli all'uccelletto" in Florentine trattorias. Cannellini beans are usually employed, cooked in an earthenware pot with a sauté of extra virgin olive oil, garlic and sage, to which tomato sauce diluted with a little water is later added. There are many hypotheses concerning the origin of the name: there are those who say that it refers to sage, used to flavour a roast bird recipe; others maintain that instead there used to be a dish of beans and birds, which was made without meat in the periods hunting season was closed.
Minestrone and vegetable vellutata
Poor dishes par excellence, soups and minestrones have their roots in the most ancient peasant culture: the term minestra was already present in 13th century recipe books and derives from the Latin minestrare, or to administer and serve at the table. The word zuppa, on the other hand, appears around the 16th century, a period in which it was widespread above all among the poorest families, who reused dry bread dipped in a broth of legumes and vegetables for nourishment. The name, in fact, comes from the gothic suppa, which means "soaked slice." For proper minestrone, homemakers start with a sauté of celery, carrots and onion and then add legumes and vegetables to taste, submerged in the broth and slow cooked over low heat. Vellutata, a blended vegetable cream is a puréed soup: there are those who add cream or cheese, but we recommend tasting it as is, obtaining the right density by adding potatoes or maintaining a balanced proportion of vegetables and broth.
Pappa al pomodoro
Despite being most famous for the Florentine steak, the Tuscan table boasts a series of delicious vegan recipes. One such dish, to be savoured in the colder months, is pappa al pomodoro, a soup made with stale bread, tomato, extra virgin olive oil, herbs and vegetable broth. It's a simple and substantial dish, whose origins have always been disputed between Siena and Florence.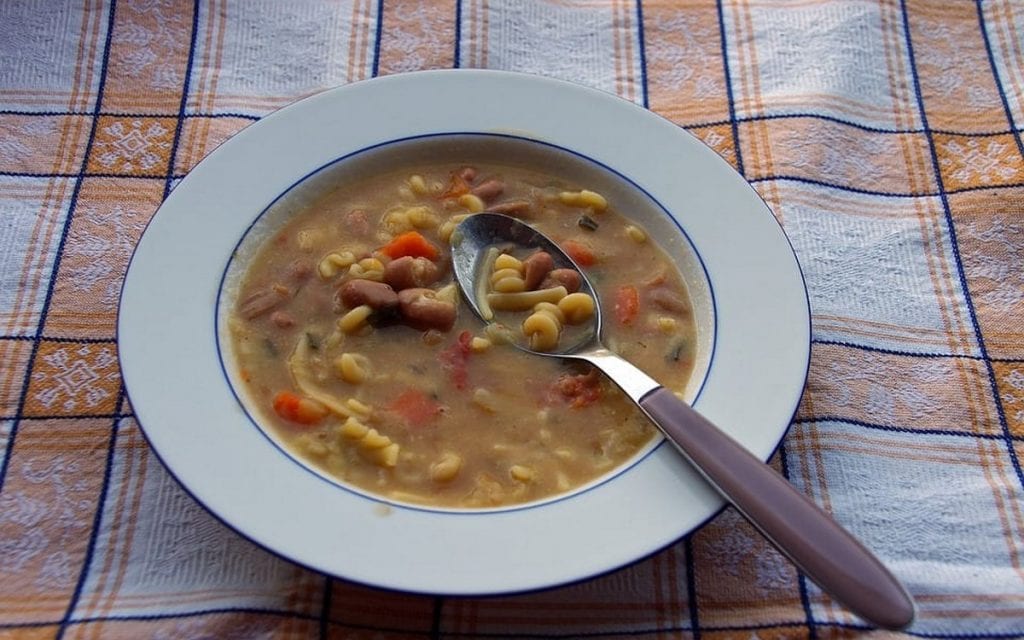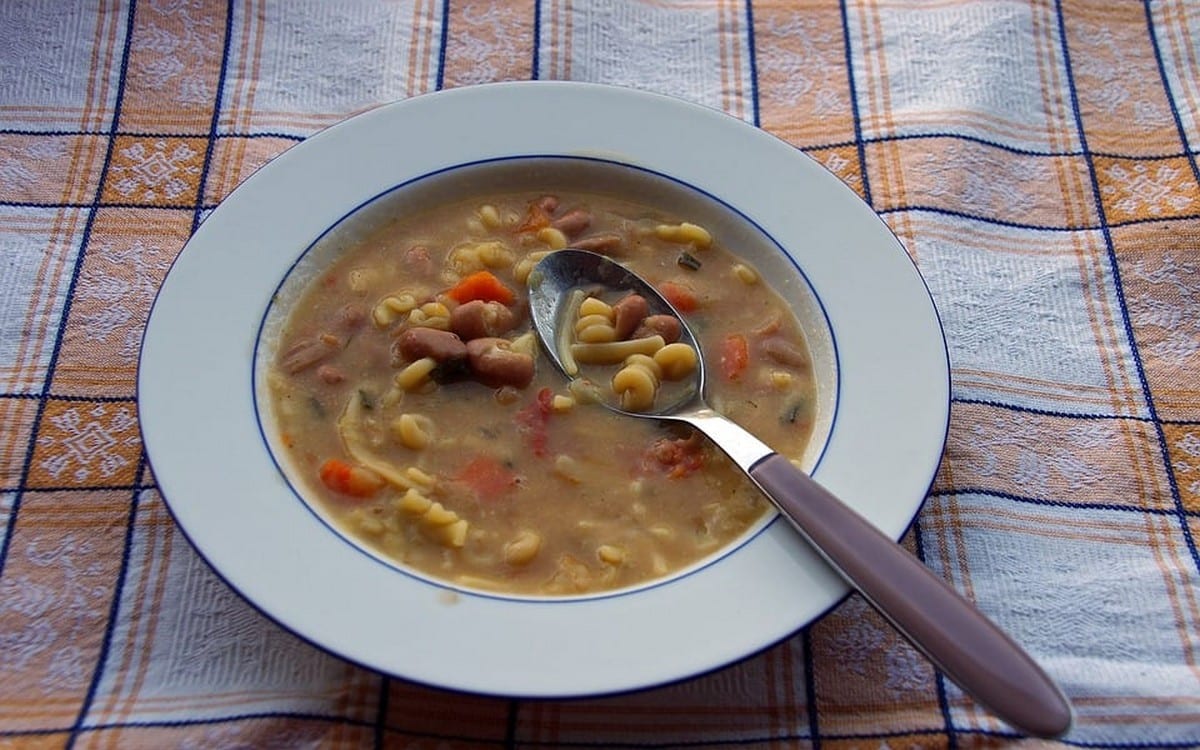 Pasta e fagioli (pasta and beans, or with chickpeas, potatoes, lentils)
Whether it's reginelle, sagne or ditaloni, it doesn't matter: pasta and beans, as well as pasta and lentils, pasta and potatoes or pasta and chickpeas, is one of the most loved dishes in all of Italy. It's a specialty with a reassuring and familiar flavour, perfect for warming up in the winter months. The undisputed queen of all recipes, the Neapolitan version, forsees the pasta cooked directly in with the legumes in order to preserve the starch and make the dish even more creamy ("azzeccato", as they say in dialect, or sticky). Often, it is enriched with pork rinds or mussels.
Ribollita
This soup is the symbol of Tuscan cuisine, starring lacinato kale, together with beans and savoy cabbage. The dish is characterised by a double cooking method: it owes its name to the custom of the peasants to prepare large quantities on Friday (lean day) and then re-boiling it in the following days.
Spring dishes
Macco di fave
Or rather màccu di favi, as they say in Sicilian dialect: a purée of broad beans originating from Raffadali, a municipality in the province of Agrigento, already prepared at the time of Ancient Rome and also shared with Puglia and Calabria. To make it, cooks start with dried broad beans, to which other vegetables such as swiss chard can be added. It is served hot, as a soup, with a little raw extra virgin olive oil
Vignarola
A side dish, but also a condiment for a first course, available only during spring: vignarola – a mix of broad beans, peas, artichokes and lettuce – was born as a poor dish in the Roman countryside, where vegetables abounded. A verified theory surrounding the birth of the recipe maintains that it all started in Velletri, a town in the province of Rome where winemakers began to prepare this dish on their return from the vineyards (in italian, vigne), using freshly picked vegetables. In fact, it was once common to plant certain vegetables along the rows, including broad beans and peas. Another theory believes that this is a recovery recipe, created to avoid wasting the leftovers of daily sales in fruit shops (the term "vignarolo" in Roman dialect means, in fact, vegetable seller). It is often served with the addition of crispy pork guanciale, but the original recipe is meat-free.
Summer dishes
Pomodori al riso
Summer specialty par excellence, rice stuffed tomatoes are always baked along with potatoes: a classic of the Lazio tradition now spread a little throughout the entire country, a delicious complete meal dish that's perfect to take to the beach or to eat during a picnic. It is preferable to choose tasty, fat and juicy sun-ripened tomatoes, so that they can be stuffed with lots of rice.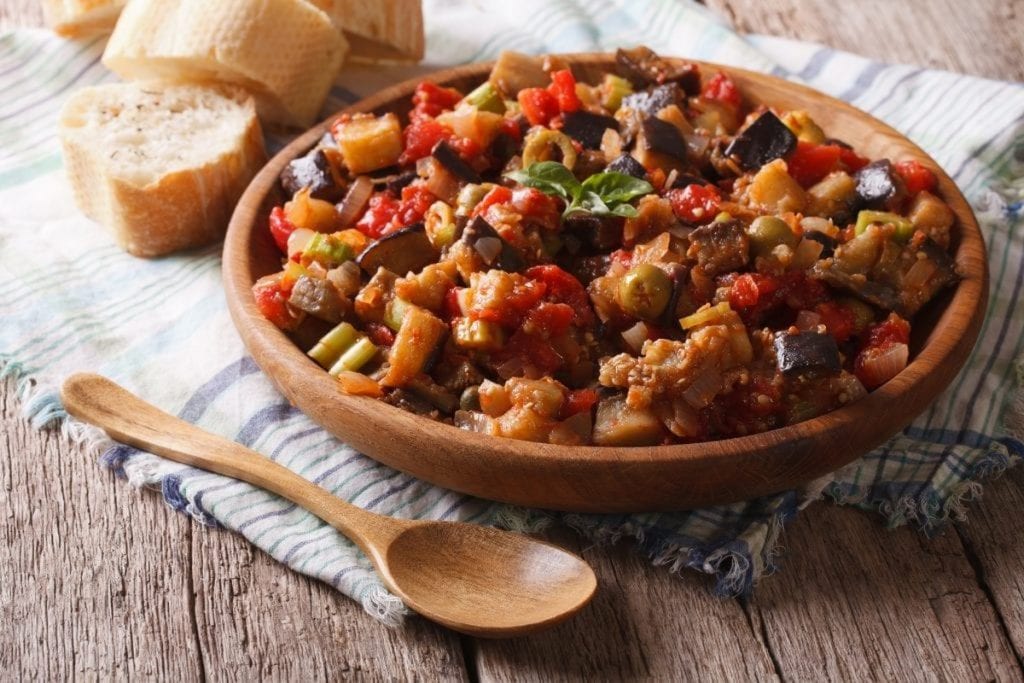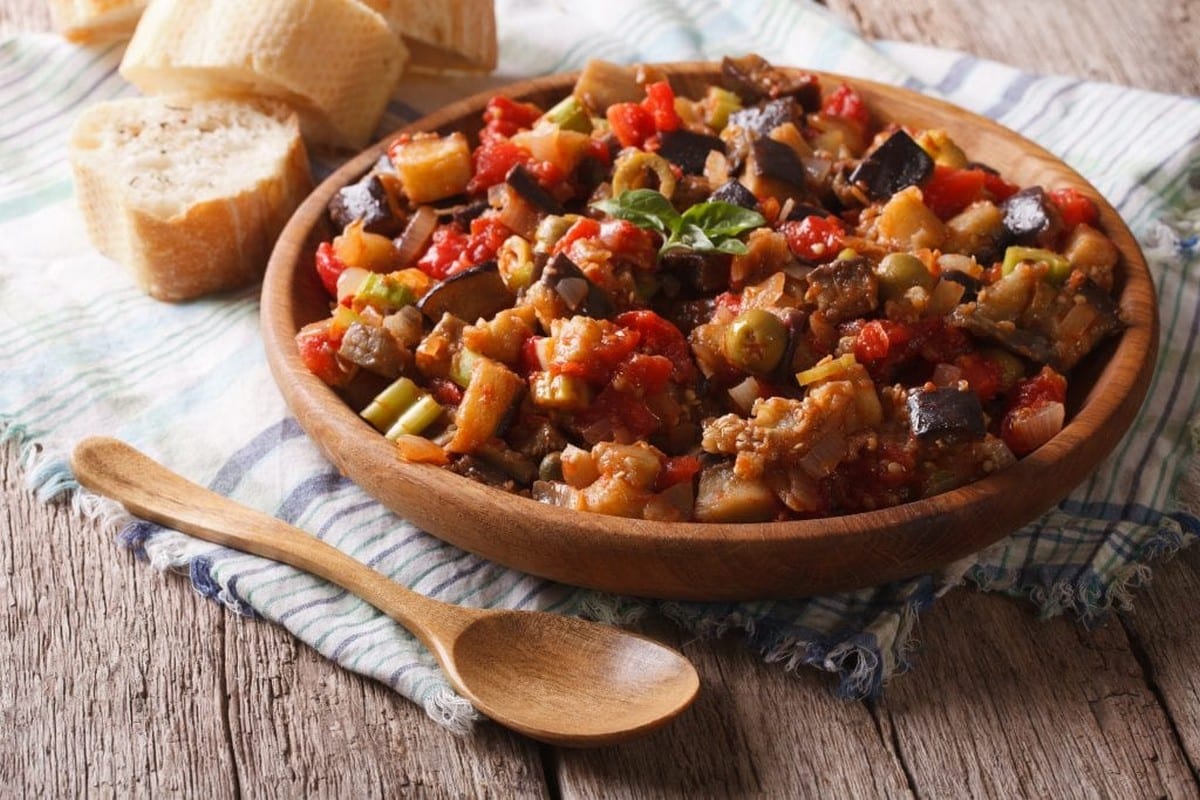 Caponata
Aubergines, tomatoes, olives and capers are the elements that make up the recipe for Sicilian caponata, a dish that stands out for its sweet and sour taste given by the combination of sugar and vinegar. Technically, it is a side dish but it can also be used in other ways: for example, transforming it into a condiment for a fresh homemade pasta, or in the filling for a tasty savoury pie.
Panzanella
A peasant dish the uses leftovers, panzanella is a cold salad of stale bread soaked in water and cut into small chunks along with tomatoes, cucumbers, red onion, salt, pepper and extra virgin olive oil. A purely Tuscan specialty, even if there is a Lazio version, which instead uses whole slices of bread topped with the other ingredients: a sort of bruschetta but made with day-old bread.
Desserts
Cavallucci
Typical of the province of Macerata, in particular Cingoli and Apiro, the cavallucci are biscuits originally prepared by local vergare (the Marche housewives) for the Christmas holidays, now available all year round. The filling is made with local sapa (grape syrup obtained from wine must), walnuts, hazelnuts, almonds, sugar, breadcrumbs, bitter cacao, Marsala, white wine, coffee, lemon and orange peel. The crust, on the other hand, is made with flour, sugar, white wine, seed oil and powdered cinnamon. The stuffed discs are closed in a crescent shape and baked.
Ciambelline al vino
These ring shaped biscuits are shared by many regions of central Italy, in particular Lazio (especially the area of the Castelli Romani, where they are called 'mbriachelle), Abruzzo and Umbria. They are very simple homespun cookies, whose origins are lost in the mists of time. The ingredients are few, only four: flour, sugar, olive oil, wine. Before baking, they are dredged in granulated sugar.
Celli ripieni
These stuffed sweets look like shortcrust biscuits, but in reality the dough is made with flour, white wine and olive oil: ingredients that give life to a dough with a neutral flavour, perfect to accommodate a sweet filling of scrucchiata, the typical grape jam from Abruzzo. Lending even more flavour to the filling are furthermore toasted almonds, bitter cacao, cinnamon and lemon zest. The name means "stuffed birds" and refers to the shape that resembles a crouching bird.
Mandorle atterrate
Another pastry from Abruzzo, a region where most desserts are made with olive oil, a product that has never been lacking in the pantry, even in times of famine. An example of this is the atterrate almonds, born from the need to use broken almonds that cannot be used for local sugared almonds and produced with coarsely chopped sheared almonds, sugar, water, cacao powder, lemon peel and cinnamon. Often a drop of coffee or alchermes is also added.
Focaccias and other baked goods
Farinata
A preparation that's widespread in many areas, especially in Liguria, Tuscany and Sardinia: a very flat savoury pancake created by mixing chickpea flour, water, salt and extra virgin olive oil. Legend has it that it was a battle between Genoa and Pisa in 1284 (known as the Battle of Meloria) that generated the conditions for this recipe to be developed, thanks to an unfortunate event: a terrible storm during which some barrels of oil and sacks of chickpeas spilled, soaking themselves in salt water. The sailors tried to recover as much as possible of these precious supplies, using containers to store pureed chickpeas, water and olive oil. Left in the sun for a day, this dough became dry, but the crew members, taken by pangs of hunger, ate it voraciously, thus understanding its appeal.
Focaccia genovese
Known in the city with the dialectal name of fugàssa (literally "cooked on the hearth"), it is one of the most popular preparations of the Liguria capital: a sort of flatbread a couple centimeters thick, "pinched" on the surface and covered with a mixture of water and extra virgin olive oil, as well as grains of coarse salt.
Focaccia barese
Probably born as a variant of Altamura bread, which later became famous throughout Italy and beyond, focaccia from Bari was originally prepared to take advantage of the initial heat of the oven, not yet at the high temperature to bake bread, and was used to feed the bakers during working hours. The original recipe includes re-milled semolina, boiled potatoes, water, yeast and salt: the dough is spread on an oiled pan where it will continue to rise for a few hours. The classic dressing is fresh cherry tomatoes cut in half and often also black olives from Bari, but there are many variations.
Focaccia tarantina
Unlike the focaccia from Bari, white wine disappears in the dough of the Tarantina focaccia, the leavening is different and makes the product flatter and more dense. The filling is made with thin slices of white onion and black "inked" olives, aka celline olives, so called because they are so dark and juicy that they "stain" everything, as happens with ink. This mix gives the focaccia filling an unmistakable black-purple colour.
Taralli
Another bakery product that's typical of Puglia but that's also present, albeit in a different way, in other regions. Apulian taralli are made with flour, water or wine, oil and salt, flavoured with fennel seeds, onions, chilli or other ingredients. They are first boiled and then baked in the oven. Another famous version is the Neapolitan version of taralli made with lard and pepper ('nzogna e pepe, in dialect), in which however there is lard, so unsuitable for vegans.
Freselle
A specialty common to various regions - Campania, Calabria, Basilicata and Puglia - these are donut shaped crisp "rusks" made with durum wheat flour, water, salt and yeast, usually consumed as a complete meal when combined with seasonal vegetables (the classic version includes fresh tomatoes in summer). The dough is cooked twice and, once ready, is slightly moistened with water and softened with extra virgin olive oil, before being seasoned.
Tuscan Schiacciata all'olio
Many products in Tuscany are called with the name schiacciata. In this case, we mean schiaccia, the most traditional and ancient: a flat bread cooked in a wood-fired oven, seasoned with abundant extra virgin olive oil. It is prepared with flour, water, milk or wine (naturally, the latter for vegans), seasoned with salt and more olive oil.
by Michela Becchi