Lebanese food: mezze and lots of vegetables
The Middle Eastern version of Spanish tapas, the mezze are small bites of local staples that allow guests to enjoy several dishes and prepare their palates. This is the main characteristic of Lebanese cuisine, with one of the greatest culinary traditions worldwide, that strongly influenced the neighbouring dining tables, starting with Egypt. The association with spices is immediate, but when talking about Lebanese cuisine we often forget to mention that plant-based dishes take centre stage at dining tables, from cereals to pulses, vegetables and herbs. After all, this has been the case since the Mesolithic period, from the time of the Fertile Crescent, a rich land that guaranteed an abundance of products, processed and turned into delectable specialities. Here are the most popular Lebanese dishes.
Traditional Lebanese dishes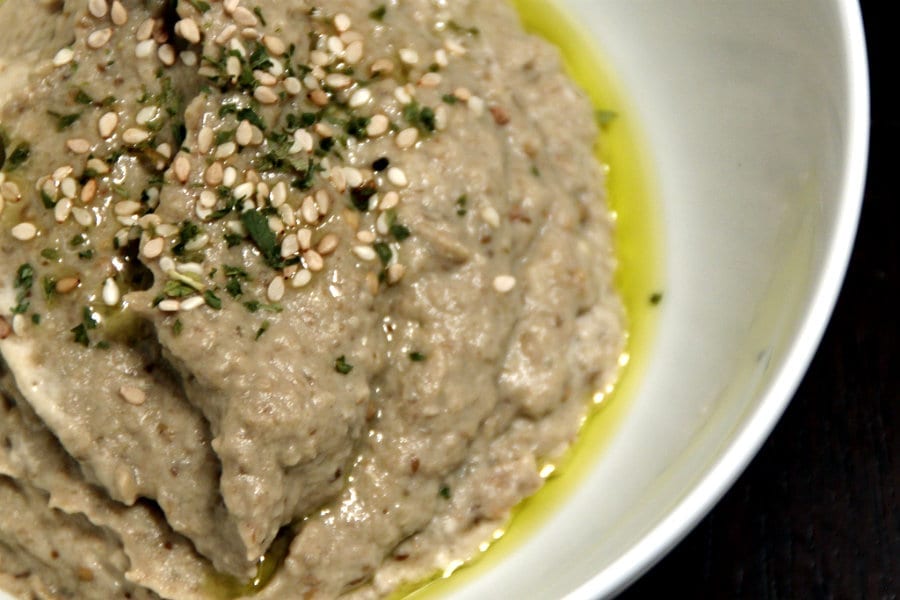 Baba ganoush
Also known as baba ghanouj, it is a dip made by cooking aubergines for a long time in the oven, mixed with spices, herbs and other ingredients depending on the area. It is usually made with tahini, a paste made from sesame seeds, olive oil, mint leaves, garlic and salt. It is also an accompaniment for falafel or spread on naan or pita bread in combination with hummus.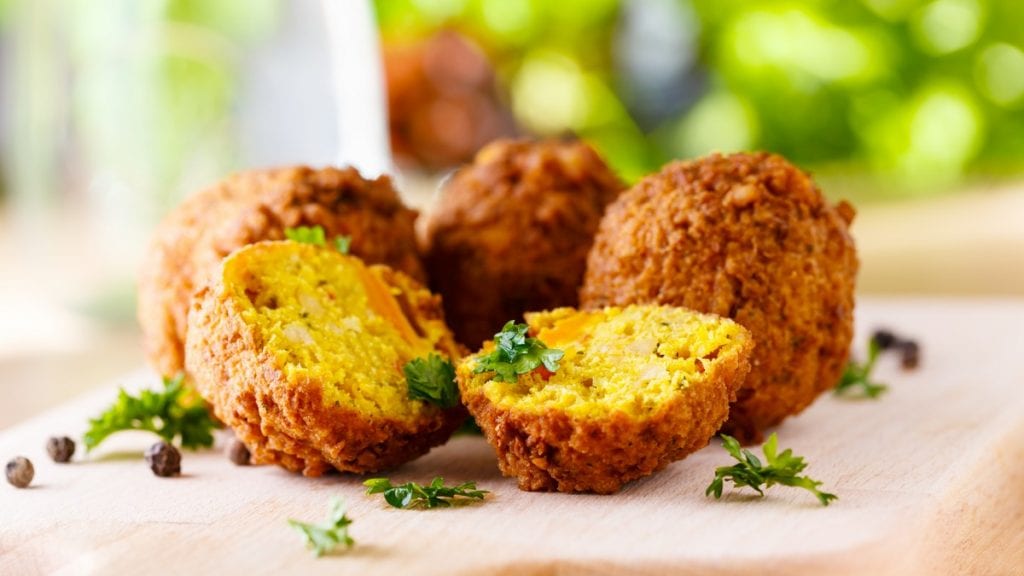 Falafel
Falafel is probably Lebanon's most famous dish, as well as being one of the most popular and appreciated around the world. Thanks to their spicy taste, these small vegetarian patties have long since won over everyone's palate, probably also because of the increasing numbers of vegetarians and vegans that prefer them as alternative to kebabs and traditional meatballs. Street food par excellence, falafels are good at any time of day, whether in pita bread or as stand-alone dish, accompanied by fresh yoghurt dips to tone down the spicy flavour. They are made of ground-up chickpeas or broad beans, or beans, along with garlic, cumin and coriander.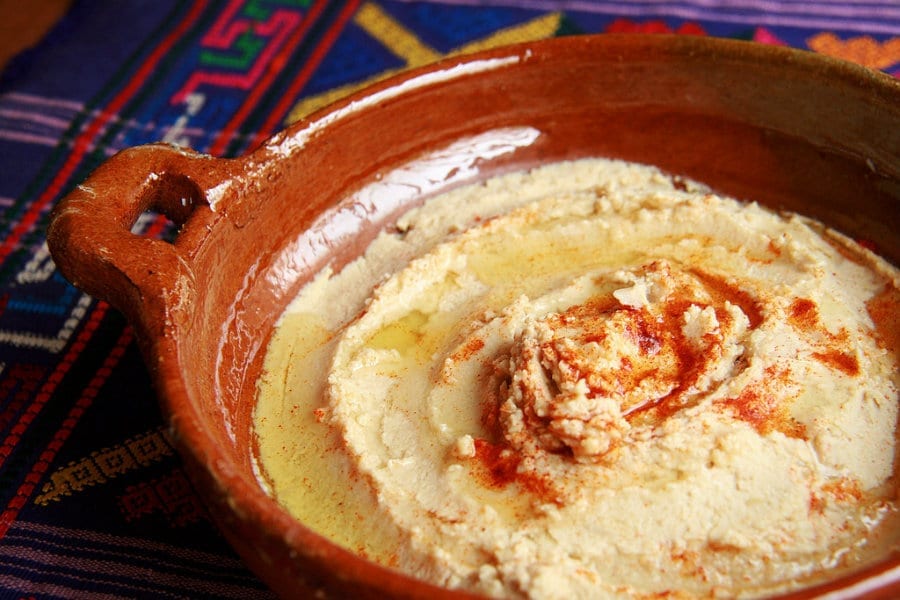 Hummus
A great classic of Middle Eastern cuisine that knows no boundaries, it is very likely that hummus originated in Lebanon. A dip used almost everywhere, to fill sandwiches, accompany flatbreads, slices of bread and vegetables. Tasty and slightly spicy with many variations, it is a simple preparation made by blending chickpeas with tahini, lemon juice, olive oil, salt, turmeric and curry.
Knafeh
A traditional dessert made with fine semolina dough, soaked in sugar-based syrup and layered with cheese and nuts. The result is a multilayered, soft and well soaked square, served as a dessert at the end of the meal or at breakfast. Legend has it that it was created by doctors in Egypt to satisfy the hunger of caliphs during Ramadan. What is certain is that knafeh is the most typical Lebanese dessert.
Kibbeh
A mixture of bulgur and semolina filled with lamb, mint, spices and other flavourings depending on the area. Particularly popular in Lebanon, Syria and Iraq, as well as in North Africa, Turkey and Armenia, the name derives from kubbeh, which means 'ball', and refers to its round shape. These meatballs are also found throughout Latin American countries, especially in Brazil, introduced by Syrian-Lebanese migrants from the former Ottoman Empire.
Lavash
Since 2014 intangible heritage of humanity for UNESCO, lavash is a kind of flatbread made with water, flour and salt, widespread especially in Armenia and Artsakh, but also consumed in Iran, Turkey, Georgia and throughout the Middle East. The sheet is soft when warm from the oven, can be stuffed and rolled, but will become crisp as it cools, perfect to be eaten as a snack, a base for croutons or to accompany meals. Lavash can be stored for a long time if kept in an airtight container.

Maamoul
Fragrant, crumbly shortbread biscuits traditionally reserved for special occasions, particularly Easter and the celebrations at the end of Ramadan. As a matter of fact, they are a real bundle of energy: the filling consists of dates and nuts (or also figs, pistachios or almonds), and are accompanied by coffee or chocolate. They are usually round, decorated by hand in different ways.
Naan
A symbol of Indian cuisine, but widespread in most Middle Eastern countries, naan was originally a generic term for all types of unleavened bread worldwide, known in Turkish as nan. The dough is made out of durum wheat, baked on the spot and served while still warm. There are also variations, such as the one with white flour, salt, sourdough, and yoghurt and milk to make it softer and more tender.

Pita
Symbol of local street food with ancient roots, this round flatbread filled with meat or vegetables, sauces and dips. The soft dough is made from flour, water, olive oil and brewer's yeast. Mesopotamian bread was already flat und unleavened, simple with less crumb, practically empty inside, ideal for various fillings.
Sambousek
Sambousek is a fried turnover that closely resembles samosa, typical Central and South Asian fried pastry filled with potatoes, onions and peas, or other ingredients, served as a snack or appetiser. Sambousek also consists of a thin dough made from flour, water, olive oil and yeast, and a filling of ground meat and vegetables.

Shawarma
Lamb takes centre stage in this recipe, although sometimes it is replaced by chicken or beef. Either way, we're talking about a meat skewer roasted on a vertical spit. This way the fat melts slowly, dripping on the meat, giving it even more flavour, used then to fill sandwiches. Very similar to the doner kebab or the Greek gyro, the shawarma is nothing more than a homemade kebab, to be enriched with sauces and veggies.

Tabbouleh
One of the most representative dishes of Lebanese cuisine and very popular in Beirut: a salad made with parsley, spring onions, mint, tomato, lemon juice, olive oil and bulgur, which literally means 'cracked wheat', i.e. sprouted, steamed wheat, dried and ground. Originated in Lebanon and Syria, today it is consumed in all Middle Eastern countries, featuring many variations. It is generally served as an appetiser, as part of a mezze.
Hummus recipe
Ingredients
400g boiled chickpeas
3 tbsp tahini (sesame paste)
3 tbsp sesame or peanut oil
2 garlic gloves
1 or 2 lemons, juiced
salt to taste
sweet paprika for decoration
optional: tabasco sauce
Reserve a few whole chickpeas for serving. Combine the remaining, olive oil, tahini, juice of one lemon, a pinch of salt, a splash of tabasco (optional), the peeled and crushed garlic cloves and a few tablespoons of the chickpea cooking water in a food processor and blend to a creamy and smooth purée. Taste it and adjust the seasoning to your taste by adding more lemon juice, or salt or tabasco. Hummus should have a strong and tangy flavour. Transfer the mixture to a small bowl, sprinkle with paprika strained through a sieve and garnish with the chickpeas set aside. Serve with croutons.