Ratatouille and the Pixar's film
"Food always finds those who love cooking". And so Remy found the inspiration for that poor but delicious recipe, a lucky guess. The little mouse protagonist of the 2007 Pixar's film bears the name of the iconic recipe: ratatouille. A cult dish for all those involved in the kitchen, from chefs to food critics, but also for simple gourmets who find memories and emotions in food. Famous is the scene of the ratatouille preparation, chosen by Remy to win over the palate of the unbending food critic Anton Ego: a poor, simple dish that arouses deep emotions in the feared fine-dining expert, reminding him of his childhood. It is his Proust's memory-laden madeleine, a combination of flavours that takes him back in time: but what is the real story behind the dish?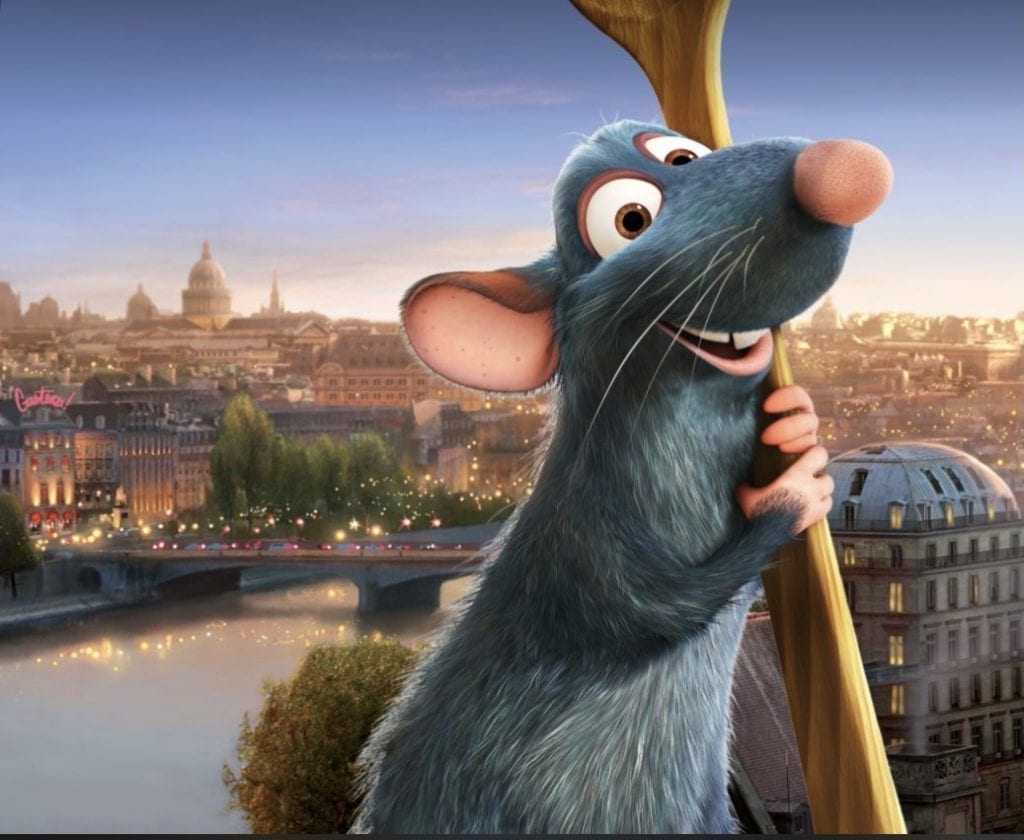 How and where ratatouille originated
A popular country recipe, ratatouille is a summer vegetable stew made from courgettes, aubergines, red and yellow peppers, tomatoes and onions, to which other vegetables can be added. This speciality originated in Provence, a region in the south-east of France characterised by its Mediterranean cuisine, made up of aromatic herbs and lots of vegetables; the name comes from the French words rata, which indicates a stew with whole pieces, and touiller, which refers to the action of mixing the ingredients together. More precisely, the recipe originated in the eighteenth century in the Provence countryside, thanks to the inventiveness of farmers who needed to use the entire end-of-season harvest. And above all, they wanted to restore dignity to overripe vegetables, that were beginning to spoil, through slow cooking and intense aromas.
From France to Spain
Although it is ascertained that the dish originated in France, some culinary historians believe that similar recipes were already present in the Basque Country and Catalonia, making their way over time to the south of France. Another theory is that mixed vegetable stews were already being prepared in Roman times, but they tasted very different, as tomatoes and courgettes were not yet present. Once, ratatouille was a healthy and hearty main dish, while today it is served as a side dish with meat and fish, as a tasty appetizer, or as a main course with rice.
Ratatouille appears in restaurants
But how did ratatouille get into restaurants? It first appeared on menus in the 20th century, when it was prepared in the traditional Provençal way, using only aubergines, courgettes, peppers, onions and tomatoes, enriched with the typical herbes de Provence, the dried Mediterranean herbs that are a feature of many local recipes: rosemary, oregano, basil, thyme, sage, marjoram, fennel, mint and summer savoury. From a peasant dish made with the few ingredients available, ratatouille became a restaurant-worthy dish, today known beyond national borders thanks to the computer-animated film that made it a success, inspiring chefs of all levels to prepare it in the most original versions.
How to make Pixar-style ratatouille
Well-groomed, with an inviting look, the film's ratatouille is quite different from the traditional mix of chopped vegetables cooked in a pot. Many say that it was Hélène Darroze, the entrepreneurial chef who grew up at the court of Alain Ducasse, who inspired Pixar's dish, while Luigi Cremona, the Italian expert taster also known abroad, is said to have contributed to the image of the food critic Anton Ego. But let's go back to the recipe: little chef Remy cuts each vegetable into rounds, then place them on a baking tray covered with piperade sauce (made with peppers and tomatoes), alternating them by colour. The result is a colourful and harmonious composition, well served with a little sauce on the surface, besides the inevitable aromatic herbs added fresh by the mouse only at the end. Making it just like in the film is easy, you just need a little patience when slicing and attention to the colour alternation: before cooking everything in the oven at 160/170° (320/340°F) for about fifty minutes, it is better to imitate Remy and cover the vegetables with parchment paper to prevent them from burning.
by Michela Becchi