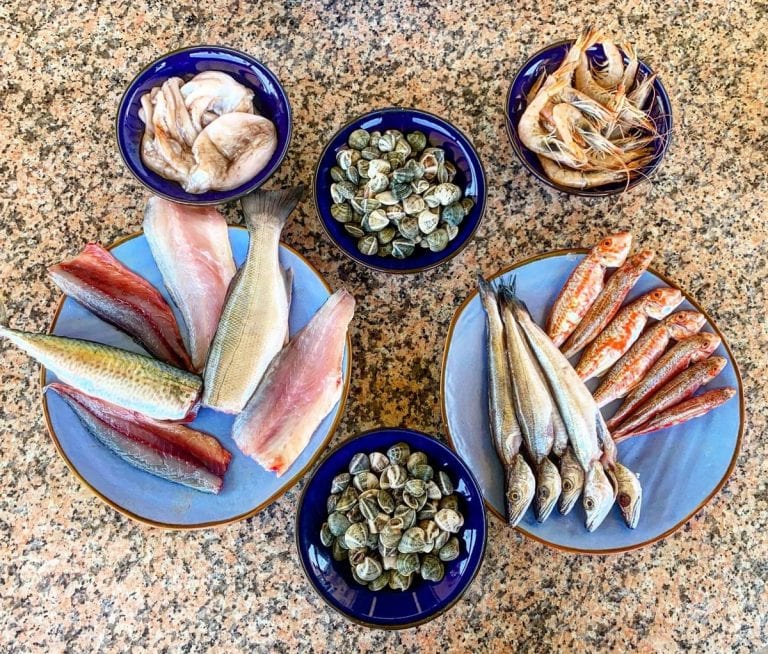 The latest project born in the Dol HQ is the brainchild of Vincenzo Mancino. Dedicated to fish and seafood in a moment of duress for the supply chain. The initiative promotes sustainable fishing and consuming seasonal products, bringing home good quality fish, already cleaned and at honest prices.
Dol. Di Origine Laziale: the project
Dol is a well known acronym in the world of Rome food enthusiasts. Di Origine Laziale is the project started in 2005 by Vincenzo Mancino, with the intention of bringing value to ingredients that are often unknown in the region and thus promoting the work of small Lazio farms. Over time, the product scouting activity merged into a more ambitious restaurant project, which is under the Proloco DOL umbrella, a shop with a kitchen born in the Centocelle district, and then exported elsewhere in the city (with openings in Pinciano and Trastevere). The fil rouge of the operation – which in the meantime has also acquired a social value with the foundation of the Cibo Agricolo Libero cheese making creamery inside the female ward of the Rebibbia correctional facility – has remained unchanged, linked to the protection and marketing of Lazio products, from cheeses to cured meats, by way of butchery, vegetables, legumes, wines and beer. The missing link in all this was fish. A void to fill, especially as the Lazio coast, overlooking the Tyrrhenian Sea, boasts a great variety of seafood.
Dol Fish. Bringing attention to the Lazio fish supply chain
The idea of the project came during lockdown, while Dol's distribution chain guaranteed the supply of (good!) food at home throughout the city: "The basic principle is what has always distinguished our mission: high quality Lazio food and wine in everyone's homes, at an affordable price – reminds us Vincenzo Mancino – Food is a right, and good food must be guaranteed. Safeguarding the entire supply chain, from the producer to the processor, to the seller, to reach the customer." This is the basis for a reflection that has taken place in the context of recent months: "The local fisheries have been literally crushed by the crisis (to learn more, read our survey on the world of fishing, Ed): reference channels were lost, fishermen were forced to sell to large distribution to overcome the moment, they had to also accept very little in exchange. Dol has always tried to watch the market movements, fish was missing in our experience, and this seemed like the best time to start."
The Dol Fish selection
Dol Fish, as the new rib of the Dol family in the context of delivery, will express itself at its best, bringing fresh wild-caught fish arriving from the Rome Fish Market, selected by Francesco Baldini, straight to the homes of the Romans: "With Francesco we we met at the night market, I was looking for fishermen or dealers who buy directly from Lazio boats. There are 3 or 4 vendors that meet these characteristics, Francesco immediately showed interest, he took the opportunity for himself and the possibility of bringing people closer to a conscious consumption of fish." The project aims to be a way to reiterate the importance of sea seasonality and sustainable fishing, and at the same time provide a useful and practical service even to those who are discouraged by their unfamiliarity with cleaning fish, who often end up excluding it from their daily diet. The Dol Fish seafood, in fact, arrives at home already cleaned and filleted, in a refrigerated box weighing 2 or 3 kilos, based on the value of the daily catch (the price is fixed, 65 euros with free delivery throughout Rome): "We deliver the fish already cleaned for a matter of product shelf life, as well as for practicality. Francesco has the EEC stamp to do this, we take particular care in setting up the refrigerated package, with biodegradable PLA trays. And we deliver through our circuit, at an honestly competitive price: at a regular fishmonger with 60 euros you don't take home the same quantity and variety of fish already cleaned, which can be kept in the refrigerator and can be safely stored for 3 or 4 days."
How to order the box
Each box contains 6 or 7 different types of fish and seafood (mullet, mackerel, croaker, sea bream, sea bass, cod, pink shrimp, octopus…), mussels and shellfish too: "We ensure 99% origin from the Lazio coast, for mussels, veraci clams, telline, however, sometimes the availability is only from the Adriatic." Purchases are done sight unseen, according to availability of the week. But this is also the great thing about the experience. The order must be received from Monday to Thursday via Whatsapp or email, deliveries are made at home every Wednesday, payment can be made in cash, POS, bank transfer or PayPal. But the project could soon arrive also on the table of Proloco Dol, "probably on a weekly basis, on Wednesday or Thursday with seafood courses." Even Proloco, in fact, has reopened to the public, "we work at 40-50% capacity. The Centocelle branch, which has no outdoor seating, suffers a little more." But Vincenzo Mancino greets us with broader hope: "There has been much talk of change, but we are lazy and have little memory, we will go back to behaving like before Covid. Instead we should take advantage of this opportunity to educate ourselves to slowness: we are part of a larger project of nature, and we should respect it. "
Dol Fish – Reservations at 3929576658 (WhatsApp) or by email at [email protected]
by Livia Montagnoli