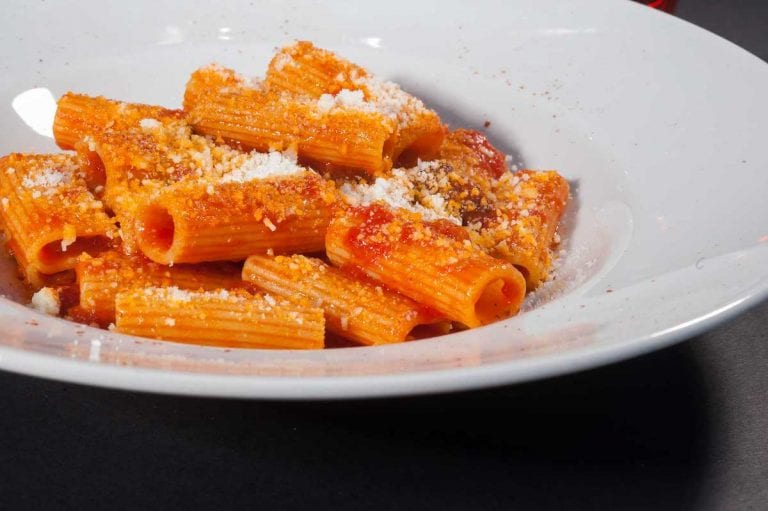 Perfect as far as execution, simple menu, fruitful in the wine cellar: Da Cesare al Casaletto in Rome, new recipient of the Tre Gamberi recognition in the Rome Gambero Rosso Guide.
In the 1960s in that area of Rome, the city was taking its first baby steps, Monteverde Nuovo was just born and via del Casaletto lapped the countryside, much more than that road at the terminus of the tram now does. It was then that this restaurant was born, practically together with the building that houses it. It's not this part of the story that we want to tell you about, rather what happened later, in 2009, when Cesare, as the second generation of hosts who grew up among those tables, sold the place to Leonardo Vignoli and Maria Pia Cicconi.
They kept the name and traditional cuisine, transforming it, year after year, into a destination for those looking for solid, tasty dishes, impeccable in the execution and ingredient choice. But also flooded by those who, in a meal are seeking fine bottles, drawing from a wine list that over time has expanded to more than 300 labels. The result of a careful choice, great consistency, perfectly in line with the idea of an inclusive venue that chooses intelligible quality in the dishes and glasses, while not losing personality. Today Da Cesare conquers the Tre Gamberi, in the guide of Rome and Lazio, the highest rating for trattorias, of which it is proud spokesperson.
When did the restaurant open?
The restaurant has been here since the building existed, in the mid-1960s, with Anna and Vittorio, Cesare's parents. It was a place that was a traditional neighborhood restaurant since there was the countryside in the Casali valley. We took over it from him in 2009: this is the second management since it was born, over 50 years ago.
You already had several experiences behind you. What did you bring from those experiences to via del Casaletto?
I have been back and forth from Italy several times, and for some years, working in haute cuisine. An experience that taught me discipline, rigor, punctuality, precision in making the dish, clarity and disciplined commitment. In short: I understood how to give structure to a completely artisanal process.
Did you immediately have the idea of doing this type of cuisine?
We focused on tradition, on that same cuisine that was already in the history of the place, it was a fundamental element. For us it was important: Maria Pia and I grew up in the countryside, we know the value of the products and what we cook today is also in our DNA.
What's changed from Da Cesare since you set foot there?
At the beginning we didn't do many dishes, as we centered things, we tried to enrich the offer, we added other recipes always tied to tradition, increased the wines and gave a little more grace to the place to create a more comfortable environment for everyone. We worked on precision, but always remaining at the level of everyone's palate, building customer loyalty with a proposal built together with historical customers.
Has the clientele changed over the years?
Actually from the beginning, yes, but we always have a hard core number of people from the neighborhood, over the years we have retained a number of customers who come from all over Rome and also from all over Italy, and gradually also foreigners who come to visit us when they are in the city. But it was important to focus on local customers, it gave us continuity in the work and solidity in the proposal and in the result.
Was there a moment when you decided you wanted to do something more in order to reach today's results?
No planned decision, it all came spontaneously. I believe it was the consistancy and continuity in the choice of ingredients and dishes defined on the basis of these. Trying to reconcile quality with the right price and then working on the wine cellar.
Speaking of the cellar, how has it changed?
We have gone from 30 to over 300 labels. As with food, we always start from taste, from goodness, and value for money. The idea is an artisanal wine, I like to know who produces it personally, the territory, and speak to those who love that wine as I do at the same level as eating a particular dish. I like to convey this, not so much the tasting technique.
Describe your wine list.
It is identified in the artisan and most natural product possible, but also legible. We don't have an ideological wine list, I want to have wines and dishes that can be understood by different people.
How important is the location in the success of a restaurant?
At the present moment I think it matters: we have outdoor seating, thanks to that this summer we worked almost normally. In general, however, I would say that it matters little: we are located in a inconvenient place place, with no parking, in a non-commercial and non-pedestrian area, rather peripheral.
If you have to identify your cuisine with a dish, what would it be?
More than a dish it would be the whole menu, we both went to hotel management school in Rieti, in all the first courses we make, I smell the aromas of adolescence. In cooking schools, we'd be taught amatriciana gricia and carbonara to show us some of the key steps of kitchen work. And the smells I smell every day in the kitchen represent our world.
Is there a dish with which you dared a lot?
The fried gnocchi served on a cream of cacio e pepe. Now even children ask for it because it's in the strings of traditional cuisine, but as soon as we put it on the menu we were doubtful: it comes from a dumpling made with a potato that was not good, it was too soft to be boiled and creamed, so we tried to fry it, we thought of presenting it as a dessert, at the end we accompanied them with pecorino and pepper.
And what else?
Vignarola pasta, which is usually a slightly brothy side dish. It's had major success, as soon as March arrives, people start asking for it.
Are there dishes you would like to take off the menu but you can't because customers always ask for them?
We made a lighter dish, a beef carpaccio, I always tell myself that it has nothing to do with Roman cuisine and you could eat it anywhere, but we do not remove it from the menu offer because it creates harmony on the table, and makes even those on a diet feel good.
Are the trattorias changing?
I am seeing, with great pleasure because I believed in it from the beginning, that there is a desire on the part of all of us to give grace and precision to something that has too often been done in a touristic or a bit sloppy manner until now. Perhaps the value of tradition and history had not been not understood; a bit like us Romans taking the Colosseum a bit for granted, or all those churches and fountains and we do not value them as we should.
You have just conquered the Tre Gamberi. What does this mean for you?
I have been away for many years, first 3 then 7 then another 2: every time I returned I found Gambero Rosso grown in authority, and with it the Country, the restaurant world and even us who work in it grew. I believe Gambero Rosso has contributed to raising the level of food and wine, always looking ahead. This award honours us, it is a huge pleasure for us.
In your opinion is it the right category of restaurant or do you feel more like a restaurant?
We are a trattoria, a place where everyone finds the pleasure of sitting and everyone is at ease, so I want the proposal to be simple, people don't have to try to understand or learn something. So some things that I also like a lot, I eat them, but we don't do them here, like fish: I love it, but I'm very careful not to serve raw shrimp or tuna tartare.
Even a trattoria has news. Which is yours?
Yes, we do, but not to kinx it, until we see a possible development we don't want to talk about it. But we do not want to change hats, we rather want to remain what we are by trying to grow and give greater service, comfort and quality both with our work and with the setting, to give richness to tradition and history.
Da Cesare – Rome – via del Casaletto, 45 – 06 536015 – www.trattoriada cesare.it
by Antonella De Santis