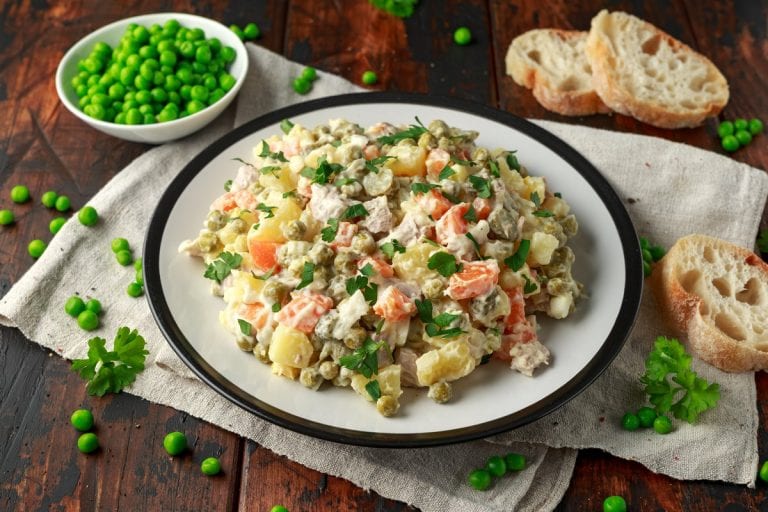 Russian salad is a colourful and savoury dish made with vegetables and mayonnaise. Here's the recipe.
Russian Salad
Ingredients
300 g potatoes
150 g carrots
150 g green beans
100 g peas [fresh or frozen]
100 g asparagus tips
100 g cauliflower florets
1 tbsp. brined capers
6 gherkins
For the mayonnaise
2 very fresh egg yolks
2 2 tbsp. lemon juice
300 g peanut oil
For the garnish
2 hard-boiled eggs, sliced
Gherkins
Thinly sliced radishes
A few whole green beans
4 or 5 cherry tomatoes
You can enrich your Russian salad with diced salted beef tongue, ham or even shrimp or boiled chicken.
Method
For best results, it's best to cut the peeled and washed vegetables [potatoes, carrots, cauliflower, asparagus, green beans], into regular cubes, before cooking. Blanch each vegetable separately in boiling salted water, draining it al dente. Pat dry the vegetables spread out onto a dry kitchen towel. Prepare the mayonnaise. Collect all the vegetables in a bowl and add the well-drained capers, sliced gherkins. Add a little more than half of the mayonnaise and mix carefully.
Pour everything into an oval serving dish and using a spatula, shape the salad into a dome, then cover it with the reserved mayonnaise and garnish the surface with sliced hard-boiled egg, quartered tomatoes and sliced gherkin. Keep the salad chilled until ready to serve but in any case for no more than a few hours. Especially until a few years ago, Russian salad was prepared almost everywhere but it is most probably a French recipe, which belongs to the bourgeois cuisine of ancient Piedmont.