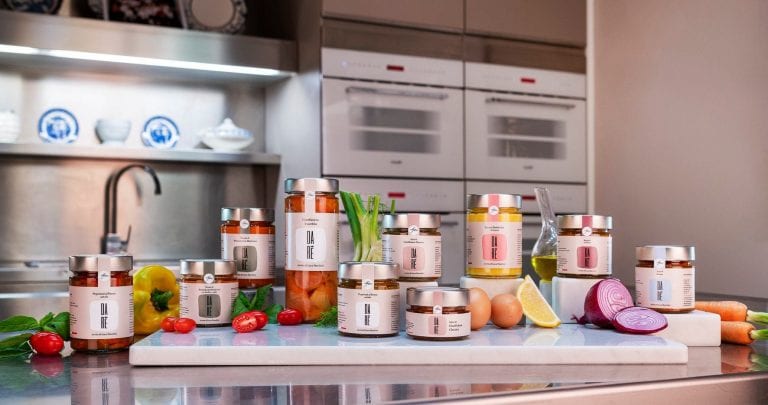 A full-fledged shop, which combines direct sales with a rich online store. It's the idea of chef Luca Marchini, who decided to enclose his recipes in jars and packages to be purchased from a dedicated website. For delightful stress-free lunches and dinners.
In full lockdown, the chef of a well-known Emilia-Romagna restaurant decided to share his recipes with customers from all over Italy. Does it seem like a story you've already heard? No, this time social media and television are not part of the equation: just click on a web link. The protagonist of the initiative is Luca Marchini, owner of the restaurant l'Erba del Re and of Trattoria Pomposa al Re gras in Modena, who a few months ago had the idea of packaging some products of his kitchen and offering them to the public in an online store: Bottega da Re. Let's find out more.
Recipes fit for kings by Luca Marchini
"I created this line of products with a very specific goal: to actually enter people's homes through food." This is how Luca Marchini, a former accountant devoted to gastronomy for more than twenty years, describes the genesis of his new project. In fact, the chef has recently "inaugurated" a virtual shop to make the most precious fruits of his work available to customers: pickled vegetables, roasted peppers, salsa verde, tasty and versatile preserves that promise to make even a simple plate of spaghetti special. Behind each jar is deep research that Marchini wanted to tell through the labels, on which – in addition to the ingredients and their origin – are some tips to best pair the various products. On the Bottega da Re website, however, in addition to the rich collection of jars containing sauces and pickles (curious to know how they were born?), We find many other Italian specialties, in the form of prêt-à-manger goodness.
The products of Bottega da Re
Also playing an important role in the shop are baked goods, artisan pastry products that are packaged without any added preservatives. The panettone, in particular, is made with sourdough starter, the same that Marchini uses in the restaurant for the homemade bread: "You can now order it in the classic version with citron and candied orange or chocolate, but I'm perfecting two savory recipes too, with balsamico from Modena and Parmigiano Reggiano, which will be launched shortly," he explained. The catalogue also includes cookies such as amarettos or coffee meringues and ready-to-use cake mixes, to be poured into a mould and baked for 20 minutes. The latter are not yet available on the e-commerce platform, but while waiting for the web shop to be enriched, there is always the possibility to buy them in the store at the chef's Trattoria Pomposa.
The concept of the online shop by Marchini
Not just labels crafted with attention to detail, but also useful tips for cooking appetizing dishes: Marchini tells us that on the Bottega da Re social channels, video recipes dedicated to the various jars will be gradually published. "I like to think that people can freely decide what use to make of the products, experimenting in the kitchen with the utmost creativity," explained the chef. "But I also want to create a bond with them: this is the reason why I decided to realise this project. Each recipe has been crafted over the years at the Erba del Re restaurant, and is made from the same raw materials that I use to make my dishes. I studied very simple and genuine preparations, with characteristics that vary according to the single ingredient: for acidic elements I resort to pasteurization, while in other cases the pickling technique is more suitable. In terms of packaging I preferred choosing glass jars, since they have a longer shelf life and can be transported anywhere."
Bottega da Re: the search for ingredients
As we said, the ingredients at Bottega da Re come with a strong territorial imprint. "In most cases the fruit and vegetables are grown by small local producers. For example, in our area aubergines and cauliflowers grow well, but I also get supplies for meat from trusted farmers in the vicinity," Marchini added. Limiting himself to Emilia, however, would have made little sense: "Right from the start I wanted to find various types of raw materials, selecting them in other regions of Northern and Southern Italy, precisely to diversify the recipe line." There's also chocolate, always produced in the restaurant's artisan laboratory kitchen, but starting with cacao sourced from foreign suppliers: "It is the only exception in a catalogue of 100% Italian foods; I made this decision mainly in terms of quality, to guarantee consumers excellent chocolate."
Chef recipes
Back to vegetables preserved in glass, given that sauces and pickles lend themselves to the most diverse uses, we asked the chef for some advice on making simple and effective dishes in home kitchens. What could we cook, for example, with the tomato purée? "I suggest heating it in a small container in the microwave to make a creamy velouté, or as a condiment for pasta: I, personally, love it with paccheri cooked al dente, or over fish ravioli. It's also excellent chilled, perhaps with toasted croutons. The first video recipe I published on the web, on the other hand, is a tomato sauce with quenelles of cod fish, arugula and extra virgin olive oil." An excellent idea to indulge in a lunch for for kings, without going crazy stove side.
Bottega da Re
Sales point: Trattoria Pomposa a gras – Modena (MO) – via Castel Maraldo, 45
E-commerce: www.bottegadare.it – 3206829509
by Lucia Facchini