The idea behind Beehive Bagels
In Rome since '99, Steve and Linda, an American couple who immediately chose to settle down in the eternal city, opened The Beehive Hostel in the Termini area. In addition to hospitality they also offer hot meals, homemade food, breakfast desserts. And bagels. Lots of bagels: after all, Steve was raised in a Jewish-American family near New York, and as he likes to remember he was "born with a bagel in his hand." To the point that he took this American specialty for granted––an exquisite baked product, a soft and perfect donut that's enjoyed lightly toasted and stuffed––without realizing its potential on the Italian market. The hardship of the pandemic was pivotal for the couple, "we found ourselves without any guests, my wife has a nice profile on Instagram that's very popular, and so she suggested that I place an ad on social media to sponsor my products." Bagels, of course, but also sourdough bread, "all the specialties I prepared in the hostel kitchen." An idea born almost for fun but which in about three weeks turned into a real business: Beehive Bagels.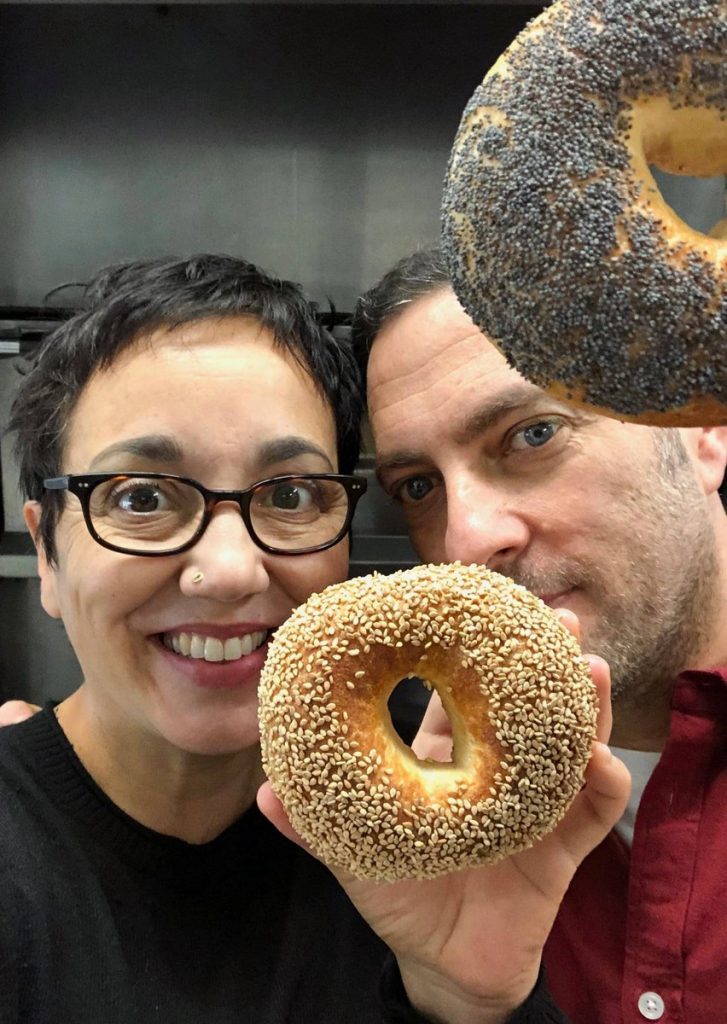 The Beehive Bagels format
A project that saw an immediate success, due "to a magical combination of different elements: many Americans stuck here in Rome during the lockdown, people at home bored and lack of supplies." Those bagels that for Steve were so common are not at all banal for Romans. The formula is based on delivery or take-away, perfect for a similar product, "also easily stored in the freezer and toasted or warmed in the oven before enjoying, for those looking for a different breakfast or a tasty snack." A winning format, so much so that after the first month of business the hostel kitchen was no longer large enough to meet the great demand. "So we asked our friend Emanuele Piga for help, owner of the Mr Crunch pizzeria nearby. He was also struggling due to the health emergency. We gave each other a hand and started cooking bagels with him."
Delivery and future projects
Every day, 400 or so bagels in different flavours are baked fresh, which customers can order online and then collect at the pizzeria or at the hostel, or receive them directly at home, "we deliver personally, no platforms." Not only in Rome, but throughout Italy, "we are able to ship to the various regions and we have also begun to supply some to local businesses." A very successful project that now is coming to terms with the summer, "people obviously spend less time at home and want to travel after the many restrictions, but we are confident that from September orders will increase again." The ultimate dream for Steve and Linda, furthermore, is to open a kitchen of their own, "we don't care about having a retail spot, bagels are portable or enjoyed at home."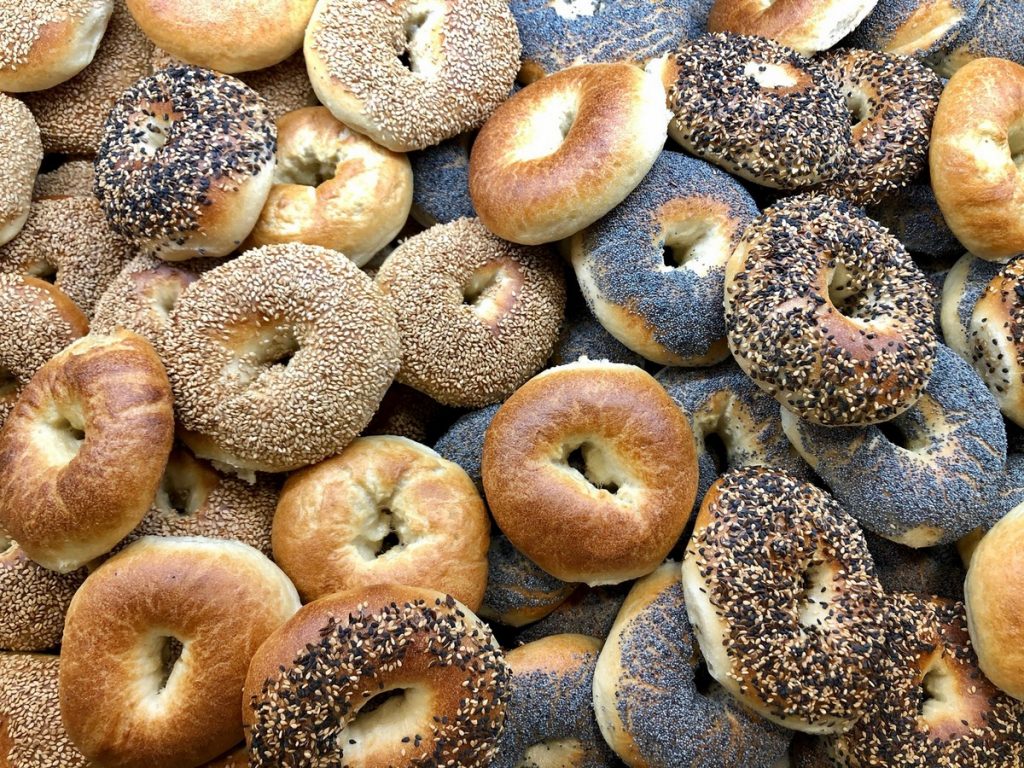 Bagels, pickles and schmears
Let's finally talk about bagels. Water, salt, flour, yeast and malt are the basic ingredients in the recipe used by Steve, "the original, simple and infallible one," which give life to a soft and light dough, prepared the night before. In the morning we proceed to cooking: the bagels are first of all boiled, "a fundamental step that gives them the typical soft consistency, otherwise they would be just bread with a hole," and later baked. There are many flavours to choose from: plain; with poppy seeds; sesame seeds or the "everything" with assorted seeds; Tropea onions; cinnamon raisin, and pumpernickel, "typical of New York, with a mixture of rye and caraway," but there is also a homage to Rome, our cacio e pepe bagels, made with cheese and pepper. Also on sale are sourdough loaves and pickles, typical kosher style dill pickles, "a flavour that's impossible to find here," plus various spreads for the bagels. There's chickpea hummus, or assorted schmears (a word of Germanic origin that indicates a spreadable product); plus cream cheese available in three variants: with roasted garlic, scallions or dried tomatoes. The advice for enjoying bagels at their best is "Slicing them open, heating them a little in the toaster, even when freshly baked. Once heated, they will be even more enjoyable."
Beehive Bagels – Rome – via Marghera, 8 – it.beehivebagels.com/
by Michela Becchi
In the opening photo by Scott Allen Wilson