When it's warm outside, there is nothing better than an aperitif with friends. So why not make it at home? Chips and drinks cannot be missing, as well as nuts, pizzas and pies. But the key to throwing such evenings are the dips: here are four killer recipes for easy appetizers.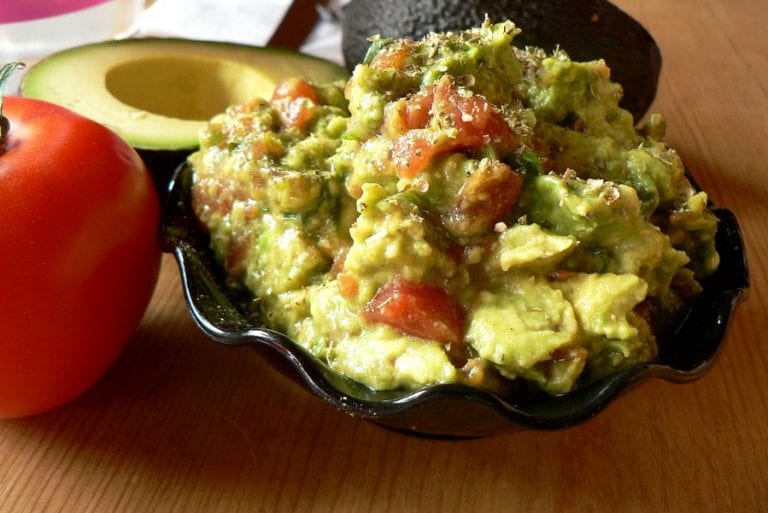 Guacamole
Guacamole is a Mexican avocado-based dip, traditionally served with corn chips, even if lately many are the recipes that star it: after all, avocado is all the rage. Lovers of softer, less acidic flavors can also leave out the lime. To keep your guacamole from turning brown, remember to place the large avocado pit into the dip, then seal the bowl and put it in the refrigerator. It works.
Ingredients
2 very ripe avocados
Juice of 1 lime (or 1 lemon)
2 fresh spring onions
1 ripe and firm tomato
Chopped coriander
Salt to taste
Tabasco sauce (optional)
Trim off the spring onions' roots and chop them very finely. Cut the tomato in half, scoop the seeds out and cut it into small cubes. Peel the avocados and place them in a bowl, then add the lime juice, a splash of tabasco and salt, and mash everything together with a fork until creamy. Tip the tomatoes, coriander and spring onions, give it a stir and then seal the bowl with plastic wrap and keep it in the refrigerator until ready to serve.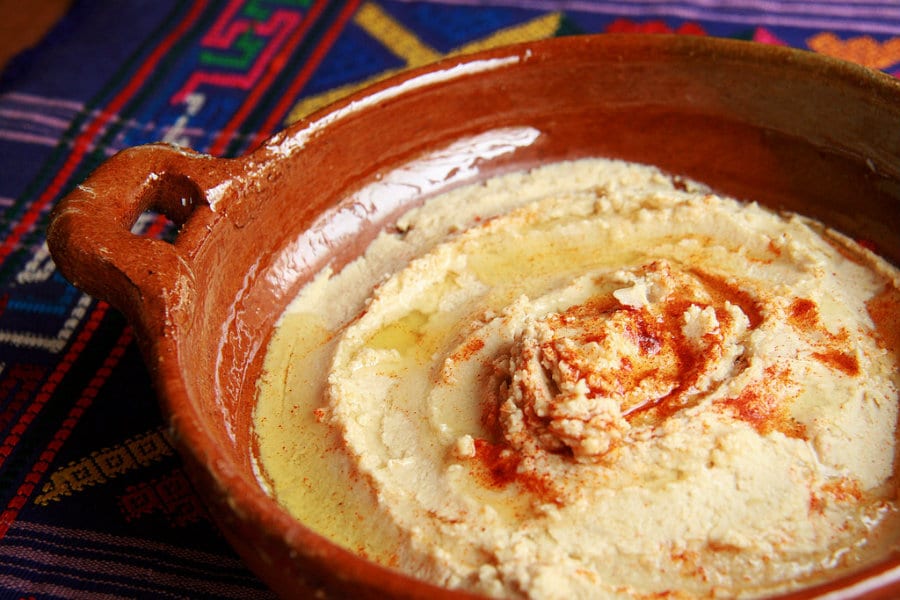 Hummus
Probably of Lebanese origin, today hummus is also a great classic in Israeli and Palestinian cuisines. It is a spread made from chickpeas and tahini (sesame paste) that is usually eaten with no yeast buns, Injera flatbread, spread on pita bread, or paired with raw vegetables as alternative to the classic pinzimonio.
Ingredients
400g boiled chickpeas
3 tbsp tahini (sesame paste)
3 tbsp sesame or peanut oil
2 garlic gloves
Juice of 1 or 2 lemons
salt to taste
sweet paprika for decoration
Tabasco sauce (optional)
Reserve a few whole chickpeas for serving. Combine the remaining, olive oil, tahini, juice of one lemon, a pinch of salt, a splash of tabasco (optional), the peeled and crushed garlic cloves and a few tablespoons of the chickpea cooking water in a food processor and blend to a creamy and smooth purée. Taste it and adjust the seasoning to your taste by adding more lemon juice, or salt or tabasco. Hummus should have a strong and tangy flavour. Transfer the mixture to a small bowl, sprinkle with paprika strained through a sieve and garnish with the chickpeas set aside. Serve with croutons.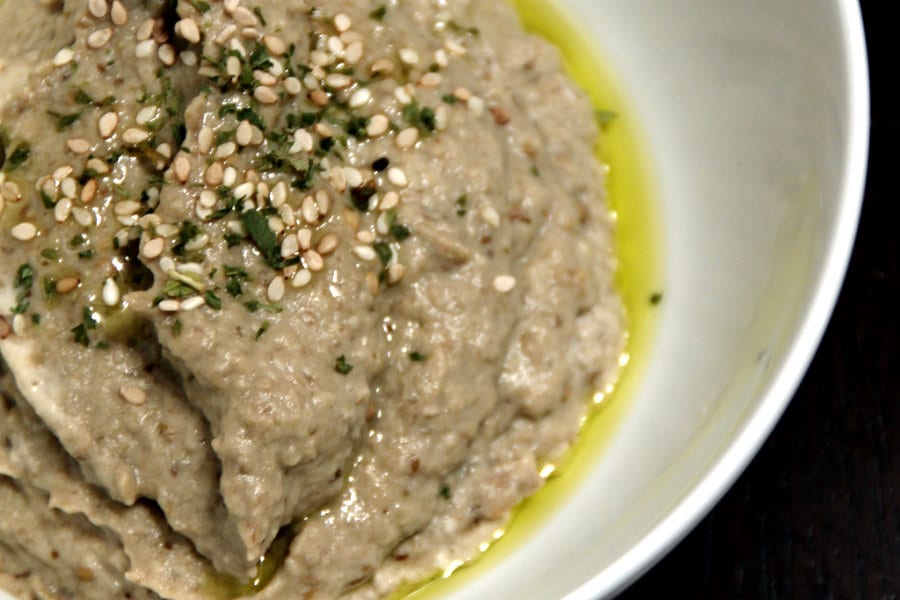 Baba ganoush
Typical of the Middle East, is usually served with croutons as appetizer. It is usually made with tahini, but if you do not have it, don't worry: here is the variant with yogurt. To speed up preparation time, you can also microwave the eggplants on full power for eight minutes.
Ingredients
3 long purple eggplants (500g total)
200 g whole milk plain yogurt
3 tablespoons strong extra virgin olive oil
1 garlic clove
Juice of 1 lemon
Parsley
Chili powder and 1 tablespoon sweet paprika (optional)
Wash the eggplants, dry them and place them in the 220°C-preheated oven, until they are very tender, and the skin is completely charred. Remove from the oven and let them cool, carefully remove the peel using a rough cloth or kitchen paper, and then scoop out the flesh. Mash them with a fork and add olive oil a little at a time and whip up continuously. Push the garlic through the garlic press, then add the lemon juice, paprika, salt, yogurt and stir vigorously. Place the mixture in a small bowl and sprinkle the parsley over the top. Spicy food lovers can also add some chili powder.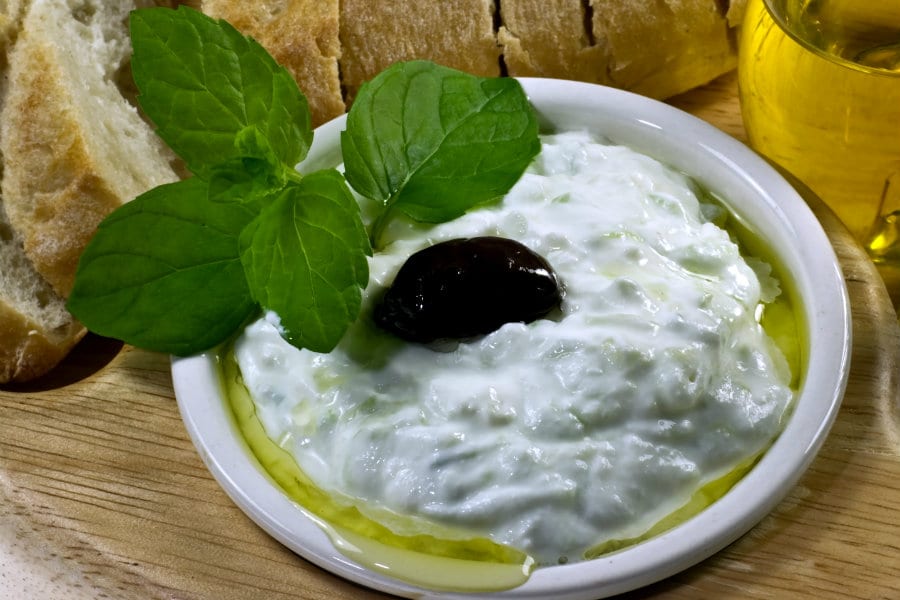 Tzatziki
A sauce of Greek and Albanian origin, it is an appetizer that is often served with sesame croutons softened with water and extra virgin olive oil, or with pita or souvlaki. The main thing is to use Greek yogurt, since whey free and therefore thicker and creamier than regular yogurt.
Ingredients
3 medium-sized, firm cucumbers
2 Greek yogurt pots
3 tablespoons extra virgin olive oil
1 small garlic clove
Dill or fresh mint
Salt to taste
Peel the cucumbers, first cut them lengthwise, then cut the halves in half lengthwise and slice them. Add the salt and place the cucumbers in a colander and let them drain for about an hour, stir occasionally. Rinse them under a stream of water and spread them out on a cloth to dry. Mix the yogurt with olive oil, garlic pushed through the garlic press and the chopped dill or mint leaves. Add the cucumbers (you can blend them if you like) and keep the preparation in the refrigerator for a while before serving.