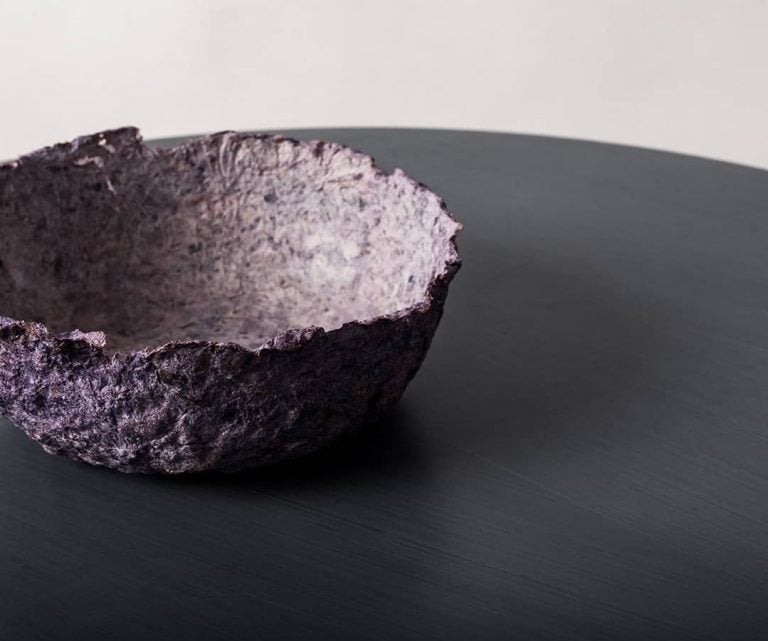 We can reuse food scraps and waste in so many ways. For design objects, for example: here are a few interesting sustainable projects.
It takes an egg
German designer Basse Stittgen tackles the problem of food waste by proposing tableware made exclusively with eggs… that are expired. His project is called 'How Do You Like Your Eggs?' and it focuses on food. The designer collects leftover eggs from local bakeries, then breaks them and divides the egg white from the yolk and shell. The egg whites are dehydrated and ground into a powder, while the egg shells are crushed into small pieces. Yolks and shells are then mixed together and placed in an aluminum mould, which is then hot pressed at 200 degrees. Stittgen transforms discarded eggs into a series of gold-coloured bio-plastic egg cups and saucers, modelled with patches of broken egg shells.
Discard: the art of being sustainable
RiscArti International Festival was born as an exhibition of creative recycling and demonstrates how discarded objects can be ennobled. Their creations document that "things" are victims of the very material they are made of: it's necessary to rethink them in order to make them useful. RiscARTI, through various forms of arts (visual, entertainment and performance, workshops and experiences), promotes creative recycling also to educate for a more sustainable future.
Marlene Scalise – riscarti.com – @riscartifest
 Gesture that becomes shapes
Vincenzo Sorrentino is a young food designer from Campania who often seeks inspiration in the shapes of his homeland. This time he has given structure to five terracotta tools that allow diners to interact directly with the ingredients of the dish. They are called Clay Food Play and are hybrid instruments (almost a cross between cutlery and plate) that aim to reduce the distance between man and his food.
Discovering the home world, through food
Casa Mondo was the first virtual exhibition of Maxxi in Rome, hosted on Instagram starting in June 2020. Casa Mondo: Food is the narrative essay by the famous food designer Marti Guixé that talks about what food is and what it represents in the 21st century, proposing a theory of the food-home relationship and new means of use, also in light of the pandemic that has transformed our daily reality. Casa Mondo: Food is the first book in the new Unevaluated Essays series, edited by Martí Guixé himself.
From waste to taste
Barbara Gollackner's Salzburg design studio presented at the latest edition of the Vienna Design Week a collection of kitchen and home items made with industrial and domestic food waste. The studio collaborated with Austrian chef Martin Kilga to create Wasteware, a range of bowls, plates and cutlery made from leftover food. The waste is dried and mixed into a paste, then 3D printed.
Circular chewing gum
Design students Hugo Maupetit and Vivian Fischer developed a method for collecting discarded chewing gum and turning it into colourful skateboard wheels. The French students mounted special collection panels in urban areas in Nantes, France, where passersby could stick their used gum instead of discarding it on the ground. The collected gum was then shredded together with the collection panel itself, which is produced in PMMA (poly methyl methacrylate) a plastic material capable of stabilizing chewing gum during melting. A true virtuous example of circular economy: even the obtained wheels themselves are recyclable!
@hugo_maupetit – @ vivian_fischer_- @lecolededesign – @1_2_3_lune –