Food in the films of Tarantino: the Big Kahuna Burger
First of all, the Big Kahuna Burger doesn't exist. Except for fans of Tarantino (and Rodriguez), who saw the venue's colourful sign in Pulp Fiction, Grindhouse, Four Rooms and Reservoir Dogs: a fictional Hawaiian fast food chain, best known for its Pulp Fiction scene in which Brett bites into the burger just as Jules and Vincent walk into his house. "Hamburgers? The cornerstone of any nutritious breakfast! What kind of hamburger?" A cheeseburger, but not just any one. The one of the "Big Kahuna Burger, that's that Hawaiian burger joint!", Jules enthuses just before reciting a passage from the Bible and killing Brett to avenge Mr. Wallace. The same chain whose poster can also be seen in Tarantino's latest film of 2019, Once Upon a Time in Hollywood, a "film within a film" and "a film about cinema", a tribute to cinema itself with which he seems to have concluded his own career as a director (rumour denied several times, but in any case it is one of the last). The name is not accidental: big kahuna is a slang term for a big deal or a prominent person.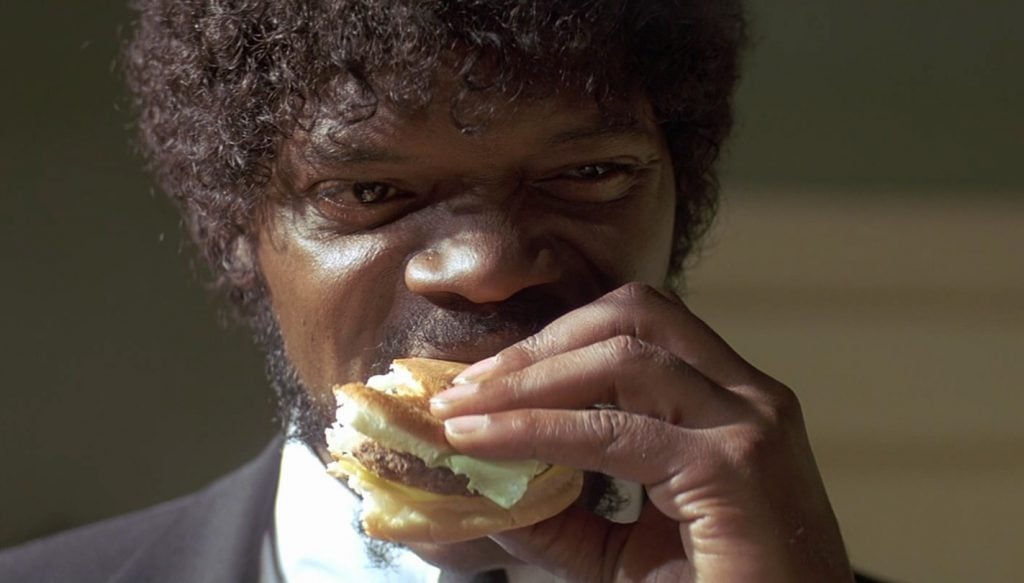 The other Tarantino brands and the most representative foods
Undoubtedly the best known, but not the only brand born from the director's creative mind. Also in Pulp Fiction (and also in Jackie Brown) you can see the Teriyaki Donut, a Japanese fast food sign represented by a white and pink cat with a glazed donut in his hand; that's where Marcellus comes out just before being run over by Butch. In reality, the brands invented by Tarantino and which have now become iconic are many, and not just food: the Red Apple cigarettes with the yellow packet and the big red apple, smoked in Pulp Fiction, Kill Bill vol. 1, Inglourious Basterds, Django Unchained and also The Hateful Eight. But back to food: brands aside, tasty and succulent dishes are always present in the director's films. Burgers in Pulp Fiction, chicken in gravy with onions and stewed beans in Jackie Brown, sushi in Kill Bill, classic western-style beans in Django Unchained… and Apple Strudel in Inglourious Basterds.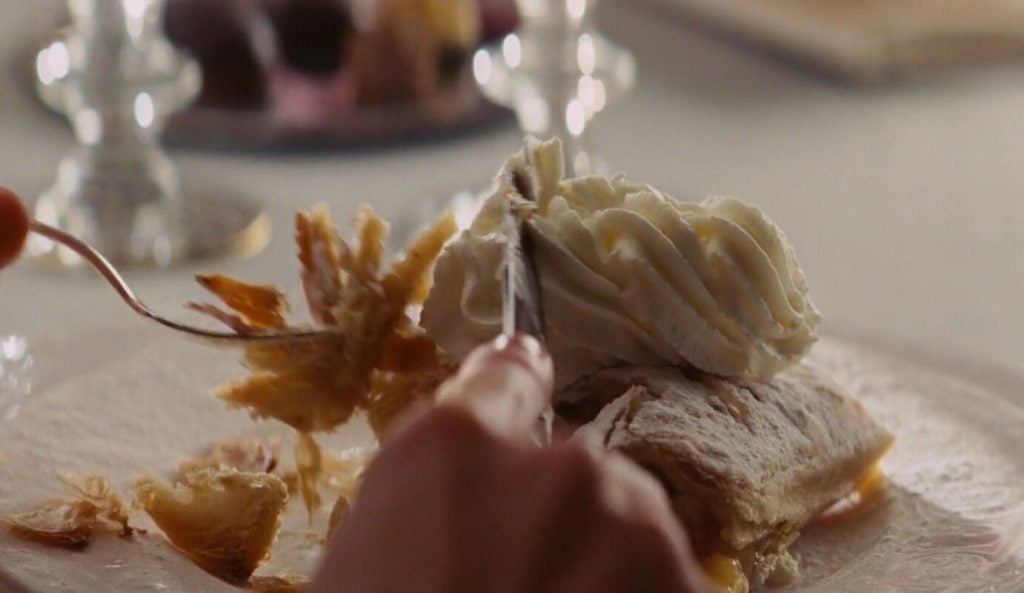 Apple Strudel in Inglourious Basterds
It's true, food plays an important role in every film, but in 2009 it becomes the absolute protagonist of one of the cult scenes that finds its perfect balance right around the table. Action, drama, comedy, even that touch of splatter to which the director has accustomed us are the main ingredients for the success of Inglourious Basterds, while the recipe in question is made with apples and puff pastry. Even whipped cream for Shoshanna, the only Jewish girl who survived the massacre of her family killed by the Nazi colonel Hans Landa (Oscar winner Christoph Waltz). Shoshanna (known under the false name of Emmanuelle Mimieux) is about to bite into the dessert, in a scene all played on chiaroscuro, but Landa invites her to wait for her cream to arrive. He himself orders the strudel for her, a coffee for himself and a glass of milk for the woman, while he questions her to find out how she managed to become the owner of the cinema, the very cinema where a propaganda film is to be broadcast... Landa keeps asking questions, becoming more and more offensive, inappropriate, and every word is interspersed with a bite, a verse. He eats voraciously, eagerly, without restraint. An irreverent, very tense scene: Shoshanna knows that the colonel could know her true identity and the strudel is just an excuse to take time and set a trap for her. The coffee remains untouched, despite having been generously sweetened, and the cake itself is left half eaten, complete with an extinguished cigarette on the whipped cream.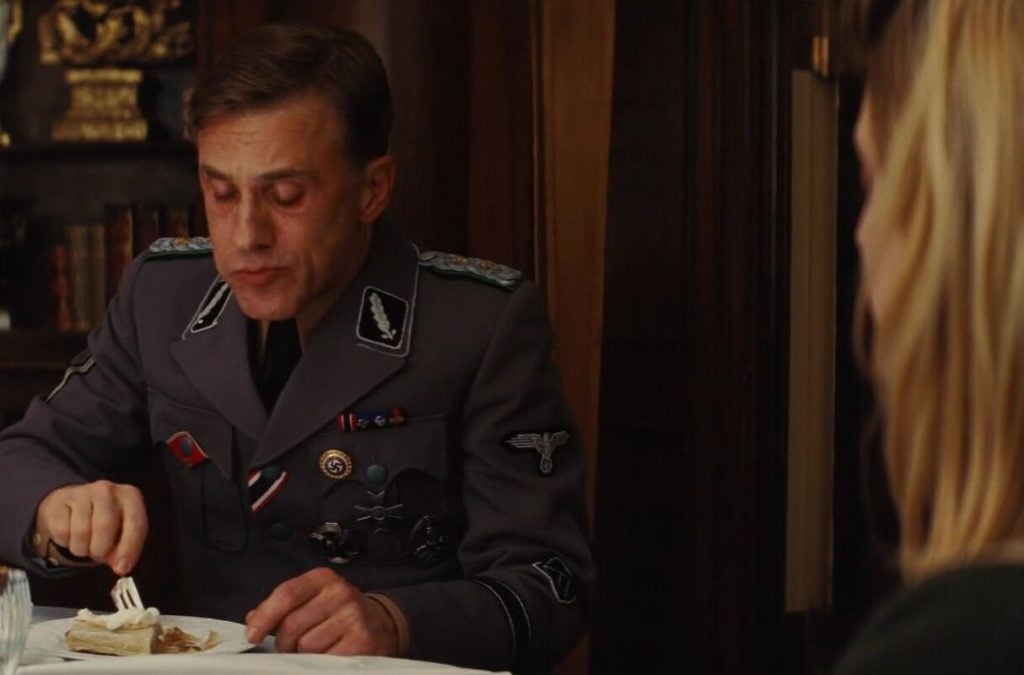 History of apple strudel
Apple strudel is a dessert with a controversial history. The earliest records date back to the 8th century BC, in an Assyrian manuscript describing a recipe with layers of puff pastry or unleavened bread, nuts and honey. Arriving in Greece and then Turkey, the dessert gave life to various preparations, including baklava, but it was only in the 16th century that - thanks to the expansion of Sultan Suleiman the Magnificent - it reached Hungary, where apples were probably added for the first time. Walnuts were then replaced by pine nuts and over time, after the conquest of Hungary by Austria, the dessert began to become popular among the Viennese aristocratic salons. The very first written trace is in Anna Dorn's "Great Viennese Cookbook" of 1827, where it is called Apfelstrudel, a specialty that then crossed borders, becoming the flagship of South Tyrol pastry.
Apple strudel recipe
Ingredients
For the pastry
350 g flour
50 g butter
1 egg
Salt to taste
For the filling
1 kg Renetta apples
100 g butter
150 g sultanas
150 g pine nuts
3 heaping Tbsp. breadcrumbs
Zest of ½ lemon
1 Tsp. ground cinnamon
1 Tbsp. melted butter
Icing sugar to taste
Sift the flour with a pinch of salt on a pastry board, make a well and pour in the melted butter and about half a glass of warm water. Mix the ingredients with a fork and then work the dough vigorously for a few minutes. It must be quite soft. Shape it into a ball and beat it vigorously and repeatedly on the pastry board, for about five minutes, then wrap it in a cloth and cover it with an upside-down pot that has been previously heated.
Peel the apples, cut them into wedges and then thinly slice them into a bowl. Add sultanas, previously soaked in water and pat dried, pine nuts, lemon zest, sugar and cinnamon. Stir and let it rest for half an hour. Spread a tablecloth on the table, lightly flour it and place the dough on it. Roll it out with a rolling pin to about half cm thin then melt the butter and use a small part of it to grease the crust. Put your hands, closed into a fist and floured, under the rolled out dough and, very gently, spread it out, pulling it a little at a time so as not to tear it and trying to give it a uniform thickness.
At the end you need to obtain an oval of about 80 x 60 cm. Put the remaining butter back on the heat, brown the breadcrumbs over medium heat and distribute evenly on the pastry with a brush. Also distribute the drained apples, leaving a free edge of about three centimeters all around and sprinkle with two tablespoons of sugar. Starting from the longest side and using the tablecloth, roll the dough on itself to obtain a kind of sausage. Press the strudel at both ends, closing well and, folding gently, give the cake the shape of a horseshoe. Slide it onto a greased plate, brush it with the butter and place it in a preheated oven at 180°C for about one hour. Serve warm, dusted with icing sugar.
by Michela Becchi