The Dusky Kitchen, a blog and Filipino-American cuisine
"Forgive the lack of natural light in my baking pics. It's a little dusky in here". This is how Abi Balingit presents herself, but from the images of her colourful desserts - between rice cakes flavoured with pandan and aniseed and lychee madeleines with hibiscus tea icing and dried rose petals - the bright light is evident. Perhaps thanks to the great use of fruit and tea leaves, seeds and creams in bright shades, or perhaps for the jovial spirit that emerges from the rare photos that she occasionally allows herself to post, proudly showing off her colourful look, but her cuisine is anything but dark. Abi likes to call it that because it was at twilight that she was able to devote herself to baking, a passion she began to cultivate when she was thirteen, mostly by following tutorials on the internet, and which she then decided to resume in her shared apartment in Brooklyn, where she lives her culinary adventures despite the confined spaces.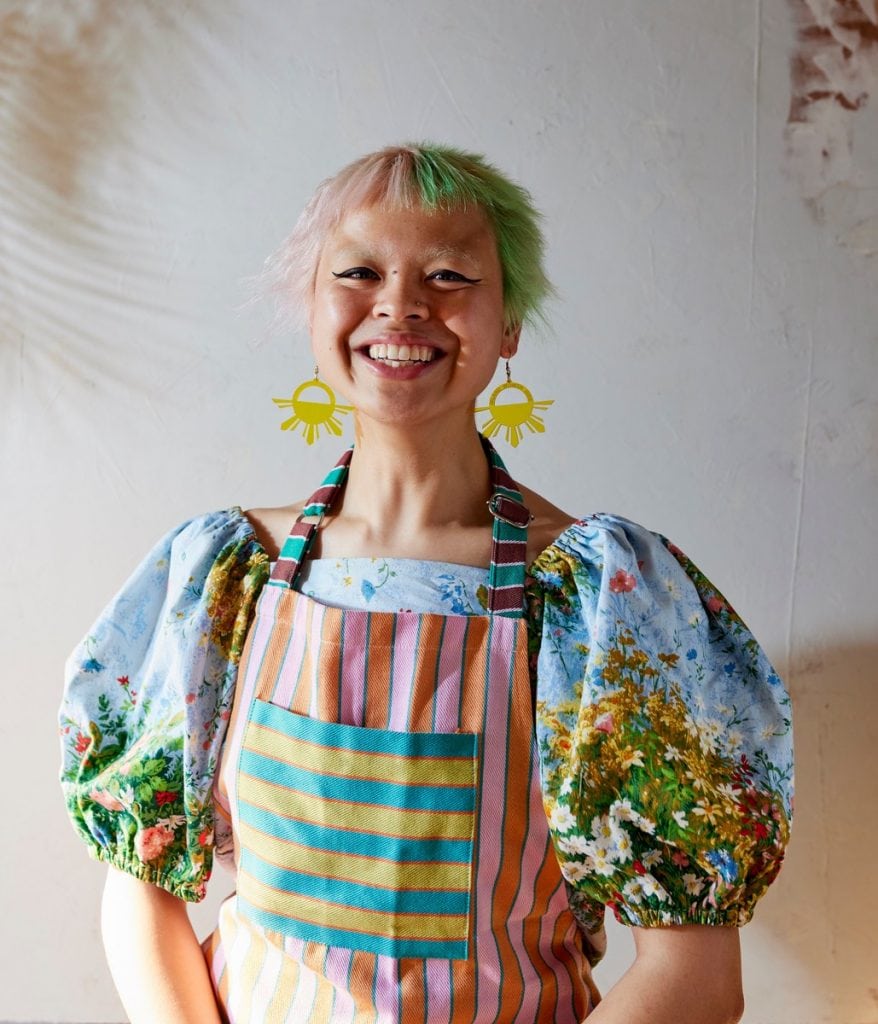 Abi Balingit's blog and the love for baking
It was 2020 when she decided to open her own blog to share "and keep track of my recipes," the ones she had started experimenting for herself and also for charity. During the summer of the pandemic in fact, Abi had raised funds to deal with the economic emergency caused by Covid, selling boxes of homemade cakes to help her community. "I felt the need to collect all the recipes I tried" she says, "hence came The Dusky Kitchen", her space on the web where she devoted herself to baking "my creative outlet, an activity that relaxes me and helps me reduce stress." After all, taking care of the creation of a dessert is a living, "multisensory, experience that makes me feel connected to myself and to the kitchen." And especially to others, "sharing desserts with the people I love is the best part of baking."
Abi's Filipino-American bakery art
Sweets that talk about her, her life in the Bed-Stuy neighbourhood of Brooklyn, but above all her Filipino-American identity. Two cultures that have profoundly forged Abi's personality and her culinary identity, two different worlds that the pastry chef mixes with wisdom and intuition, indulging the cravings of the moment: "Mine is not traditional baking. There are many nostalgic elements of Filipino cuisine, but I also love American-style cakes, to which I might add ube - a kind of purple potato - or pandan - an aromatic plant - for a multicultural touch." But the pastry blogger draws from everywhere: after all, Filipino cuisine itself "is nothing more than a mix of influences from Spain, China and America, the result of colonisation." Cuisine of cross-pollination and fusion, yes, not for this reason without character, "there are strong and very intense flavours. Personally, I love any dish that includes lots of rice and a wide choice of accompanying sauces." The recipe of the heart? "Sinigang, a sour pork stew prepared with tamarind, vegetables and combined with a fish sauce for an even more savoury boost."
An international pastry art
As a hinge between Spanish and Asian flavours, Filipino cuisine has provided Abi with the inspiration to prepare many recipes. Just combine "tropical scents with classic US desserts" to create a new dessert, "for example, I love to add matcha - Japanese green tea that has been all the rage in the States for years - to traditional Filipino milk candies," or "incorporating the flavours of a strawberry tart into a layered rice cake called sapin-sapin." What matters is "to bring out the best in international cuisines that have become the fabric of American gastronomic culture and beyond." In addition to her two reference tables, Abi loves Peruvian and Burmese cuisine very much, "the Burmese-style tea leaf salad is one of my favourite dishes, something I always order if on the menu." As well as the lomo saltado, "Peruvian specialty of sautéed marinated meat served with rice and chips."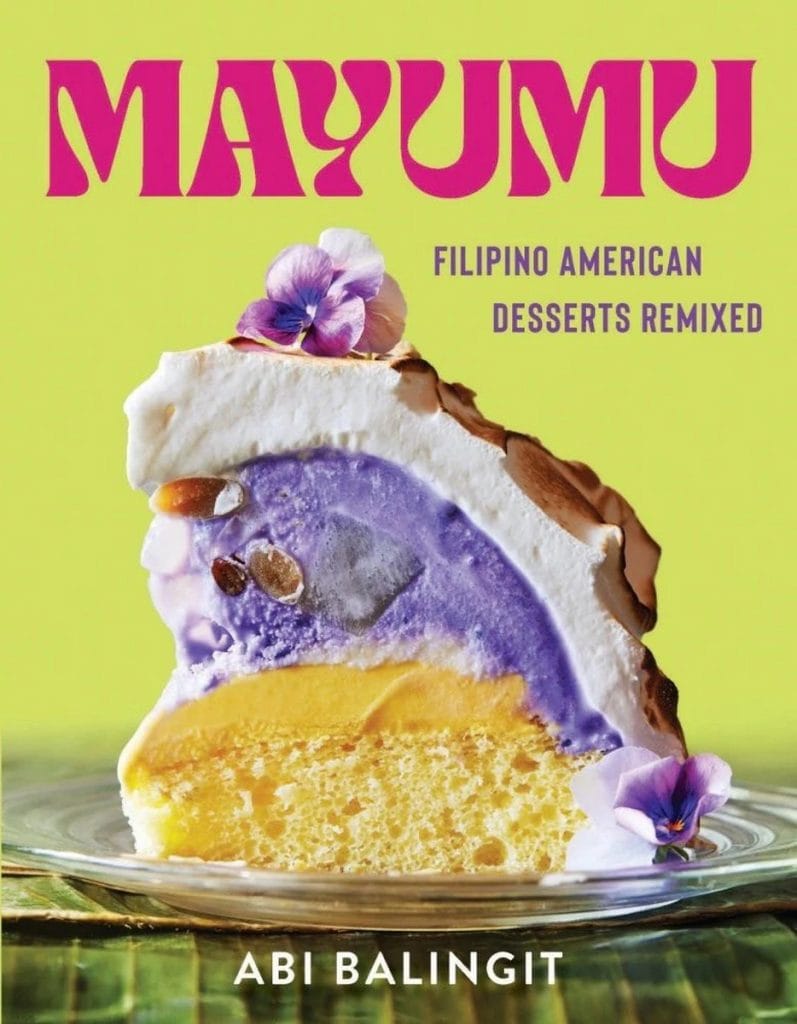 The book Mayumu: Filipino American Desserts Remixed
All this - and much more - can be found on Abi's blog, naturally also linked to an Instagram page with the same name (@theduskykitchen). But the pastry chef is mainly dedicated to her site, well-finished in every detail, full of recipes and stories, personal anecdotes and cooking tips. Memories and tributes to her roots, delicately told also through Flipped: Matamis Zine, a zine - a small self-produced magazine - distributed by the artist collective Flash Thrive in 2019, in which, through illustrated cartoons, readers discover the flavours of home, the typical Filipino fruit with which Abi grew up, the sweets that have shaped her cuisine, from her father's flan di leche to her mother's coconut maja blanca. But above all, The Dusky Kitchen now is a book published by HarperCollins, Mayumu: Filipino American Desserts Remixed, a volume that collects 75 recipes "in addition to the stories of my life, growing up in California and New York for six years." Delicious sweets that speak Filipino with a strong American accent, mixing Abi's two worlds, plus a section entirely dedicated to Filipino products, "a sort of essential guide to better understanding the local cuisine." Without forgetting tips for working in a small kitchen. After all, it was from a small shared oven that it all started… "you can make the ordinary wonderful."
Mayumu: Filipino American Desserts Remixed, Abi Balingit - HarperCollins - 288 pp. $40
by Michela Becchi