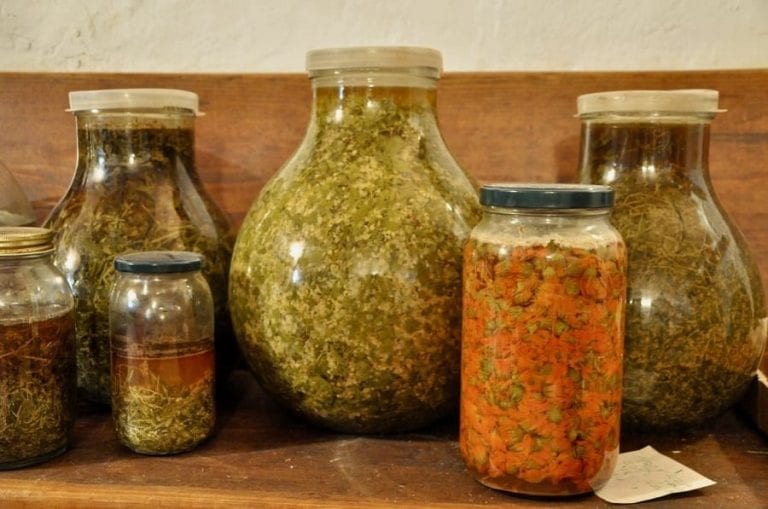 Yogurt, kefir, kombucha, soy sauce, miso, tempeh: fermented products are present on every supermarket shelf. Fermentation is an ancient technique of conservation and purification of foods that is having a new day in kitchens everywhere.
Salvatore Tassa
The noisy technological bubble in the kitchen is beginning to fade and 'new' methods are taking their place. It's not that technology is disappearing, but it's no longer the protagonist in the professional kitchens of Italy and the world. Cooks have begun to take back into their own hands the reins of their stoves and their ingredients. Fermentation methods that have always been used to preserve foods are coming back and arousing the passions of many cooks, young but also older ones, and stimulating their curiosity. The approach is also making headway in homes, among people who are concerned with health and the digestibility of foods, with natural products and their ability to provide nutrients. In a recent interview (in Italian on the www.gamberorosso.it site), SalvatoreTassa (chef at Le Colline Ciociare in the town of Acuto, outside Rome) describes how he has radically changed his creative approach. He asserts that he is profoundly convinced that using fermentation techniques, especially if paired with cold extraction methods, is the real way to do territory-based cooking. "Nothing embodies the individual location as much as indigenous bacteria, the children of their territory. Every place has different bacteria that interact with foods, giving them unique flavors and aromas." He is so convinced of this that he spent a few weeks in Paris, in the kitchen of Yannick Alléno at Ledoyen, where thousands of bottles full of vegetables in water and salt have been fermenting for years, waiting to be tested by one of France's most important kitchens and served to wealthy guests seeking out emotions and surprises at the table.
Enrico Mazzaroni
Along with Tassa, many Italian chefs have been working with this time-honored method for a while. Fermentation was common before refrigeration was invented and where climates did not permit fresh ingredients during many months of the year. It wasn't so much grandmothers' recipes that brought fermentation on to center stage, but the young, curious, creative interpreters of the New Nordic Cuisine. Now, thanks to them, many Mediterranean cooks are rediscovering these archaic tools. Enrico Mazzaroni, an intellectual chef from the Marche region with two university degrees (International Law and History of Religion), studied modern approaches to fermentation developed by his Nordic colleagues and in his mountains of Montemonaco, before an earthquake in October of 2016 destroyed his restaurant, Tiglio, forcing him to move to the Adriatic shore, to Porto Recanati. In his version of acquacotta (literally, cooked water), one of the most basic dishes in peasant cucina, he uses fermented radicchio. It enriches flavor and lends elegance to the dish. "I discovered that the ideas and practices of Nordic cooking are extremely close to my sensibility and to my situation, in terms of both ingredients and techniques," explained Enrico. "I found it to be a more immediate and simple cucina."
He explored this philosophy by following Magnus Nilsson,the Swedish chef of Fäviken Magasinetwhose 12-place restaurant is in the woods of Järpen. "I also came acrosslactic fermentation in the kitchen of a family trattoria where a Romanian woman was working, washing dishes. She taught us to preserve vegetables in a 2% salt solution. It works for every vegetable. Washed and cleaned, the vegetables are marinated in water and salt for a week at room temperature. When bubbles begin to appear, it means that fermentation has begun. You put it in the refrigerator and it's good for two to three weeks. Then, studying and observing my colleagues from northern Europe, I saw that you can do the same thing even better with vacuum packing. The clean vegetables go into a bag with 2% of their weight in salt and kept cool for about two weeks. They're ready when the vacuum bag swells. At this point, you wash them and can put them back in the refrigerator, vacuum-packed, where they will keep for a long time." So now, on the shores of the Adriatic where he has opened his new restaurant, Tiglio al Mare, he uses that method to pair red mullet with apricots. "We love the pairing of acidity with fish. The contrast that apricot gives is really fantastic, especially alongside a fish with character, like red mullet." Lactic-fermented apricots, smoked and stored in the dark, in a 3% saline solution, are served both with a mullet-head broth and a mullet ragout on spaghetti. These are territorial flavors, even though creative, that embody a contemporary view of a distant past.
Cristiano Tomei
"I grew up with fermentation. I was the first!" Tuscan chef Cristiano Tomei told us. He was in his restaurant, Imbuto, in Lucca's Lu.C.C.A (Center for Contemporary Art). "My grandfather was a farmer. Fermentation was part of our lives. Besides, of course, wine, we used to conserve radishes. We put them in water, vinegar and sugar. They did the rest themselves. Radishes are very earthy and tend to have a very strong flavor. They resemble the pickled onions people used to make. Turnip tops are suitable for fermentation too. They also have an earthy quality that the process enhances. Fermentation is fun in terms of flavor," Cristiano explained. "It has a wide, complex aromatic spectrum. You start with an excellent product and you notch it up. I also like paradoxes. You close your eyes and you're eating panzanella. But if you leave panzanella at room temperature, the tomato acidifies and is not good for you. However, I use bread in panzanella and I handle it with a method from Lithuania, the country my wife is from. I take the black bread that is used in Lithuania for making beer, place it in water and let it ferment in the sun. Then I use it for topping spaghetti along with curry plant flowers, helichrysum, pairing it with shrimps or even on its own with good Parmigiano Reggiano. Fermented bread has a powerful taste and all the heightened aromas of fresh bread – iodine, minerals, yeast. Now it has become a chic technique, but it comes from peasant culture, from the poor. And it gives you the opportunity to step up flavors."
Davide Del Duca
Leaving aside Niko Romito who, thanks to fermentation, has launched a new concept, presenting cabbage as a main course (see the Italian Gambero Rosso from March, 2017), another young emerging chef who uses fermentation a great deal is Davide Del Duca, owner of the Osteria Fernanda in Rome, where he is giving new stimuli to one of the most flavorful gastronomic traditions of Italy. "I like to have strong and complex acidity without necessarily using citrus fruit. For example, I pair a powerful, fatty fish like eel with rice and radicchio, daikon and rapini. I leave the vegetables in pomegranate juice for two weeks, then vacuum pack them at 60 degrees centigrade for 10 minutes. The rice is cooked, then put aside in its own water together with sugar, then fermented for about three weeks. Before using it, I boil it again for a few minutes and then make a sauce of acidic rice. The food also becomes more digestible and, from the nutritional point of view, more complete," Davide said. "I often serve fermented food with fatty ingredients. Since the acidity is very high, its flavor should be paired with a fatty one so that it doesn't dominate. It's a simple technique, that you can easily do at home, and it's very inexpensive. Everything can be fermented, from vegetables to meat, and even cheeses, starting, perhaps with dried fruit pits. We mostly work with vegetables – 90% of what we do. We ferment loquats to make chutney that we serve with duck and hazelnuts. Or zucchini…"