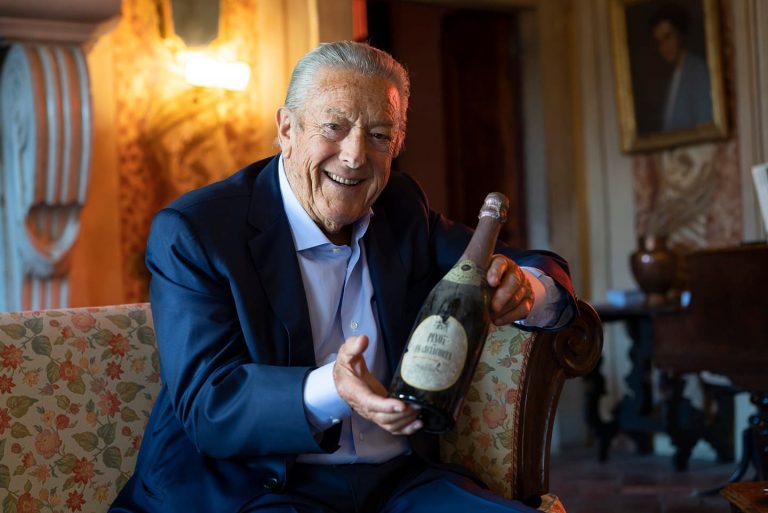 The wine world is mourning the passing of Franco Ziliani, founder with Guido Berlucchi of the Berlucchi winery, who gave life to the first Franciacorta sparkling wine.
Franco Ziliani, enologist and president of Guido Berlucchi & C., one of the most renowned Italian wineries, passed away at the age of 90. Berlucchi & C. today is synonymous of Franciacorta all over the world, but we owe to the entrepreneurial talent and to the vision of this man if at the end of the fifties were created the conditions for the success of a wine district which existed only in his mind. Everything began with the meeting with Guido Berlucchi, owner of vineyards and of a historical winery, to whom he succeeded in transmitting the enthusiasm of his project.
Franco Ziliani and the birth of Franciacorta
The first bottles, after some experiments, were out in 1961, they were just three thousand. "We will be drinking them for the next twenty years!", said the butler, who had the ungrateful task of stacking them in the cellar. Fortunately he was wrong. Actually, very wrong. The history of Guido Berlucchi is the history of the classic method Italian sparkling wine and of Franciacorta. Those first 3,000 bottles of Pinot di Franciacorta in 1961 led to the discovery of an extraordinarily suited territory, which today is one of the cradles – numerically the most important – of the Italian classic method.
Guido Berlucchi, today, means 4 million bottles of Franciacorta a year obtained from its 100 hectares of vineyards and from the 550 hectares of the wine growers. Guido Berlucchi & C. has been freshly awarded as the Winer of the Year in our Vini d'Italia 2022 guide. A prestigious goal, well deserved, to which the company founded by Franco Ziliani, Guido Berlucchi and Giorgio Lanciani arrived with years of hard work, commitment and investments, structured growth projects, with a strategic vision, which saw it conquer the Italian market with the famous Cuvée Imperiale, the label that taught Italians what a classic method sparkling wine is.
After having given life to Franciacorta with Pinot di Franciacorta 1961, Berlucchi, because of the needs of numbers and of the market, turned to other prestigious DOC and DOCG areas for the supply of grapes. Then, in the middle of the first decade of the new century, the decision to go back to Franciacorta. Since then, all Guido Berlucchi & C. bottles, from Cuvée Imperiale to the prestigious selections 61 and Palazzo Lana are Franciacorta DOCG.
With Arturo Paolo and Cristina the future of the company is in good hands. To them and to the whole big family go the deepest condolences of Gambero Rosso. We are sure that they will carry on with creativity and determination the dream of one of the great creators of the modern Italian wine scene. Sit tibi terra levis, Franco.