A phenomenon that shows no sign of waning. On the contrary, street food has been increasing in popularity over the last months. Why? Probably the sector's concreteness and dynamism have made it easier to adapt to the pandemic-related restrictions. Street food is by definition take-away, easy to transport and quick to eat, and it does not require great care and many contacts: in a nutshell, it is as topical as ever nowadays. Moreover, it generally relies on lean businesses, so much so that over the years signature street food by famous chefs has been thriving, with Italian restaurants' big names confronted with informal formats and tasty and original proposal within everyone's reach. One of the forerunners was Moreno Cedroni that with his Anikò turned seafood into a ready-to-eat proposal in Senigallia, the nerve centre of good eating. We have followed him from the outset, just as we have outlined the top-notch chefs' new projects in the Street Food 2022 guide, dedicated to signature street food dishes. This year the award for the typical street food dish with an original twist goes to Uruguayan Matias Perdomo: he made a virtue out of necessity by taking advantage of the closure of his restaurant Contraste, to open together with partners Simon Press (he is the sign's flaco) and Thomas Piras Empanadas del Flaco, dedicated to one of the symbols of Argentine street food: empanadas. Delicious half-moon shaped pastries, made from fried dough, the restaurant offers the classic varieties (de queso, de pollo, de pescado) that immediately won over Milanese's palates.

Osteria alla concorrenza
Don't let the name fool you! Osteria was originally an old wine shop that served simple dishes to accompany wine, different from restaurants that offer traditional dishes. The creators are Diego Rossi, Josef Khattabi and Enricomaria Porta, who started the prototype of the osteria of yesteryear: wine for consumption on the spot or for sale (hundreds of labels selected with focus on sustainability), typical cold dishes or to warm up, together with preserves, cold cuts and high-quality cheeses. In the middle, a wooden counter and a convivial atmosphere for a toast with friends. Opened at the end of April 2021 during the pandemic-related restrictions, it is very promising, especially for the near future when it will no longer be forbidden to enjoy the company of others.
Milano – via Melzo 12 – 0291672012 – https://osteriaallaconcorrenza.business.site/

Empanadas del Flaco
Argentina's most famous street food has three respected tutelar fathers: Matias Perdomo, Simon Press and Thomas Piras. The idea of a take-away restaurant was conceived during the Contraste restaurant closure and then turned out to be winning. Wrapped in a paper similar to newspaper, the South American dumplings are also popular for their affordable price (around £3). There are six varieties: chicken, onion and peppers, beef with onion and olives, ham and cheese, tuna, onion and peppers; the vegetarian ones are with corn and béchamel or cheese and onion. List of signature drinks by Simon Press, aka 'Flaco'. Delivery through the most-used platforms.
Milano – via San Maurilio 4 – 0243413521 – www.empanadasdelflaco.com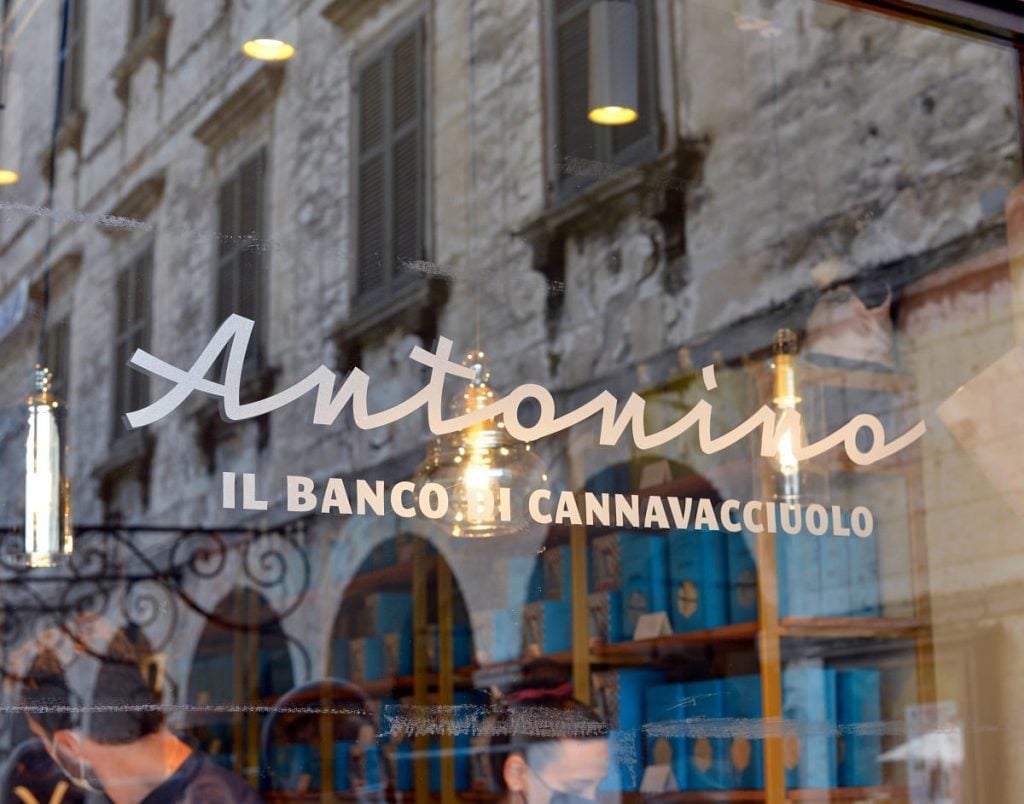 Antonino il banco di Cannavacciuolo
Already tested at Vicolungo The Style Outlets in the province of Novara, the street food concept by chef Antonino Cannavacciuolo comes to life in Orta San Giulio, where it all began. If you are looking for a waterfront snack, this is the right place: open every day from 10am to 8pm, here you can find traditional southern Italian sweet (fresh pastries, ice cream, biscuits) and savoury food, such as Neapolitan cuoppo (fried vegetables and seafood) and sandwich, luscious arancini balls, fried pizza, or Apulian focaccia.
Orta San Giulio (NO) – p.zza Motta – 032290275 – www.antoninocannavacciuolo.it

Anikò
The signature street food by chef Moreno Cedroni of Madonnina del Pescatore restaurant is an informal and quick, yet high-quality concept. A modern wooden kiosk located into a pedestrian-only piazza with tables and chairs available for customers. The signature seacuterie is restaurant's pièce de résistance, that does not just have cold dishes on the menu, but real delectable masterpieces to eat on the go, such as the iconic Happy Toast. The wine list boasts local labels as well as bubbles from beyond the Alps. Cocktail enthusiasts will find excellent suggestions to pair with their food. Young and informal service; open all year round.
Senigallia (AN) – p.zza Saffi 10 – 0717931228 – www.morenocedroni.it

La Devozione
We cross the threshold of the city's living room and find the Pastificio Di Martino shop. Upstairs there is the Seafront Pasta Bar, a delightful restaurant with a view, dedicated to her majesty the dry pasta, with the talented chef Pierpaolo Giorgio and the executive chef, the legendary Peppe Guida. If you are looking for a quick lunch break (and only that) just go to the corner and order a Devozione dish to take away, her majesty the spaghetti with tomato sauce. All done to perfection.
Naples – via Vittorio Emanuele III, 57 – 08118496282

Kalavrì – Anima & Pizza
A city landmark for high-quality pizza by the slice. The credit goes to Camillo Crivaro and Andrea Muraca, who were able to recognize Michele Intrieri's abilities. He created and tested the dough, while chef Luca Abbruzzino created the tasty toppings, making the most of local ingredients. The result is a quality, extremely tasty and light pizza. The sign comes from the region's ancient name in the Arbëresh language. Summer opening at Tropea harbour as well.
Catanzaro – l.mare S. Pugliese 199 – 096131151

Uovo di Seppia
This is the shop of chef Pino Cuttaia, famous for his restaurant La Madia. Here you can buy a myriad delicacies to take away or to enjoy on the spot. Don't miss the classic arancine balls or their great variety of flavours. The excellent aperitif and the relaxed atmosphere will do the rest. Stay tuned to the Facebook page for updates.
Licata (AG) – c.so Filippo Re Capriata 29 – 0922771443 – www.uovodiseppia.it

I Banchi
Chef Sultano's well-stocked shop with sweet and savoury delicacies, and top-notch restaurant and bar, where Gabriella Cicero and Peppe Cannistrà play at home, is also a well-stocked bakery with a counter full of excellent baked goods. The ideal place to try a slice of pizza or sfincione, scaccia, tomasini and savoury pies, as well as sandwiches from an extensive menu and charchuterie and cheese boards. A great happy hour that combines the bartender's cocktails, beer or wine paired with flavoursome tapas, organic bread with ancient grains, arancinette, seafood preserves and other delicacies.
Ragusa – loc. Ibla – via Orfanotrofio 39 – 0932655000 – www.ibanchiragusa.it
Guida Street Food 2022 – Gambero Rosso – € 8,90 – available online and in bookshops